Film Wedding Photography at West Michigan's Felt Mansion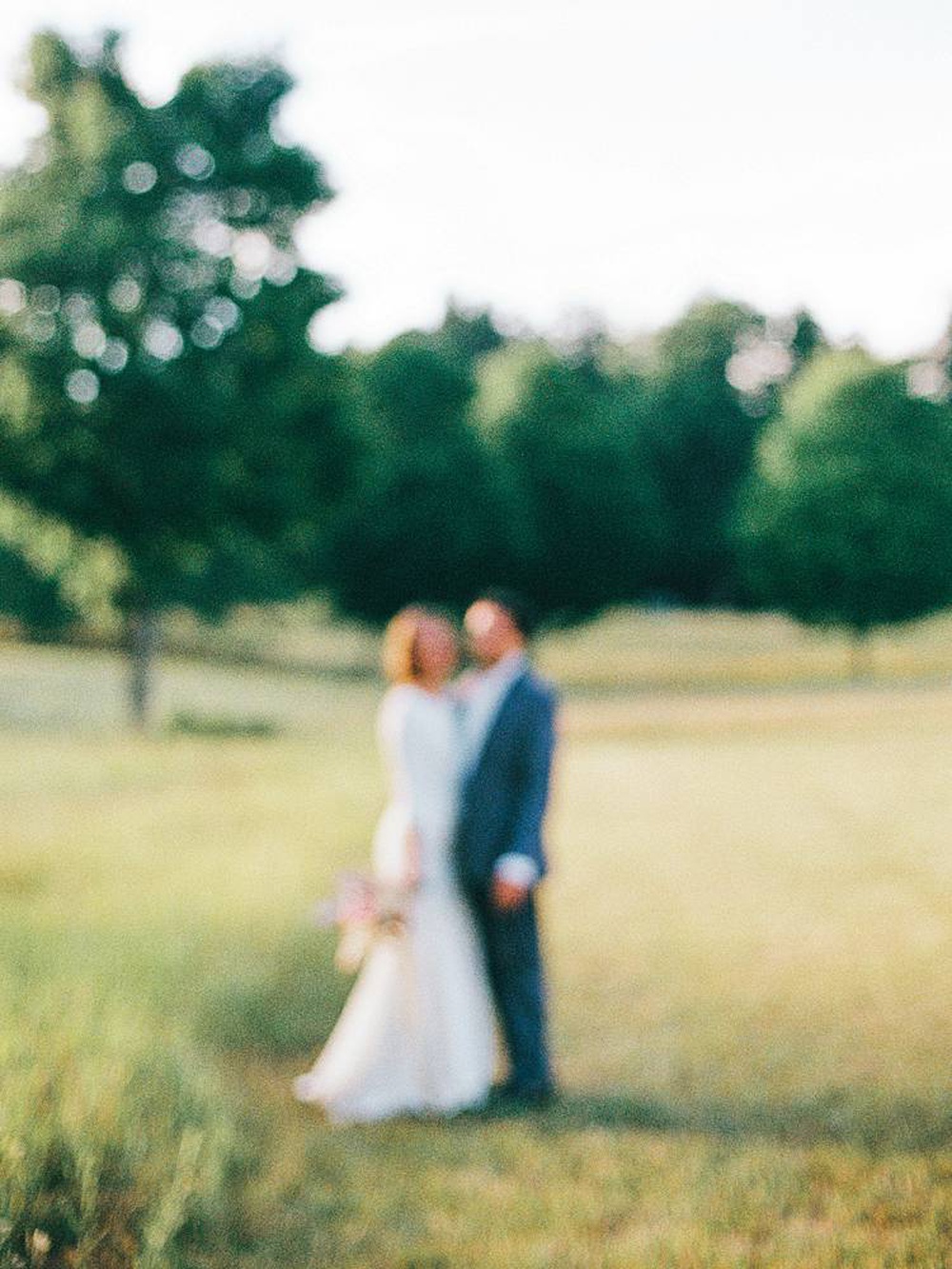 Film Wedding Photography at West Michigan's Felt Mansion
A wedding portrait editorial at West Michigan wedding venue Felt Mansion in Holland, Mi. Michigan Wedding Photographer, Brian D Smith Photography, captures this bride and groom all on kodak film with the help of a talented, local west michigan wedding vendor team. Sunset portraits, a sleeved dress, wild flowers, classic styling and a hip couple make for killer Michigan Wedding Photography.
Aug. 4, 2020, 10:22 a.m.
About the West Michigan Wedding Editorial at Felt Mansion
Felt Mansion was the first stop for Emily of Connolly House Events and I on a 5 day road trip through Michigan, touring the most stand out wedding venues that the state has to offer. Emily and I both share a passion for elevating Michigan wedding style and fashion and when we had the opportunity to piece together an editorial on our road trip, we took the opportunity to showcase some fashionable Michigan love. A real couple, killer native Michigan florals, artful hair and makeup, a classic dress silhouette and brilliant vision came together on a sunny West Michigan evening. The result became some of my most effortlessly romantic bride and groom portraits to date - all shot on 35mm and medium format film.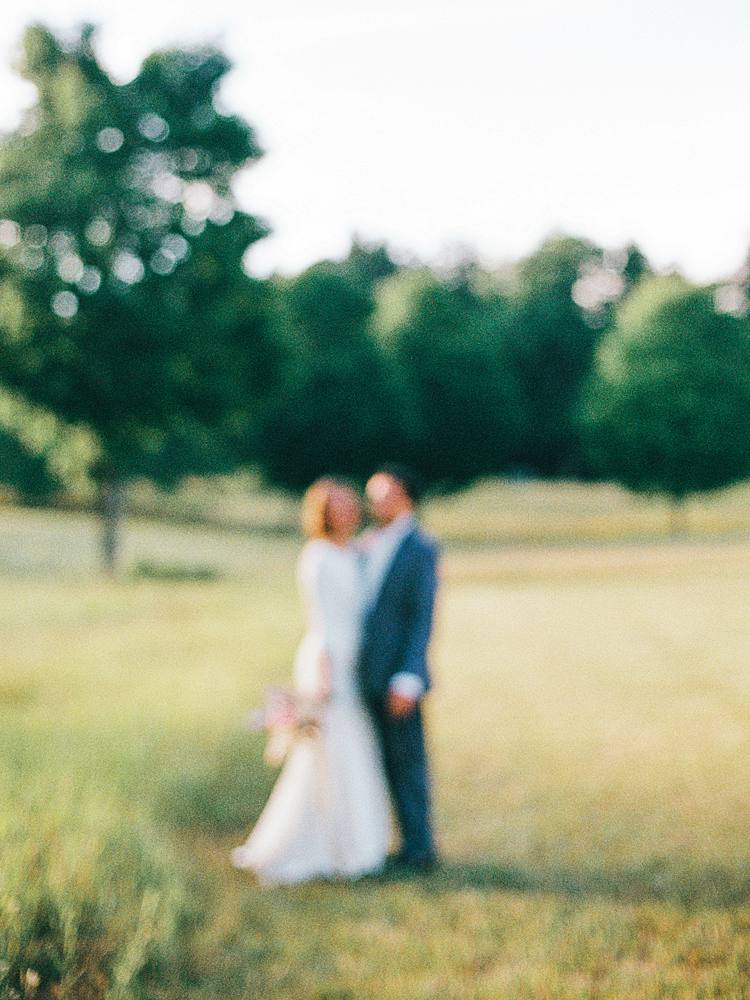 The West Michigan Wedding Vendor Team
Photography: Brian D Smith Photography  /  https://www.instagram.com/briandsmithphotography/
Planning + Design: Connolly House Events  /  https://www.instagram.com/connollyhouseevents/
Floral Design: Cass and Jean Flower Co.  /  https://www.instagram.com/cass_and_jeanflowerco/
Venue: Felt Mansion /  https://www.instagram.com/eventsatfelt/
Hair + Makeup Artist: Wild Emerald Bridal  /  https://www.instagram.com/wild.emerald.bridal/
Dress Boutique:  Spring Sweet Bridal /  https://www.instagram.com/springsweetbridal/
Couple: https://www.instagram.com/jess_brinks/  /  https://www.instagram.com/mynameisjaroldo/
About The Michigan Wedding Couple
Jessica and Jared met while studying at the IIT Institute of Design in Chicago. Both are charasmatic, ethusiastic entrepreneurs - their first extensive formal encounter being at a mentorship program for creative minds in business at the college. Jessica is sophisticated and classic. Jared is a renaissance type man. They are a power couple in the most figurative sense of the phrase. Most importantly, they genuinely love eachother and in an outwardly expressive way. They are quiet in demeanor and expressions of affection but I felt every pause, every whisper and every gaze come through in the imagery. There is a quiet poeticism to their love, and I'm not sure I've ever seen it so well reflected in photographs as I did in this michigan wedding editorial. Love is bountiful and plentiful in the world, but it is a rare thing to find a love with such a deep sense of affection and appreciation for one another. This editorial just happened to correspond with the 1 year anniversary of their wedding and I'm so happy to capture their love still going strong after this trip around the sun. I very much want to thank Jared and his affectionate little wing nut for being such cool, romantic souls.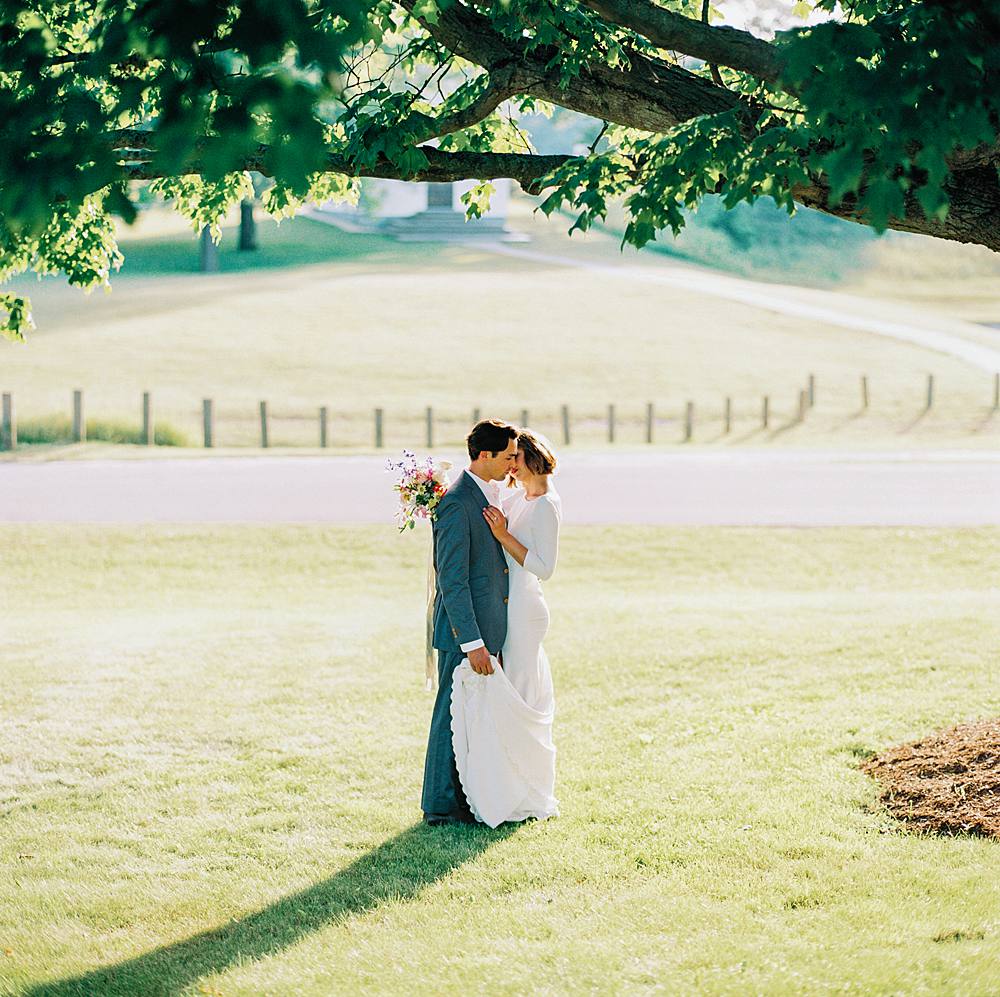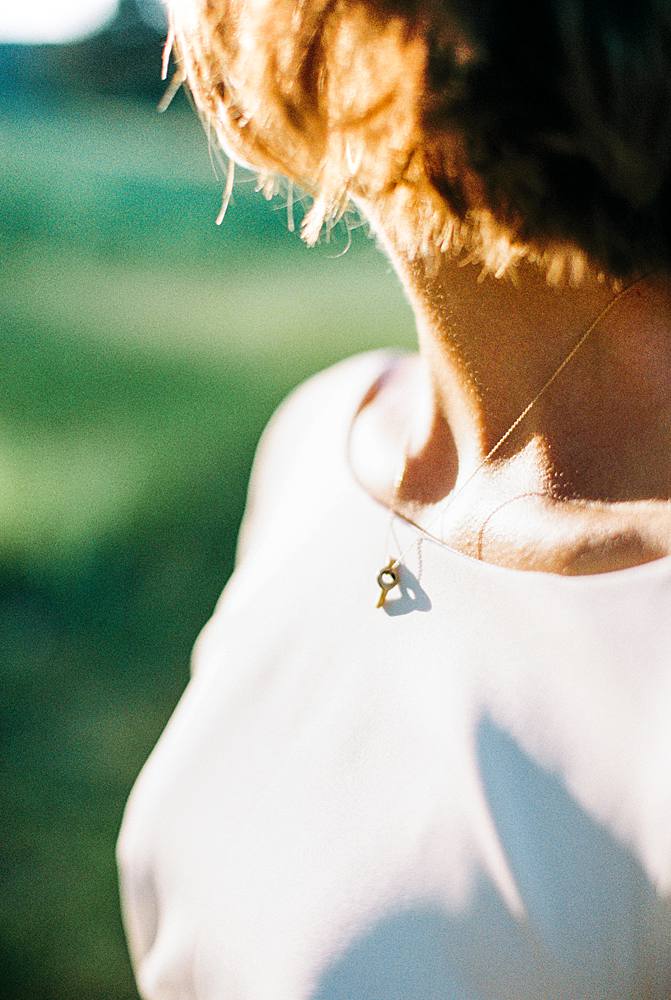 Why I Love West Michigan Wedding Venue - Felt Mansion
Felt Mansion is a dynamic wedding venue with rich history. In the 3 hours we were shooting, I never ran out of unique backdrops for portraits. The venue, itself, features beautiful architecture and a ceremony location the likes of which I have never seen. The grounds it sits on backs up to a sprawling golden grass field - my favorite nature marvel in all of Michigan. I longingly gaze out on its golden grass fields during my long car rides through the state and whenever I have the chance to photograph amongst them, I'm in a wedding photographer's paradise.  The inside of the property is well curated and serves as a museum to the mansion's original state when it was a home to a welathy investor - before being gifted to the state. Felt Mansion brilliantly combines historic, romantic architecture (almost remniscent of detroit) with the idyllic beauty of western and northern Michigan, all in one wedding venue. I could photograph here for hours and never get bored of the scenery and never run out of new spots to photograph...and we didn't even have the chance to photograph inside! 
If you'd like to see a detailed tour of the interior and exterior of the property, and a tour of all my favorite Michigan wedding venues, check out Connolly House Events and I's blog post from our 5 Day Road Trip To the Best Michigan Wedding Venues.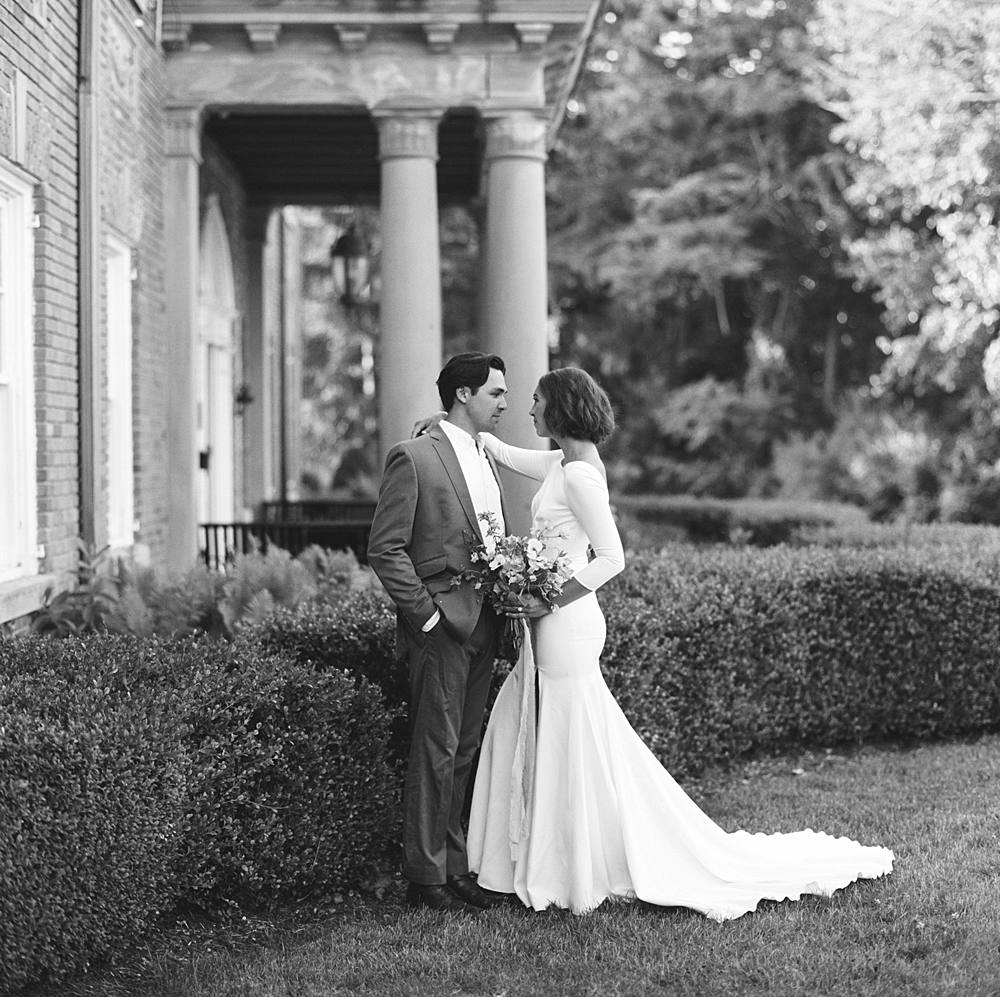 Why You Should Hire Me For Your Felt Mansion Wedding
I like to let the images speak for themselves. In my blogpost about Michigan's Best Wedding Venues, I touched on all the beautiful styling details and history of the venue that I loved. I love that it stands for something greater than just a venue to make a profit. It stands for preservation and history and I think that is such a romantic backdrop for something as timeless as marriage. I'm genuinely proud of the images we created here. I'm proud of this team and I think they are my most romantic couple's portraits to date. The venue let me inspired and I think it shines through in the images and I'd love to see what I can create for you at your wedding. I still feel like there are so many spots on the property that I have yet to explore. I shoot entirely on film, 35mm and medium format. It's the perfect medium for showcasing that beautiful, golden Michigan light. Most importantly, no one will work harder to tell your story in a unique way that showcases who you are in the greater context of this property. Art through storytelling is always most important to me when photographing anything and I promise you we will create something equally beautiful as these images, but alltogether, entirely different. Importantly, I am committed to any kind of love and any love story. I celebrate all couples, LGBTQ, all races, all religions and believe so deeply in the right of everyone to pursue happiness and love to their fullest extent.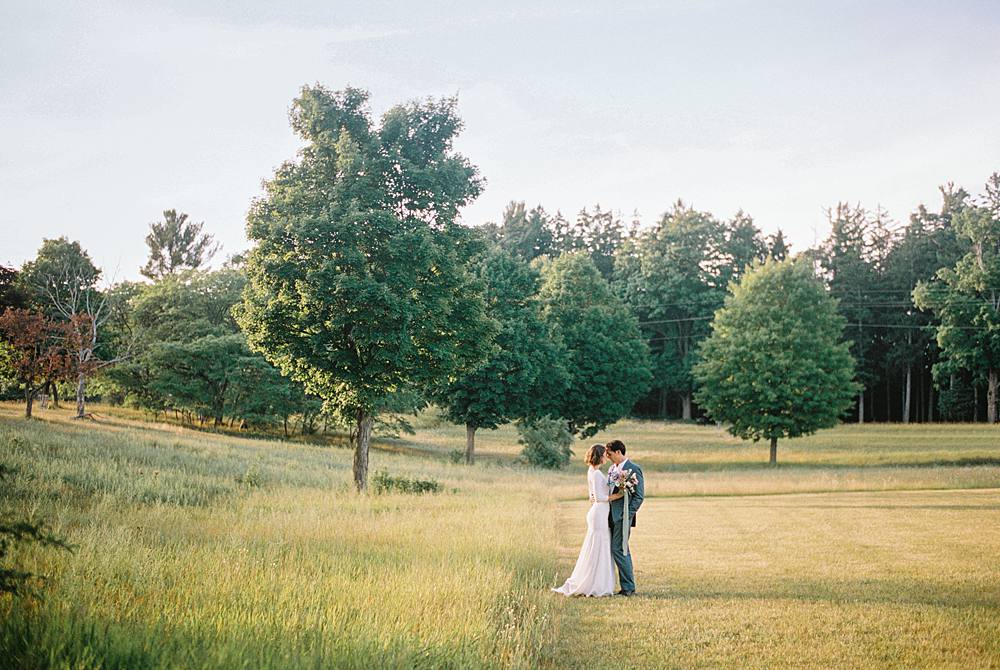 Felt Mansion Ceremony Locations
Here are the two most popular ceremony locations at Felt Mansion, West Michigan wedding venue. The first location is a long walkway out to a circular platform surrounded by a reflecting pond. The beautiful evergreen backing, pink flowers greeting you at the entrance to the pool, and long isolated walkway make this such a unique spot to say I do in Michigan.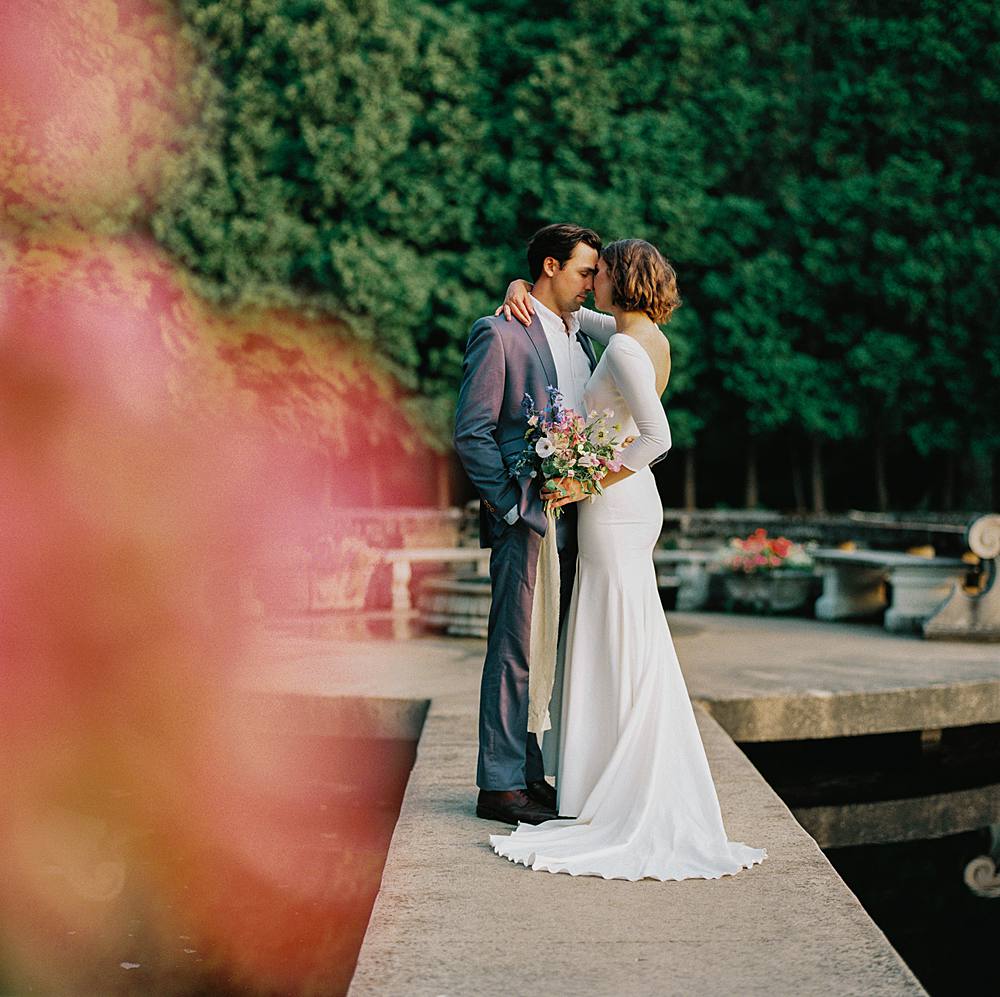 The second location features an adorable white church atop a small hill facing West Michigan's gorgeous, golden grass fields.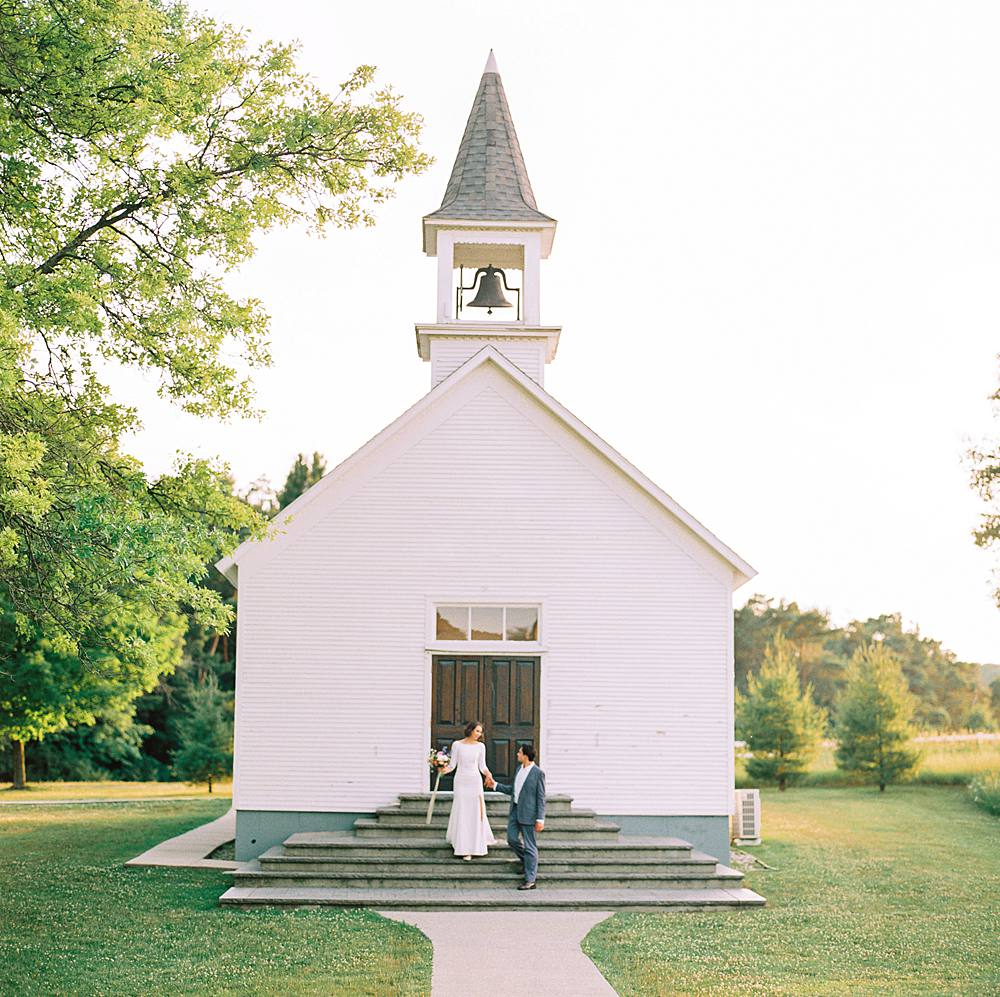 Check out these amazing florals!  Wild Flowers local to West Michigan, too.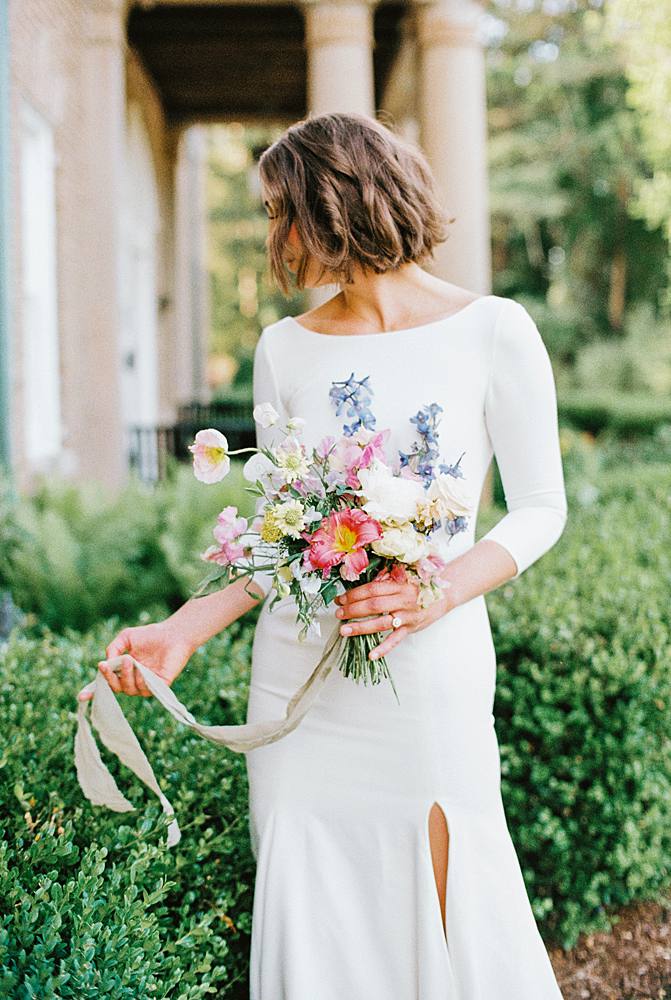 Michigan light and film go so perfectly together with timeless, affectionate love.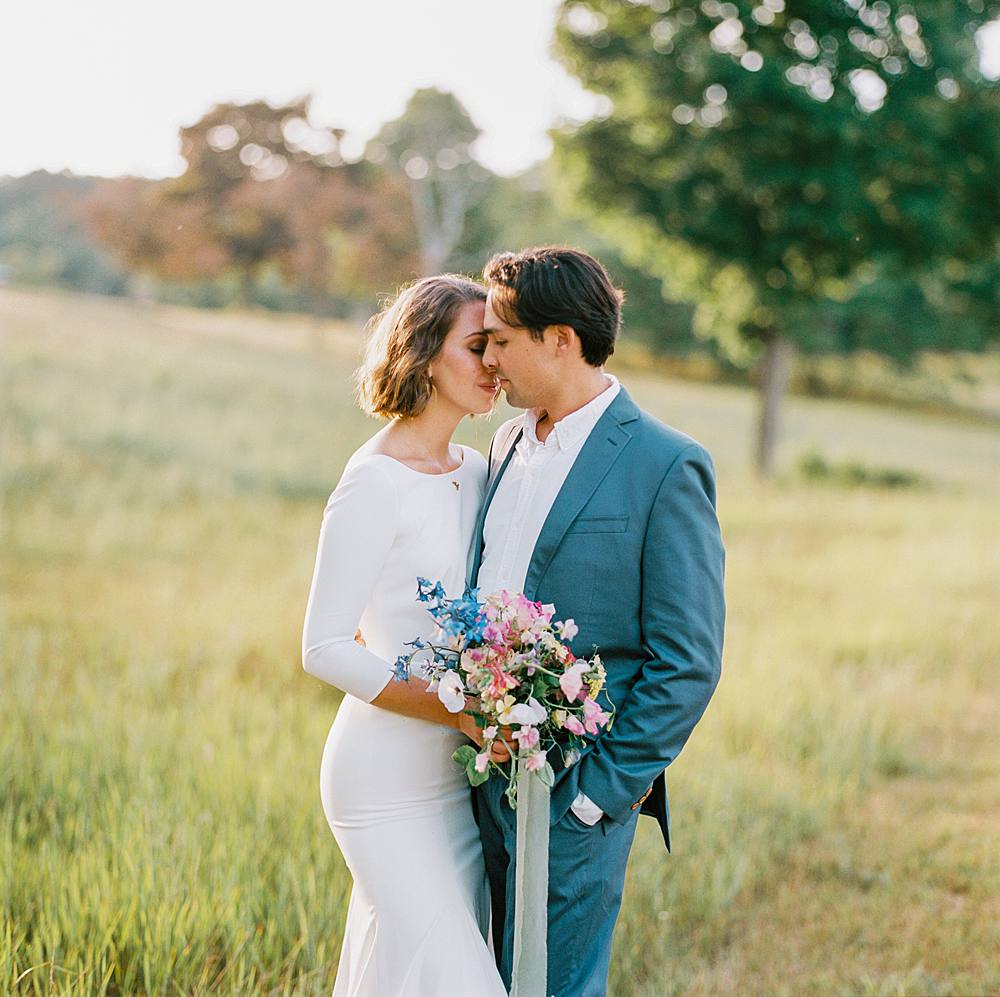 ~~                                                                                      ~~
FROM BRIAN D SMITH PHOTOGRAPHY
If you are inspired by what you read, I'd love to invite you to reach out about the wedding photography services I offer. My guarantee is that you won't find a photographer that cares more about you and your story than I. I'm endlessly passionate about telling stories on film and pushing the boundaries of art in wedding photography. I'd be thrilled to work for you and document your wedding and tell your unique story with an artful eye. I celebrate all couples, LGBTQ and straight. I celebrate all races and backgrounds, and there isn't a soul in this world that doesn't have an inspiring story to be told. 
If you'd like more info about this post, would just like to chat, or are ready to book, reach out to me by visiting my contact page here!