Classic studio fashion editorial on black and white film with a tulle dress
About the Charleston SC Studio Fashion Editorial
This studio fashion editorial was inspired by the great black and white fashion photographers of generations past - think Richard Avedon. They were masters of lighting and creating something so classic and timeless that it became transcendant. I have an accompanying shoot that I did in color, shooting digital, that was inspired by a mixture of Avedon, Vogue and Paolo Reversi mystery.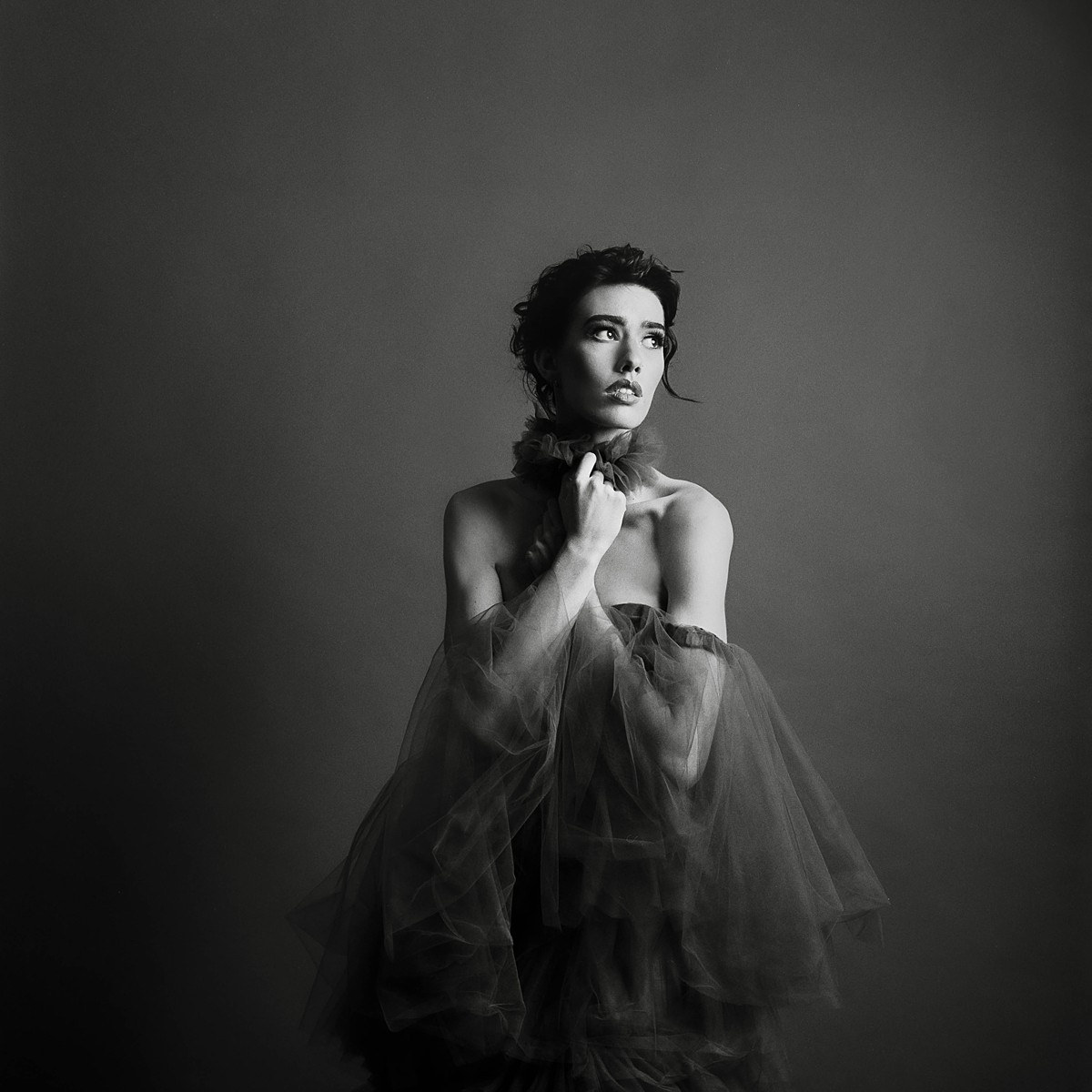 About the Fashion and Styling
The dress was a teal blue Tulle dress, layered fabric with an underskirt made by a local designer here in South Carolina. The styling, for this portion of the shoot, was kept simple and classic, using only a single strobe and a dark seamless paper backdrop from Savage Universal. I wanted to create something that felt ageless, like the photos of Richard Avedon. Although, I can't help but ignore my constant draw towards something a bit more ethereal and dramatic and I think that came out in this photo set.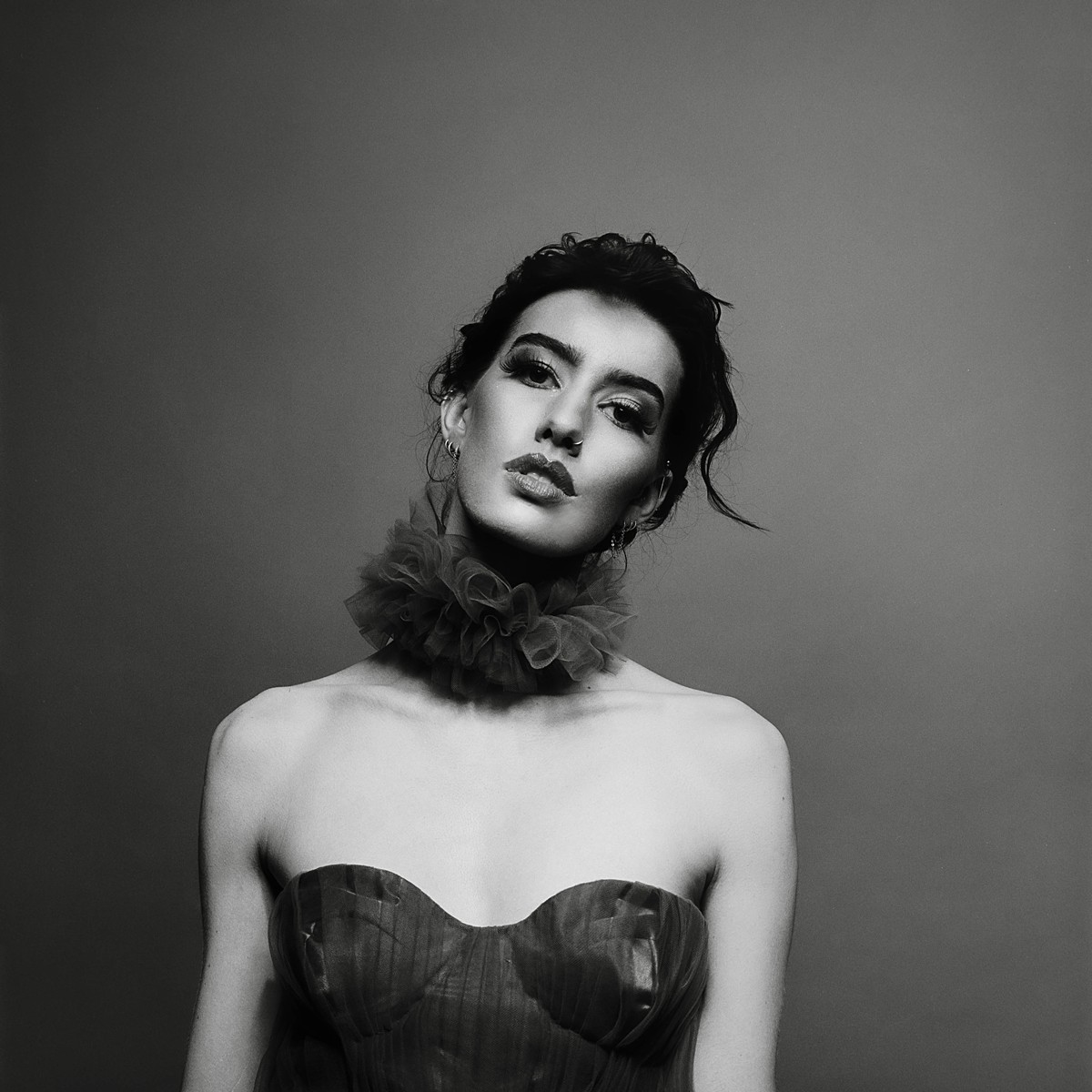 Equipment Used and Why I Use Film for Fashion
I used my favorite portrait camera, my Hasselblad 202 FA - Review Here. There is something freeing and timeless about the square format and I've always been drawn to the shooting experience of it, moreso than my traditional SLR cameras like my Contax 645 - Review Here.  I decided to shoot only on black and white film. My stock of choice is Kodak Tri-X 400 medium format. Shooting only in black and white was a chance for me to slow down and focus on the beauty in simplicity. Ever since I opened my new studio space, Studio Sixty Reid in Charleston South Carolina, I've been so focused on styling and color that at times it has become exhausting. The shoot was also meant to be an ode to the past era of fashion photographers and the amazing mood they created with such simplicity.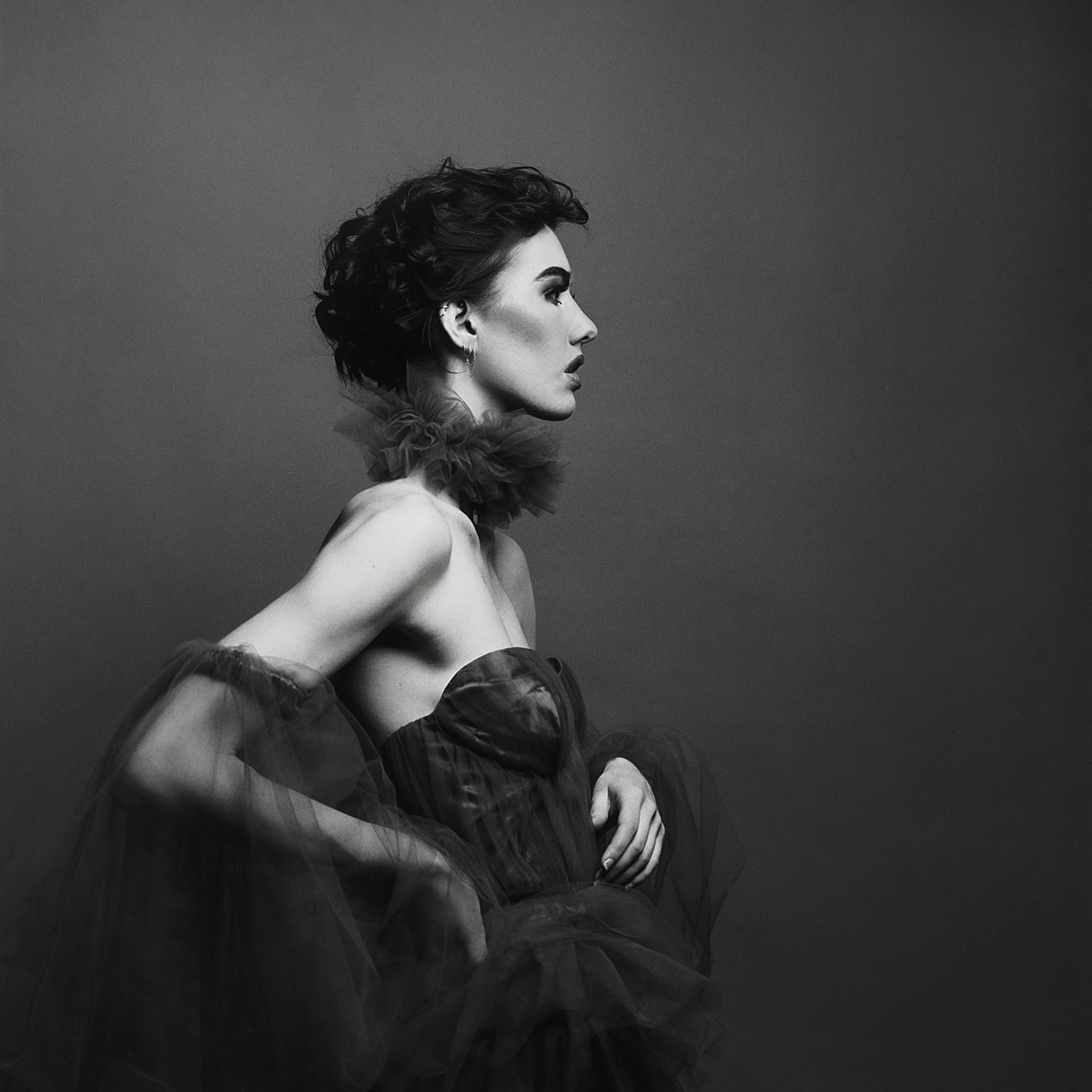 I kept it simple with lighting as well, using only a black card for negative fill and a single strobe (godox AD600PRO) with a 48" softbox. I had the light as close to the model as possible while staying out of the frame. 
Portrait Photography Studio Locations - Studio Sixty Reid
Charleston SC Photography Studio
I own and operate a portrait photography studio in Charleston, SC. Charleston South Carolina is the birthplace of my photography business and where I discovered and refined my love for studio portraiture. Studio Sixty Reid, named after a location where I created some of my favorite early portrait work, is a natural light and flash photography portrait studio right in the heart of Downtown Charleston. The studio is in a prime location, just a short walk from bustling king street and features solid color seamless backdrops, clean white walls, a mid century styled section for lifestyle photography shoots and enough space to create custom sets for your portrait and editorial photography projects. 
Northern Michigan Photography Studio - Traverse City
I spend most of my Summer in Northern Michigan, 45 minutes south of Traverse City. I run an in home studio, under the same name of Studio Sixty Reid, in my lakefront family cottage. The studio features natural light and flash photography capabilities and has beautiful lake front views in the small town of Bear Lake Michigan. My Bear Lake studio is where I first set up a portrait studio, and first developed my love for flash photography and shooting film with strobes. 
Learn more about Brian D Smith Studio Portrait Photography
Brian D Smith Photography Studio Portrait Portfolio and Information
~~                                                                                      ~~
FROM BRIAN D SMITH PHOTOGRAPHY
If you are inspired by what you read, I'd love to invite you to reach out about the portrait photography studio services I offer. I have poratrait studio locations in Charleston SC and Traverse City Michigan. My guarantee is that you won't find a photographer that cares more about you and your story than I. I'm endlessly passionate about telling stories on film and pushing the boundaries of art in portrait photography. I'd be thrilled to work for you and tell your story through intentional and creative portraiture. I photograph Branding Portraits, Bridal and Wedding Portraits, Heirloom Portraits, Boudoir, and Creative / Editorial Portraiture and Fashion in studio. I celebrate all people, LGBTQ and straight. I celebrate all races and backgrounds, and there isn't a soul in this world that doesn't have an inspiring story to be told. 
If you'd like more info about this post, would just like to chat, or are ready to book, reach out to me by visiting my contact page here!