Creating Moody Editorial Fashion Photography in my Charleston SC Backyard
About the Moody Fashion Editorial
Part creative outlet, part targeted marketing for fashion work. Glennon and I have collaborated quite a few times now. I trust her style and she trusts my vision and we have developed a really good working relationship for creating beautiful work with little planning. I had a backdrop setup that I wanted to explore more, and Glennon knows my vibe and style and brings clothes to match. We show up, we get a feel for the vibe, lighting and colors and get to work. I'm fairly handsoff when it comes to posing. I place the model in the good light and give her the space and freedom she needs to work. It is often the in between expressions that end up being my favorite.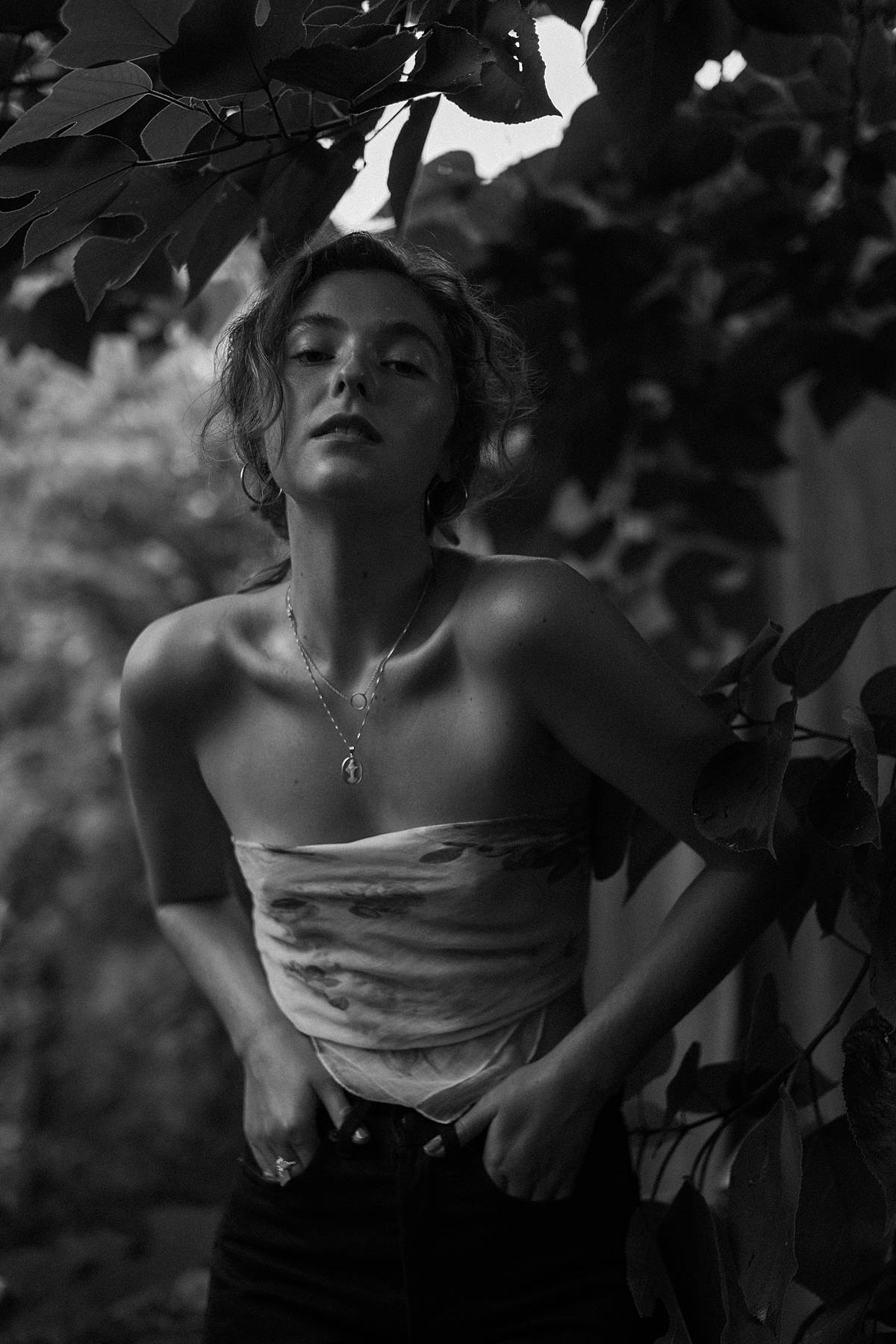 How would I describe fashion photography style
I work two ways when approaching fashion photography and editorials. If the mood and setting calls for more posed shots, or dramatic lighting, or more heavily constructed sets, I will pose the model more strictly and be more dilligent with angles, lighting, etc.. For editorial projects like this, I construct a scene and let the model move through her poses and moods. The outcome is fashion photography with more of a story driven feel. You feel like you are moving with the model and experiencing her emotions, which I find often works really well to sell a style or vibe...especially when targeting the everyday consumer. It's dramatic but feels approachable. When I approach fashion photography this way, I feel like I am seeing into the model's soul. It's a window into their world. 
How I Create Fashion Editorials in my Charleston SC Backyard
This setup is one I have used quite often, but I approach the fashion shoot in a different way each time. I construct an outdoor studio in the backyard of my Charleston SC Photography Studio blending a Savage Universal Muslin backdrop into the foliage of my environment. The result is something that feels constructed and editorial, but also natural and approachable. This has been my favorite method of creating lately - a juxtaposition between the natural and manmade. 
Equipment Used and Film Portraits
I photographed this editorial using my Sony a7iii and adapted Leica Summilux-m 50mm F1.4 lens (my favorite digital combination). The majority of my work is shot on film but I like the affordability of digital, allowing me to shoot more and capture the in between moments, that I may have been hesitant to shoot on film. I shoot all manual focus which helps keep me connected to my work. The out of focus images, I find, end up adding to the mood and are often my favorites of the shoot. I always shoot for mood over perfection when I photograph anything: portraits, weddings, fashion photography, etc.. The backdrop is a 10'x24' dark grey muslin backdrop from Savage Universal. I even shot a roll of medium format kodak Portra 800 film through my Hasselblad 202FA and 110mm F2 lens.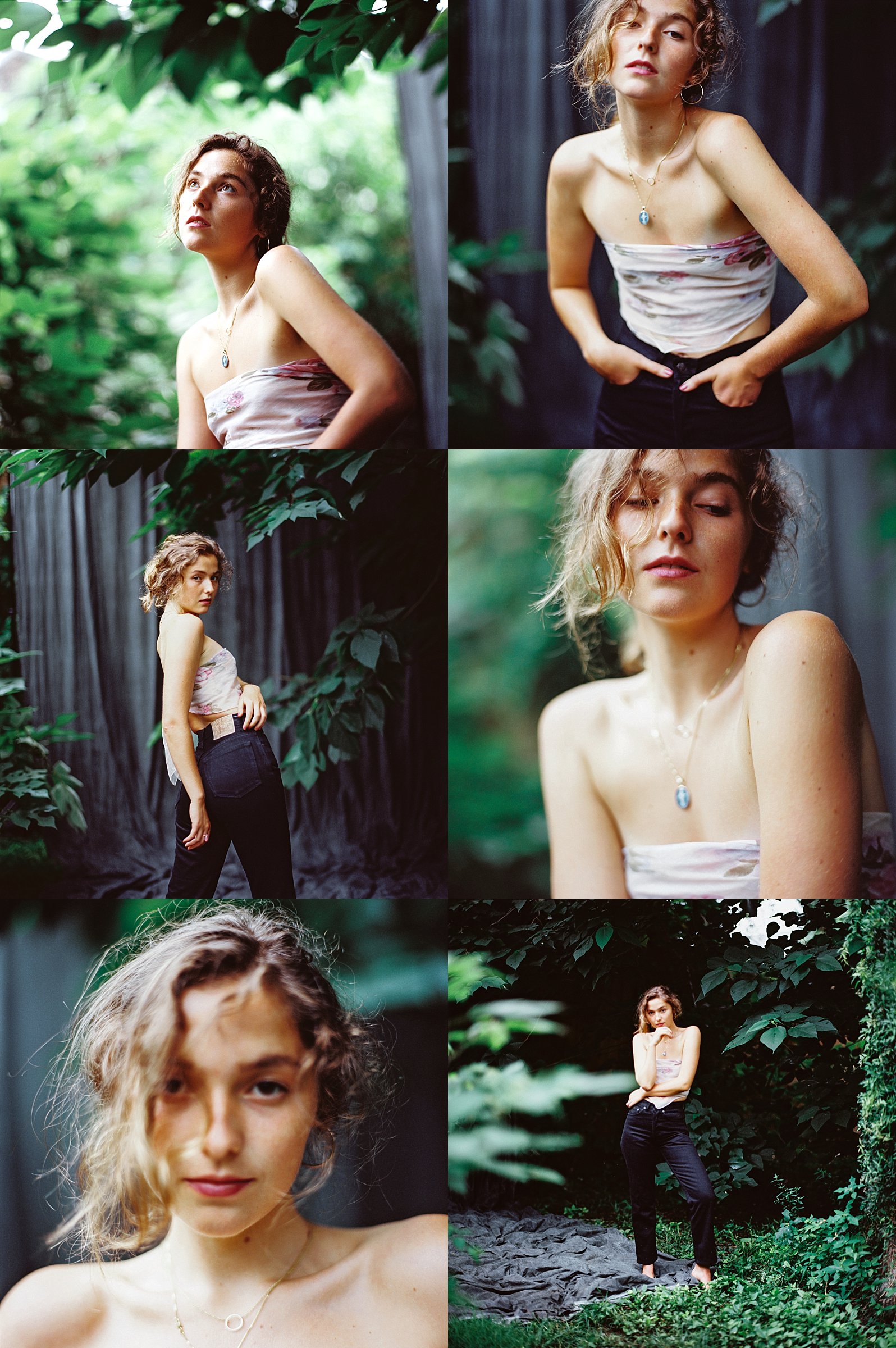 Fashion Editorial Location
This shoot was constructed outside of my Charleston South Carolina Portrait Studio. We shot starting around 6PM to get the beautiful sunset light fading in slightly over the backdrop. It creates this beautiful spotlight effect to separate the model from the backdrop and the light reflecting from the nearby houses helps to fill in the front side of the subject. 
Learn more about Brian D Smith Editorial Photography
I have portrait studios in Charleston South Carolina and Traverse City Michigan, but am constantly traveling around the country and world in search of new faces and unique backdrops.
Brian D Smith Photography Editorial Portfolio and Information
~~                                                                                      ~~
If you are inspired by what you read, I'd love to invite you to reach out about the photography services I offer. My guarantee is that you won't find a photographer that cares more about you and your story than I. I'm endlessly passionate about telling stories on film and pushing the boundaries of art in editorial and portrait photography. I'd be thrilled to work for you and document your story, wedding or business in Charleston South Carolina, Northern Michigan, or any destination abroad.
If you'd like more info about this post, would just like to chat, or are ready to book, reach out to me by visiting my contact page here!