5 Days and a Tour of Michigan's Best Wedding Venues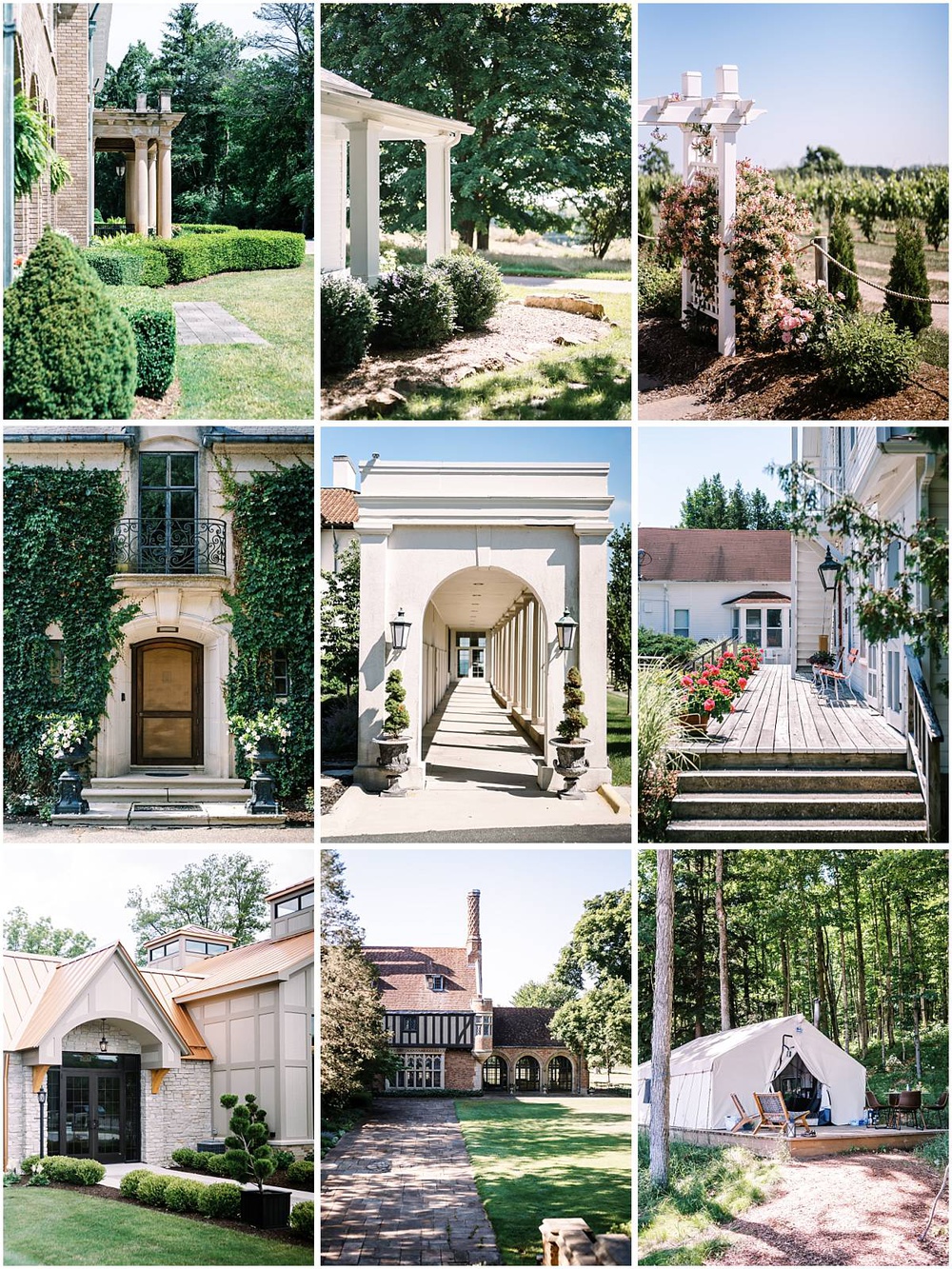 5 Days and a Tour of Michigan's Best Wedding Venues
Emily and I from Connolly House Events connected over a love of fashionable weddings and telling unique stories. We set out to tour and document the best wedding venues in Michigan. A 5 day road trip, exploring wedding venues in West Michigan, Grand Rapids, Ann Arbor, Metro Detroit, and Northern Michigan - Including Leelanau County and Traverse City. Photographs and write-ups accompany our favorite memories from each wedding venue and why they should be at the top of any Michigan Bride, Groom, or Engaged Couple's Michigan wedding planning list.
July 29, 2020, 4:45 p.m.
About the Michigan Wedding Venue Tour Project
This project started as a simple idea to connect. I've spent my entire life visiting Northern Michigan in the Summer but never established any connections in the industry that now has become my life and allows me the flexibility to spend my Summer amongst the beauty of the Michigan landscape. I connected with Emily from Connolly House Events on Instagram. What started out as an attempt to connect with wedding planners in Michigan turned into a personal bonding over fashion and a genuine desire to elevate the style of the wedding industry. I felt that Emily and I both had the desire to do things a bit differently. We loved the traditions of marriage and weddings, but sprinkled with a touch of Vogue. We adore the quiet Michigan landscape, but with a pinch of NYC energy. 

Something I have learned in my early career as a wedding photographer is that the industry functions in teams. Being the best individual often requires the best team. Thus, the idea to engage with Michigan's Best Wedding Venues was born. Thousands of "best wedding venue" blog posts already exist, so in Emily and I's genuine and true fashion we set out to do it differently. We spent 5 days road tripping around the entire state visiting the best wedding venues in West Michigan, Grand Rapids, Metro Detroit, and Northern Michigan. We visited venues, explored cities, crashed with friends and family and ate good food...all fueled by the best coffee you can find. 
When you are done reading through the best of what Michigan has to offer for nature wedding venues, city wedding venues, modern wedding venues, and historic wedding venues, please check out Emily and I's websites and be sure to give us a follow on Instagram! If you'd like to chat, please call or email either of us and I'm sure we can convince you of just how passionate we are about what we do and why it makes us the best in Michigan's Wedding Industry.
About The Michigan Wedding Photographer and Wedding Planner
I spend my Summers in Northern Michigan, and whenever I have weddings scheduled throughout the year, and Emily lives year round in Grand Rapids. She also grew up in Metro-Detroit. So, between her and I, we have the entire state covered and have a deep, personal connection to the entire Michigan landscape. Emily and I are great as individuals but, if you are planning your wedding, I highly encouarge you to speak with the two of us and we can echo our shared vision of what we find inspiring about the wedding industry and how we strive to push it forward into a fashionable future.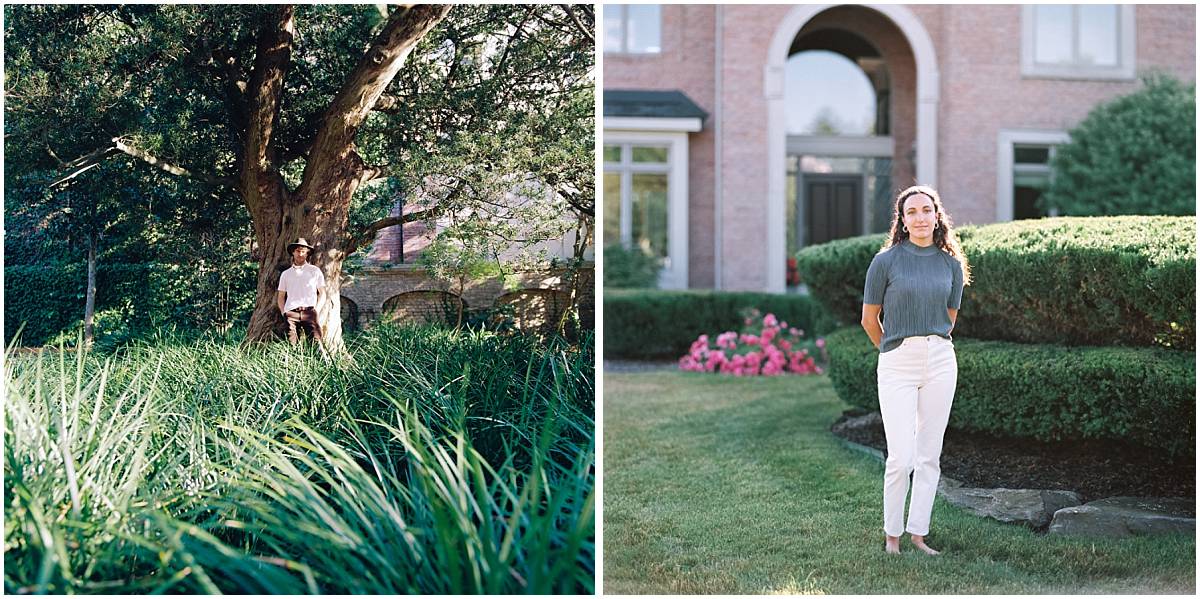 For More Information About Each of Our Michigan Wedding Businesses Check Out Our Websites
Brian D Smith Photography - Michigan Wedding Photographer
Connolly House Events - Michigan Wedding Planner
Likewise Connect with Us and Follow Us On Instagram
Brian D Smith Photography On Instagram
Connolly House Events on Instagram
Michigan's Best Wedding Venues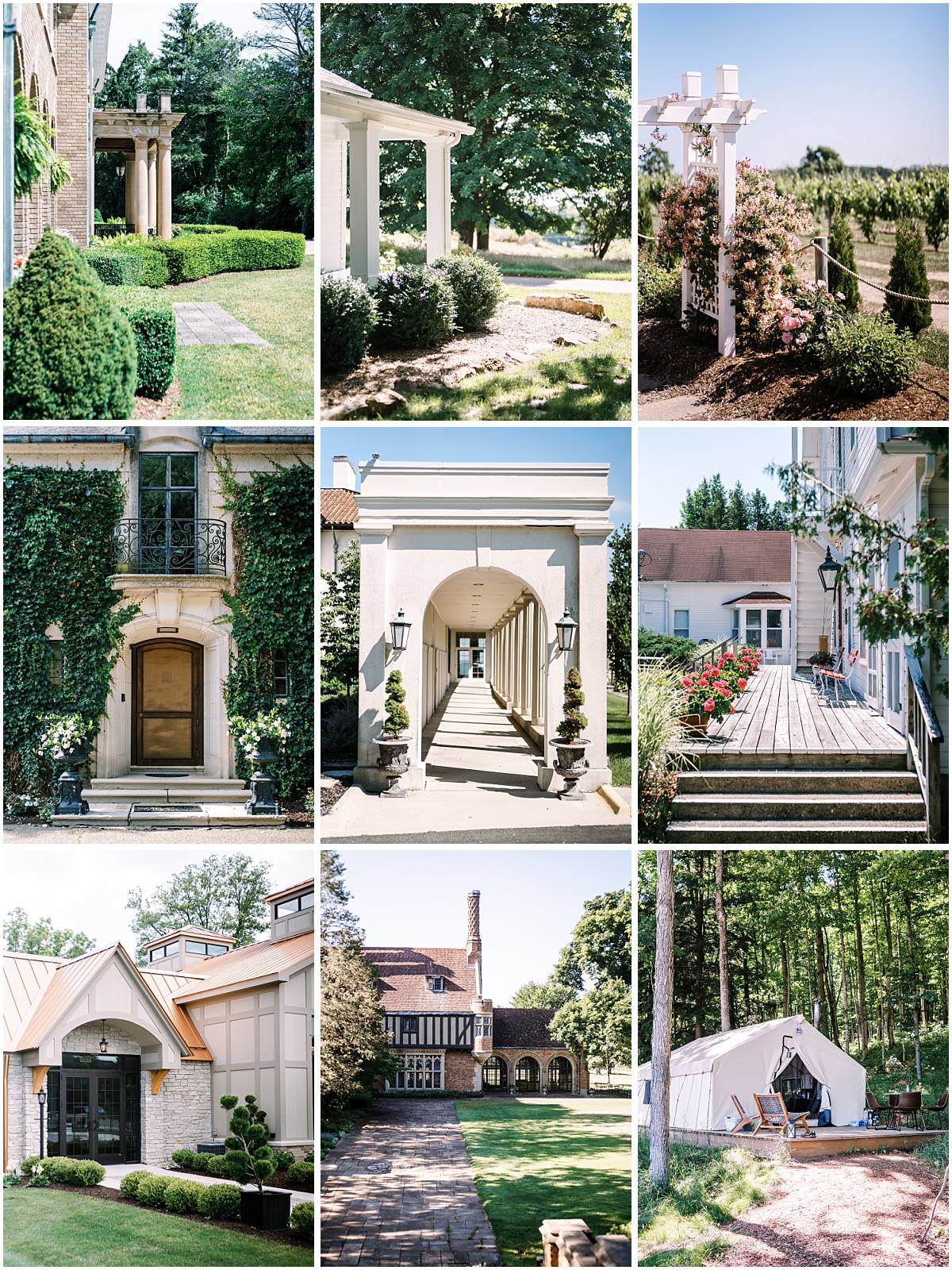 I'd like to start out by saying that this list isn't necessarily all inclusive. Some venues we reached out to were either not open or unable to accomodate because of covid restrictions and resulting staff shortages. So, if you'd like to be on the list but are currently not, please reach out because we would love to speak with you! This project was largely about making connections with the people who run and are passionate about the wedding venues, but we also wanted to highlight our favorite details and vignettes that make each such a desireable place for your Michigan Wedding. 
Best West Michigan Wedding Venues
Our Journey started in West Michigan, the home of Emily's wedding planning business and a wonderful mixture of hip, historic and countryside wedding venues. 
FELT MANSION
Felt Mansion is located just north of Saugatuk Michigan and is one of West Michigan's most historic and cherished wedding venues. Felt Mansion comprises the sprawling estate and residence of Dorr E. Felt, a self made millionaire who inveted the comptometer - think early calculator. Dorr E. Felt passed away, along with his wife, shortly after the homes completion in 1928. It remained in the family until WWII when it exchanged hands a few times serving as a home for Catholic Nuns and an office for the State Police. It was sold, by the state, to Laketown Township in the early 1990s under the stipulation that it be used as a public historic site. Today, Felt Mansion operates as a wedding venue to fund the costs of upkeep and preserving the beautiful history of this Western Michigan Estate.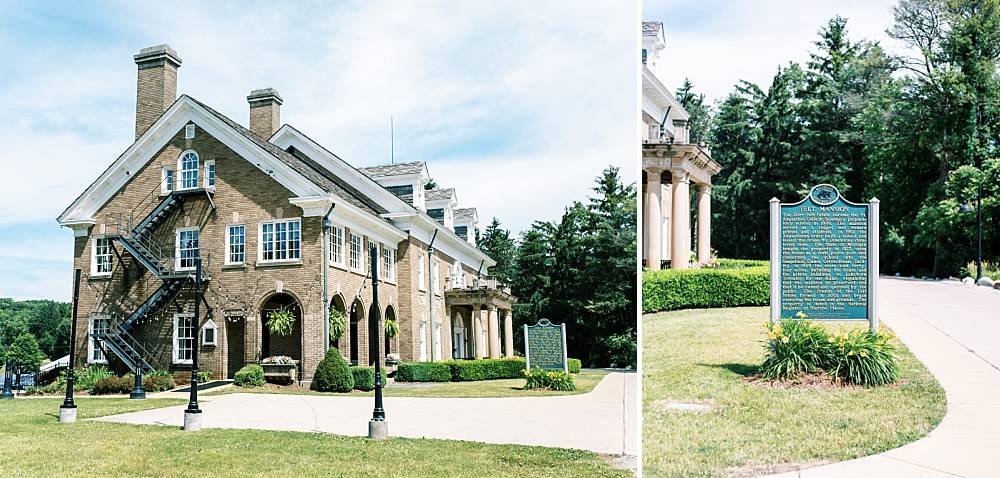 Felt Mansion's exterior is a lovely faded brick with towering stone columns that surround it's entryway. Greenery adorned arches offer a glimpse into a tiny breakfast nook patio that is a perfect cocktail hour bar location for your outdoor Michigan Wedding.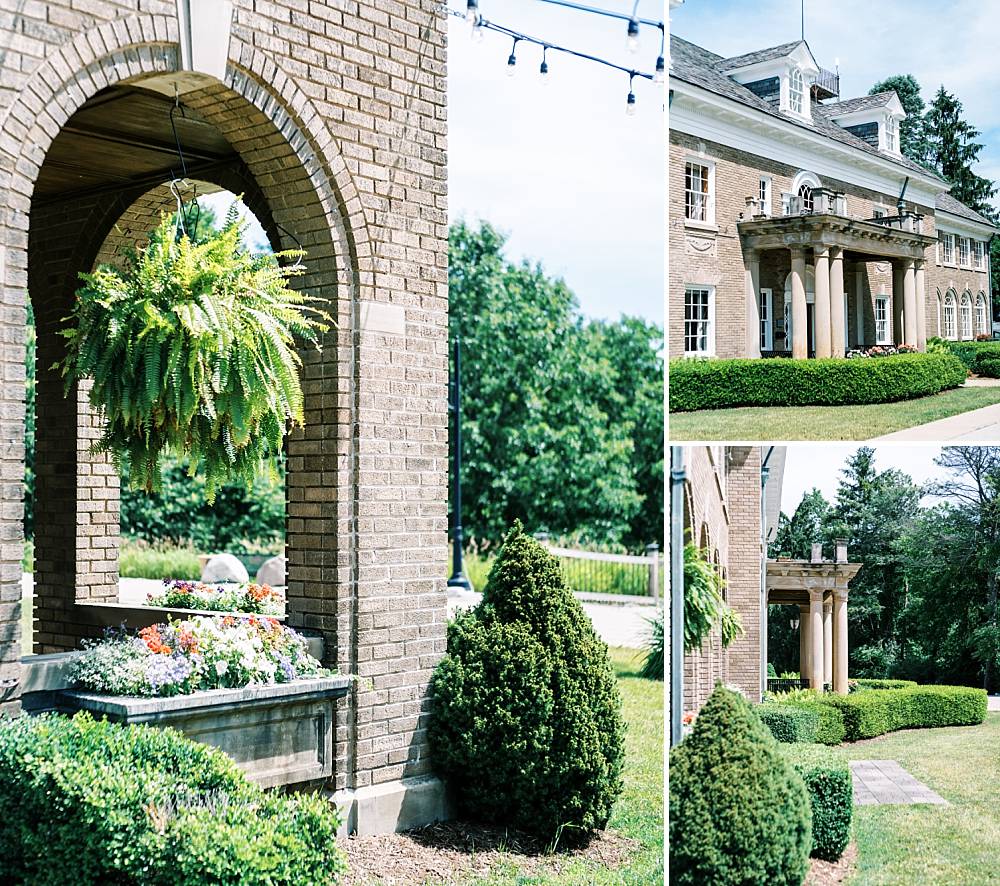 The venue features a permanent, conrete floor reception tent and patio so you never have to worry about adding a tent option. Not to mention it extends right out into a state park and sprawling grass field where guests can mingle at cocktail hour and the couple can take some dynamite sunset wedding portraits.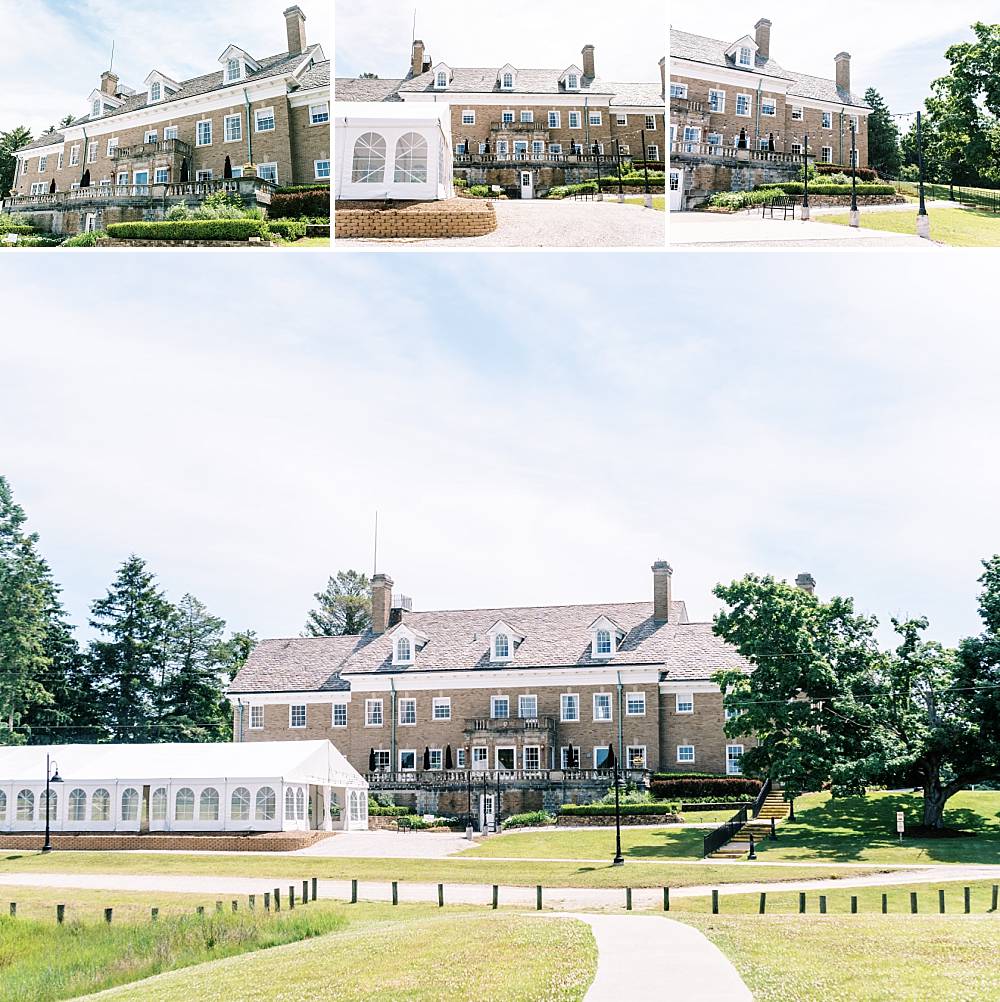 CEREMONY LOCATIONS
Felt Mansion features two primary wedding ceremony locations. The first, and the one that I find the most unique, is a circular reflection pool with a long stone walkway leading to a central fountain. It is surrounded by lush greenery. It's a really wonderful option if you are hiring a film photographer, as the light reflects quite intensely off of the stone pathway. Film handles highlights so beautifully. Plus, can you imagine walking down this walkway in your dress?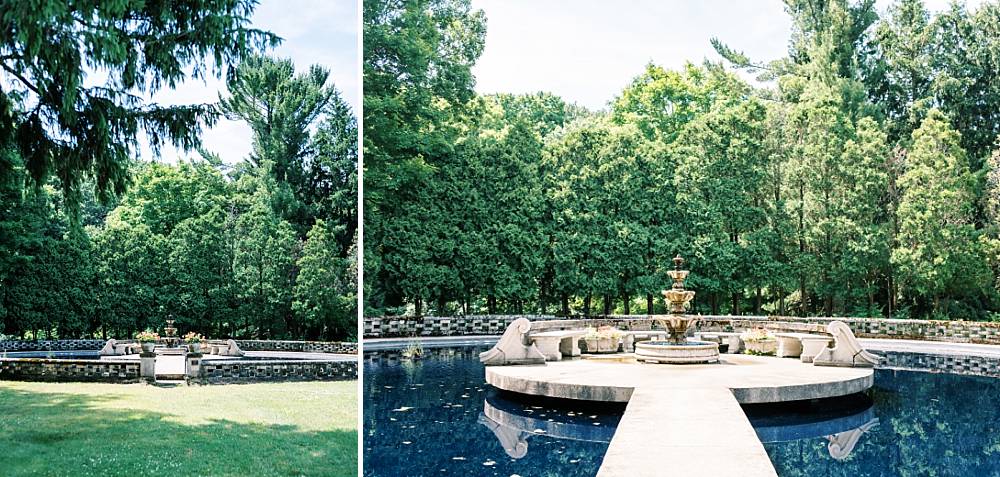 The second ceremony location is in front of this adorable white chapel at the back of the property and butting up to the state park. Honestly, you can't go wrong with either location. Imagine walking down that long stretch of as guests turn around to see your wedding dress in all of it's glory!  It's pretty rare that a wedding venue offers two distinct outdoor ceremony location and the property's size certainly makes it a rare find as a Western Michigan Wedding Venue.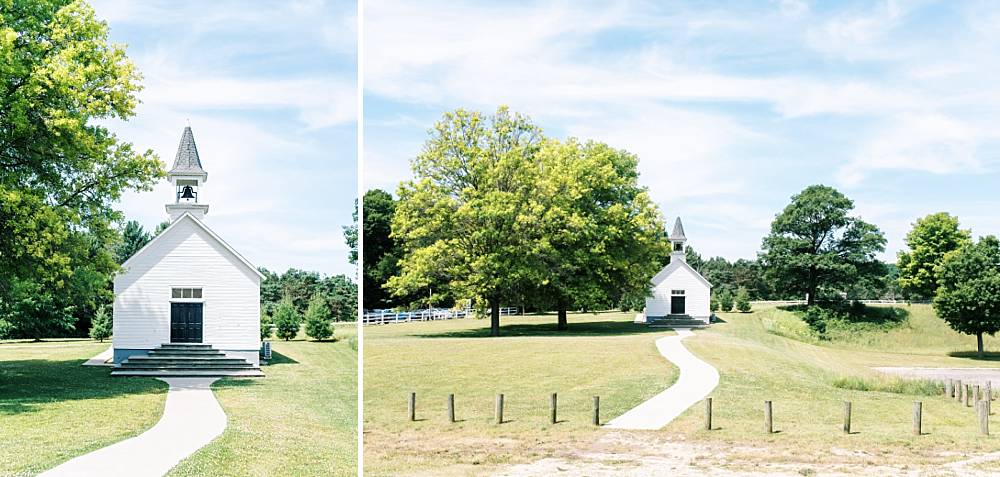 INTERIOR
The interior of Felt Mansion is certainly something that makes it wonderfully unique. The township did such a wonderful job preserving the original character and architecture of the estate. It features period correct murals, meant to replicate the originals found in the home, and wood craftsmanship and trimmings worthy of magazines. I spend my time in a 1960s wood cabin in Northern Michigan when I stay here during the summer so I am always partial to dark wood interiors. Guests will love touring the home and aweing at its history.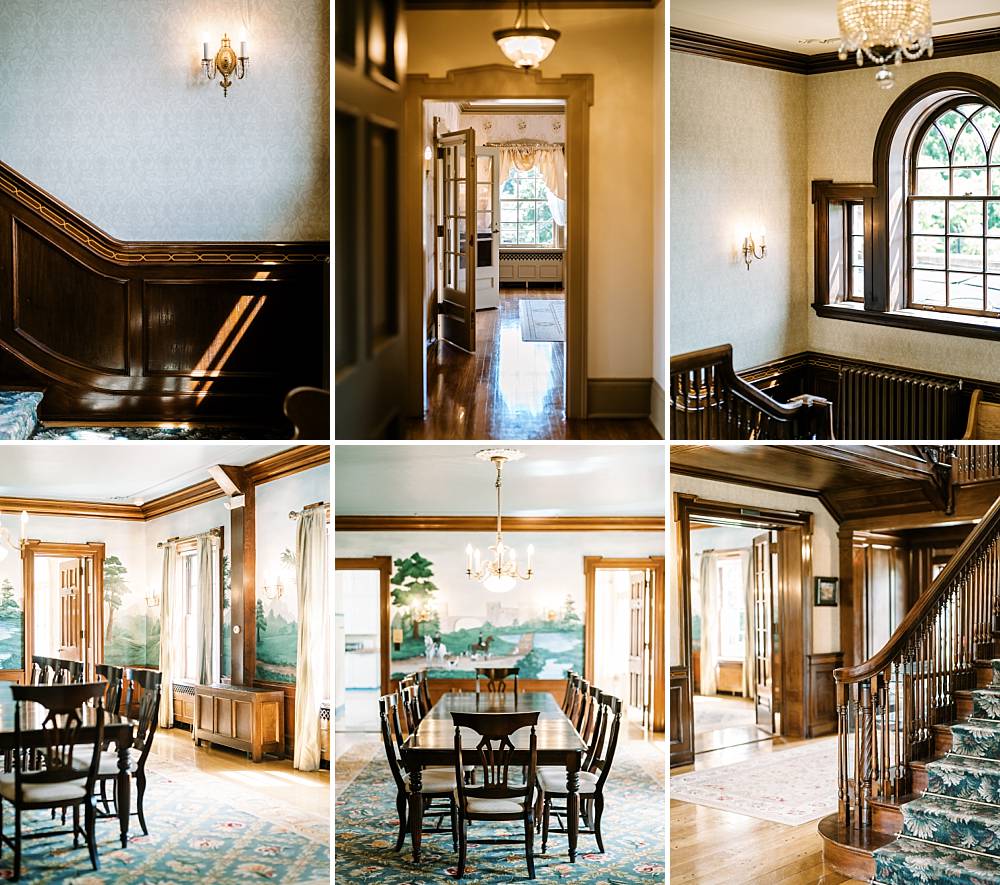 It features one of the best groomsmen getting ready locations I've seen in a wedding venue yet - a vintage book lined library.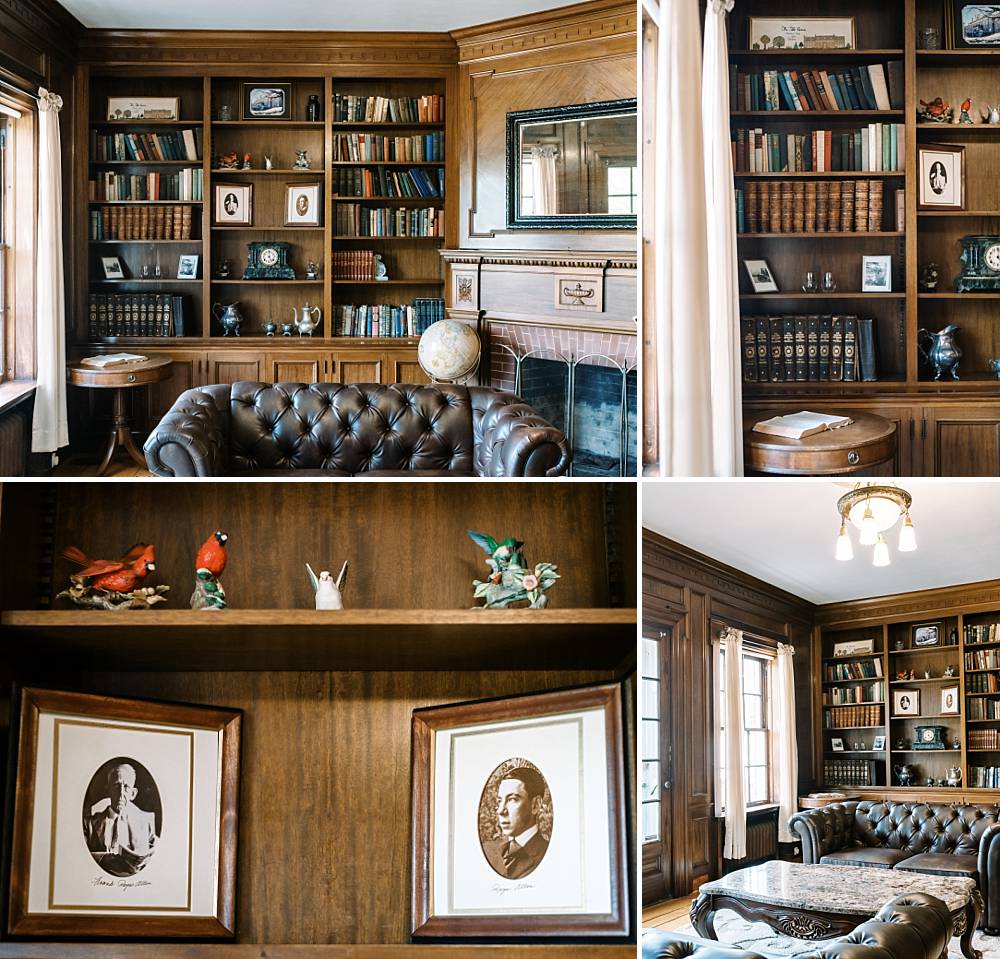 This wedding venue has enough vintage touches to make the hippest of couples feel at home. Guests can stay in the home's historic rooms. It's funny to look back on the cycles of traditions. If I had to style a home today, I would do it just like this one.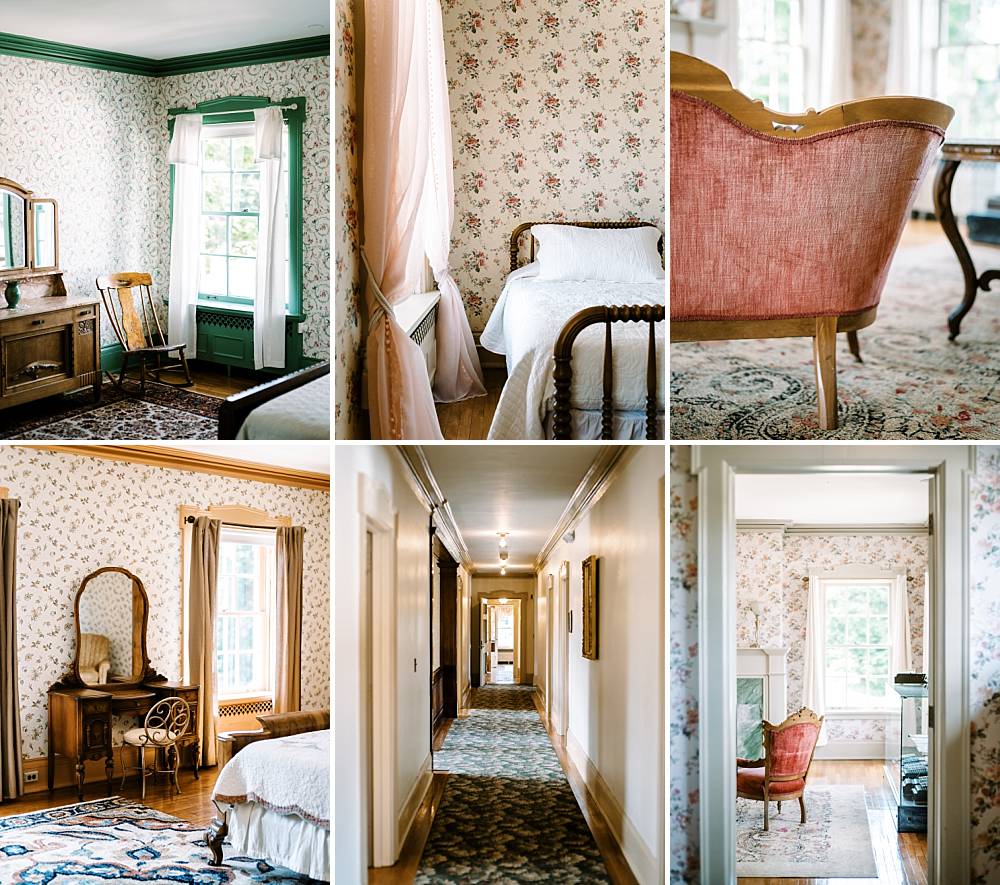 It features an alternate, indoor reception area on the top floor of the property with a beautiful, curved plaster ceiling.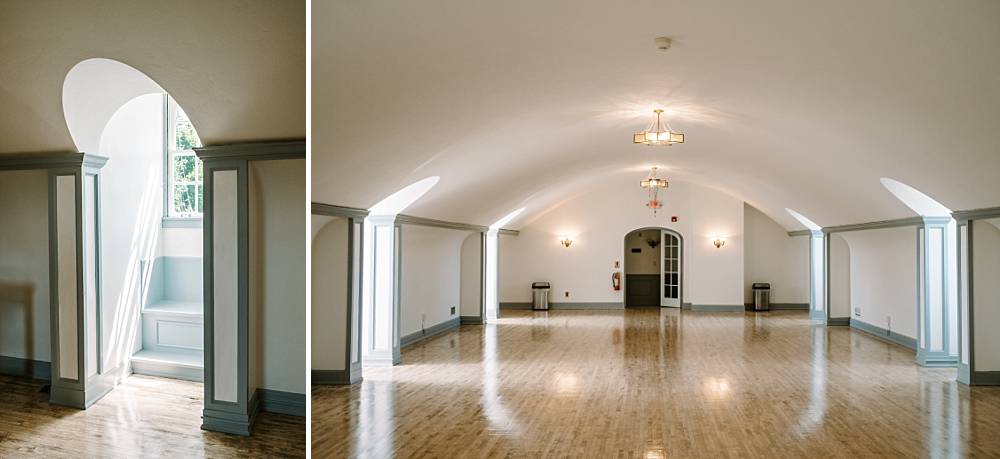 Admiring quirky wallpaper and vintage mirrors quickly led to a tour long trend of taking selfie's in the wedding venue mirrors. Please please tell me where I can buy that wallpaper (hint...you can't).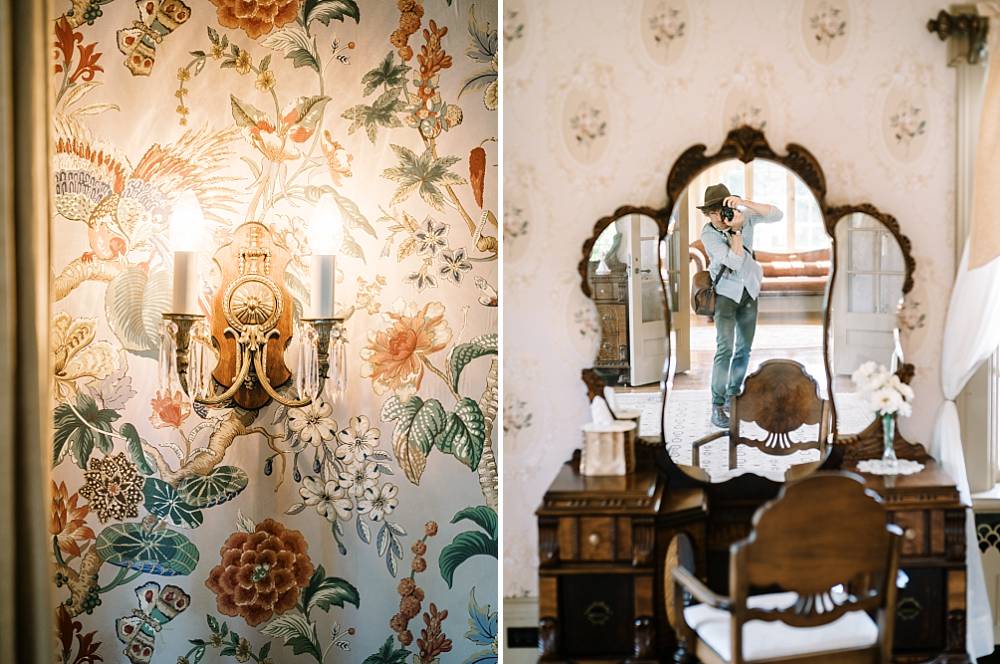 The bridal suite at Felt Mansion was far and away my favorite room in the house. It had plenty of natural light, which is a wedding photographer's dream, and tons of vintage furniture for your interior bridal portraits. Honestly, it is probably my favorite bridal suite I've seen at any wedding venue and one of the reasons Felt Mansion would be at the top of my list for best michigan wedding venues.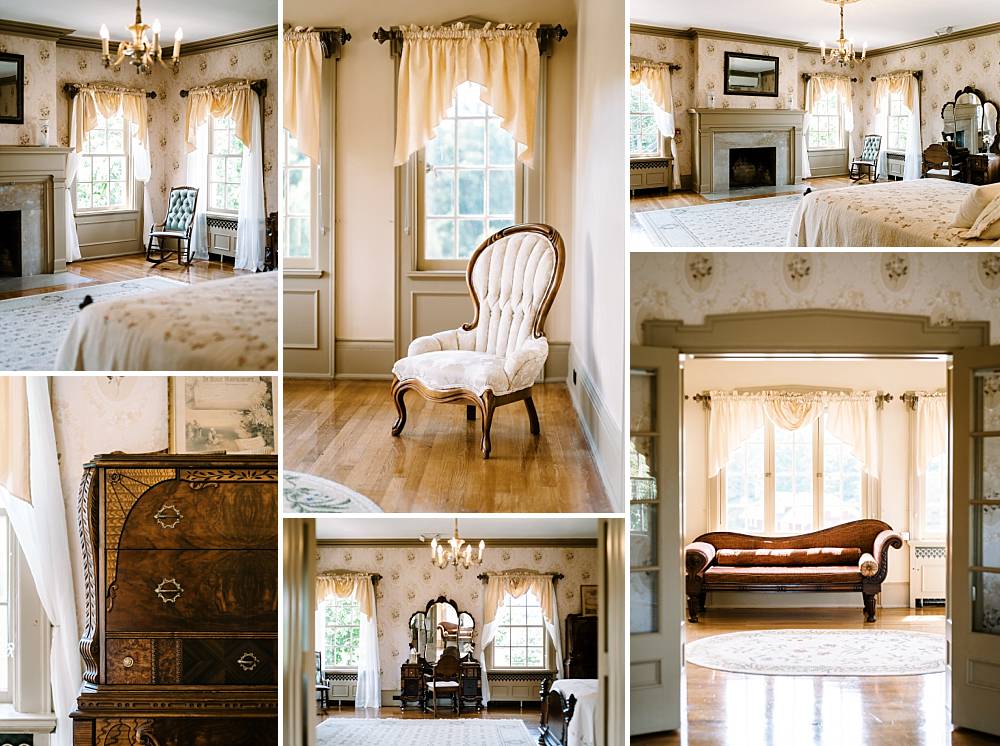 Last but not least...a touch that probably won't be reflected in your wedding day photos too much, but something I always admire - a good vintage bathroom. I adore vintage tilework andd the bathrooms at Felt Mansion certainly do it well. I'd love to shoot some bridal prep boudoir in these bathrooms. This project really opened my eyes to appreciating the little details of Michigan Wedding Venues and thinking outside my ever expanding creative box for portrait locations and storytelling opportunities.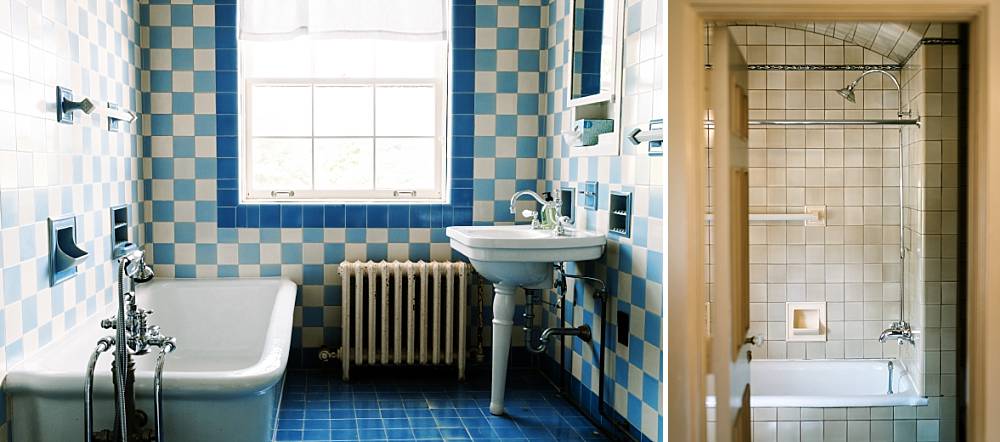 MORE INFO ABOUT WEST MICHIGAN WEDDING VENUE FELT MANSION
Click here for more information about Michigan weddings at Felt Mansion
GRAND RAPIDS ACCOMODATION
Emily was gracious enough to host me in her own home during the first two nights of the trip. It was a real step up from the intended sleeping spot of my 4runner, and it was a great opportunity to have someone show me the charming uptown areas of Grand Rapids. 
Backpacking through Europe has made me excellent at packing light and living minimally. I packed a small backpack of clothes andn my favorite film camera gear!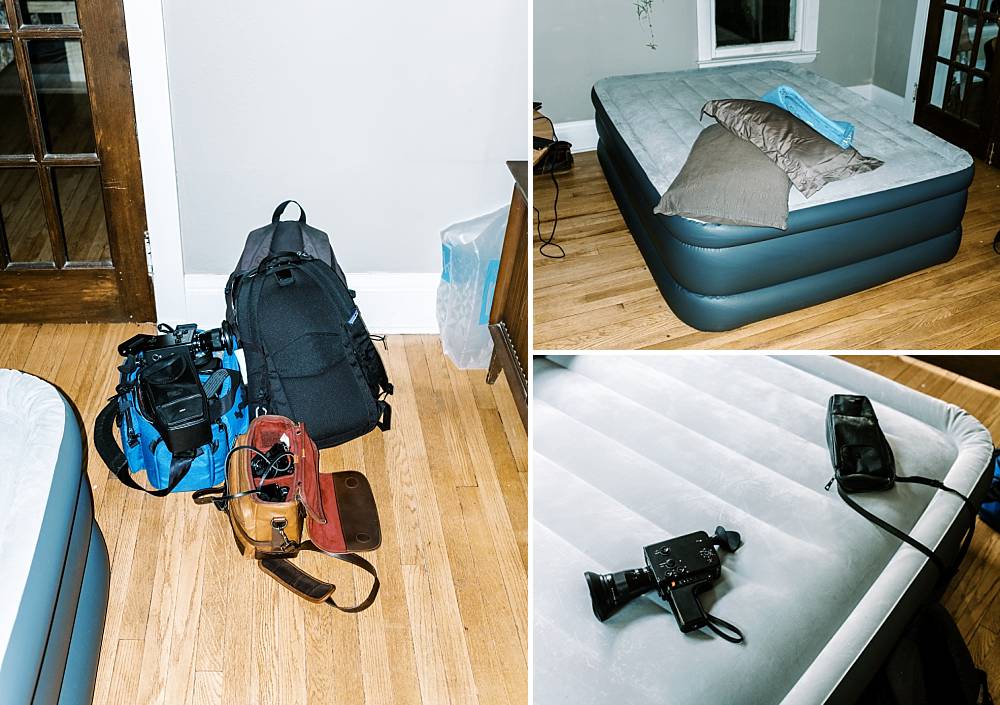 Of course I brought along my favorite Austrian hat (A country that Emily and I both bonded over) and had time for my classic mirror self portrait.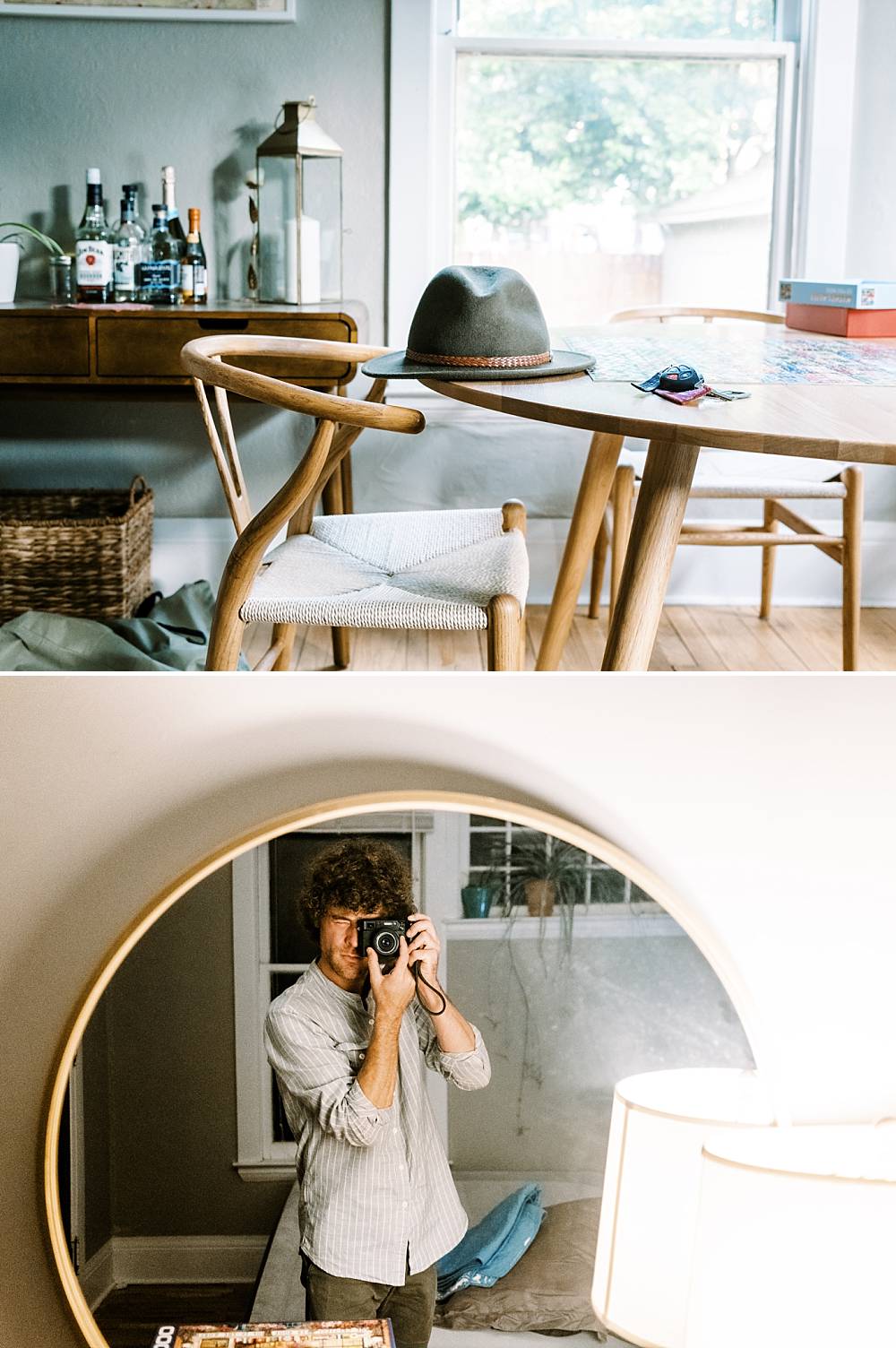 We stopped by the perfect Covid friendly coffee shop/van as we departed early for Greencrest Manor. Outside coffee company in Uptown Grand Rapids did not disappoint and is certainly a spot I'll go back and hang at again.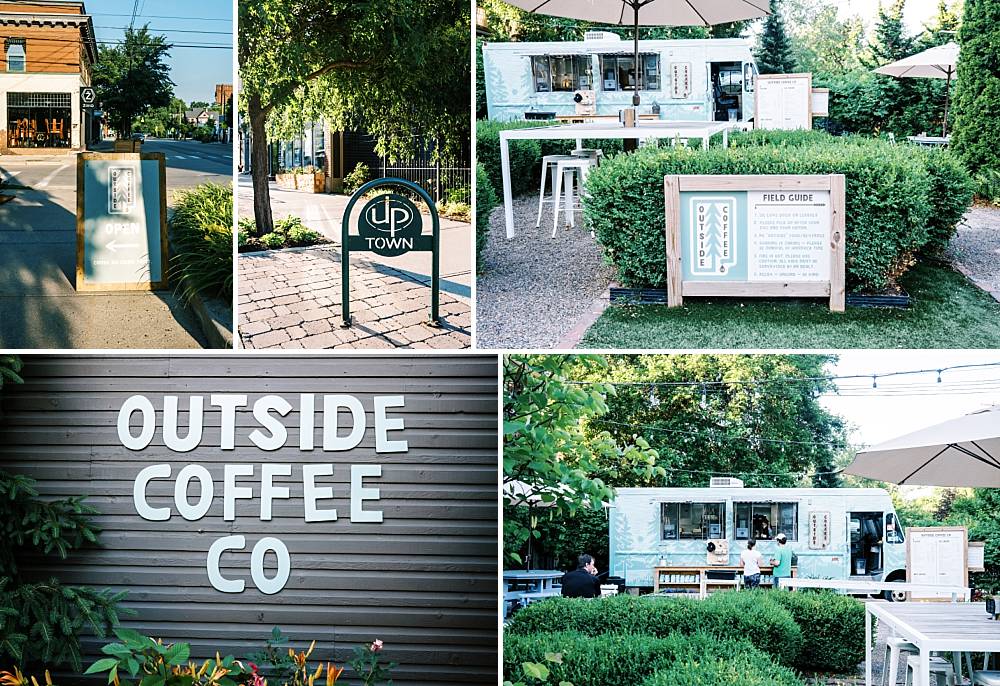 GREENCREST MANOR
Greencrest manor is a Bed and Breakfast and Western Michigan Wedding Venue located in Battle Creek. Greencrest is Michigan's best European style wedding venue, and I'd argue one of the best in the country. It's truly a gem, located deep within the trees down a narrow road in a Western Michigan farm town. I've had my eye on Greencrest Manor for a long time, in large because of my love for European styling and architecture. It isn't something easy to find in any United States wedding venue. Greencrest was built as an estate for an early 1900s lumber baron. It was later transfered to the Catholic church and served as a seminary before exchanging hands with a few private owners. Today, the estate is owned and run by Jenn and David Ederer. I prefer to let the exquisit french architecture of this west michigan wedding venue do most of the talking, but I'd be remissed if I didn't mention a few words about Jenn. Jenn owns, operates, and tends to this property as a passion project - not just as a wedding venue or bed and breakfast. When we visited, she was tirelessly tending to the gardens with the heart and care of someone whom the littlest detail is a reflection of their own personal vision. When you stay at Greencrest, you are staying at someone's home. You are staying in a place built to inspire, to relax and to comfort. You are transported to a french countryside in the middle of West Michigan, where Jenn is your tourguide, curator, and hostess. You have to see the property to truly appreciate it, but I hope my pictures come close or inspire you to visit yourself. I could make magic hear as a Michigan wedding photographer, and I hope you see it's potential too.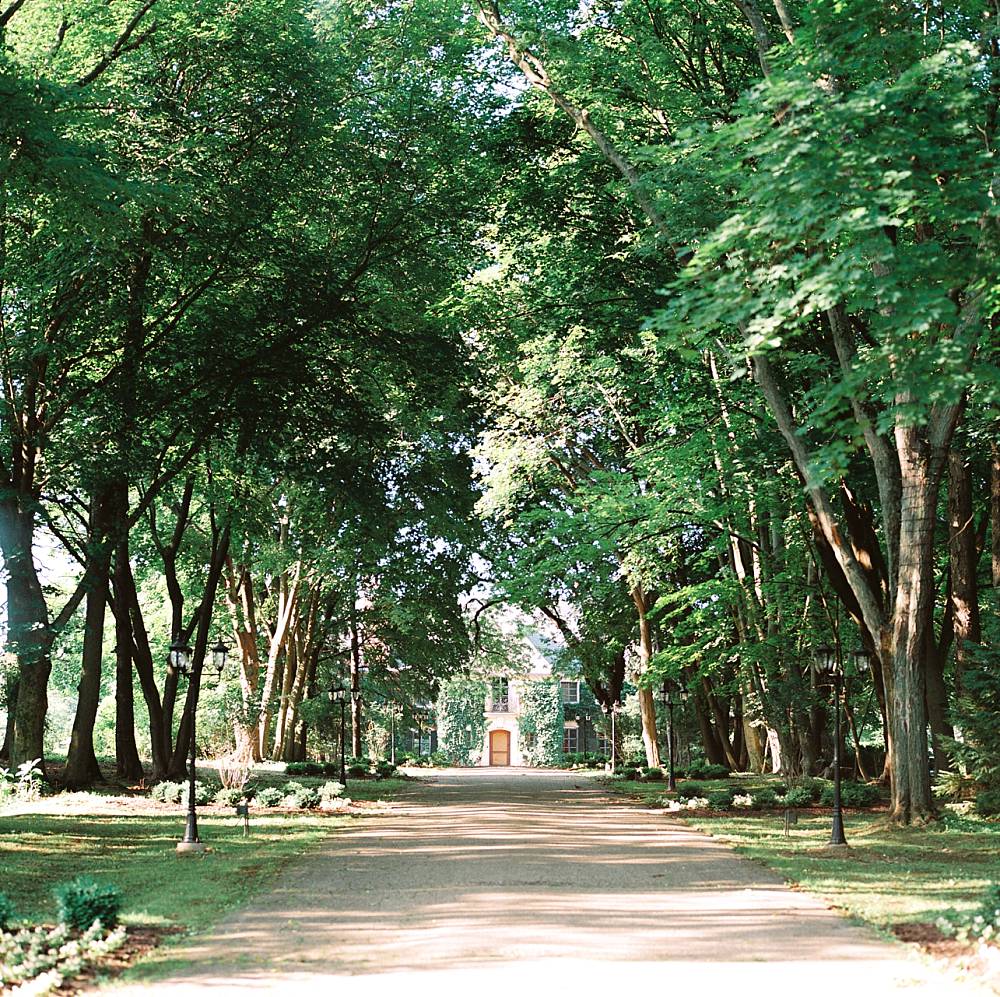 The ivy walls on the front of the home's facade are certainly the showstopper, but when you inspect the home in further detail you see just how much attention to detail goes into every inch of this west michigan wedding venue property. Can you imagine your wedding day portraits in front of this facade?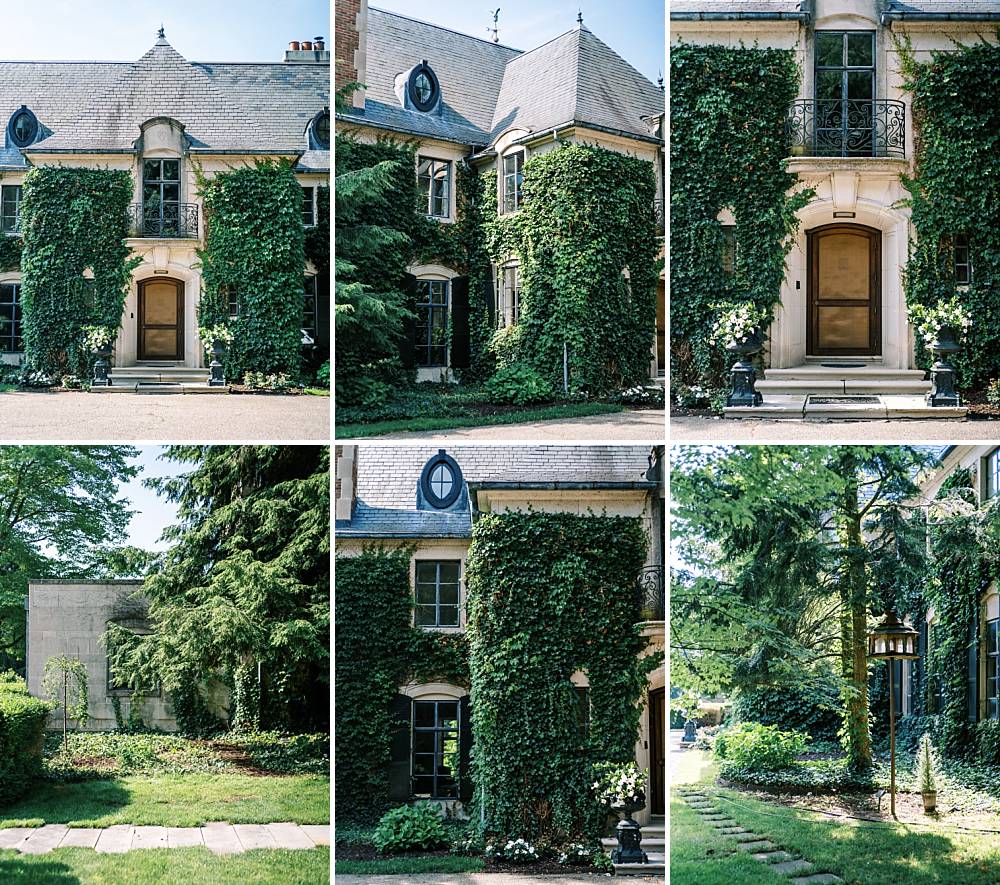 If my images don't convince you enough just how much I loved every detail of this property, please reach out and I'd love to tell you just how breathtaking a michigan wedding would look catpured on this property, all on film.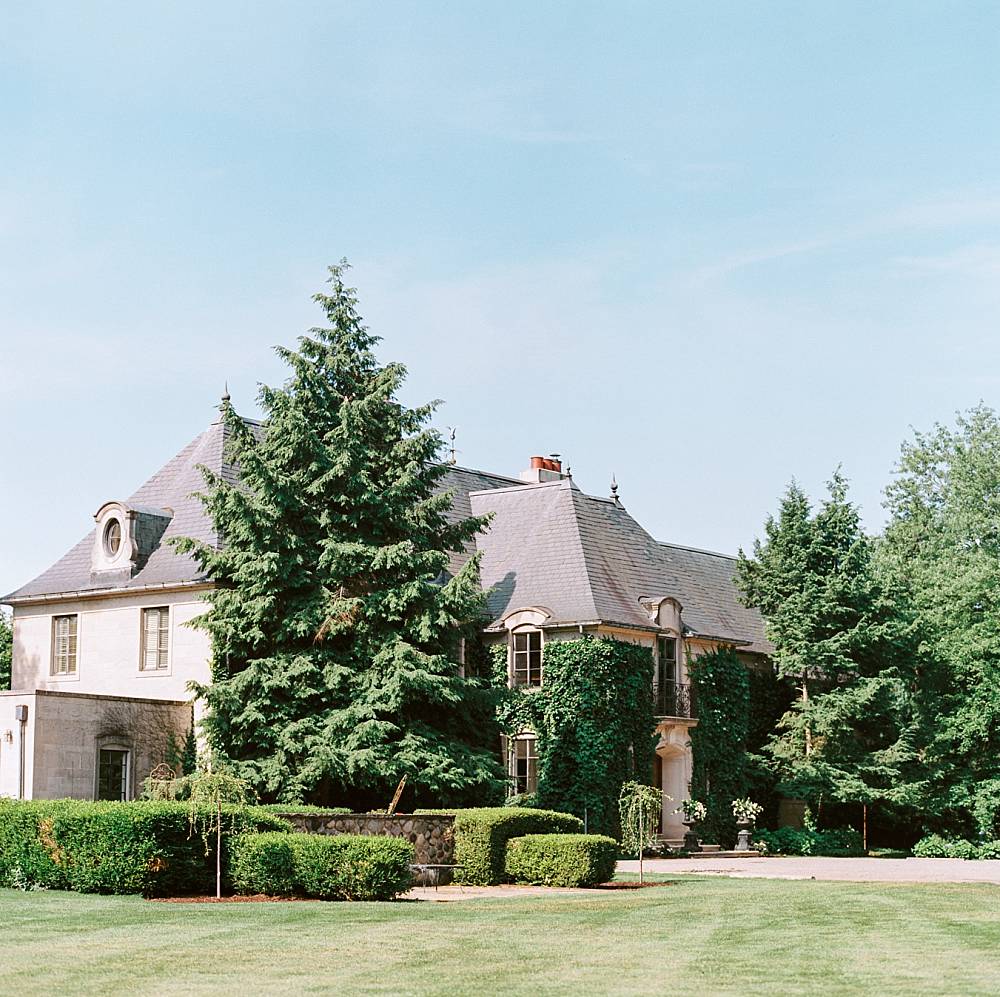 GARDENS
Making your way around to the back of the property reveals sprawling gardens, with the quaint and cozy feel of the french countryside. Archways and stone staircases guide you through the properties numerous, lush gardens.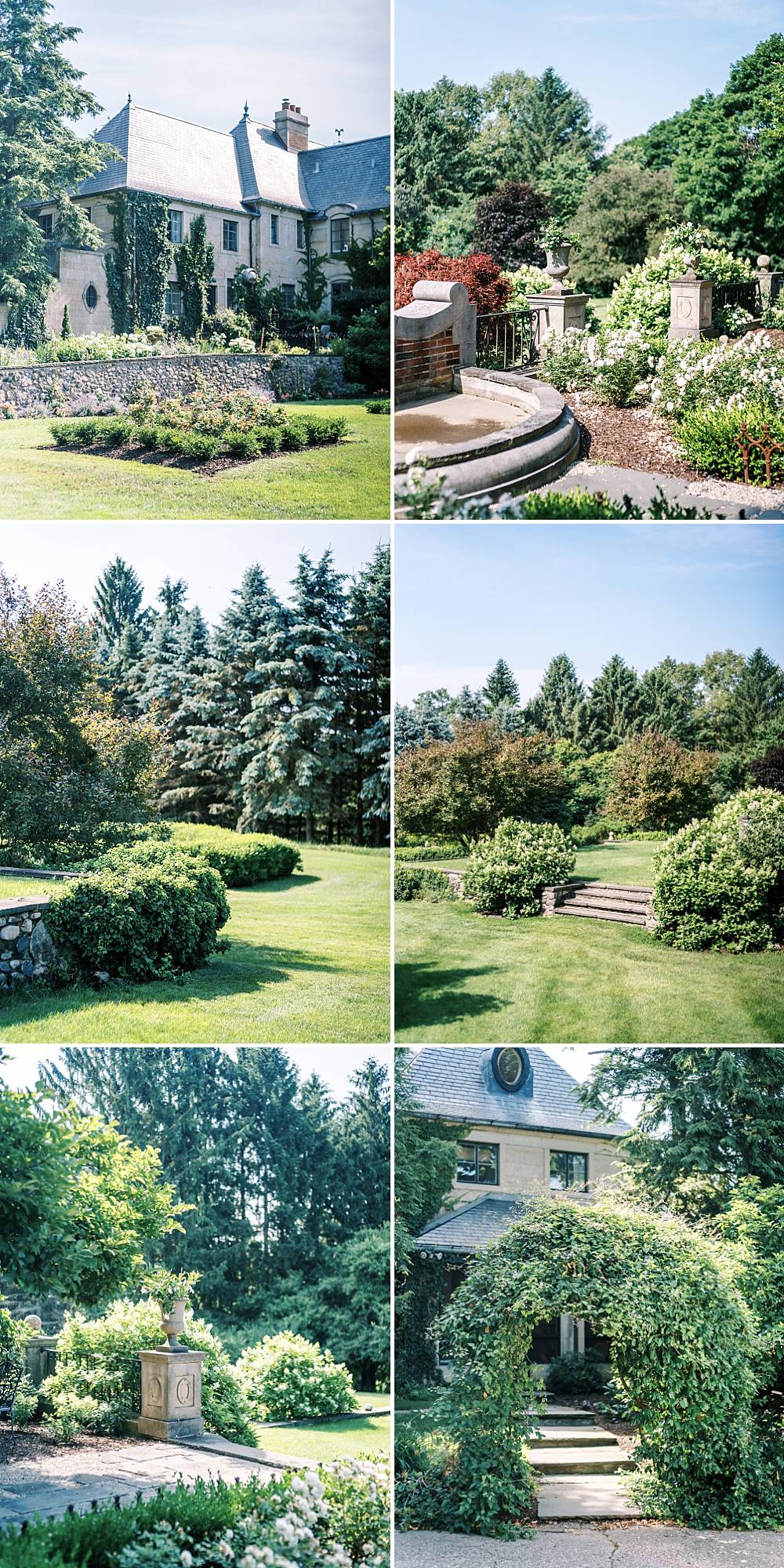 The opportunities for wedding day portraits at this michigan wedding venue truly make it one of the most desirable in the state, if not the entire country.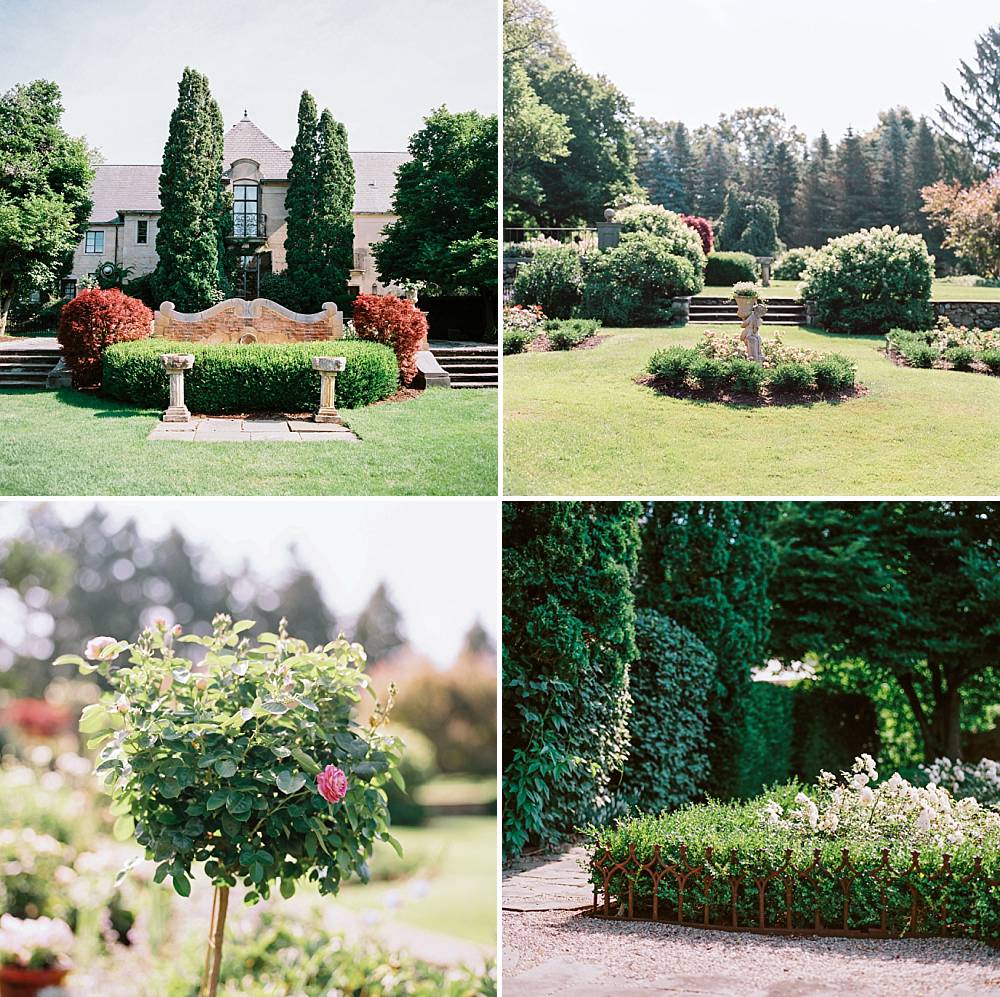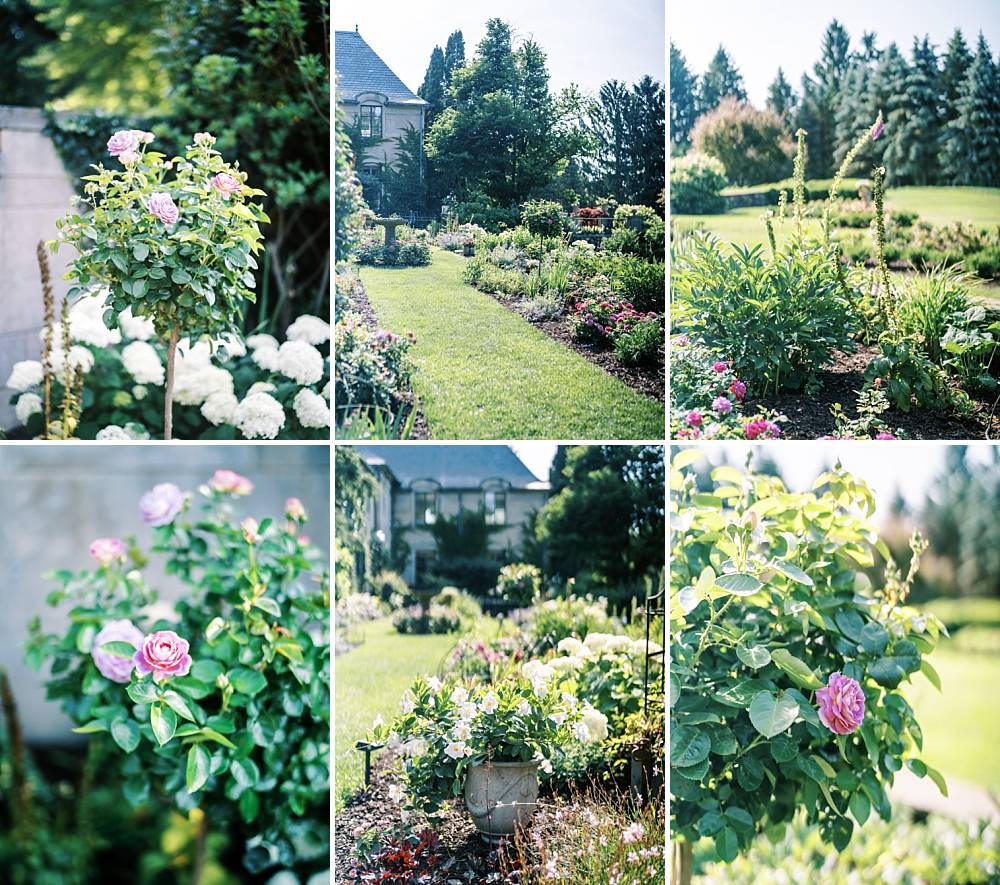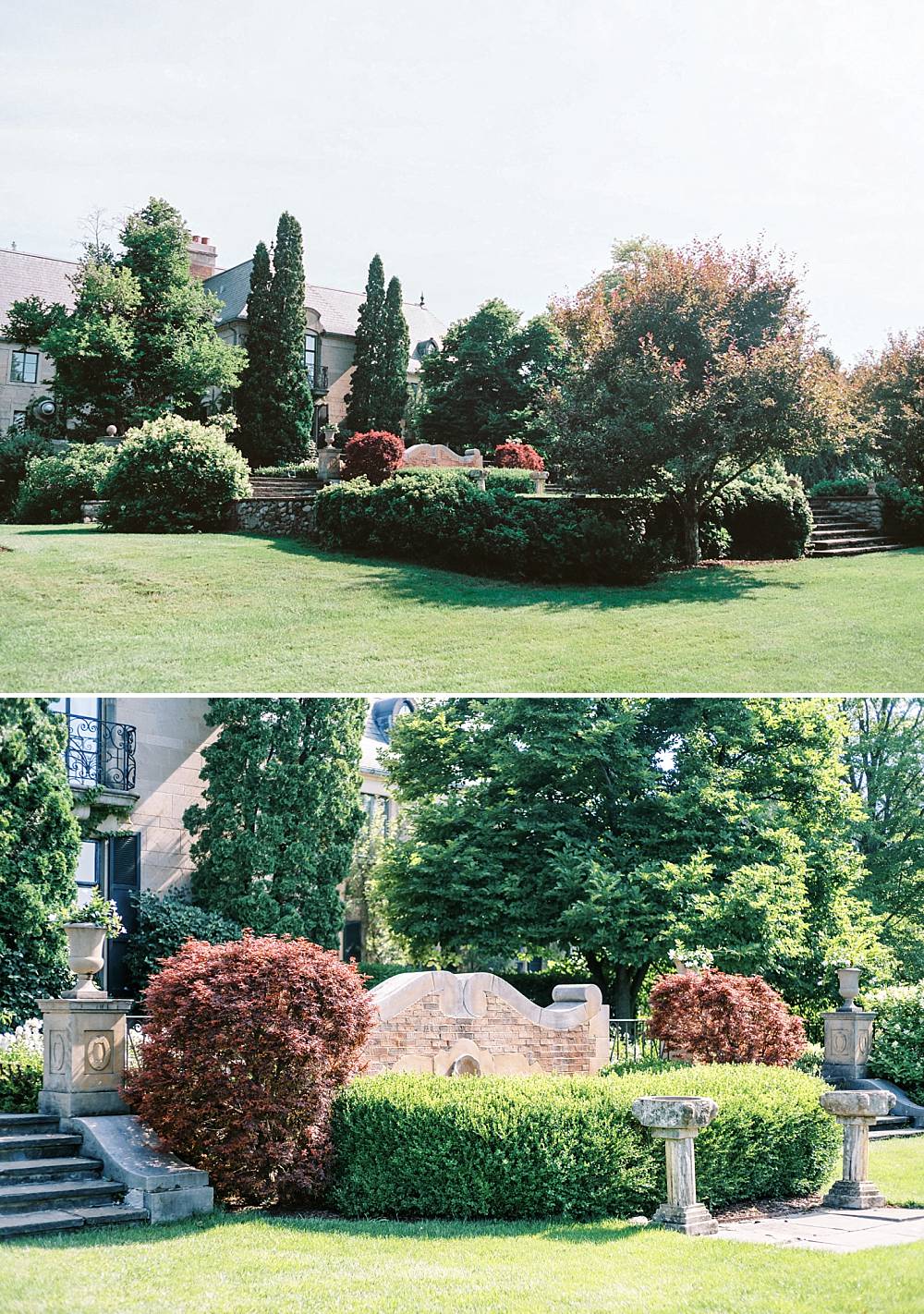 EUROPEAN INTERIOR
Greencrest Manor's interior is just as well thought out and styled as the home's exterior. Every inch of the property is pure character and reflective of old world french styling and architecture. Wedding guests can stay in one of the manor's numerous, uniquely styled rooms, making it the perfect weekend getaway wedding venue for you, your bridal party and entire family.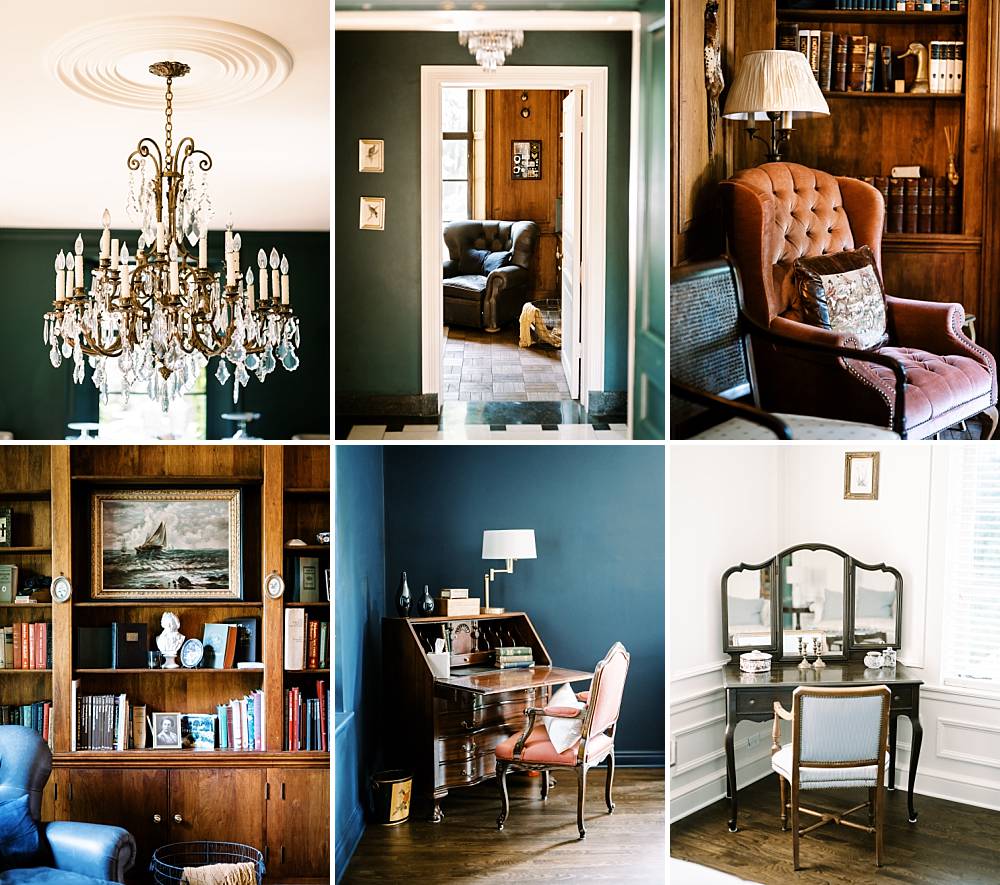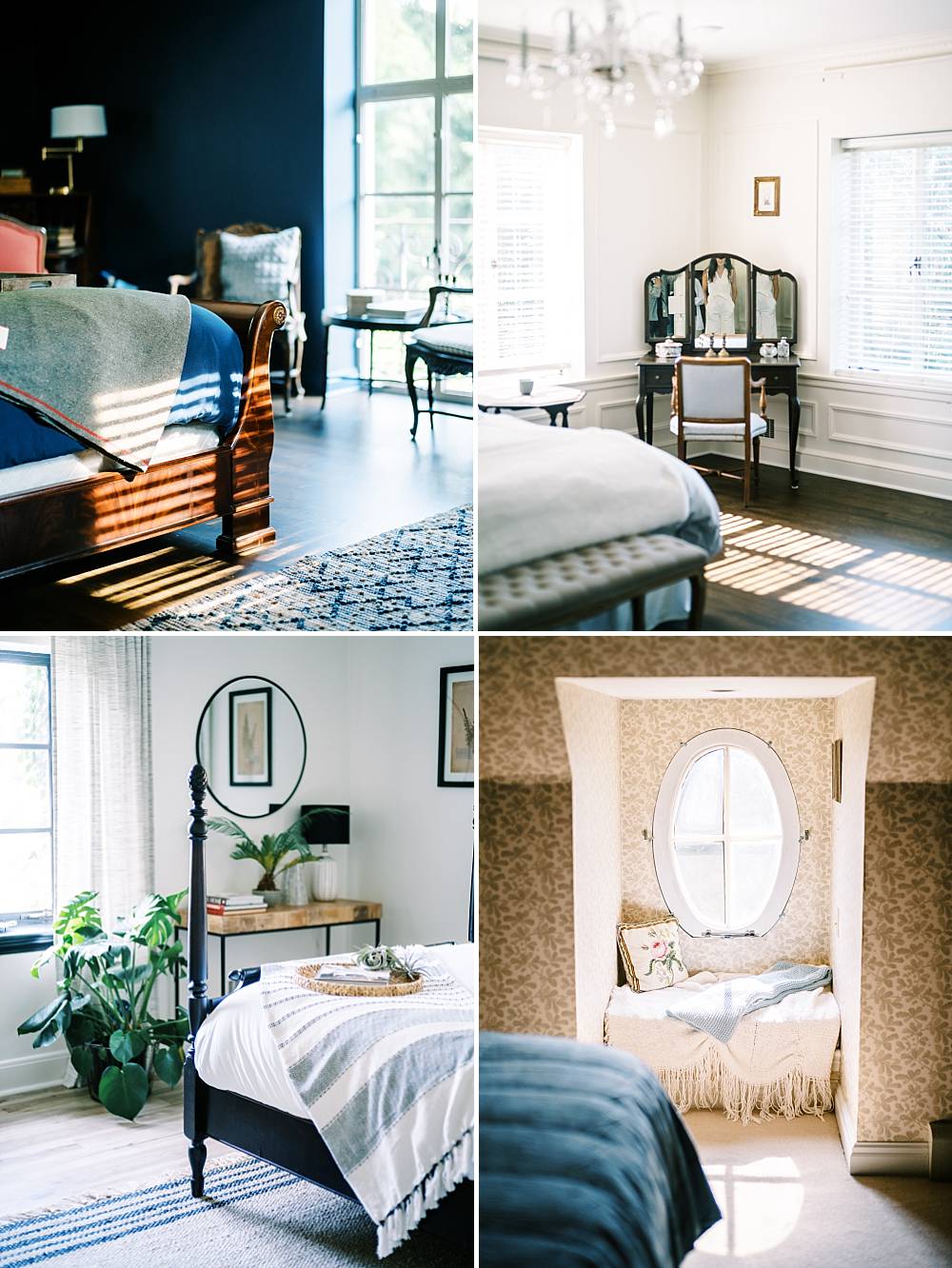 The interior is spacious, yet cozy. I felt like I could live there after only having been inside for a few minutes. Its inspiring, yet inviting. Your guests will love your wedding day exerience just as much as you will.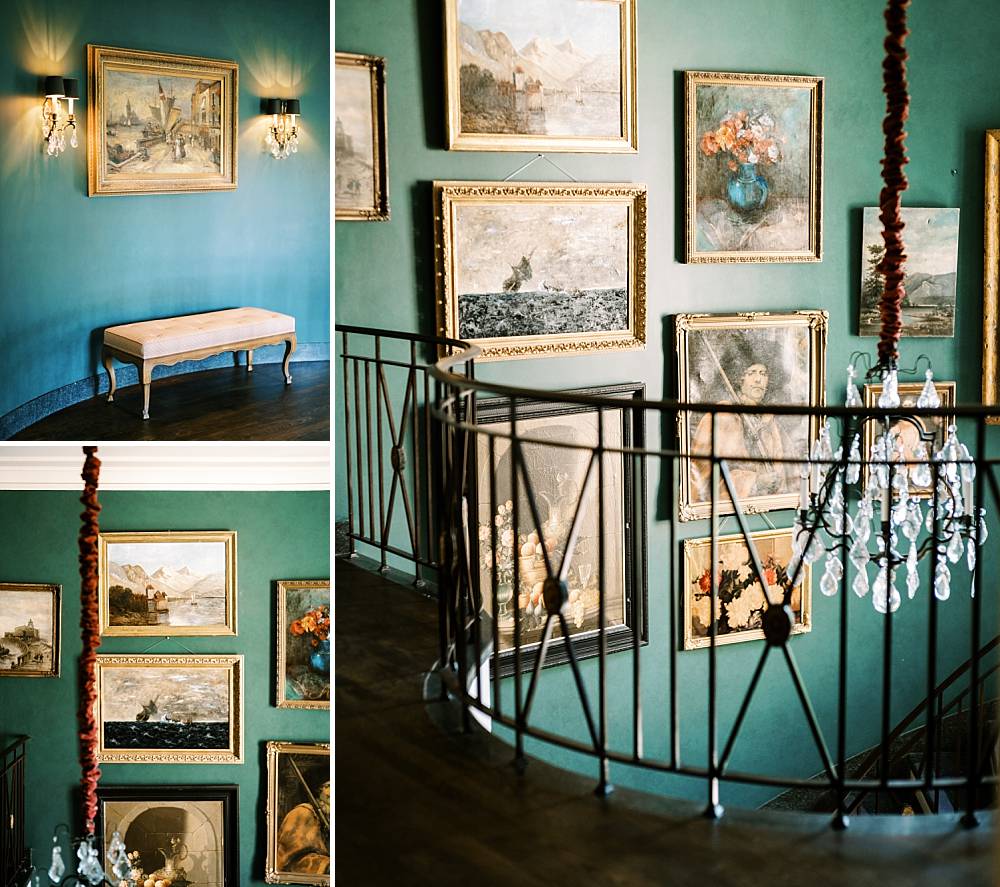 Light and textures, everywhere.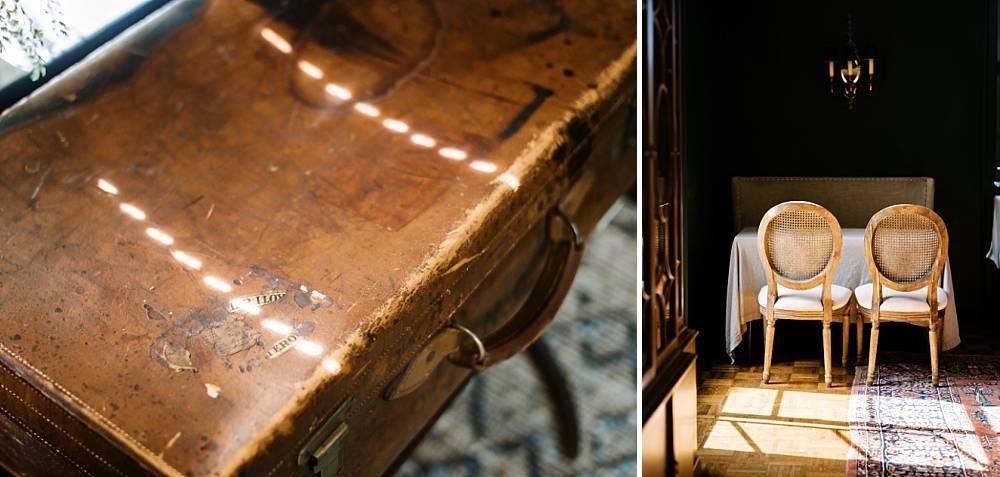 The sun room / breakfast room to the left when you first walk in the property is a large and inviting room where you and your closest friends and family can gather during your wedding weekend getaway in west Michigan.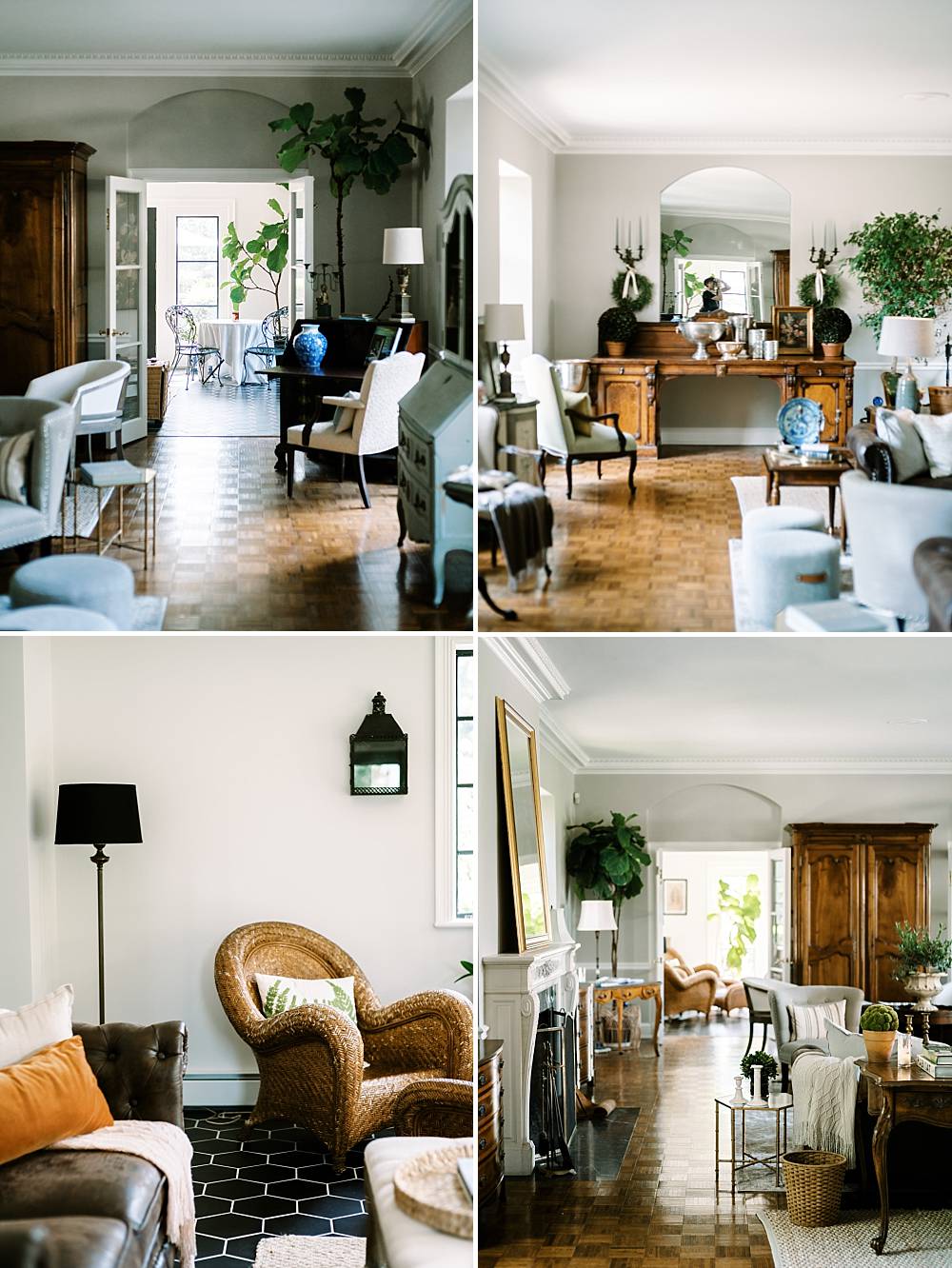 Every fabric, every texture is curated to be true to the original french inspiration of the manor.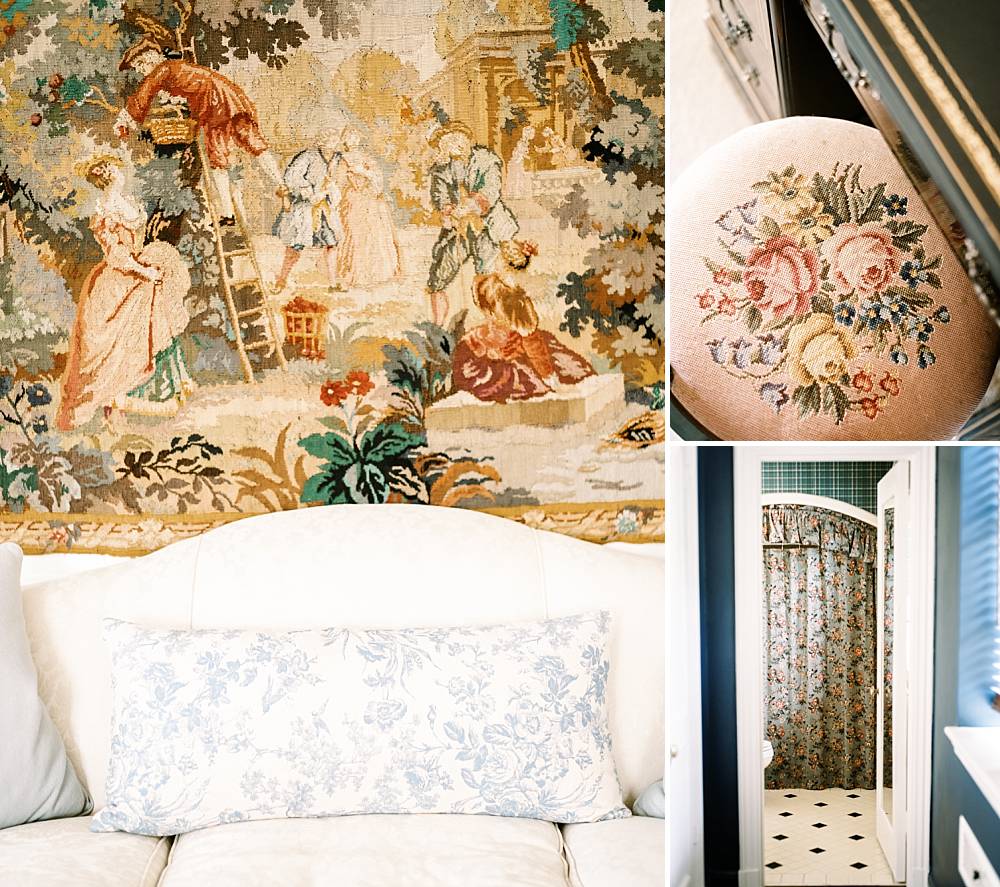 This pink themed room was my personal favorite.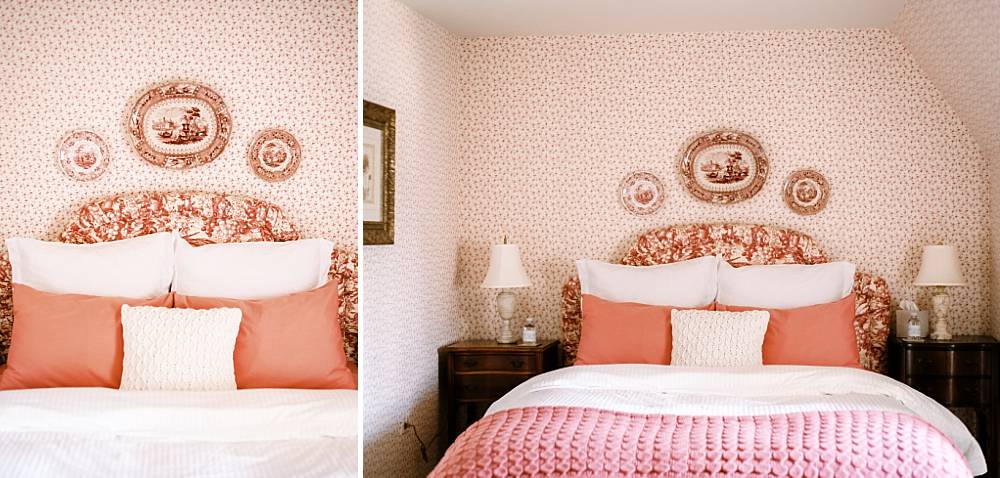 THE BRIDAL SUITE
Once again, a west michigan wedding venue nails the bridal suite. Lighting and space is everything in a bridal suite and this room at Greencrest Manor had plenty of it. The textures and colors complemented the bright and spacious feel of the bride getting ready suite. Your entire bridal party can fit in the room and the light allows for those joyous bridesmaids getting ready photos that you've been dreaming of.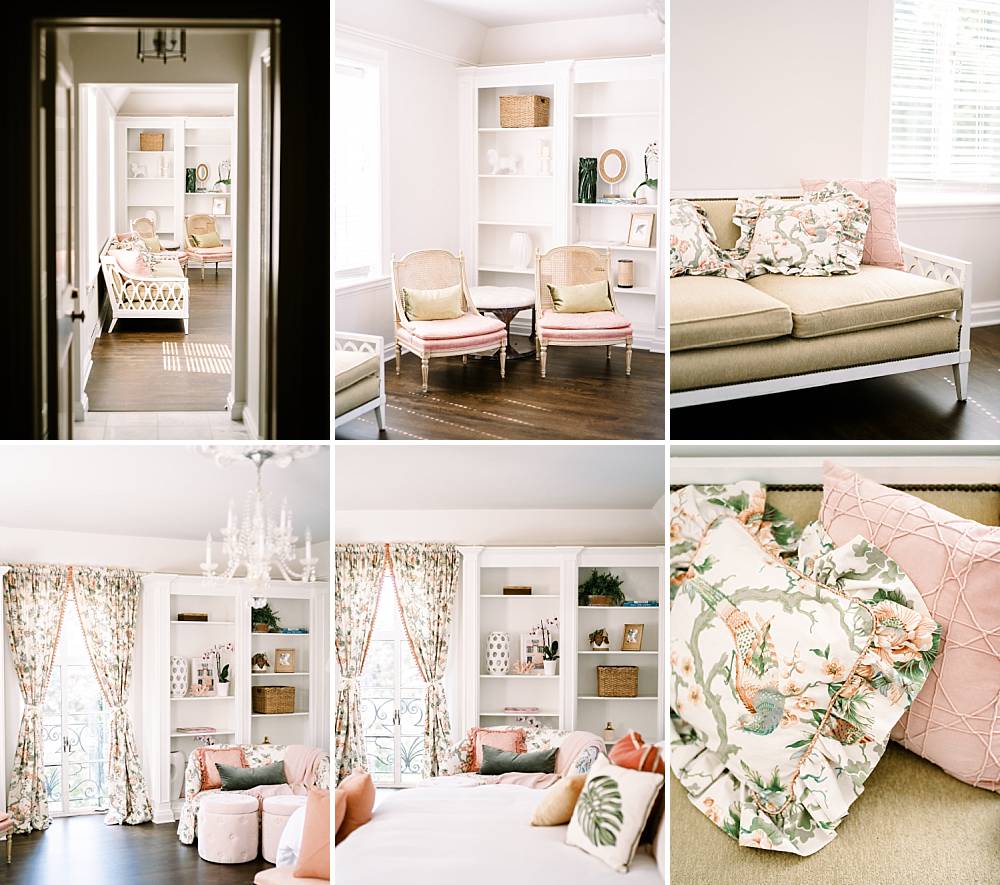 PREP KITCHEN
Another important detail that makes this a great weekend getaway wedding venue is the spacious prep kitchen / functioning guest kitchen. Your guests can prepare their own meals in the comfort of european styling without ever leaving the manor. The venue even provides a stocked bar service!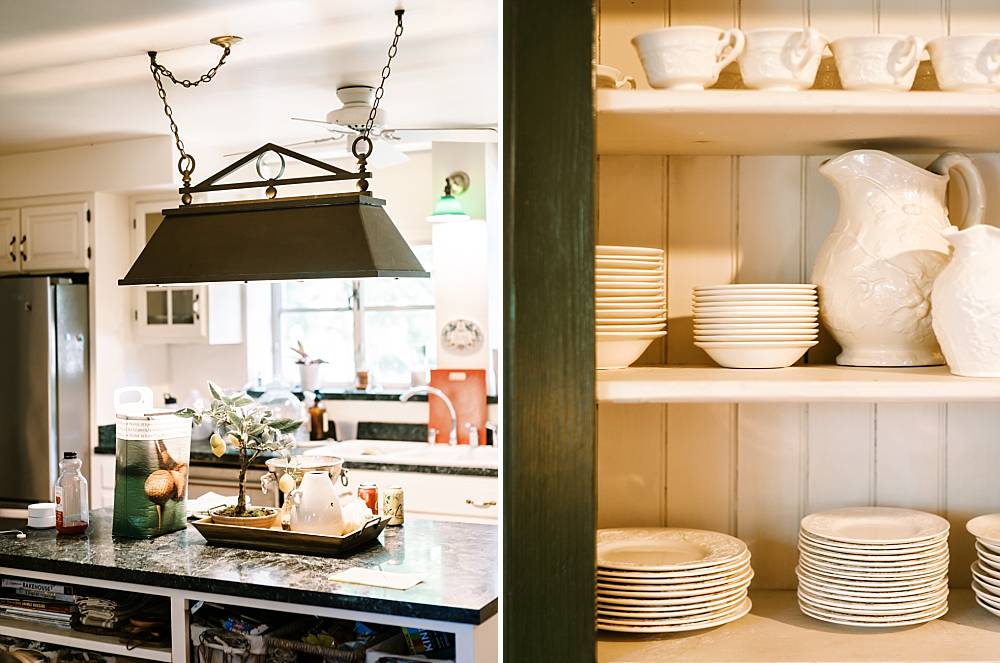 Last but not least, the original architectural prints complementing the modern day photograph of it's preserved exterior. These are the small touches that make this Michigan wedding venue truly one of it's best, if not best in the entire country.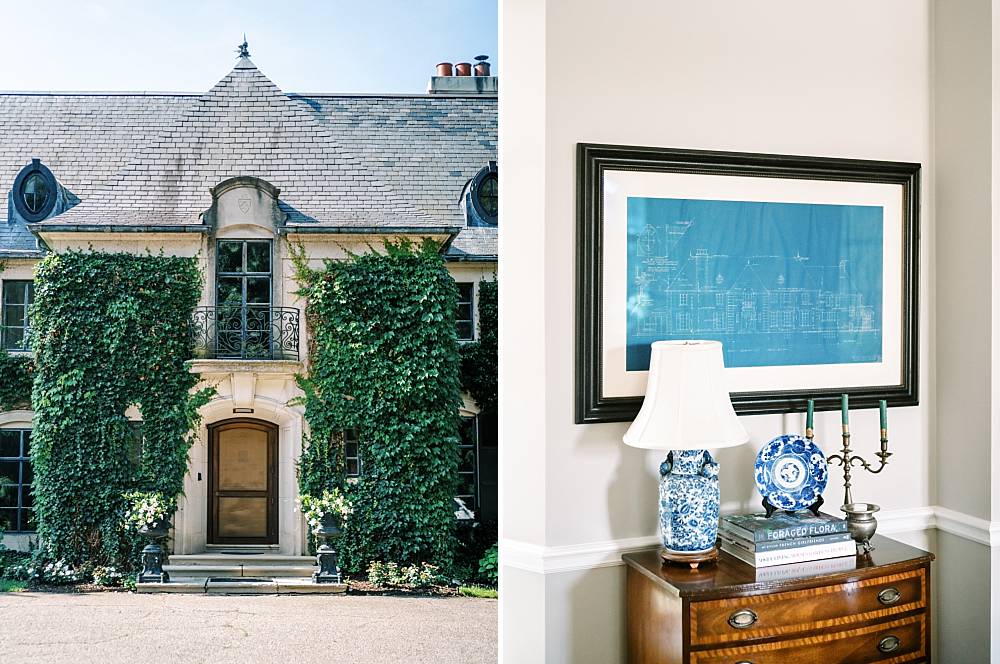 MORE INFO ABOUT EUROPEAN STYLED WEST MICHIGAN WEDDING VENUE GREENCREST MANOR
Click here for more information about Greencrest Manor
VENUE3TWO
Located in Grand Rapids, Venue3Two has a unique history and mission behind it's existence as a west Michigan wedding venue. What started as a ranch, was purchased in 2016 and turned into an Equine Therapy Center. The venue uses horses, in a non-riding atmosphere, to comfort and assist underpriveledged families, communities and victims of sex trafficing. The wedding business supports the property and the non profit 3TwoRanch that facilitates the program. Venues like this have been one of my most surprising realizations of my tour of the best Michigan wedding venues. So many of the venues have a mission behind them. Wedding are expensive. We all know this. If you are going to invest so much money in an event, I love the idea of that money going towards a charitable and noble cause.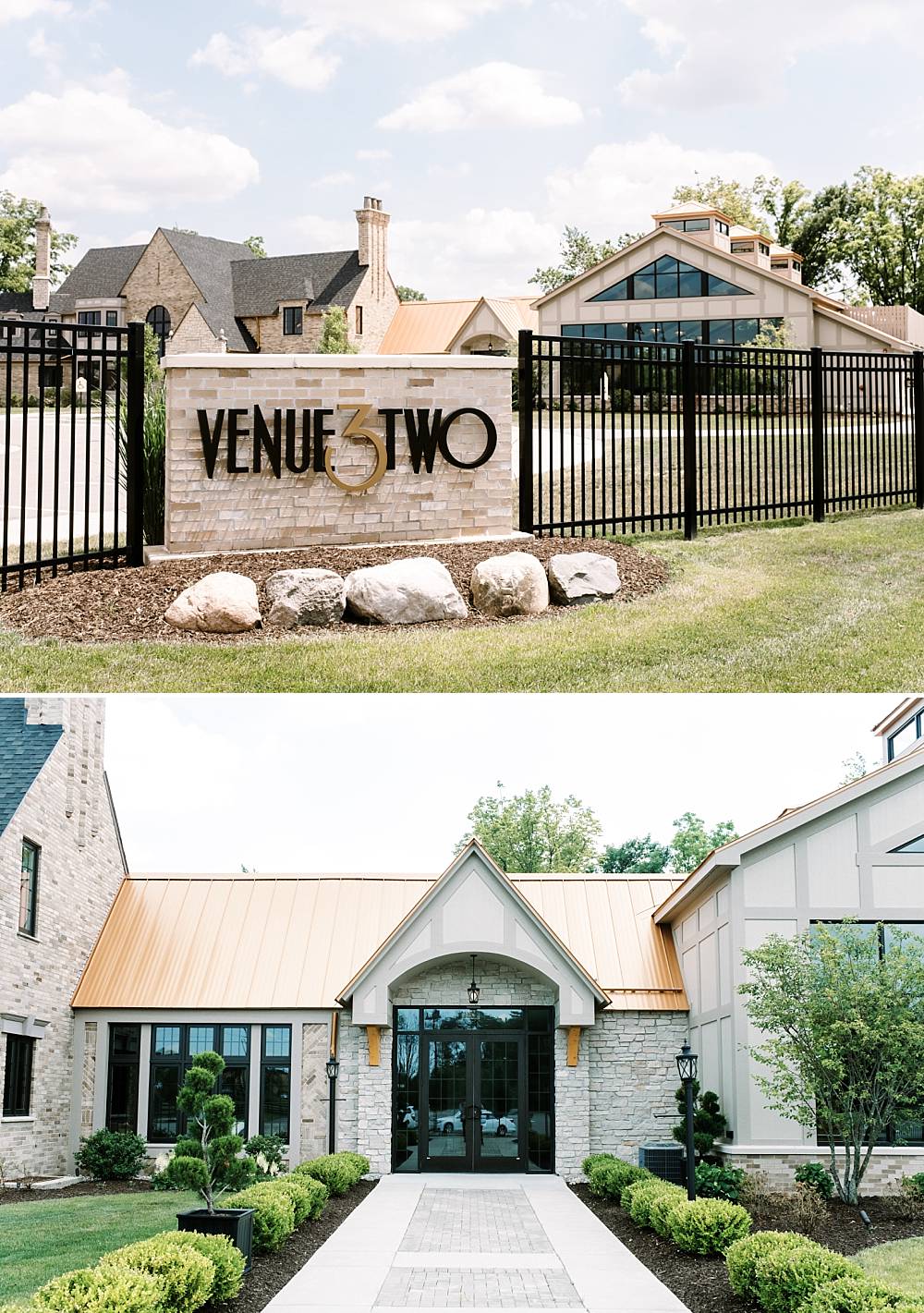 The stone architecure or Venue3Two seamlessly blends classical manor faceade with modern touches that the venue's brand is known for (check out the copper roof).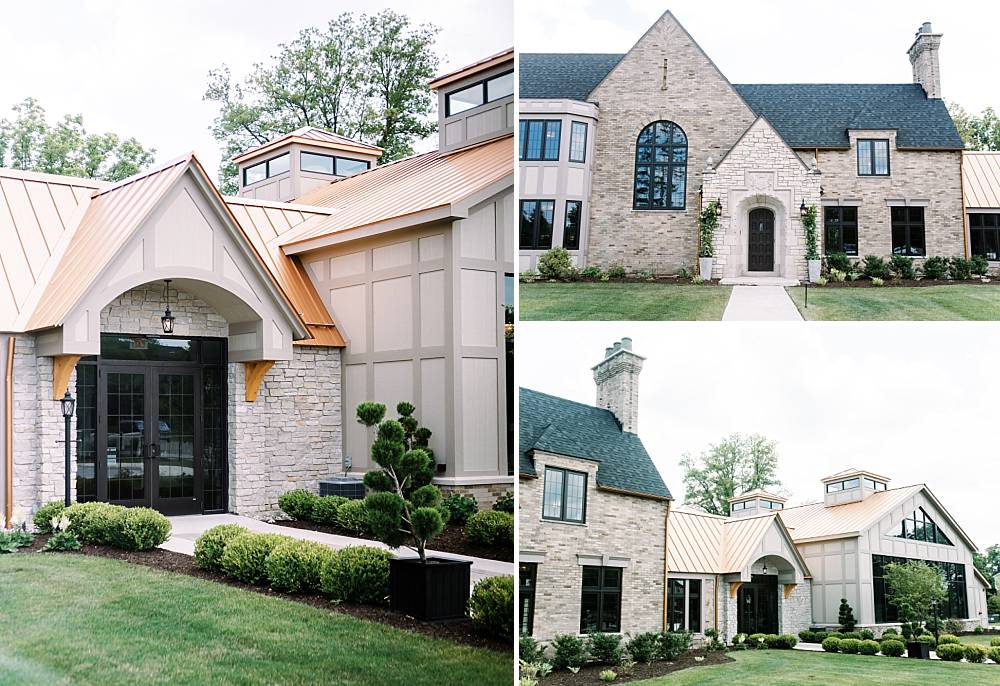 CEREMONY LOCATION
The ceremony location is positioned at the back of the property, offering two views. Front facing you have a view of the wedding venue's beautiful architecture, and rear facing you have a view of Michigan nature. You can't go wrong either way and I think it is a wonderful option to have for brides to choose their ceremony view.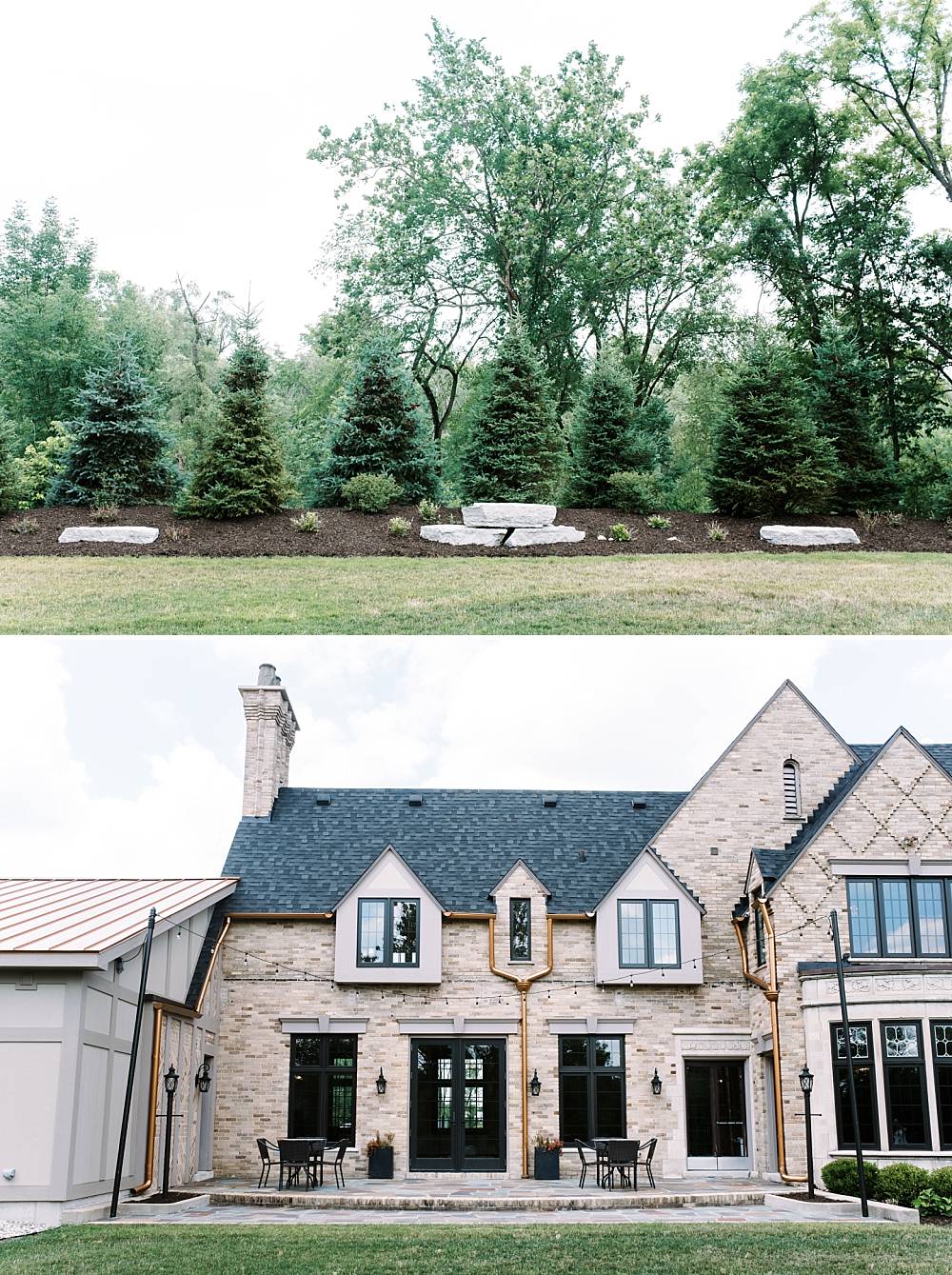 INTERIOR
Venue3Two's interior is beautifully, minimalist styled with plenty of light. Windows are everywhere and it is one of the first things I noticed about the venue when I entered the interior. I also quite liked the earth toned contrast between the dark woods, cream walls, and gold features/lighting.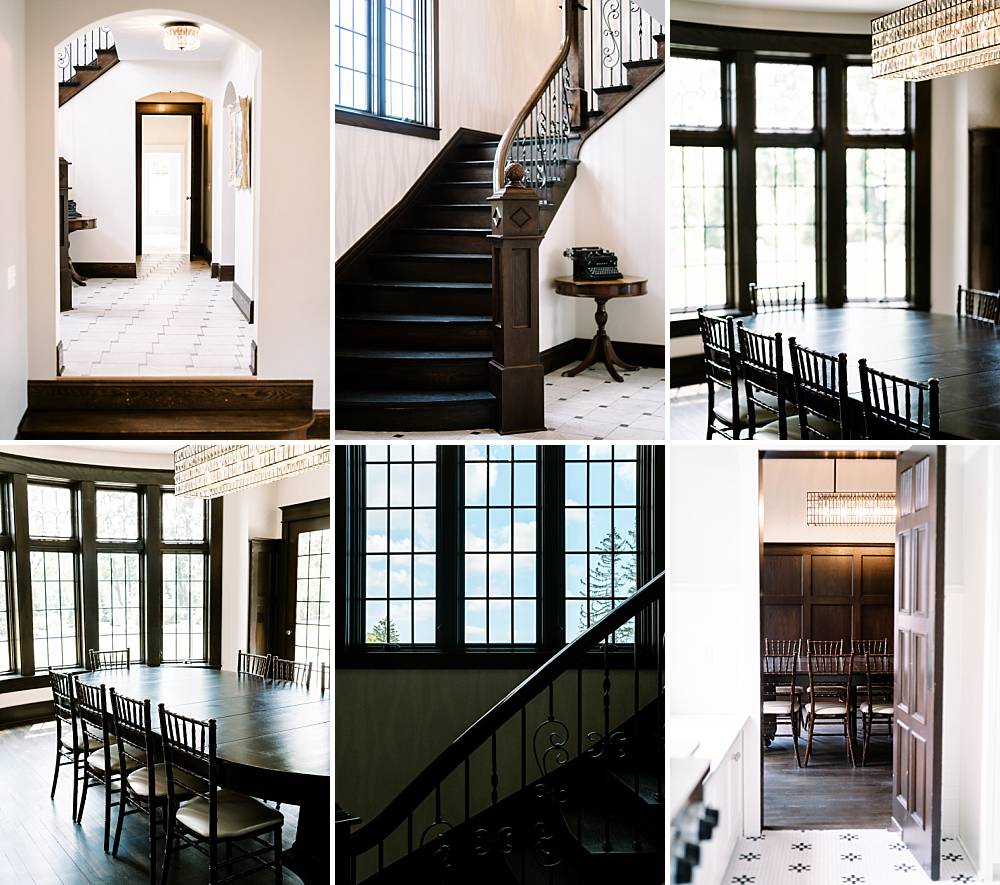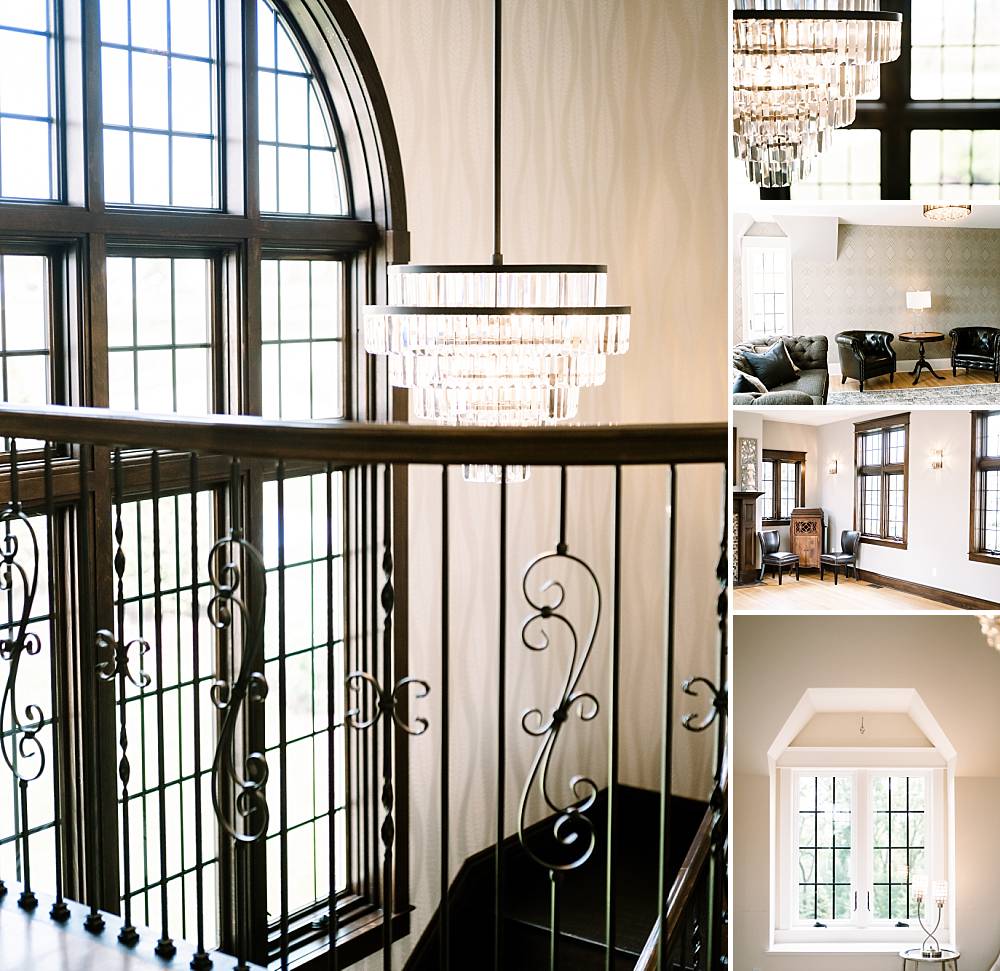 RECEPTION LOCATION
Receptions are held in the Conservatory - the most recent addition to the property. It's spacious and well lit and even has a grand piano on location for bands to use!  It's a clean, blank canvas of a location to craft a reception and offers large window views to keep you connected to Michigan's nature.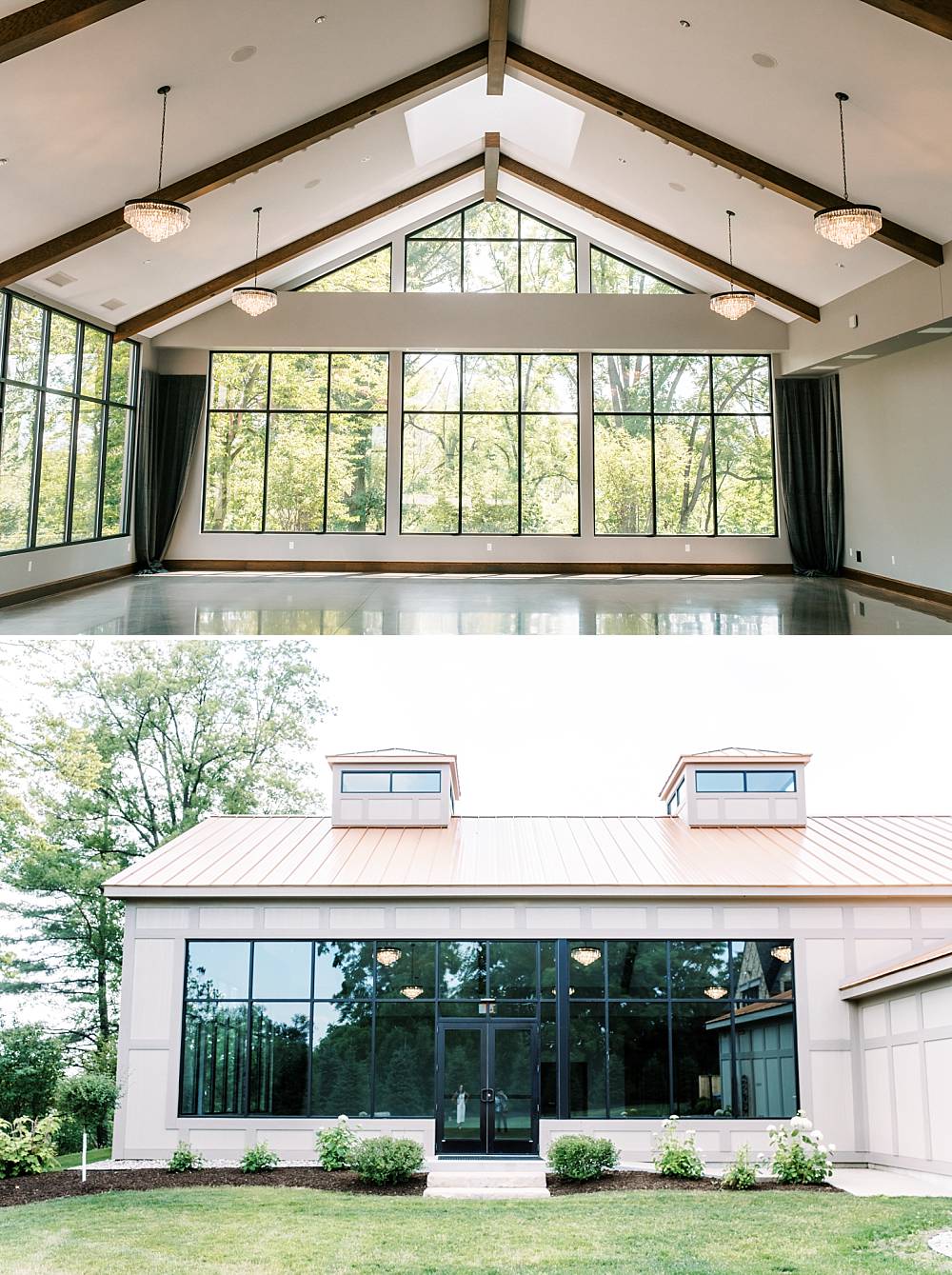 BRIDAL PREP AND GROOM GETTING READY ROOMS
Venue3Two offers a large bridal prep room, indcluding a smaller attached staging room, and a groom getting ready room equipped with comfortable furniture and fantastic light!  Again...I can't stress just how critical good light is for wedding day getting ready photographs.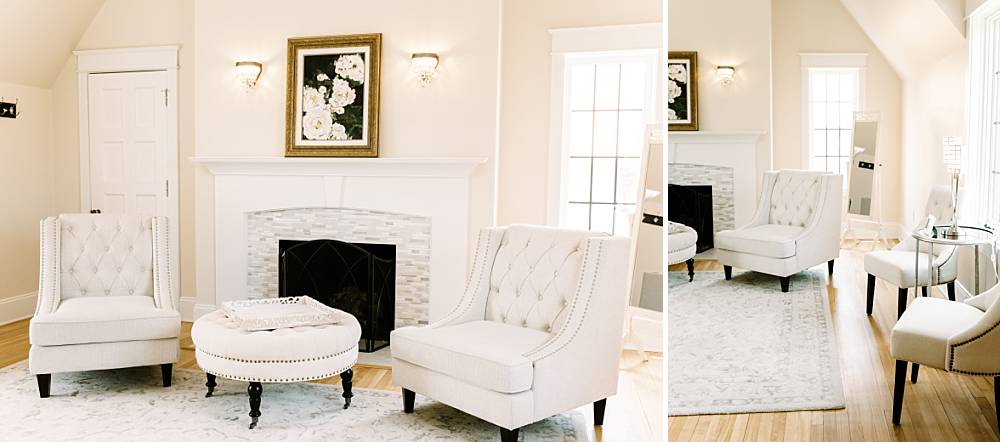 Attached prep rooms and groom getting ready suite.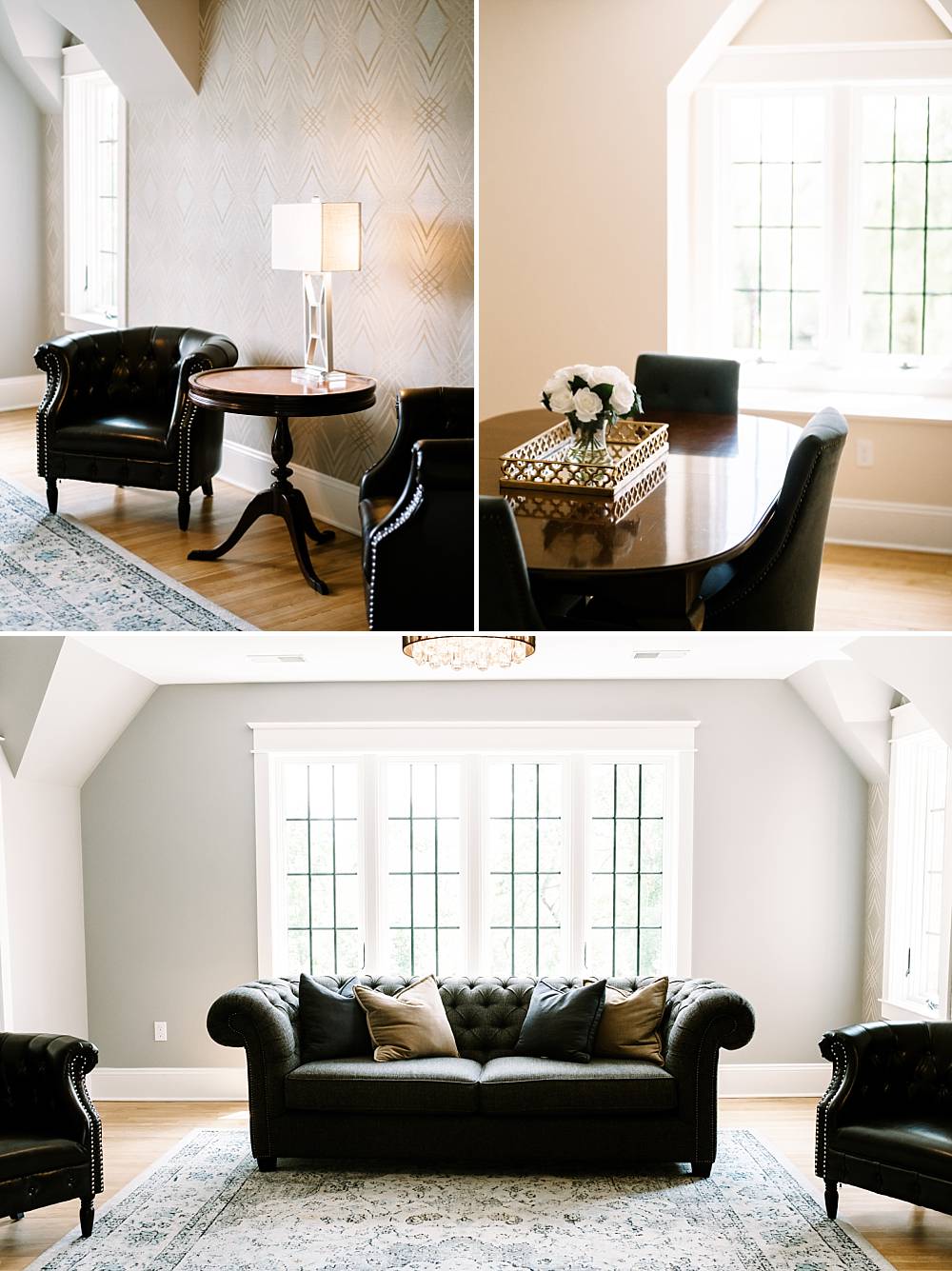 The venue even includes a cozy bridal prep hair/makeup studio! That way your entire wedding day can be completed start to finish in one location.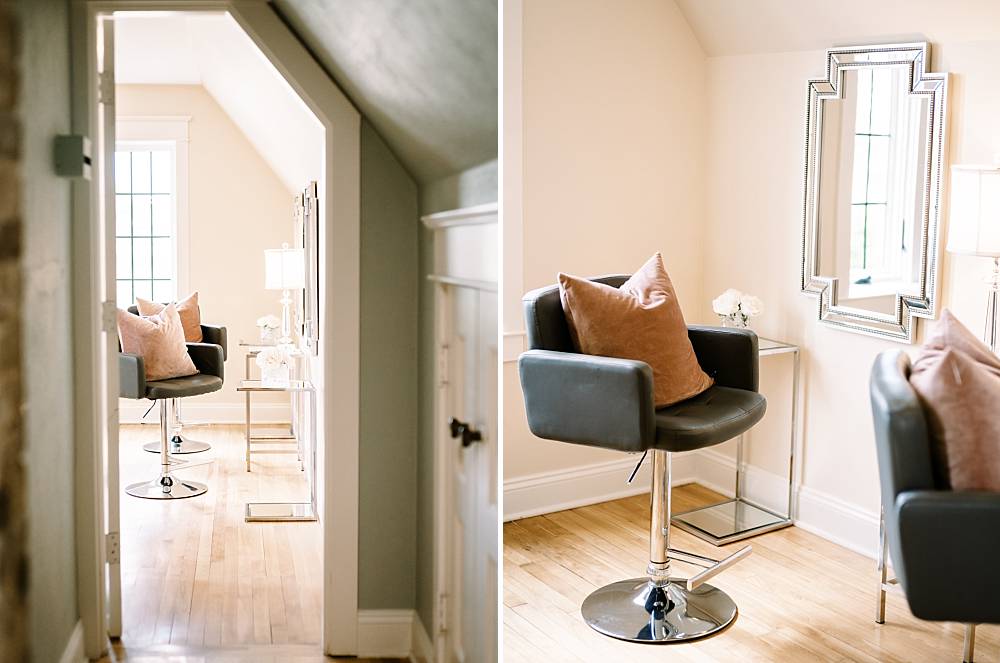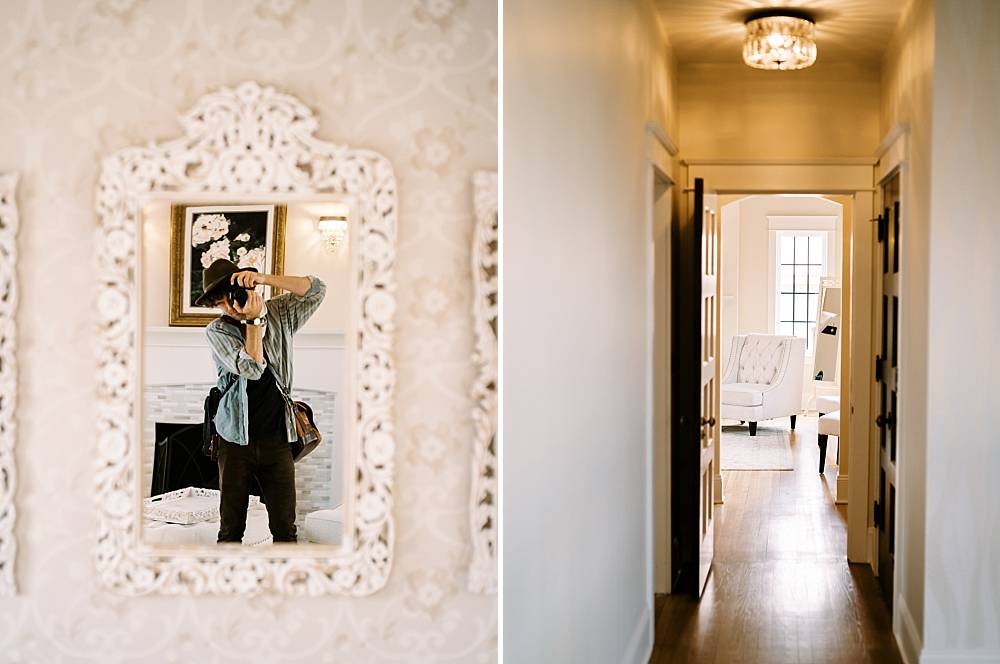 PREP KITCHEN
One of the showstoppers for this Grand Rapids wedding venue is its massive and well lit kitchen. It serves as a cocktail hour location, staging area for food services and a great option for a desert bar later in the evening. I want to live in this massive kitchen!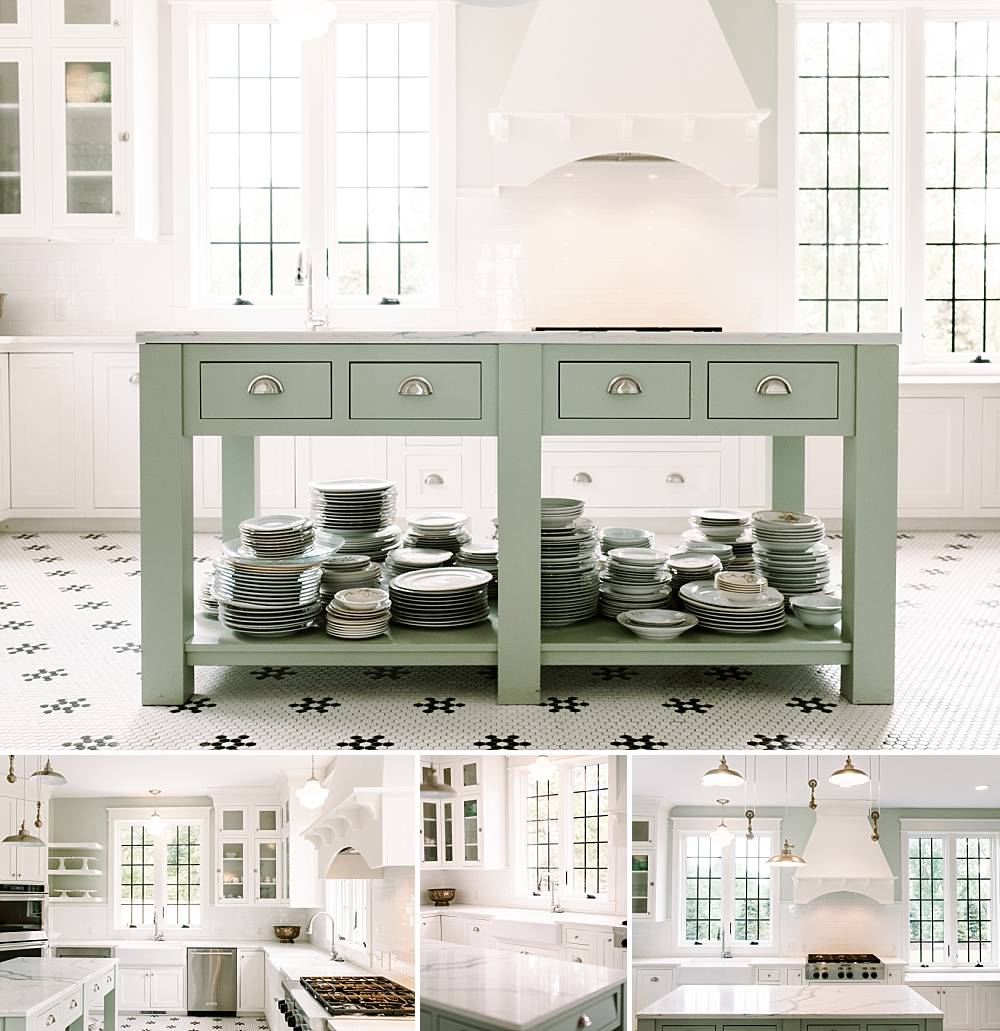 MORE INFO ABOUT GRAND RAPIDS WEDDING VENUE VENUE3TWO
Click here for more information about Venue3Two
HOLLAND MICHIGAN AND DOWNTOWN GRAND RAPIDS
I had an opportunity to explore downtown Holland on my own before Emily and I reconveined for a burger pick-me-up in downtown Grand Rapids, before heading on to our next destination.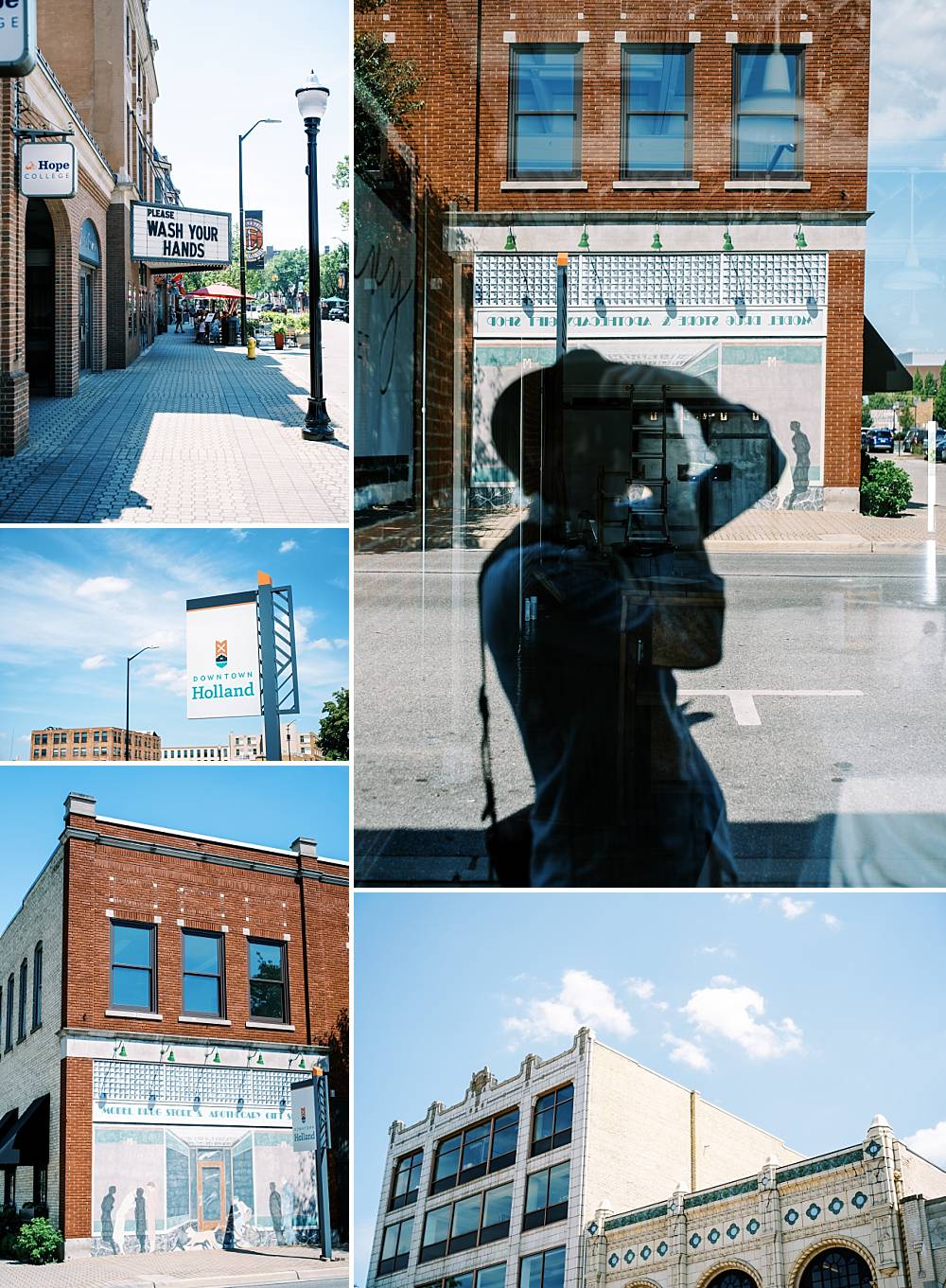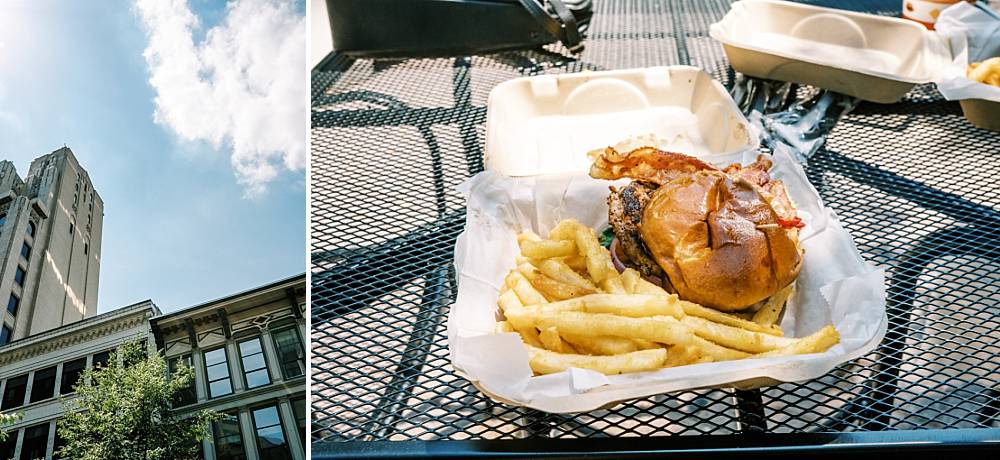 Ann Arbor's Best Wedding Venues
Ann Arbor was the bridge between our western michigan venue tour and detroit. We stopped in Ann Arbor for a quick exploration of downtown before heading to one of the more unique, destination event and wedding venues in all of Michigan.
ZINGERMAN CORNMAN'S FARM
Zingerman is another example of a well-intentioned wedding venue. It pitches itself as a wedding venue and culinary destination and it certainly backs up it's claims. The venue states that the culinary experience is the heart of the venue. I absolutely adore this. It puts intention behind the event and makes the space so much more than a blank space for a wedding venue. The venue becomes such an integral part of the experience. Food is a wonderful conversation starter and such a strong unifier in any culture, and I can't imagine a better focal point for the reception atmoshphere of a wedding than some tastefully curated, chef prepared cuisine. Chef Kieron Hales grew up working in Michelin Star restaurants in England bringing family recipes and heritage to central Michigan along with a farm to table mentality that can be experienced and view through the wedding venue's fruitful gardens. I typically lead these blog posts with an image of the venue facade, but thought it fit for this Ann Arbor Wedding Venue to lead with the gardens that produe so much of the flavors that make this place so special.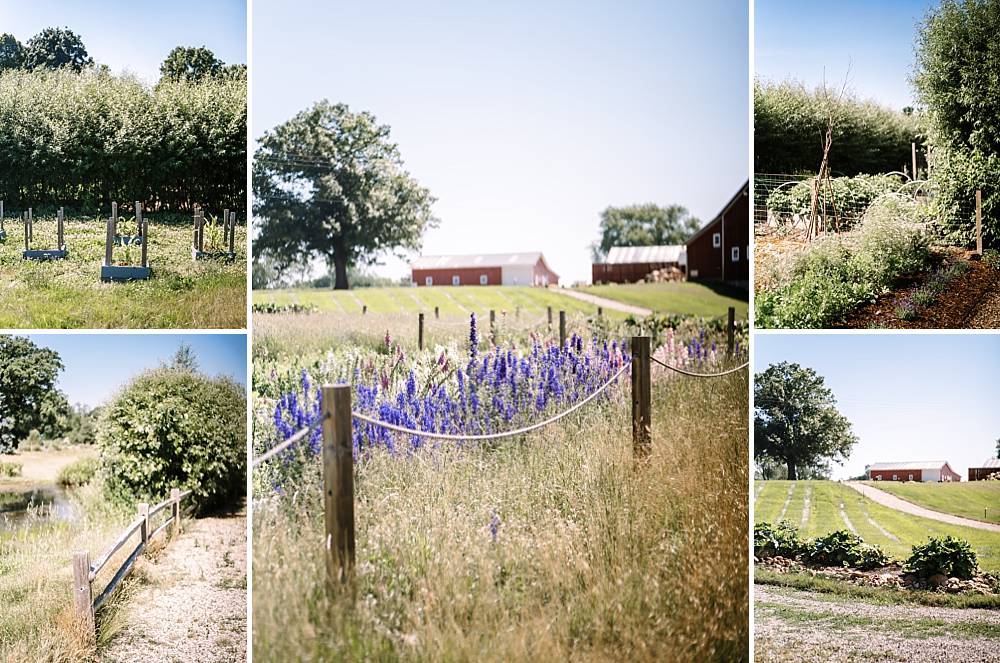 The exterior of the building is inviting as any farm house should be.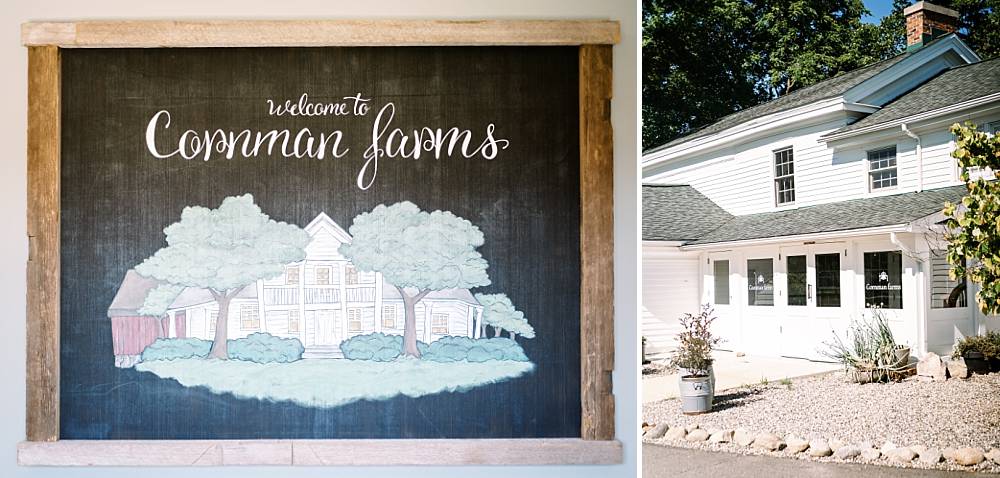 You are greeted at the front entrance by fresh herbs and local craftsmandship and I can't think of a better way to set the tone for your wedding experience at this farmhouse venue.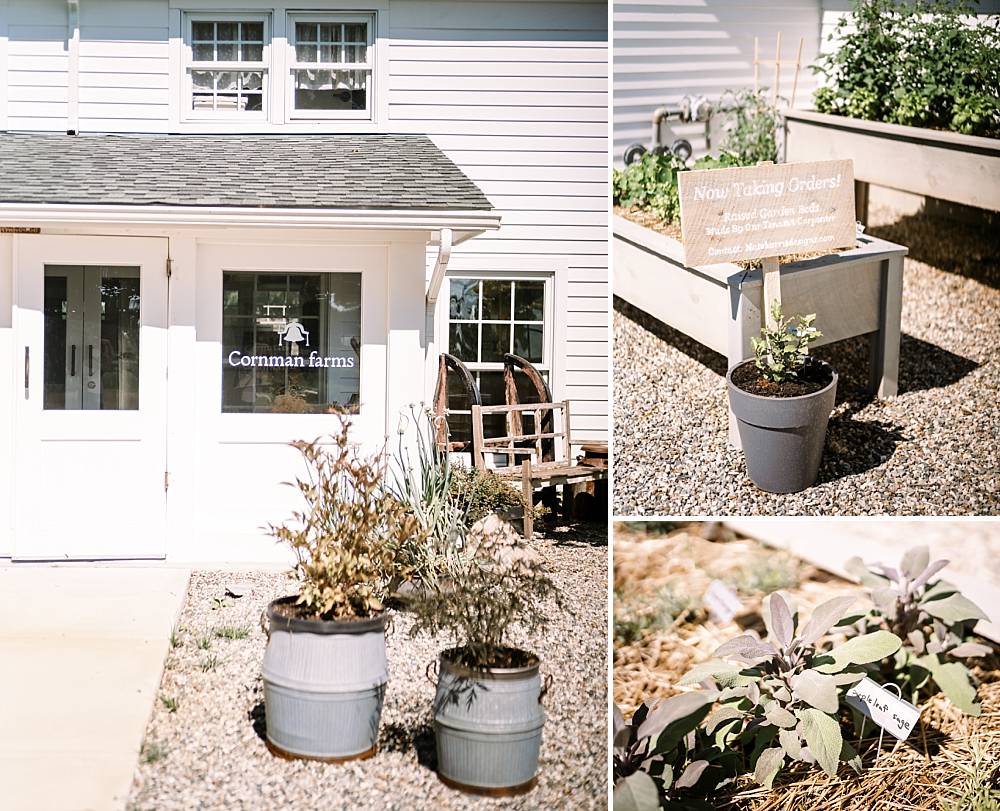 Since I started my photography career, I have fallen in love with the barn/farm aesthetic. Its something I didn't know I missed until I left my childhood home of Ohio. I spend the cooler months in Charleston, SC before returning north to spend my summer in Michigan and everytime I make that drive I fall in love with red barns and golden grass fields all over again.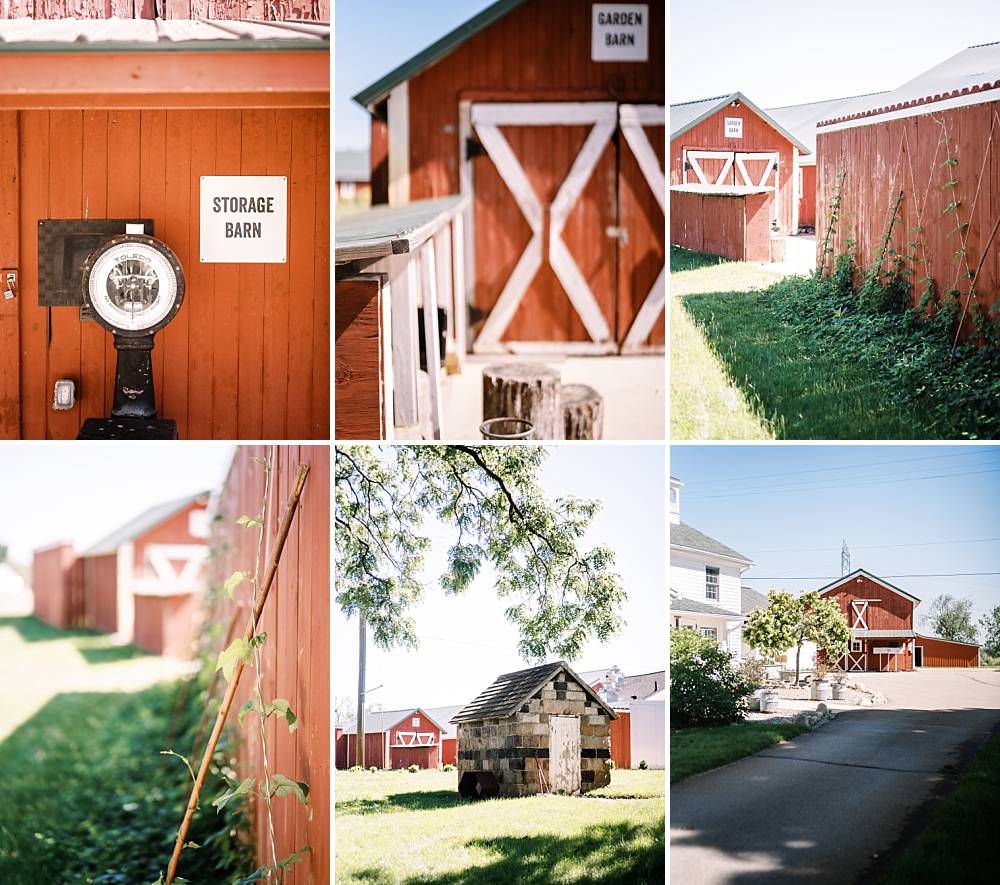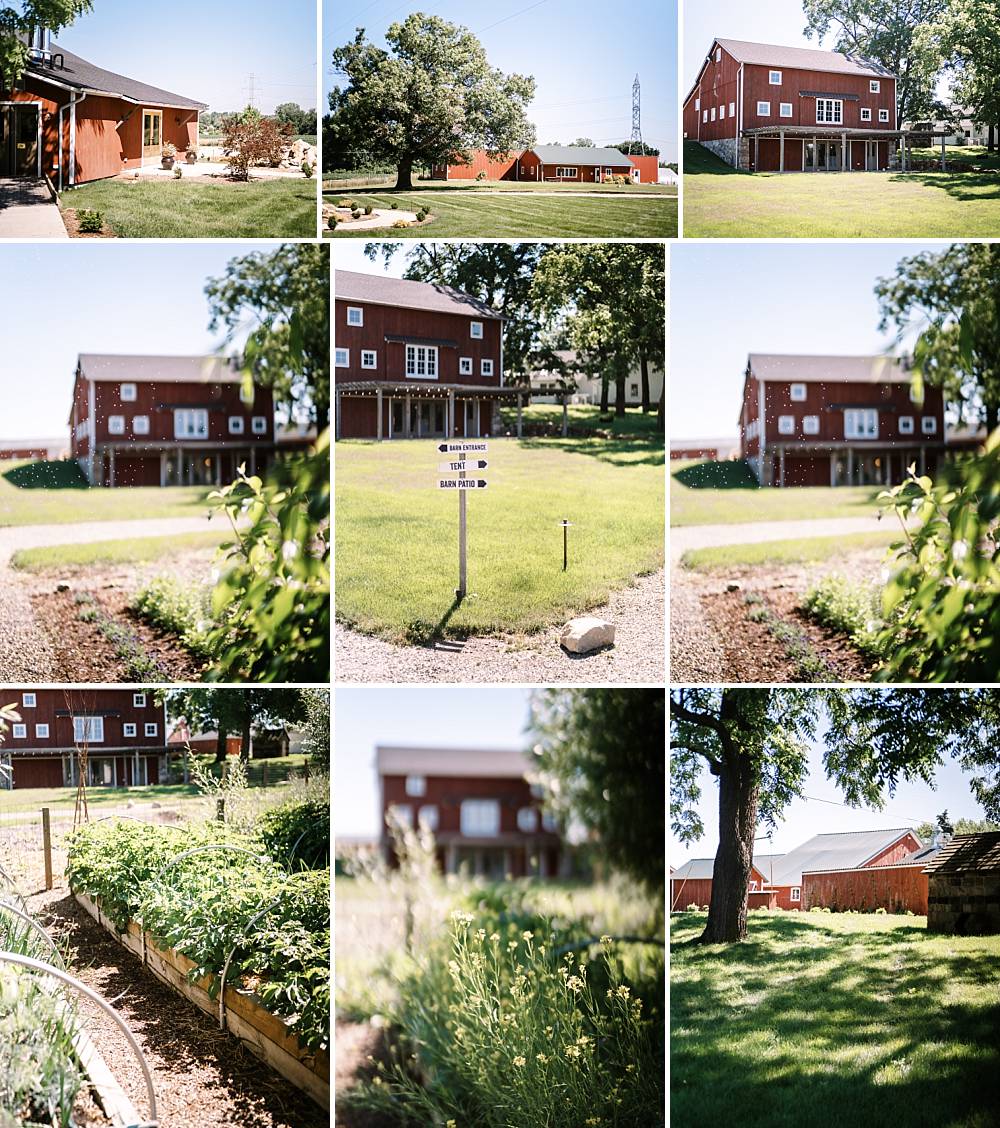 CEREMONY LOCATION
The ceremony location is situated at the front of the house where the front porch greets in traditional farmhouse comforst. Plenty of shade is offered from nearby trees and distant fields of golden grass and red farmhouses make this a rustic, yet authentically comfortable backdrop for your wedding ceremony. It makes you want to get married here then just have a sit in the rockers and listen to the sounds of nature.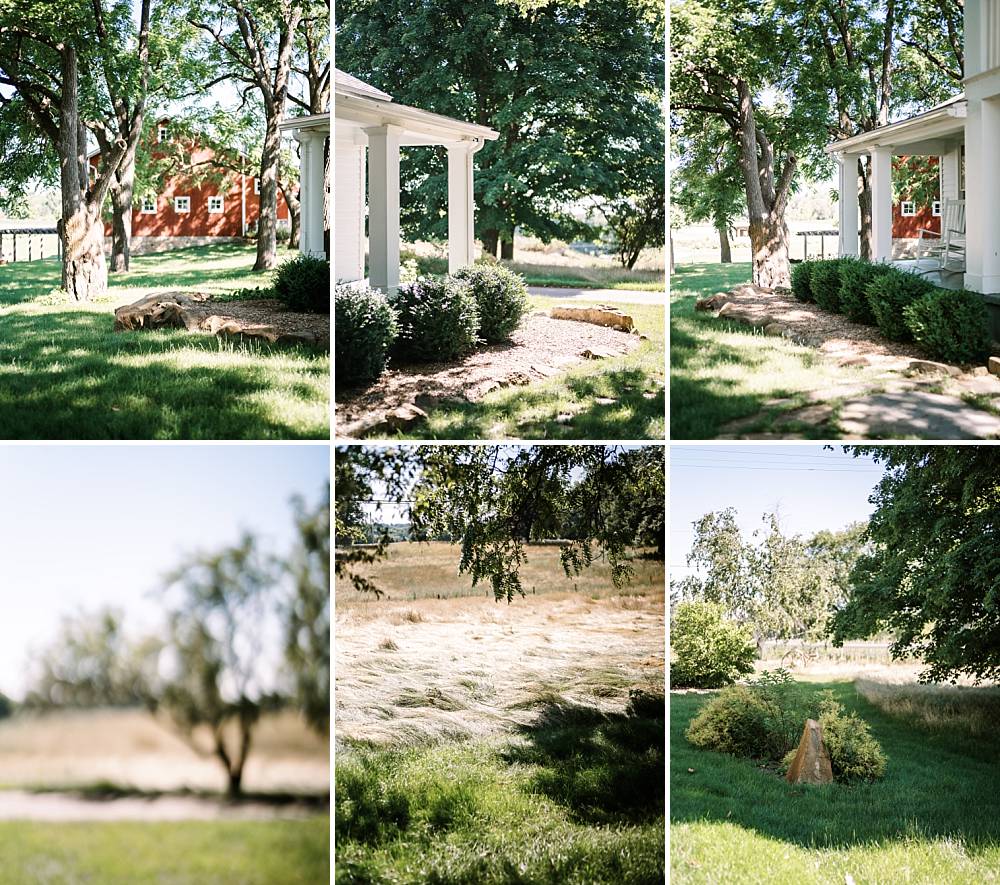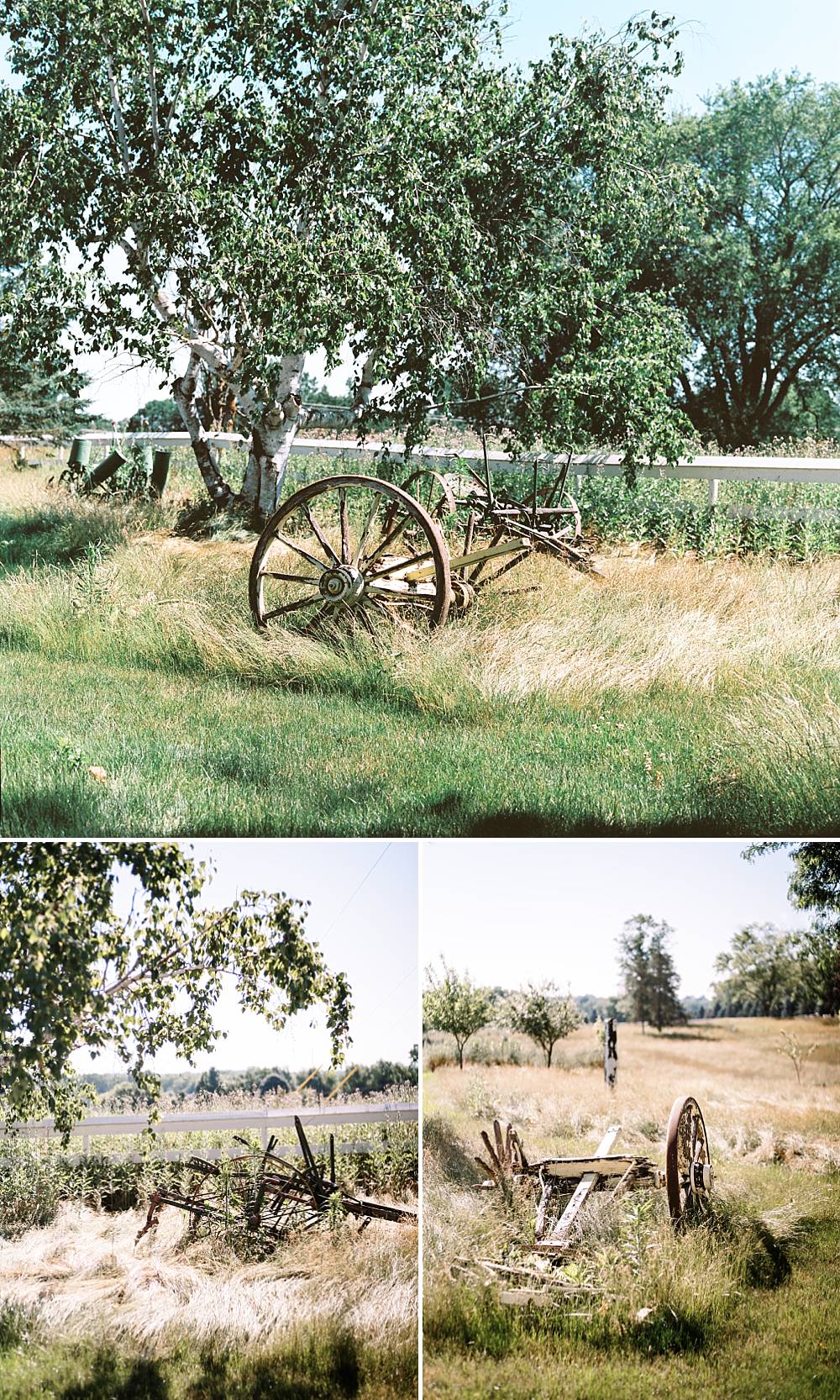 INTERIOR
The interior stays true to the warm, farmhouse aesthetic of the Central Michigan wedding venue's exterior. My favorite feature of the house was this cozy, intimate dinner room perfect for family celebrations, rehearsal dinner's and micro-weddings and elopements.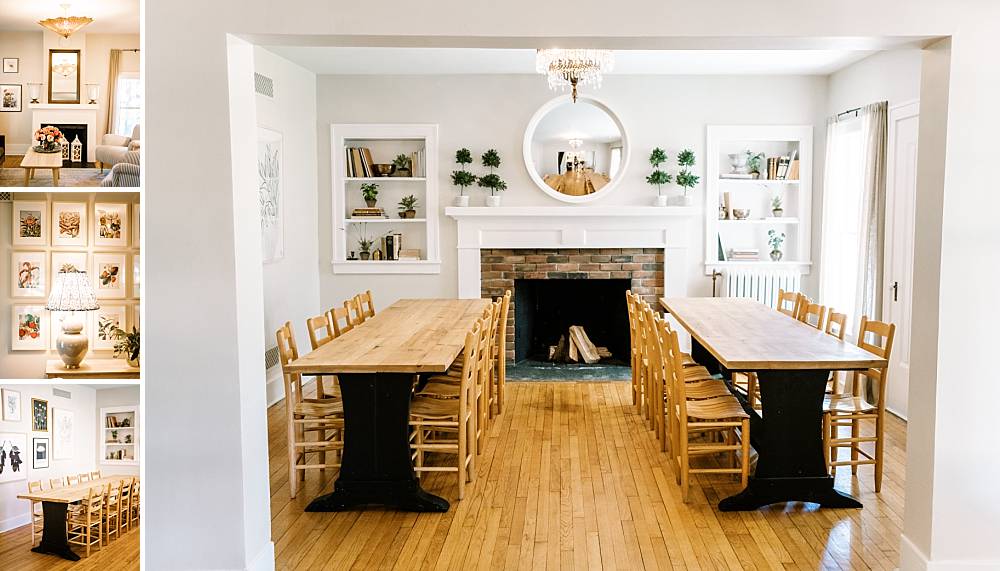 Of course, it has a true chef's kitchen where guests can watch the magic happen.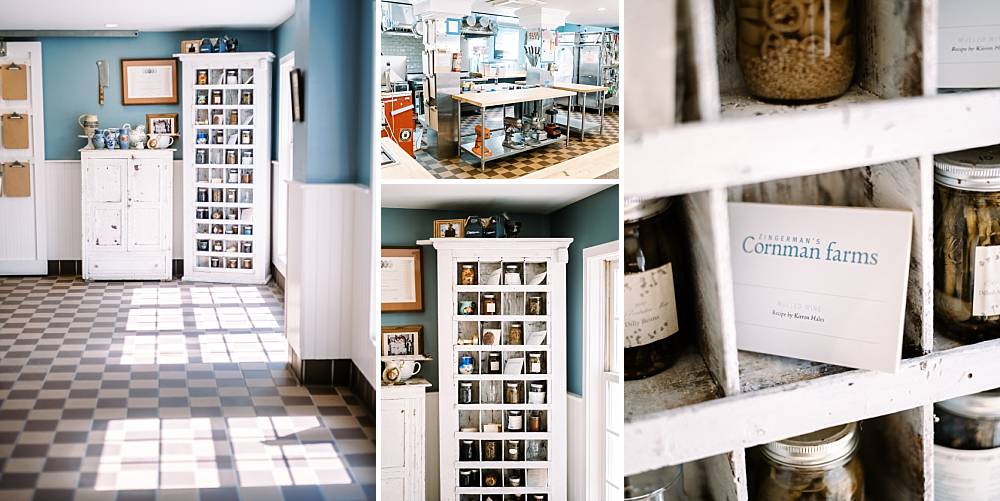 As always...self portraits and a matching hat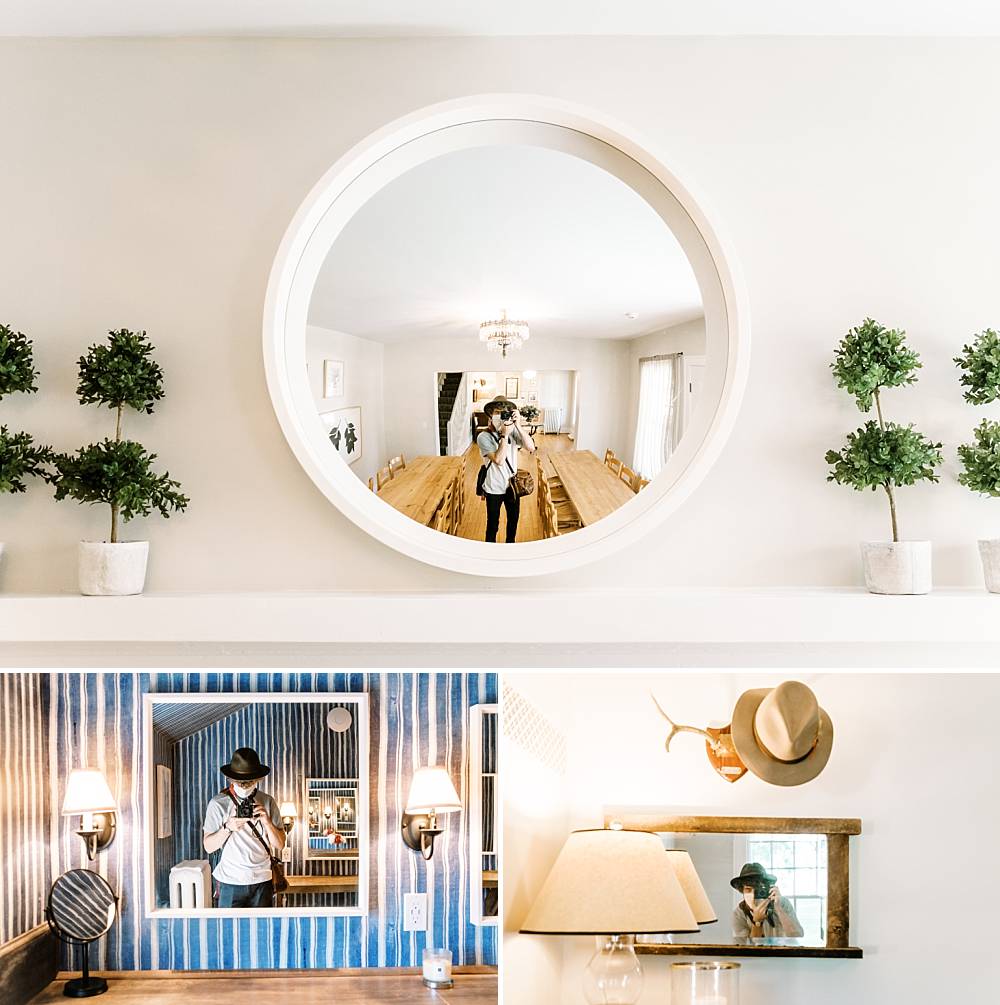 Upsairs features a bridal prep suite, catering to the truly all-inclusive nature of this intimate wedding venue.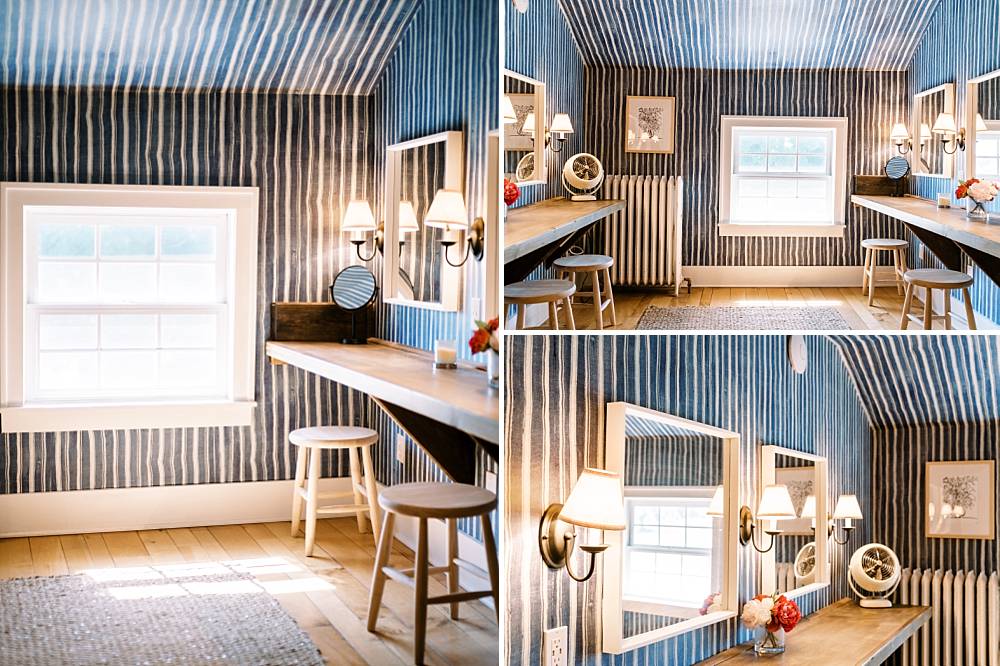 This mural in one of the upstairs rooms was a show stopper...I had to stop through twice to take photos of it's old world charm.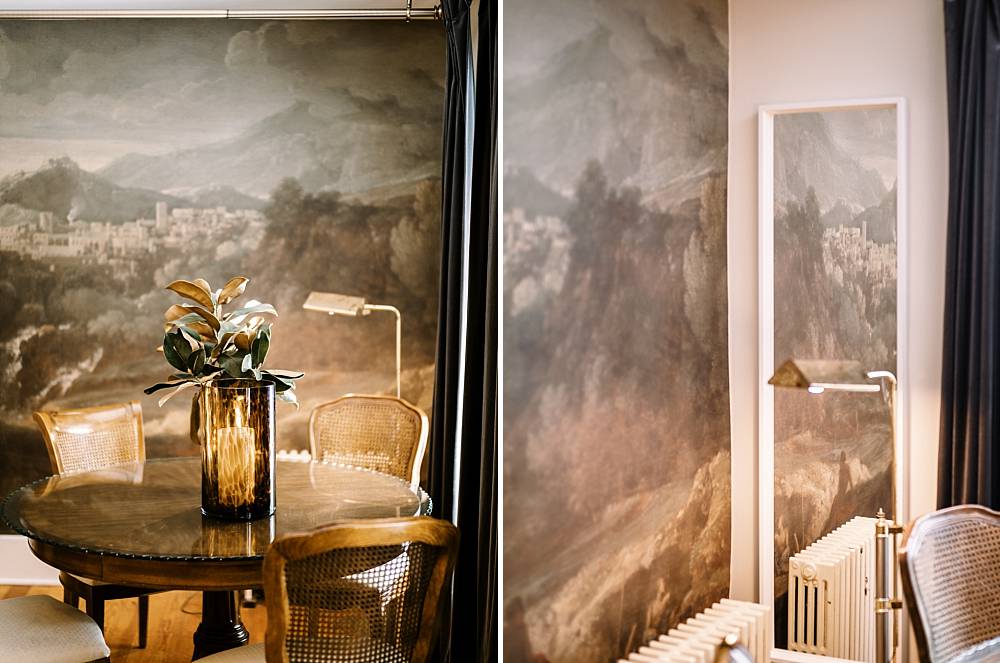 RECEPTION LOCATION
Receptions are held in the large barn. The barn retains the original structure with some modern finishings and upgrades to the faceade, prep kitchen and strucutre. The downstairs to the barn is used as a cocktail hour retreat while the upstairs is a rustic blank canvas to craft your dream wedding reception. Importantly, the venue features an elevator so it is accessible to the handicapped and elderly!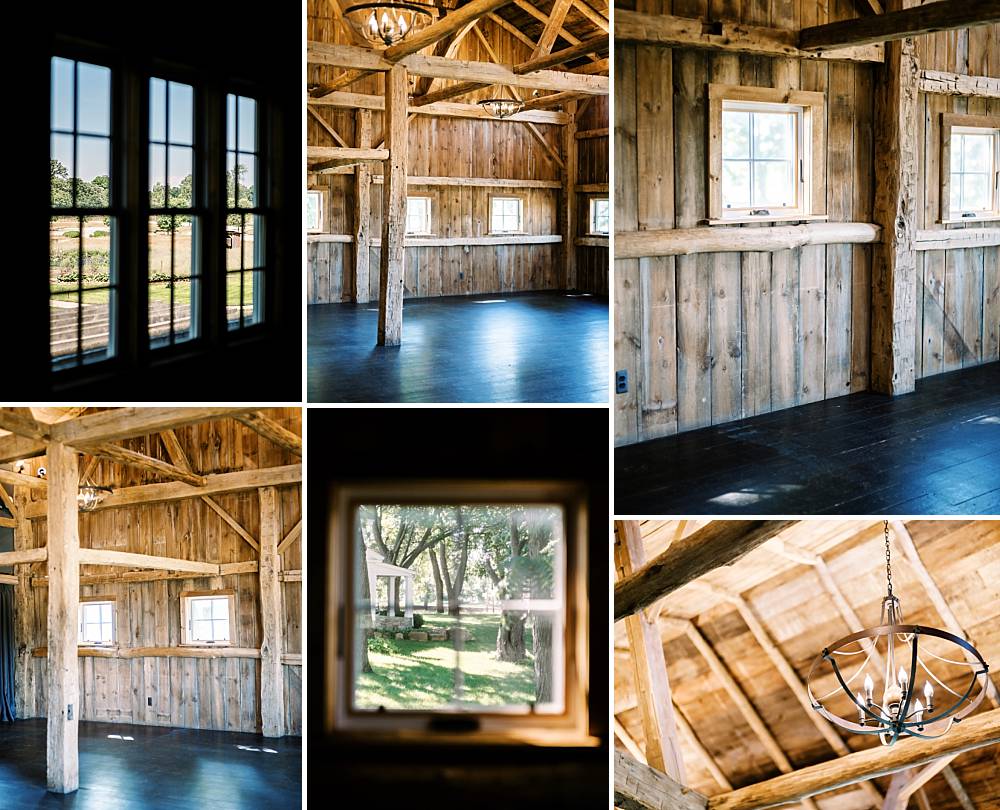 MORE INFORMATION ON ANN ARBOR WEDDING VENUE ZINGERMAN CORNMAN'S FARM
Click here for more information about Zingerman's Cornman Farm
Metro Detroit's Best Wedding Venues
I've never been to detroit before. I've spoken with people that grew up there and they raved about the culture and the rich history. We all know recent narative surrounding Detroit and the poverty that has surrounded the crashing of the auto industry, but I was excited to see the city for myself and form my own unbiased opinion. I thrive on unique, stylish clients and weddings and I was excited for the Detroit wedding market as it could be the city to provide just that!
DOWNTOWN DETROIT
Detroit stood out to me for one reason...the architecture. Genuinely, it is some of the most beautiful architecture I have ever seen. The mid century styling and mixing of bronze metals and intricate stone work was awe-inspiring. I took more photographs here than any other city I visited. We only had the chance to tour the city, just long enough to grab coffee and do a quick lap, but it will be a destination I quickly return to...plenty of film in hand.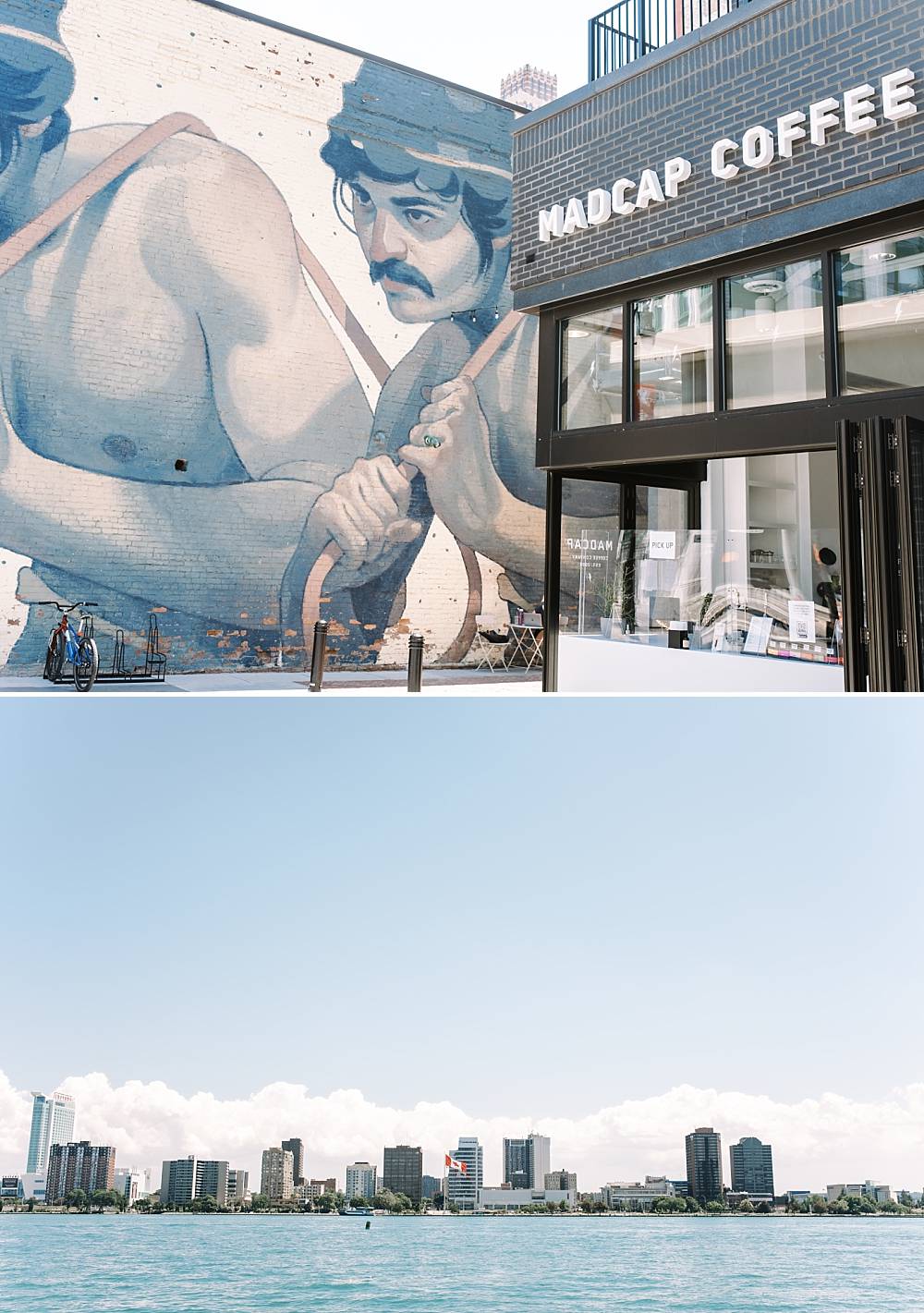 The towering GM building was certainly a sign of more profitable times. Having seen the city in it's state of poverty, I would have love to have seen it during its heyday. Hopefully, moving forward it will regain its old glory...this time more inclusive to all of the cultures that make up its diverse population.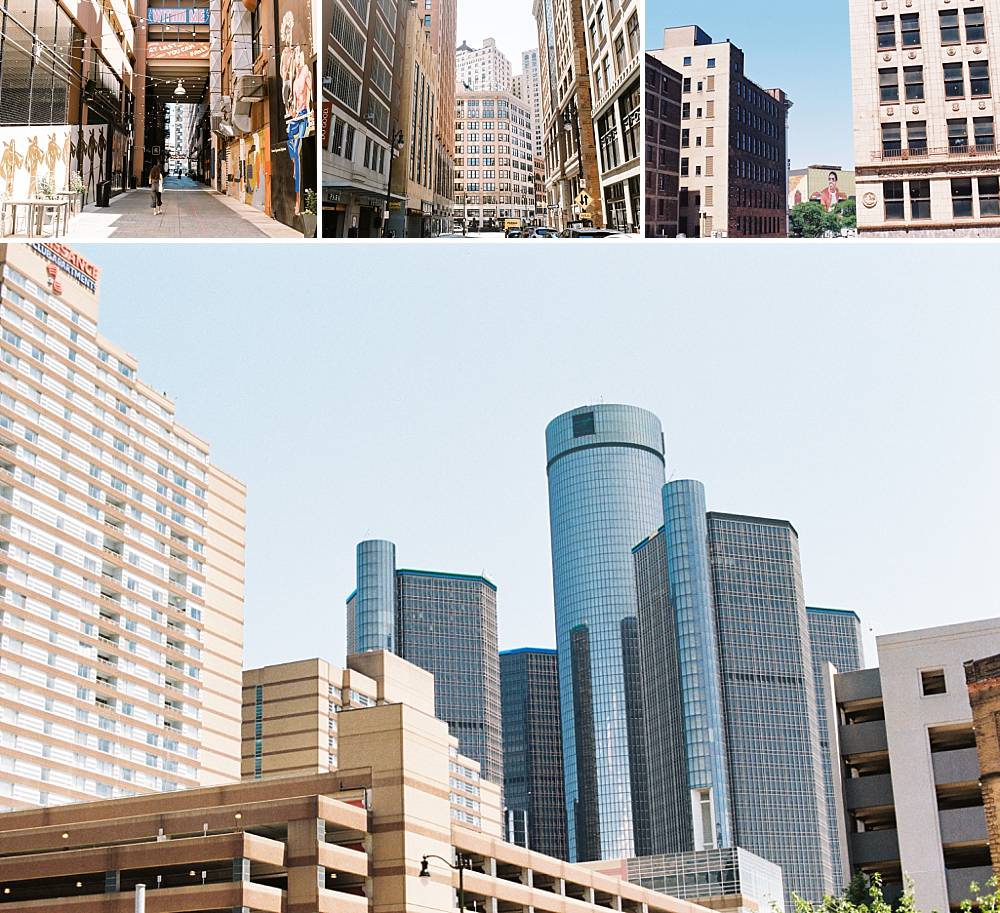 The city architecture is such a beautiful mix of warm earth tones and cool blue reflections from the windows and sky.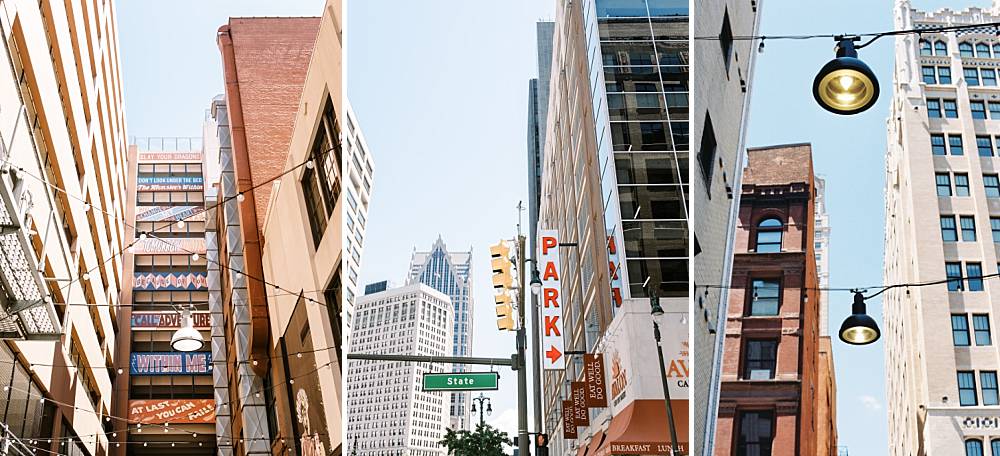 THE WAR MEMORIAL - GROSSE POINT
The War Memorial was our first Detroit wedding venue stop, located in the afluent suburb of Metro Detroit - Grosse Point. The stone facade of the building welcomes you at the end of a long stretch of stone road, lined with trees and golden yellow florals. At the end is a roundabout with a Italian Renaissance style mansion that was constructed in 1910. Soon after the passing of the original owner, the home was donated as a community arts center and memorial to the Gross Pointe community that served in the world wars. It has remained in this state ever since, serving as a gathering place for ideas, arts, community and rememberance - yet another Michigan wedding venue that serves a greater purpose. It has remained a constant theme on this trip that these beautiful venues exist to celebrate something beyond marriage, using the revenue from weddings to further its charitable goals. I find this all quite romantic and love that these wedding venues in Michigan stand for something greater.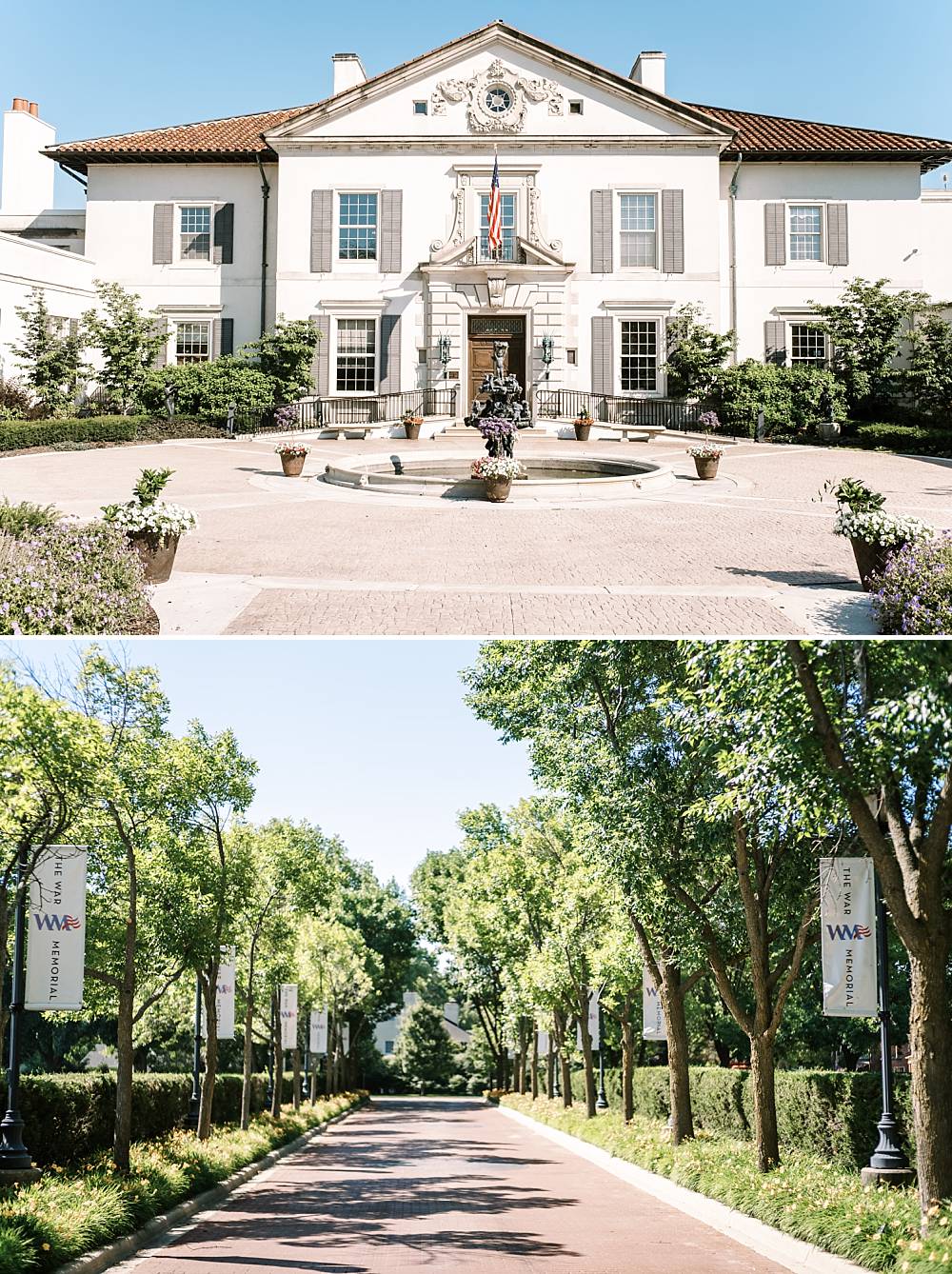 Yellow is my favorite color to photograph and I was instantly captivated by the landscaping welcoming you into the venue.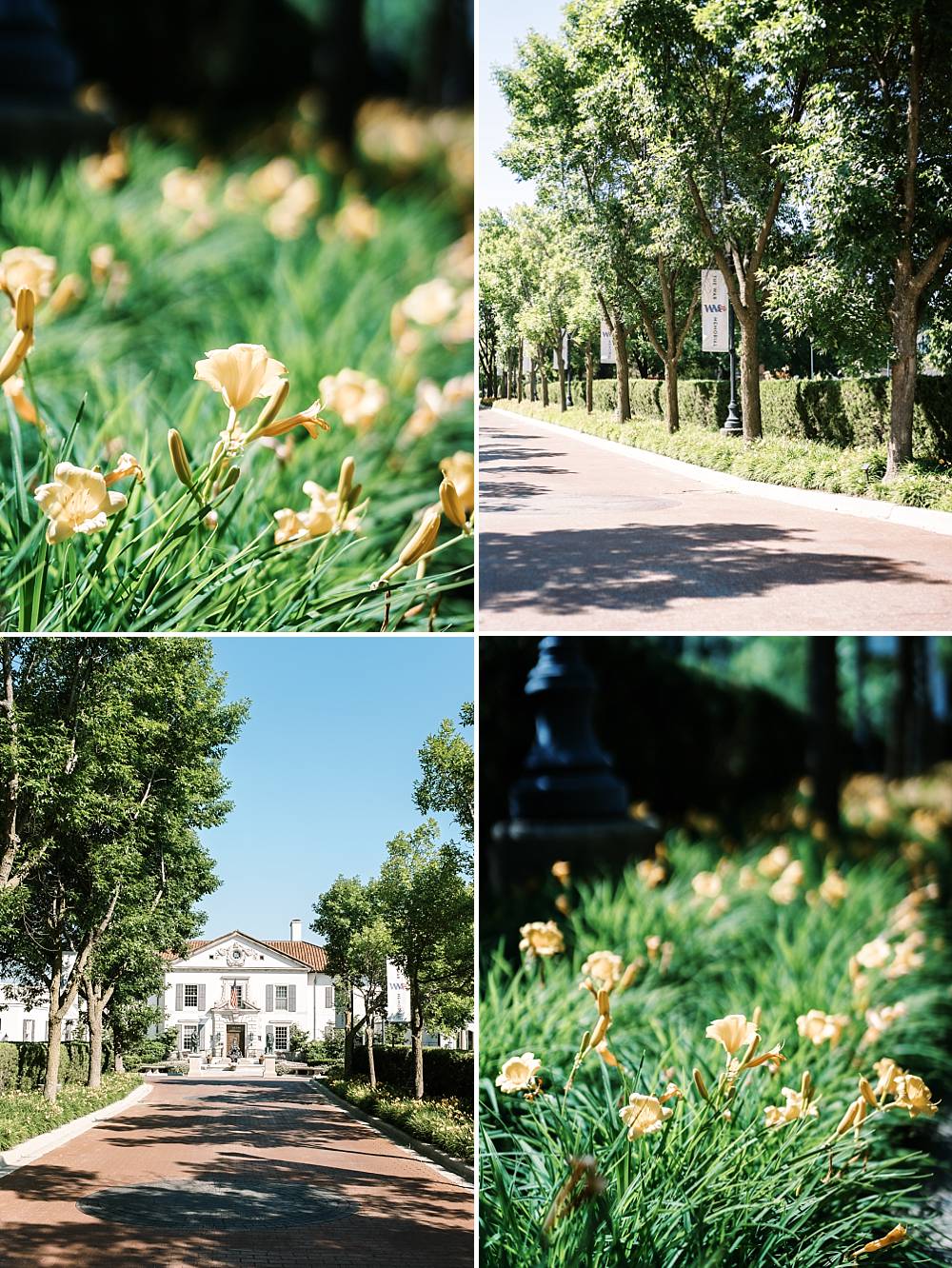 The architecture and the light shining through it...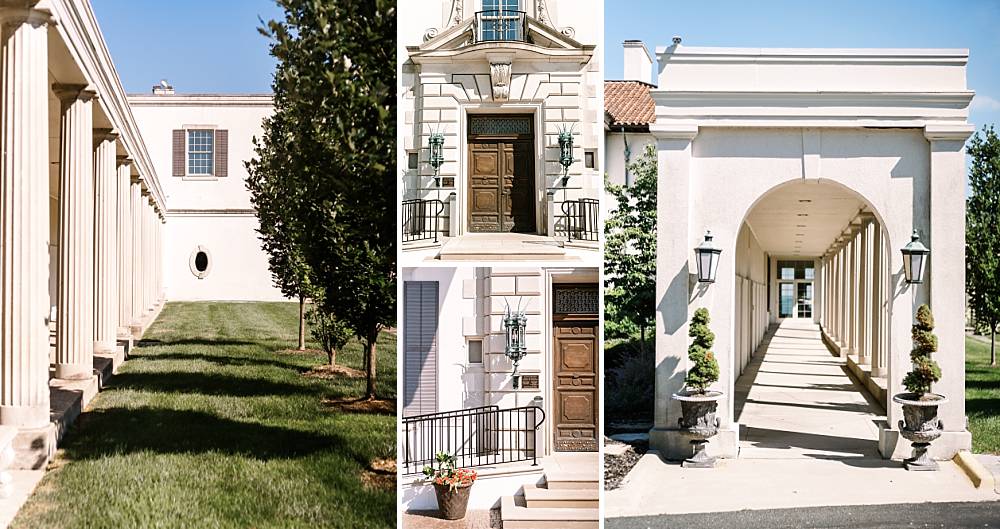 FRONT GARDENS
My second favorite feature of this venue was the landscaping. The family hired a landscape architect to design the gardens while the house was being designed and it clearly shows. The gardens in the front of the house, shown below, offer so many portrait locations for your bride and groom portraits on your michigan wedding day.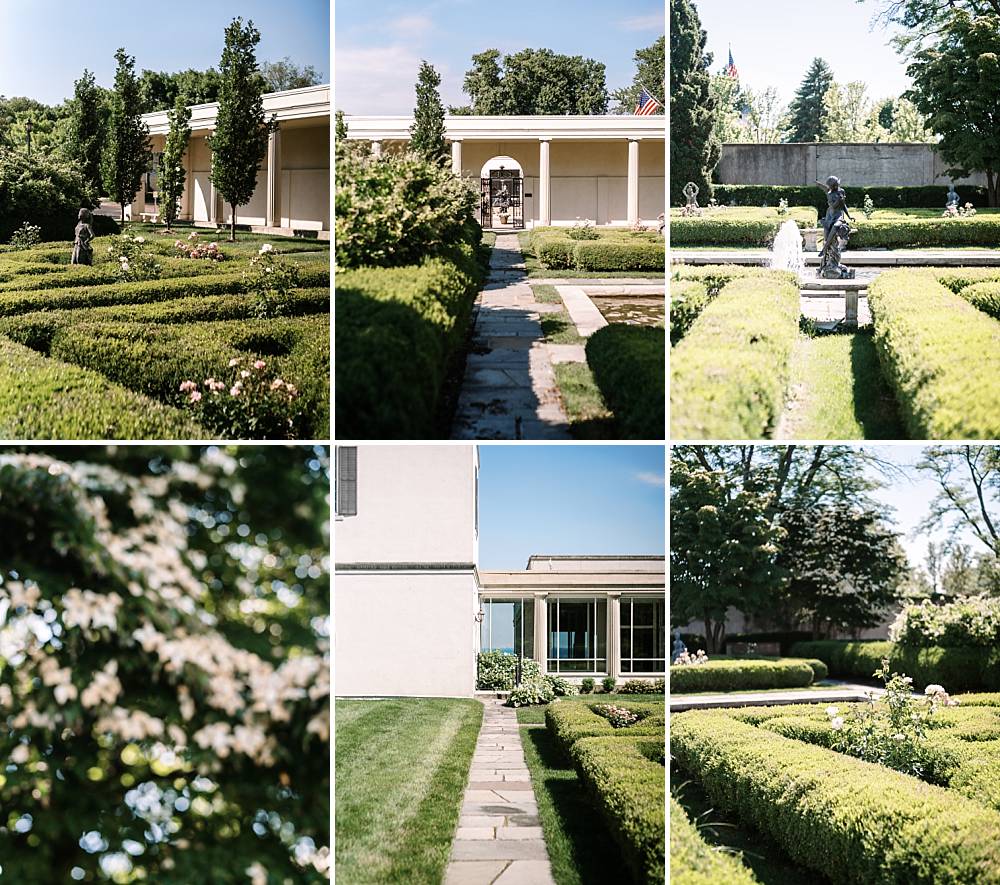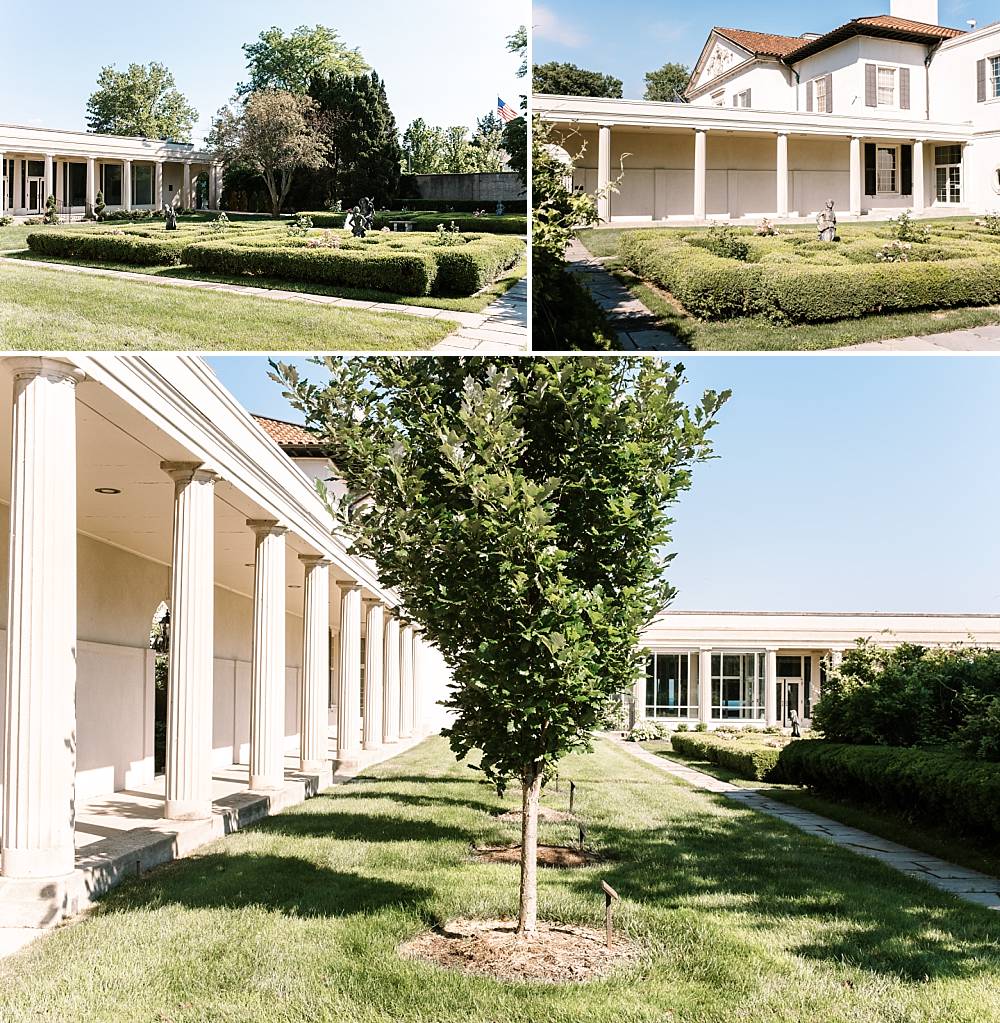 OUTDOOR CEREMONY LOCATION AND REAR GARDENS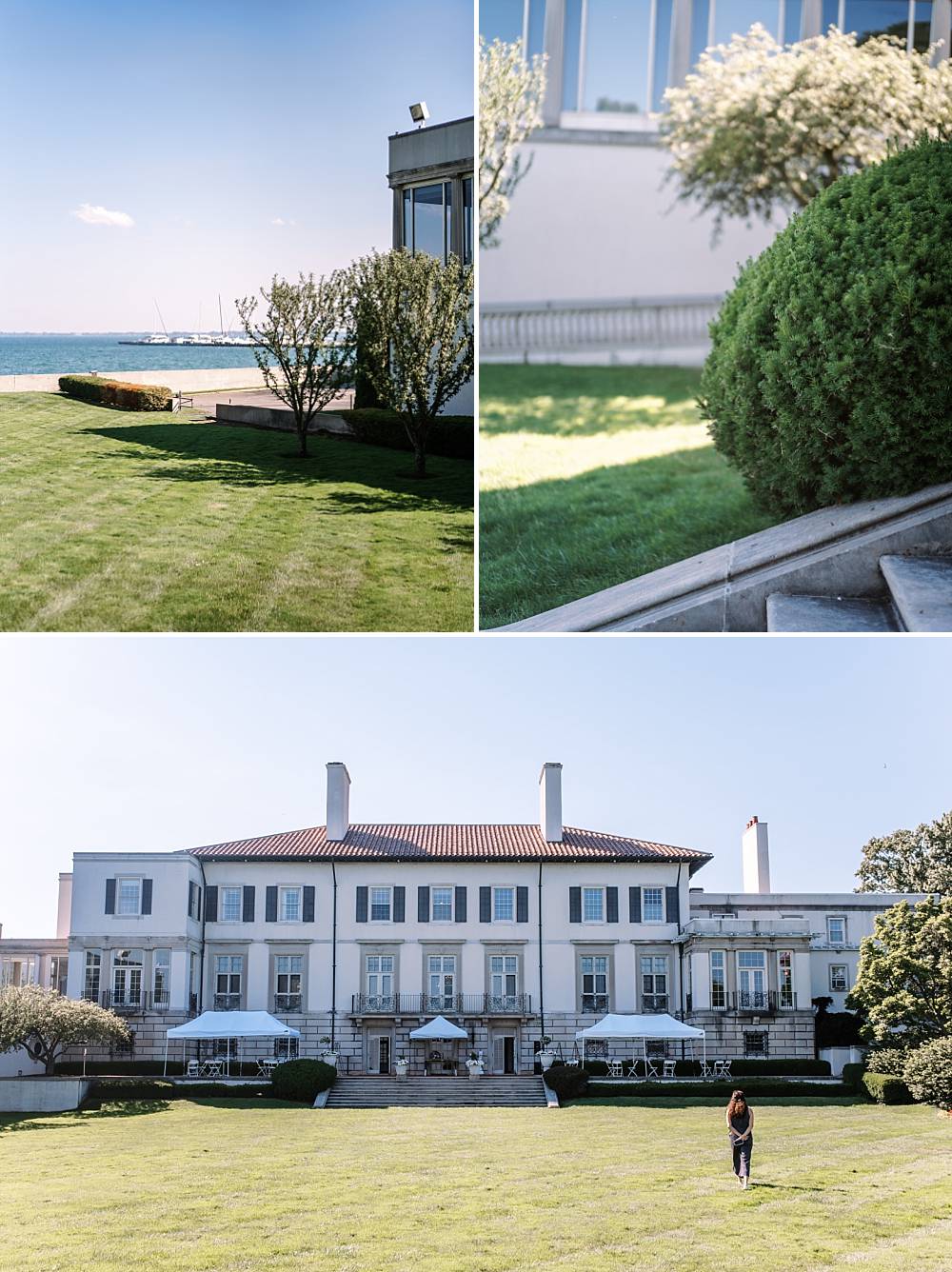 If you love being on the water, then I truly can't imagine a more beautiful wedding venue. The back lawn serves as an outdoor ceremony location and cocktail hour for your detroit wedding. Being so close to the water was certainly a highlight of the War Memorial and made it quickly skyrocket to the top tier of my best Michigan wedding venues list.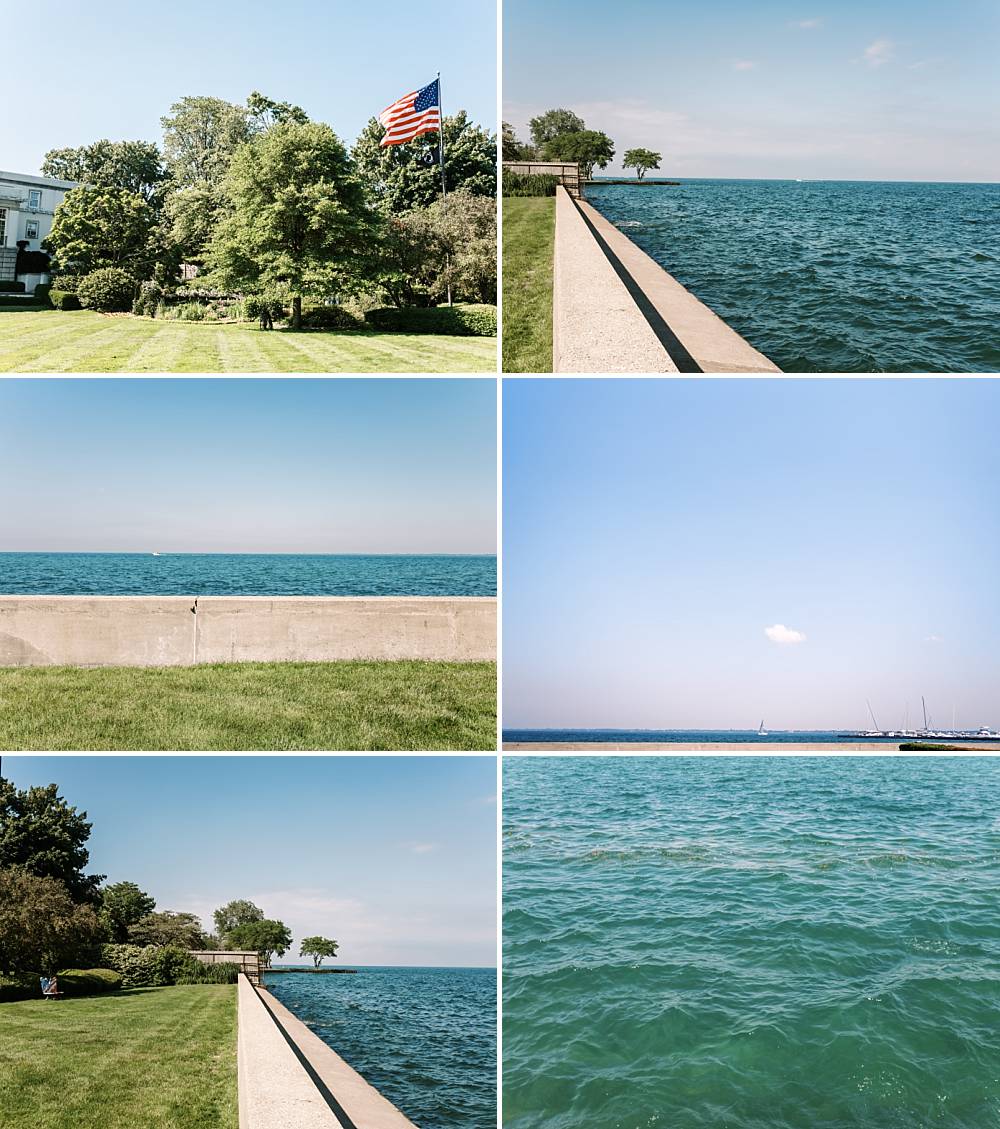 Just as much care and attention to detail went into the rear gardens and landscaping as did the front. It's a wonderful location for portraits and for guests to enoy themselves during cocktail hour.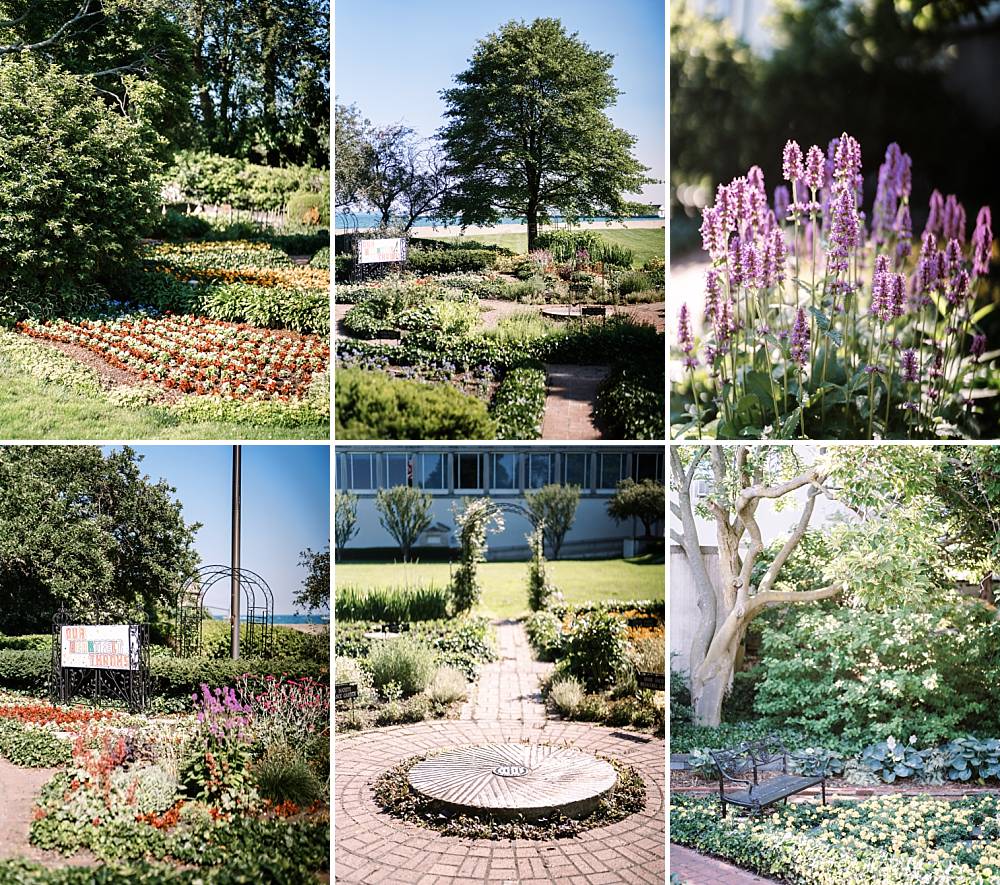 It even has a cute balcony for some Romeo and Juliet inspired romantic gestures.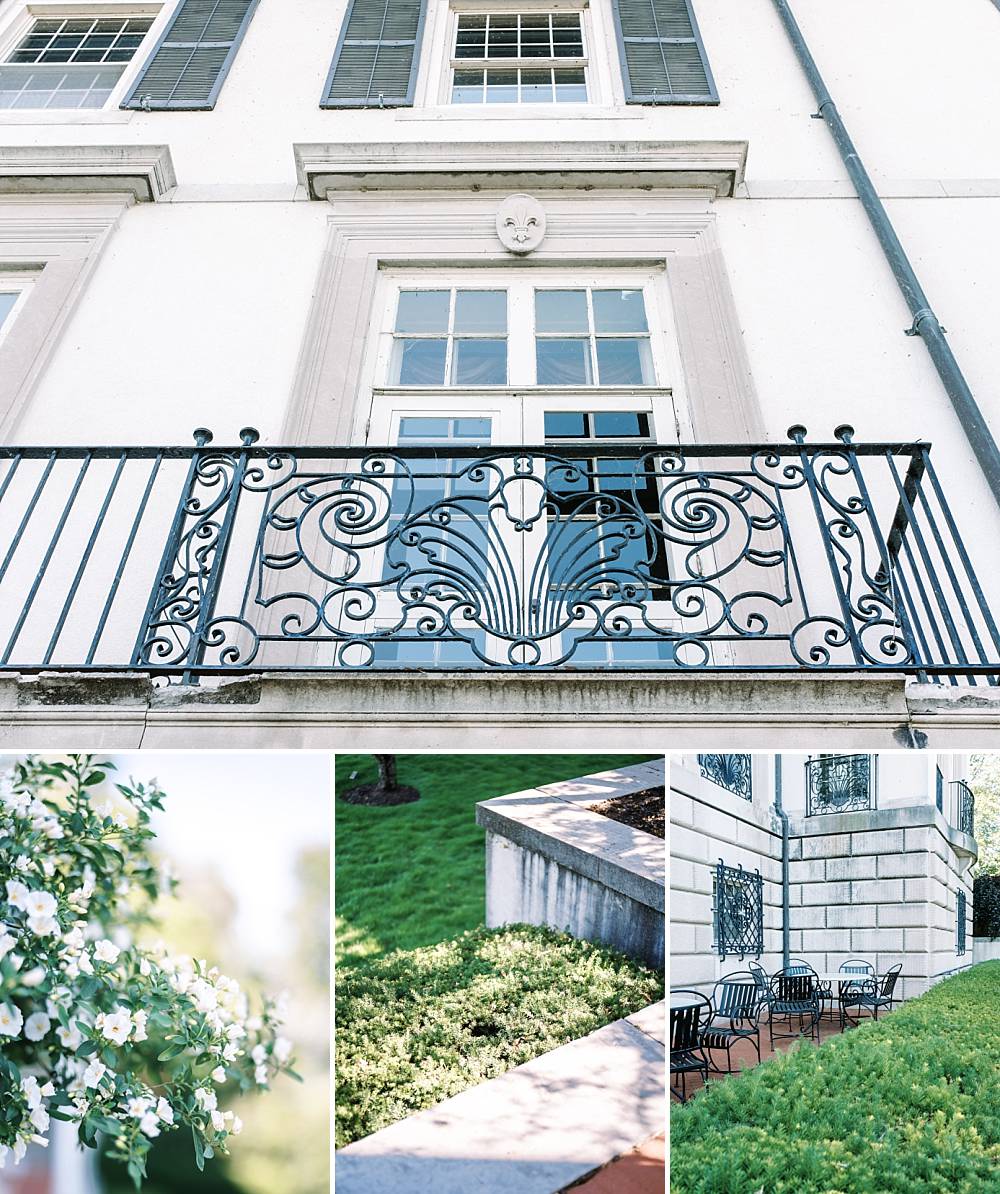 INTERIOR
The bridal suite at the War Memorial was well styled, and beautifully lit. It's a photographer's dream, with plenty of space for your bridal party and beatufiul furniture and styling to give you album worthy getting ready photos on your Michigan wedding day. The vintage chairs and matching curtains were a standout favorite of mine.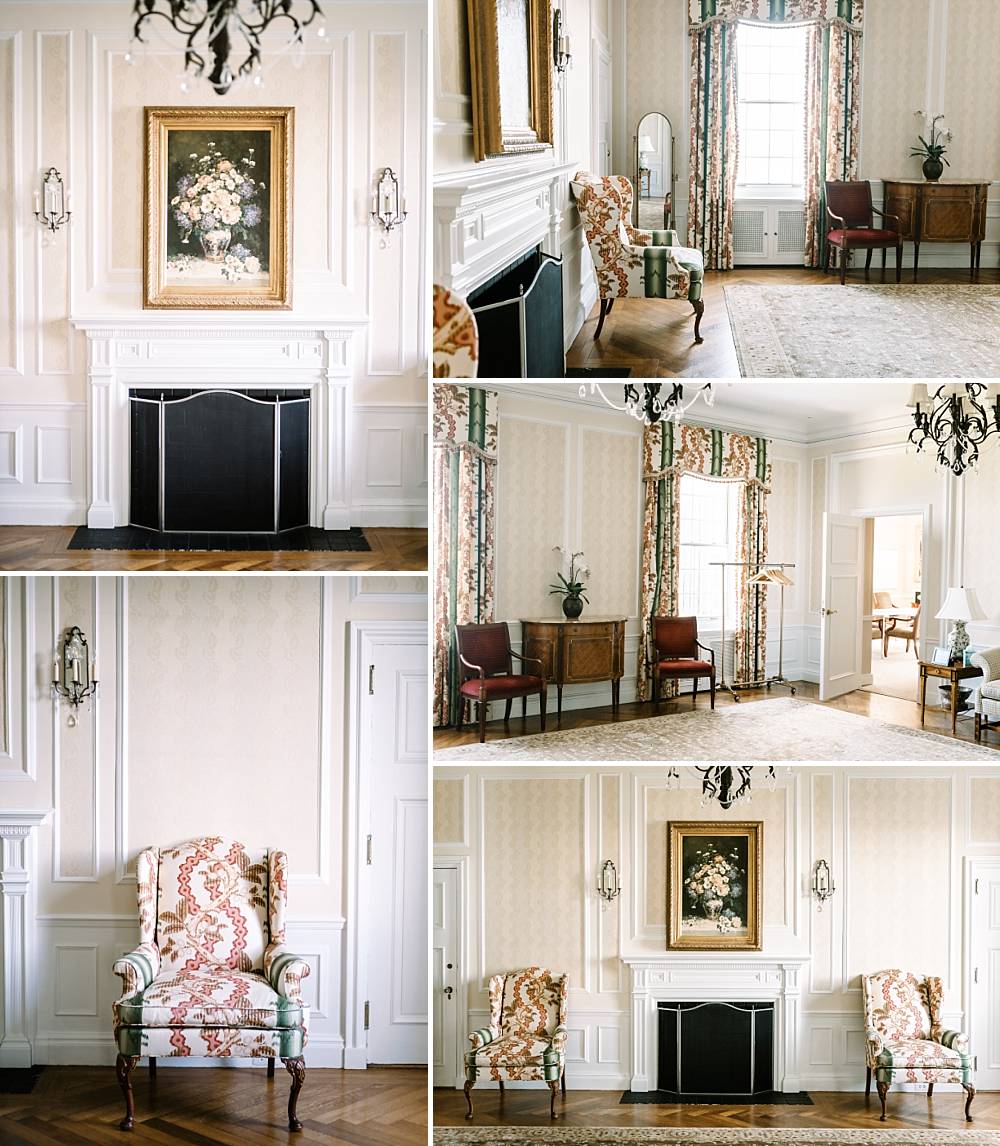 RECEPTION LOCATION
The War Memorial features an indoors wedding reception venue that overlooks the water. It's quite spacious and can easily accomodate your 200-300 person wedding making it one of few venues in the metro-detroit wedding market that can accomodate this size.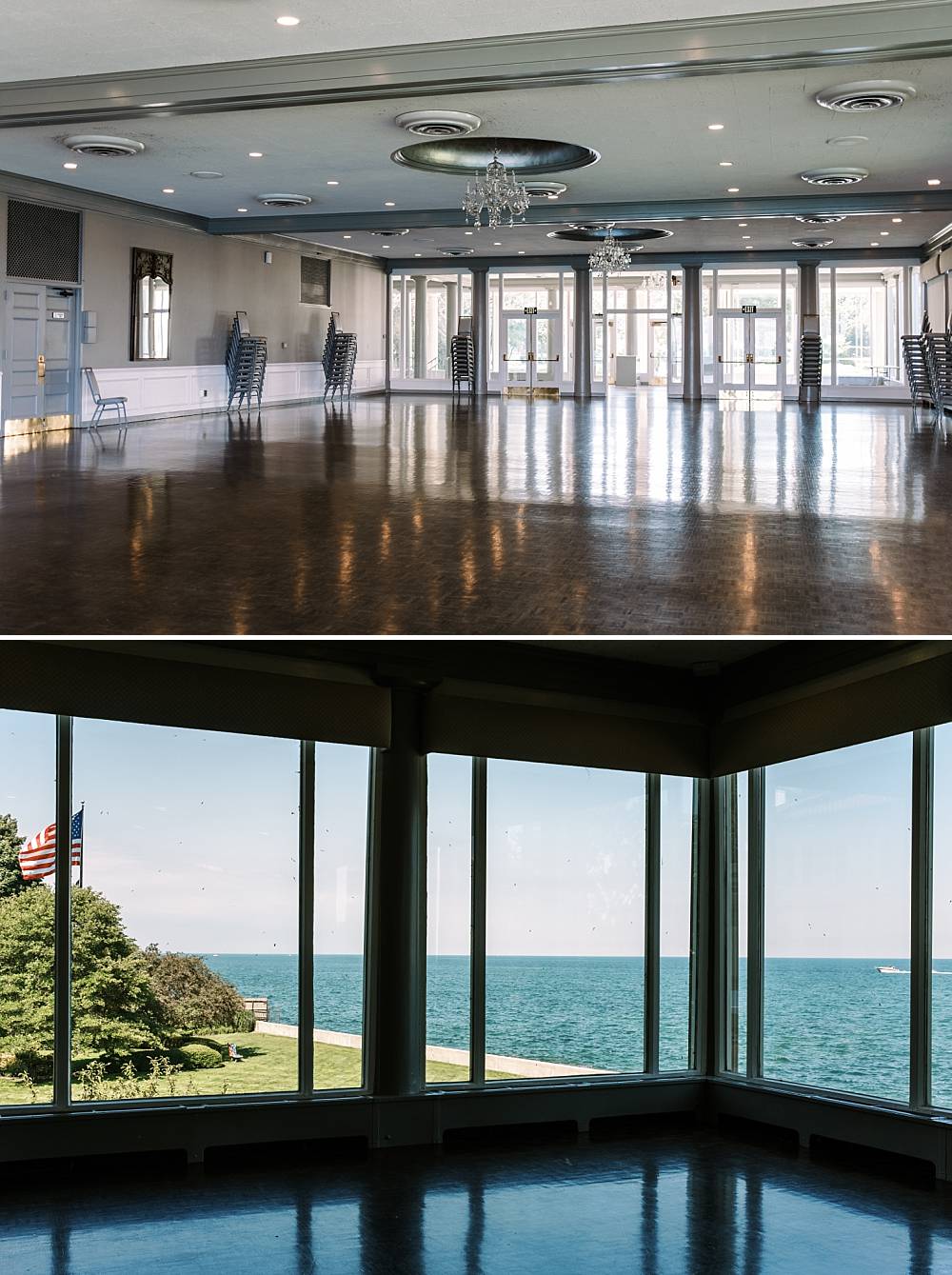 LIBRARY AND WOODWORKING
I am going to jump straight to my favorite feature/room of the wedding venue - the library. Looking at the photographs now, I am still in awe of the styling and lighting of this library. From the intage book lined shelves, to the brass clad ceiling tiles, to the inlaid wood details on the early century credenza - I was in awe everywhere I turned. If this venue didn't stand out as a favorite wedding venue in Michigan before, it certainly did now. I could take the most romantic and timeless bride and groom portraits in this room. If you are imaginging your dress draped across that herringbone wood floor with golden light reflecting off the woodwork just like I am, please get it touch and let's get to planning.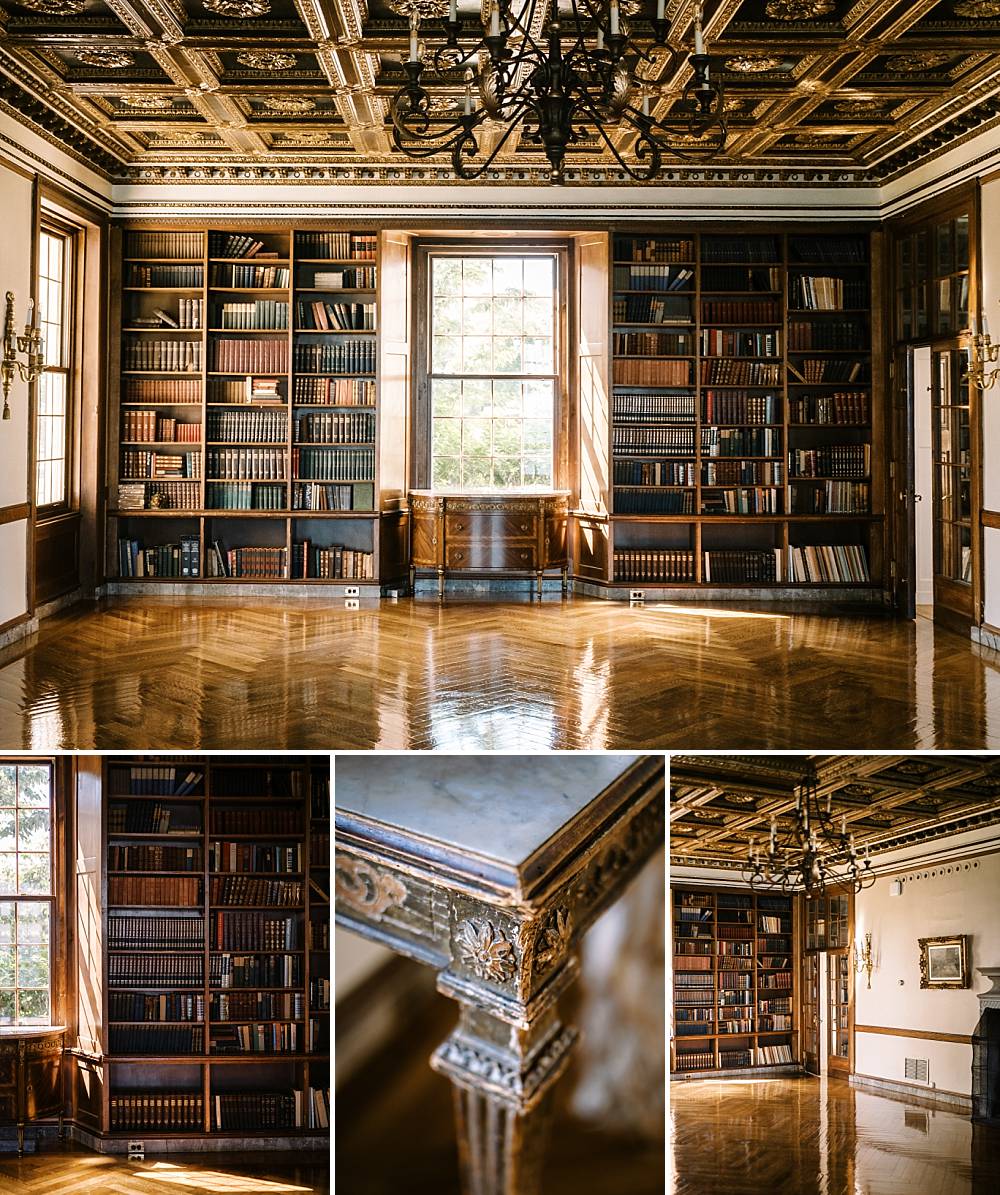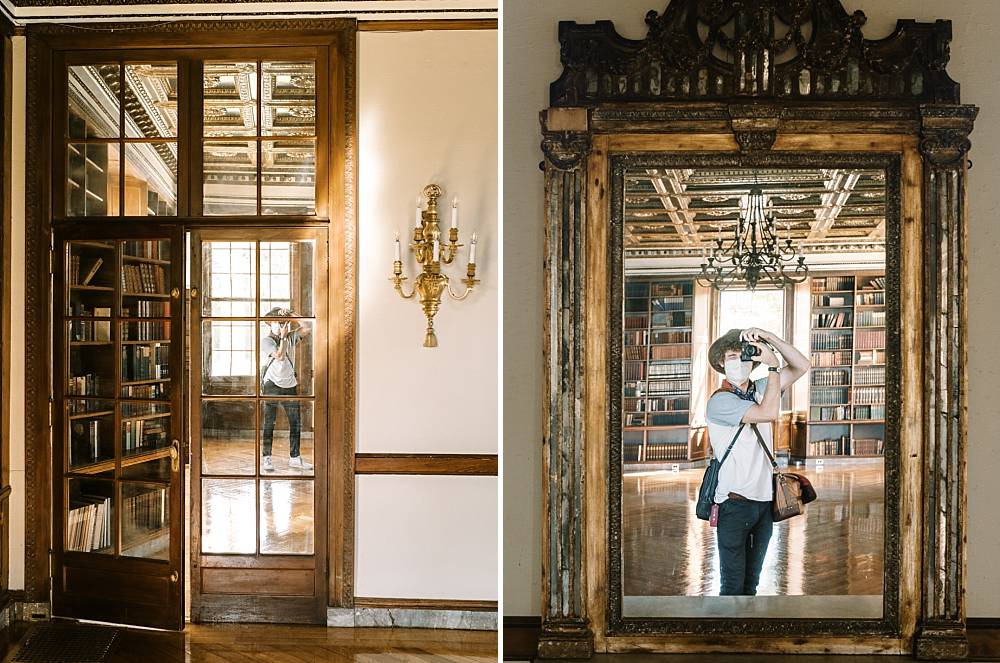 The ceiling tiles will give you a sore neck. I was looking up for a significat portion of the wedding venue tour.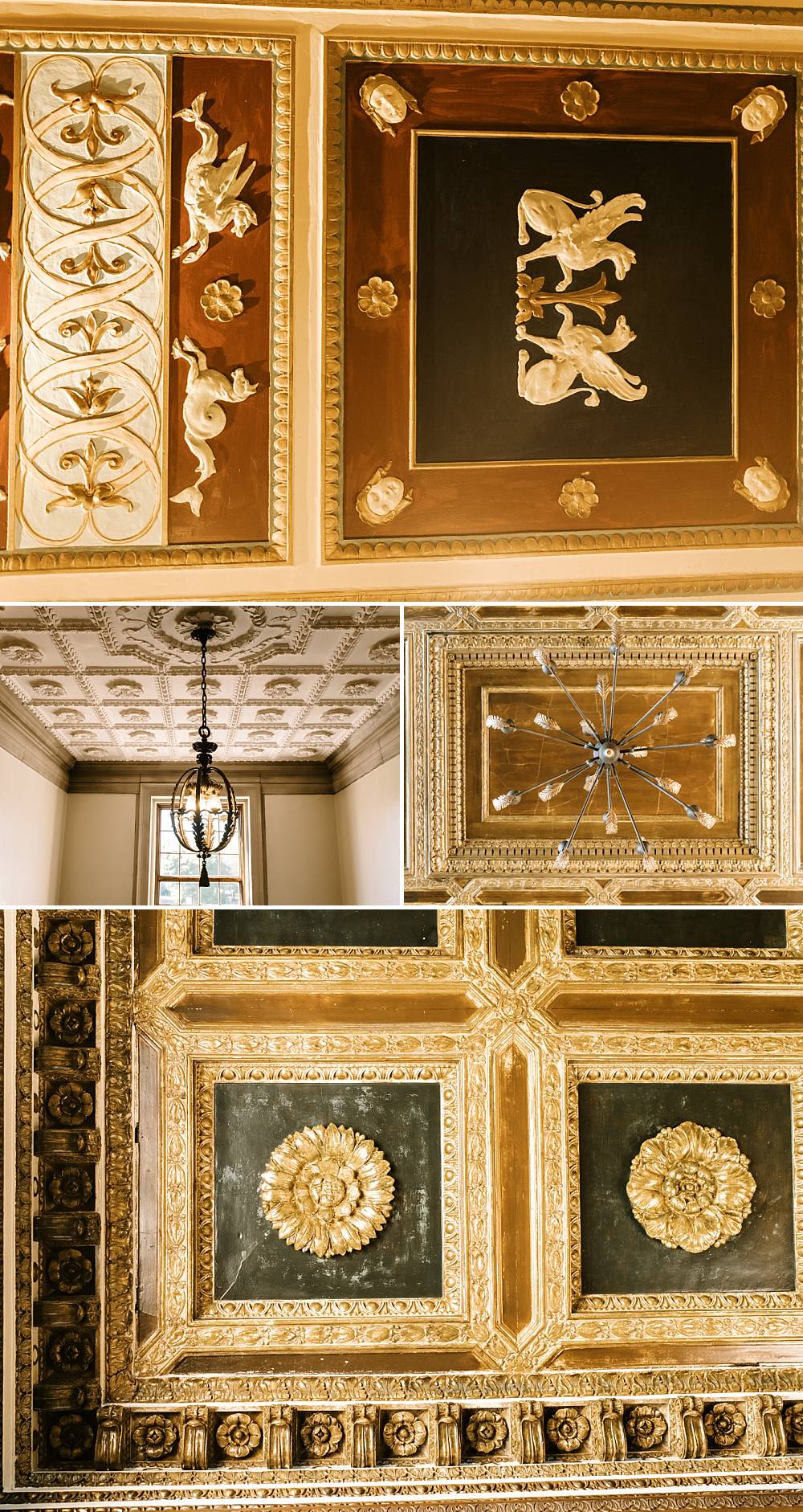 The art-deco and italian renaissance styled lighting fixtures and door accents were another personal favorite of both Emily and I.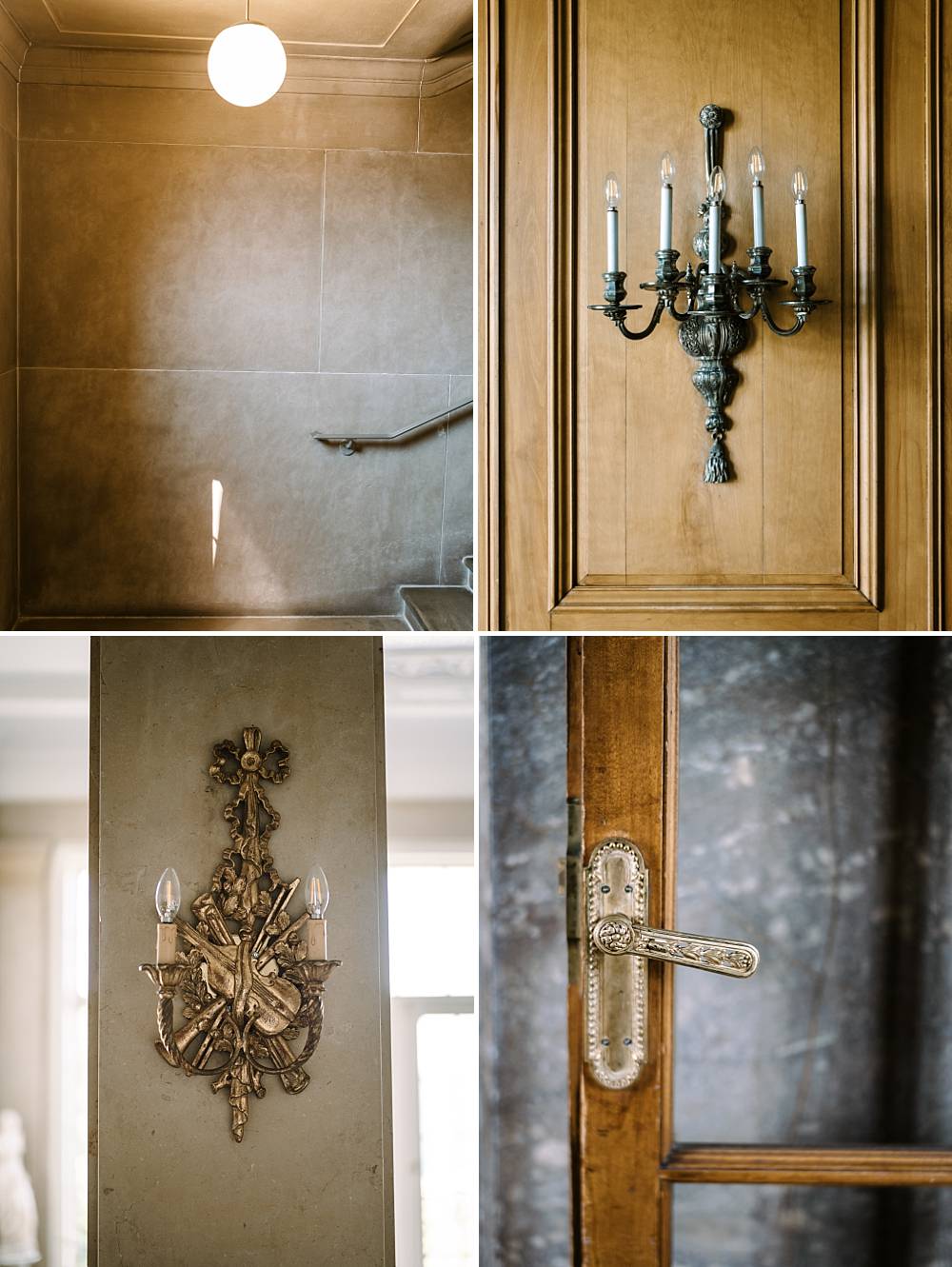 Window light is always the best light.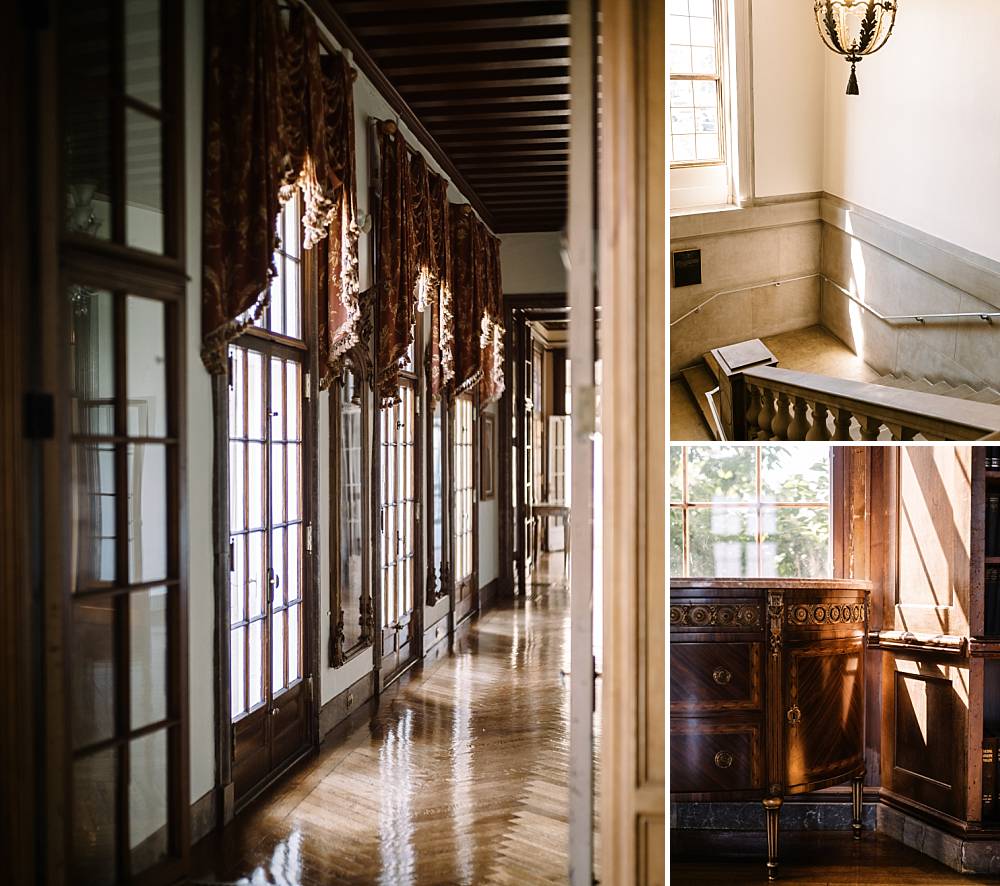 Since I can't live here...please, at least let me photograph your metro detroit wedding here.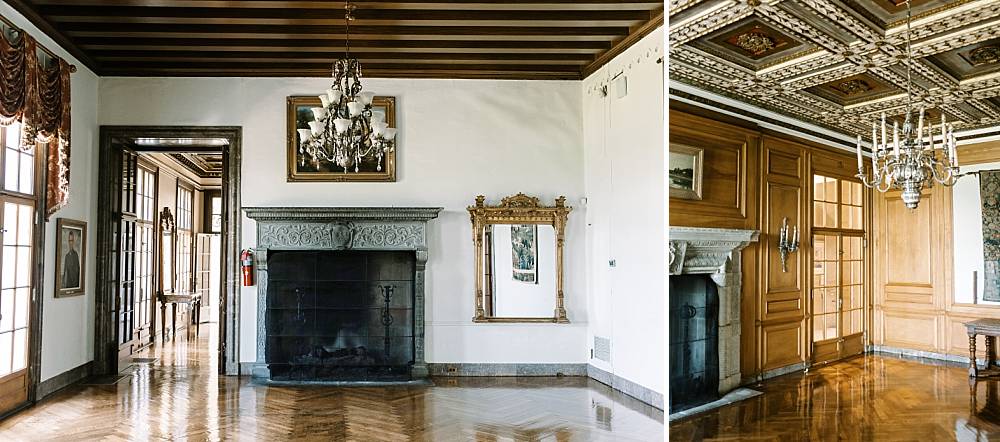 Last but not least was this naval inspired staging area / groomsmen getting ready area located in the lower level of the wedding venue property. It's a nice, cool spot for the groomsmen to relax while the bridal party is getting prepped on those hot summer michigan wedding weekends.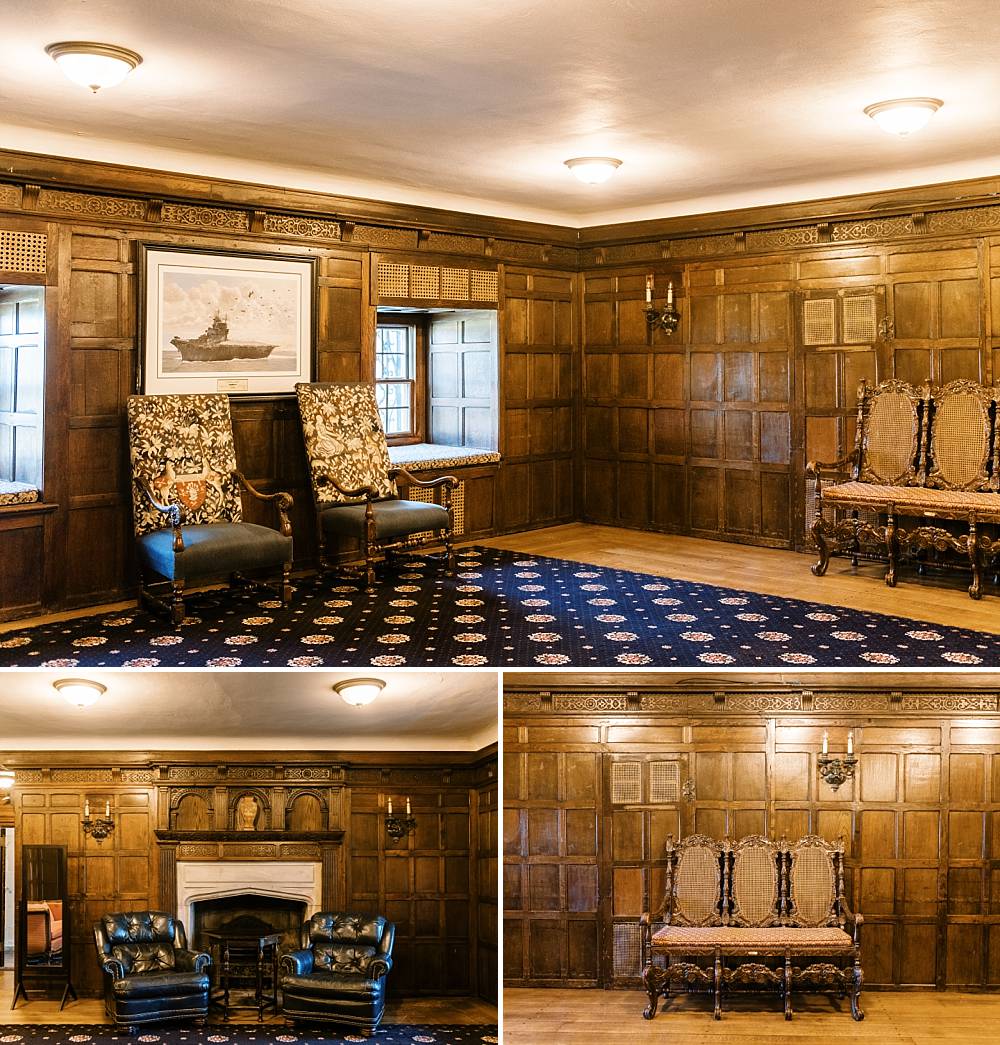 The architecture in the War Memorial house, specifically the woodworking, and it's waterfront location made it a standout hit for the Michigan wedding venue market. It's easily one of the prettiest homes I've ever been in and the architecture provides a high-end, romantic feel for your wedding day portraiture. The gardens and landscaping was the other standout for the detroit wedding venue, featuring ample portrait spots all in close proximity. This is the photographer's dream.
FOR MORE INFORMATION ON ONE OF METRO DETROIT'S BEST WEDDING VENUES PLEASE VISIT THEIR WEBSITE BELOW
Click here for more information on the War Memorial in Grosse Point
MEADOWBROOK HALL
Our second Metro Detroit wedding venue stop was Meadow Brook Hall in Rochester Hills. What first strikes you about Meadow Brook Hall is its sheer size. The home is one of the largest in the country, constructed between 1926 and 1929 by Matilda Dodge Wilson, originally for her late husband and Detroit auto industry pioneer, John Dodge. You enter the estate either from a large brick road with a small museum exhibit dedicated to early Dodge automobiles or by crossing a bridge and exiting into a roundabout at the home's grand entrance - my personal favorite entrance to the property.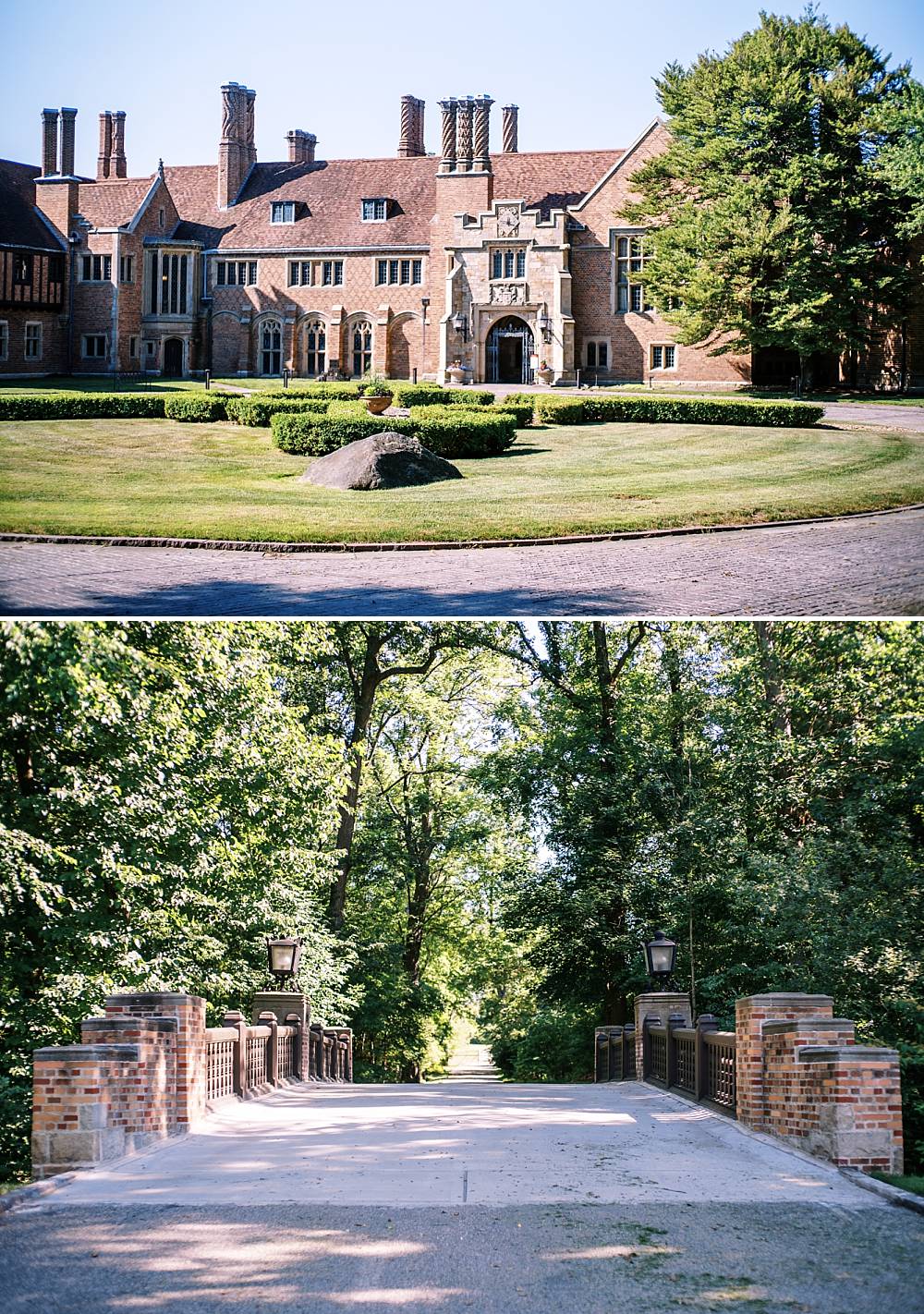 The alternate, rear entrance to the property provides a stunning glimpse into the stonework of the property's facade.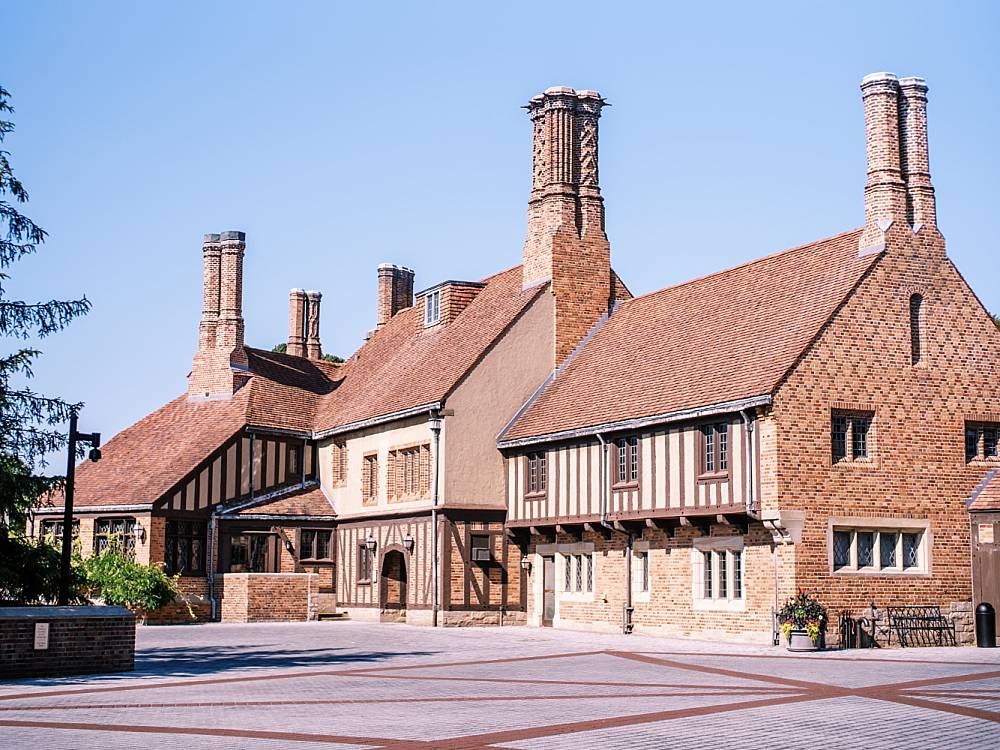 CEREMONY LOCATION
The ceremony location was my favorite view at this metro detroit wedding venue. It had plenty of space to accomodate 200-300+ guests and multiple directions for staging your ceremony depending on the view you wanted. Personally, I love the view of the home with the gardens on your left and the spacious lawn and treeline to the right.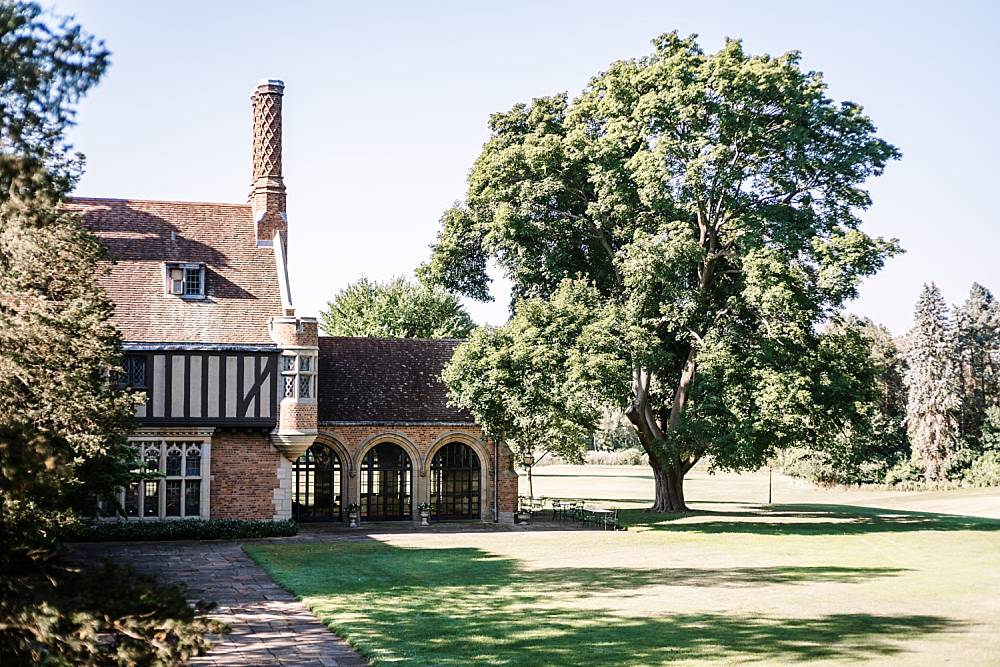 The alternate perspective looks onto the a large stone wall and one of the wedding venue's lush gardens. The bride emerges from a large, vintage wooden door for a grand entrance to your Michigan wedding ceremony.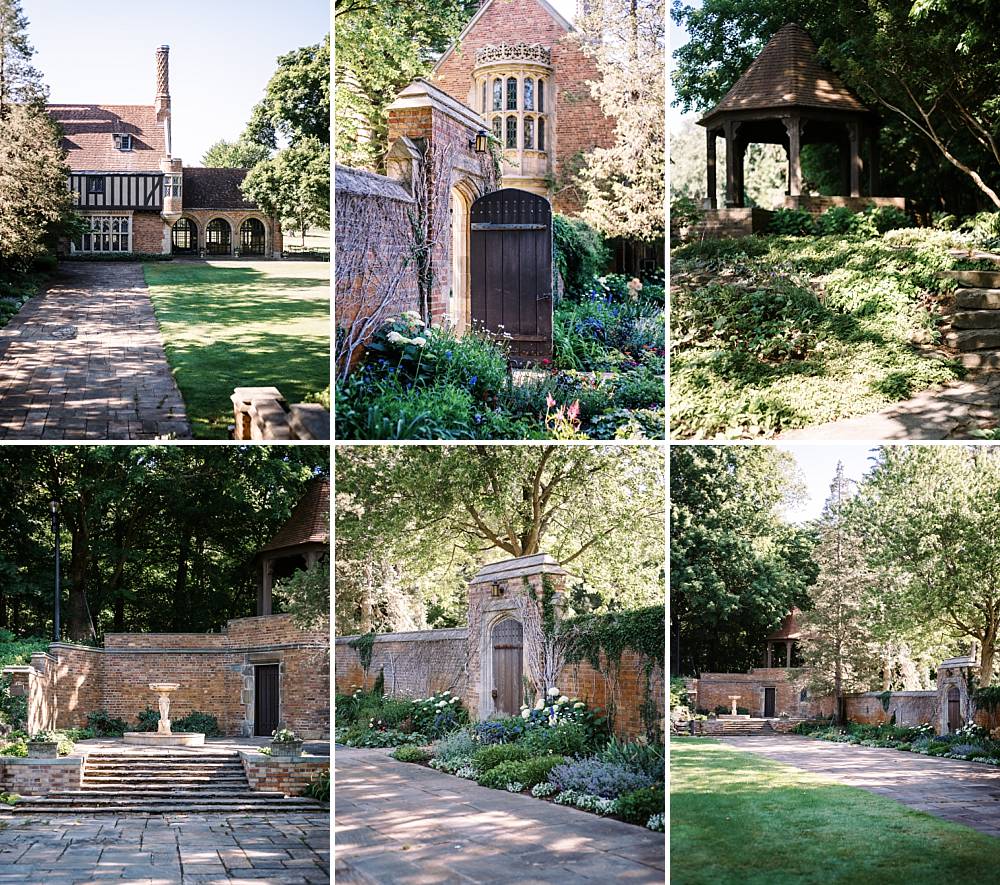 GARDENS
The majority of the estate's gardens are located dat the rear of the property and are cared for by an entirely volunteer staff. I loved that the community cared so much to keep this historic landmark operating and in beautiful condition that they would volunteer their time and efforts to tend the gardens. I think this is a very romantic sentiment to get married alongside.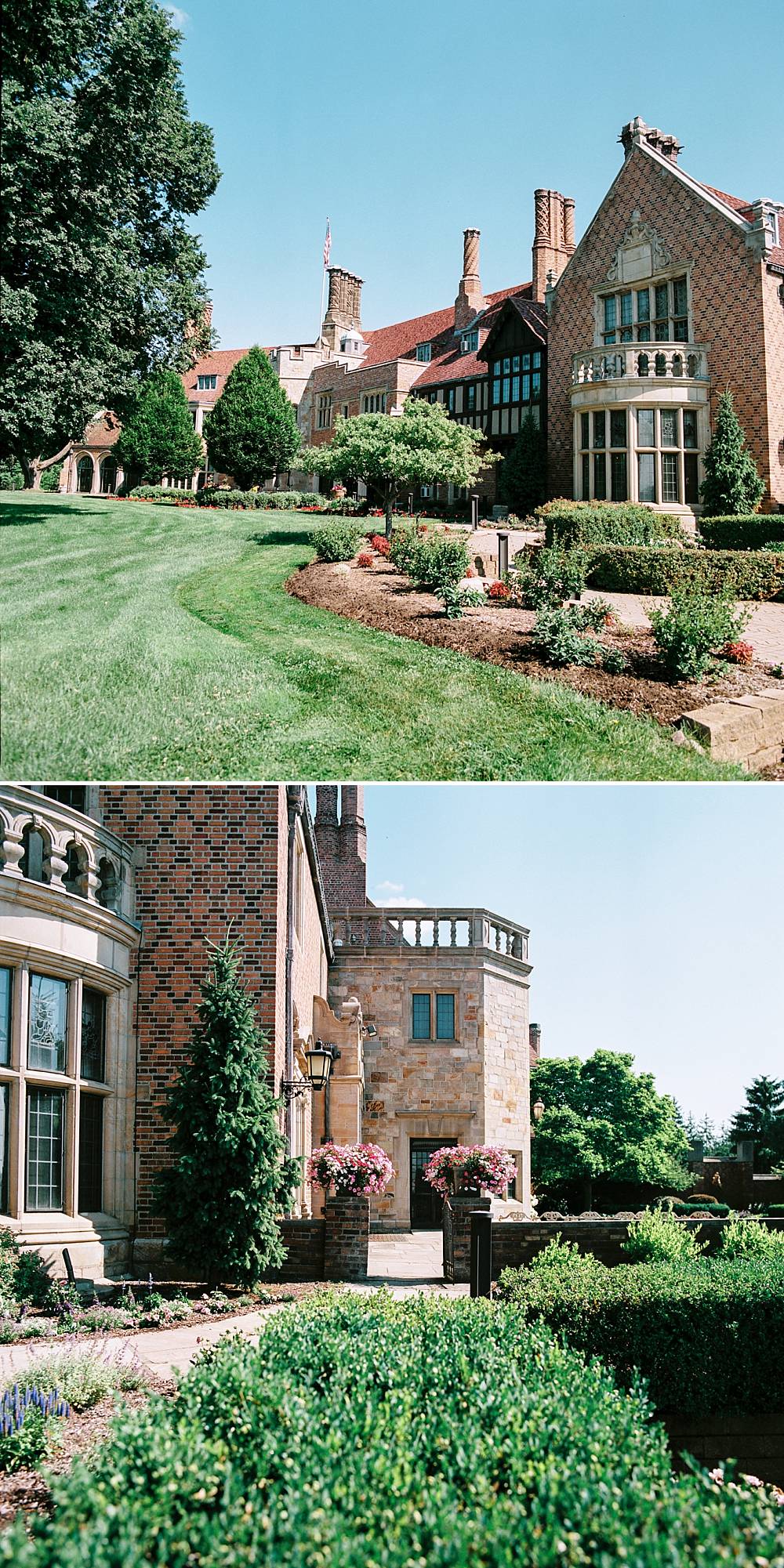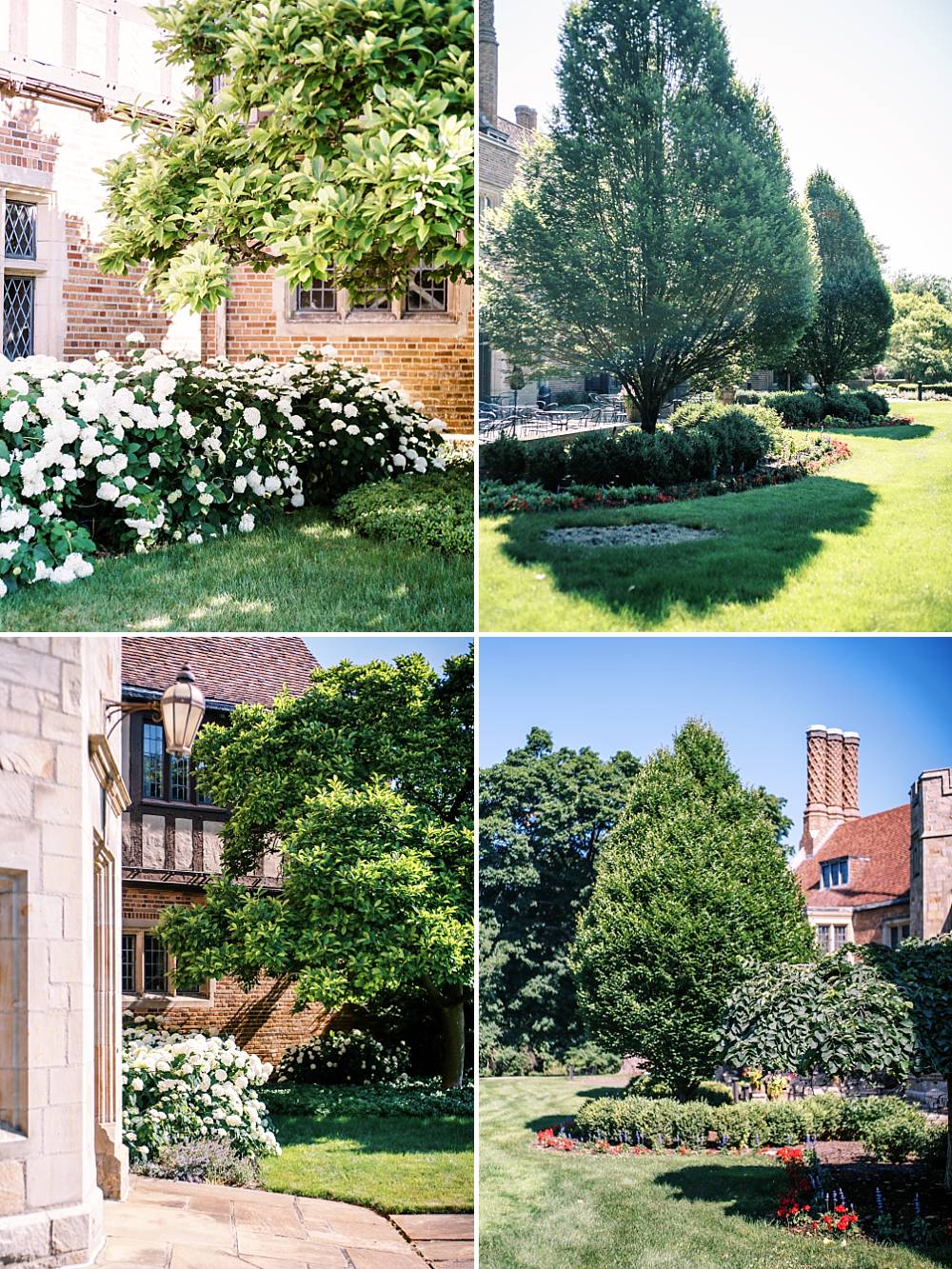 WEDDING RECEPTION LOCATION
One of the most appealing features of the property is a permanently installed tent, capable of seating all of your guests for your 300+ person Michigan wedding party. The tent's interior and ceiling are draped and the sides open up to reveal the property's gardens on those beautiful Michigan summer days.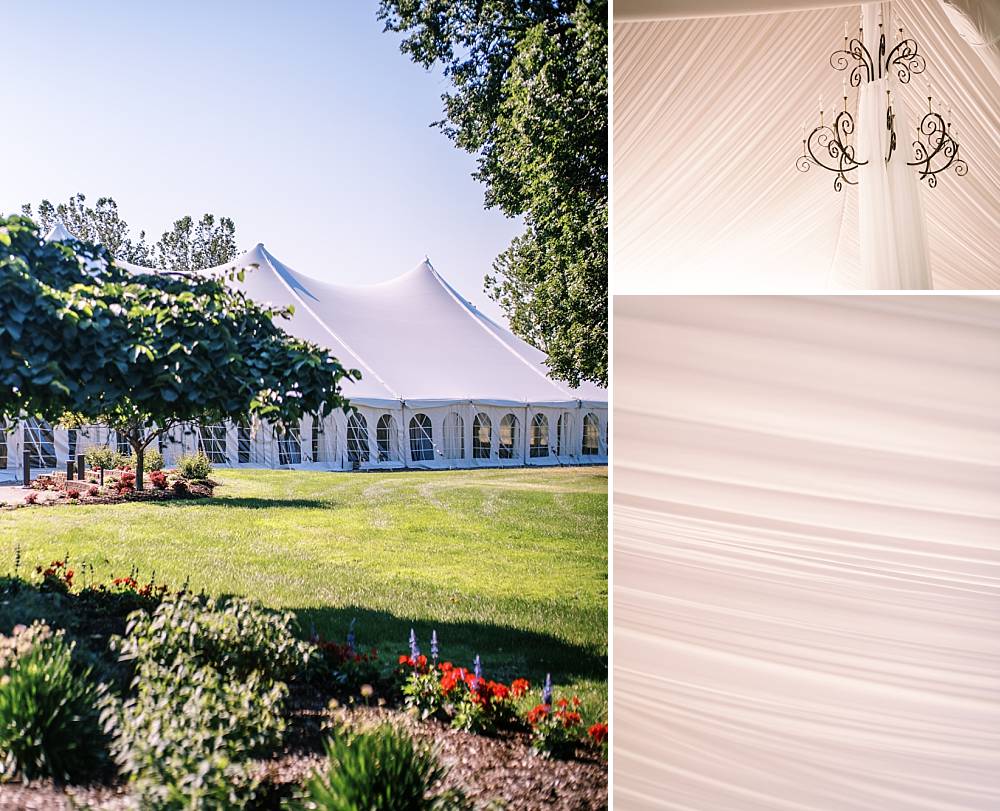 WEDDING VENUE INTERIOR
The interior serves, largely, as a museum to the original condition of the house and the Legacy of Matilda's design and the Dodge family name. Most locations are open for the guests to mingle and awe in the intense detail put into every inch of the house. Look at that ceiling work in the home's main corridor.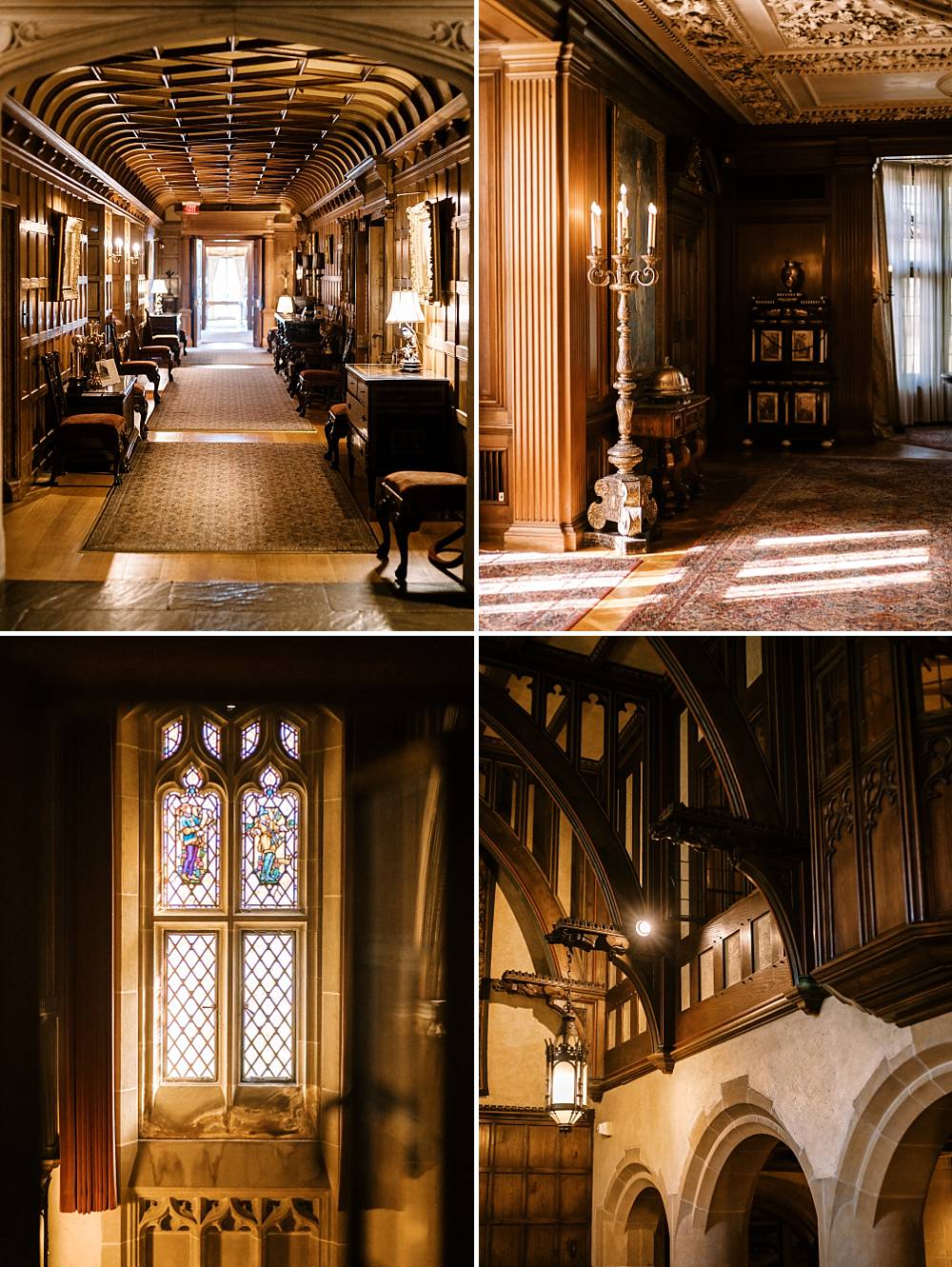 The plaster ceiling in the main dining room was my favorite architectural detail in the entire home. Meadow Brook Hall even hosts dinners at the original dining table!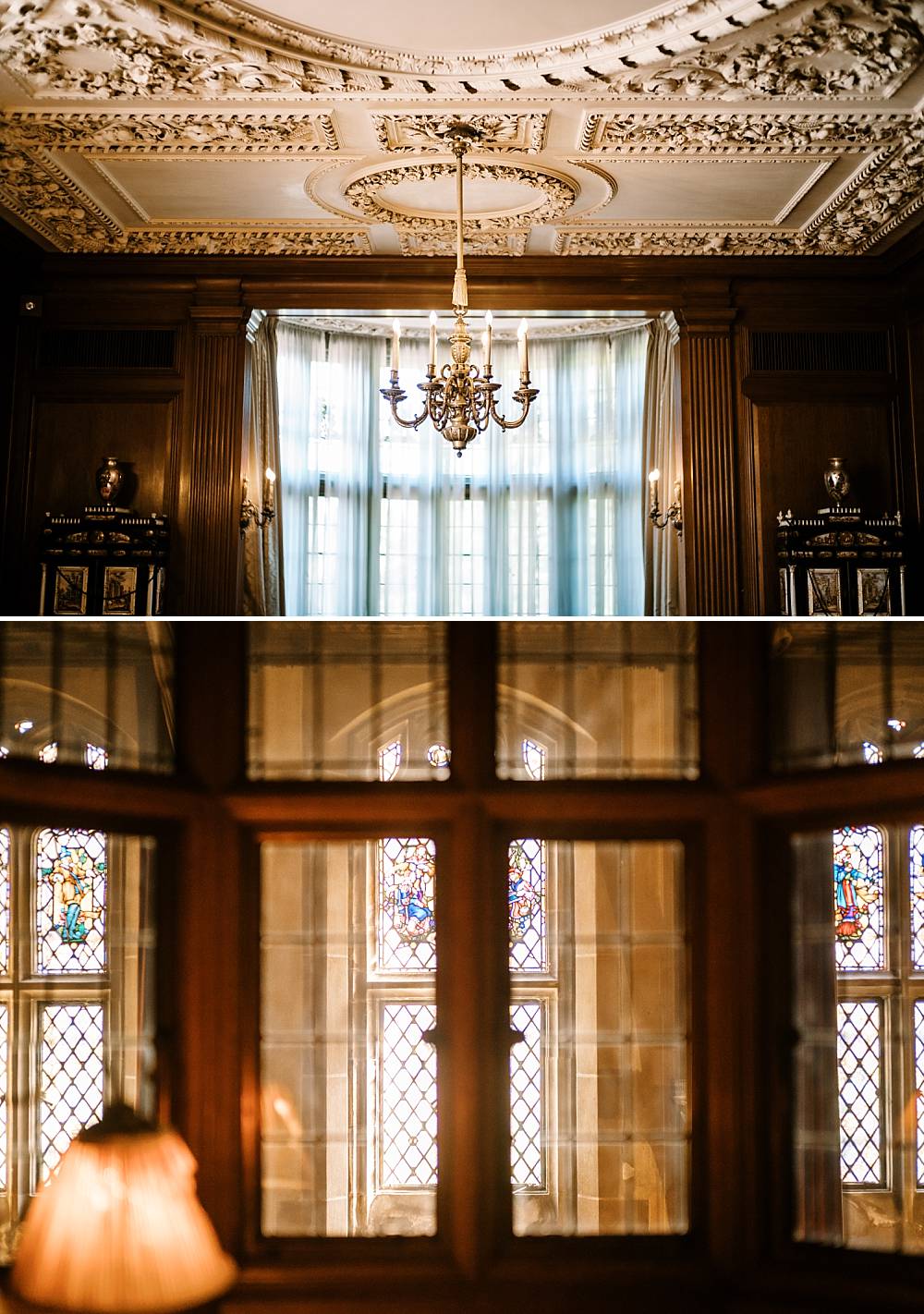 The sun room / breakfast nook featured warmer styling and themes from Matilda's travels which are reflected in numerous other architectural elements throughout this Detroit Michigan wedding venue.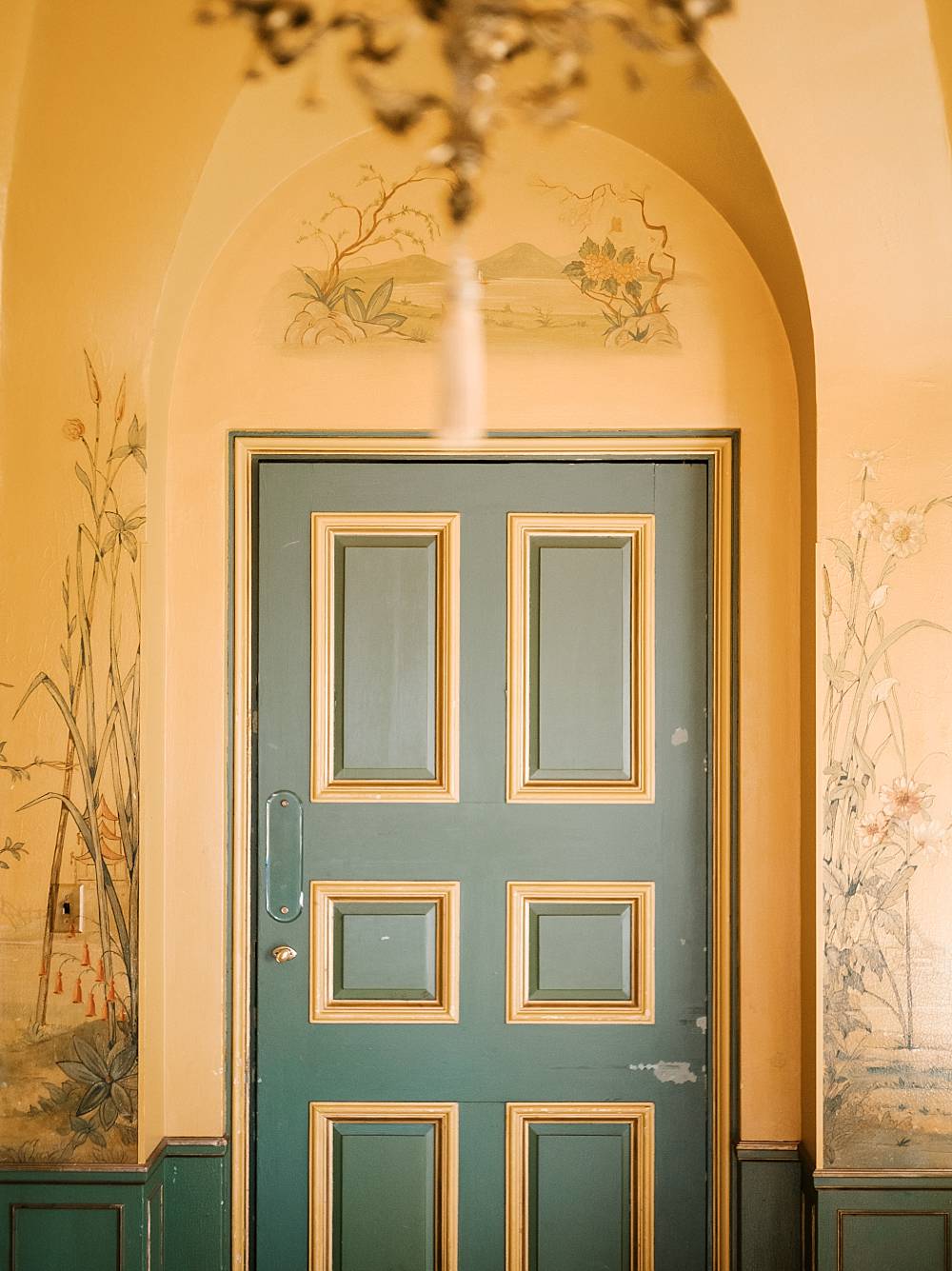 What makes this estate one of Metro Detroit's best wedding venues, if not certainly one of the best in Michigan and perhaps the country is a simple vision. Imagine rolling up in a limousine or vintage car, circling the roundabout and exiting out dressed in your wedding dress to this grand exterior view. You'll be in awe, just as much as your guests.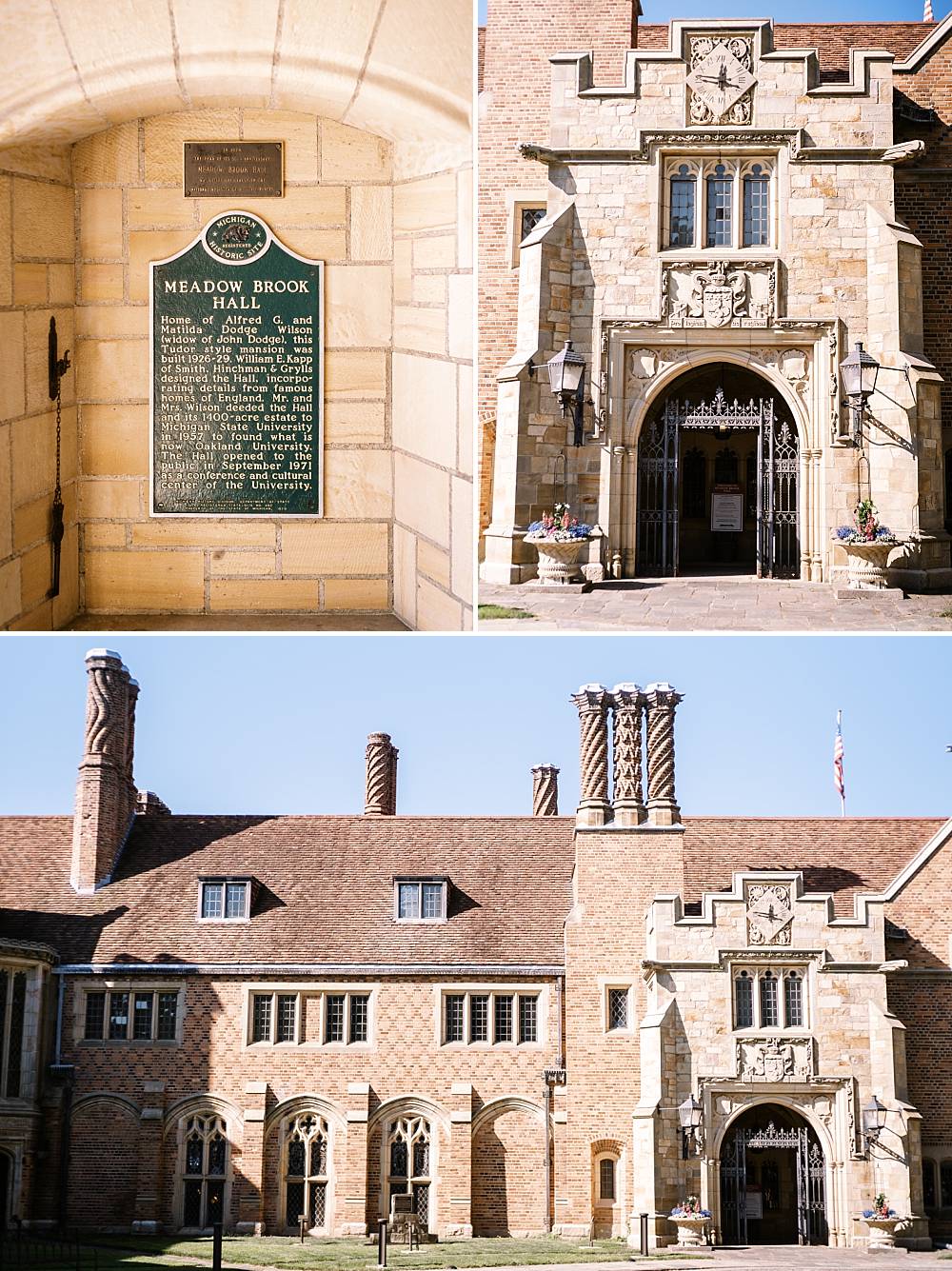 MORE INFORMATION ABOUT METRO DETROIT WEDDING VENUE MEADOW BROOK HALL
Click here for more information about Michigan Wedding Venue Meadow Brook Hall
Best Northern Michigan Wedding Venues
Northern Michigan is where I reside when I spend my Summer's here as a Michigan wedding photographer. Between me living in Northern Michigan, Emily living in Grand Rapids, and her growing up in Metro Detroit, we have the entire state covered. Northern Michigan is known for its lakes, wineries, countryside and nature. The 3 wedding venues we visited on this leg of the trip cover that gamut perfectly, showing you the best of what a Northern Michigan wedding venue has to offer.
AURORA CELLARS
I was already familiar with Aurora cellars, having visited the property once before for a wedding, a venue tour, and to enjoy the winery. I wanted to include this on the tour of Michigan's best wedding venues because I knew it was one Emily should experience and I wanted the chance to approach the property from a different, more documentary style perspective. The feeling I left with was this - there isn't a bad angle to this property. Every direction you turn, is a beautiful feature, texture, color. It feels like you are on a quaint farm, at a winery, and in the middle of nature all at the same time. The entrance to the venue sets the tone with pink floral adorned arches and a colorful row of shrubs, as guests gaze out into the winery vines on the right.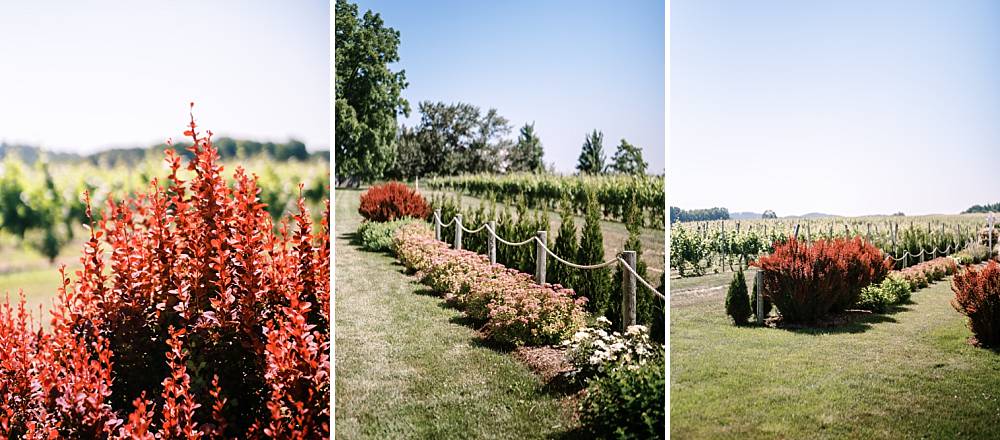 WEDDING CEREMONY LOCATION
The showstopper and reason most people are won over by this property is the ceremony location. Just steps from the wedding venue entrance is one of the largest willow trees I have ever seen. Not only is it a dream ceremony backdrop, but a dream location for your couples portraits for your Northern Michigan wedding.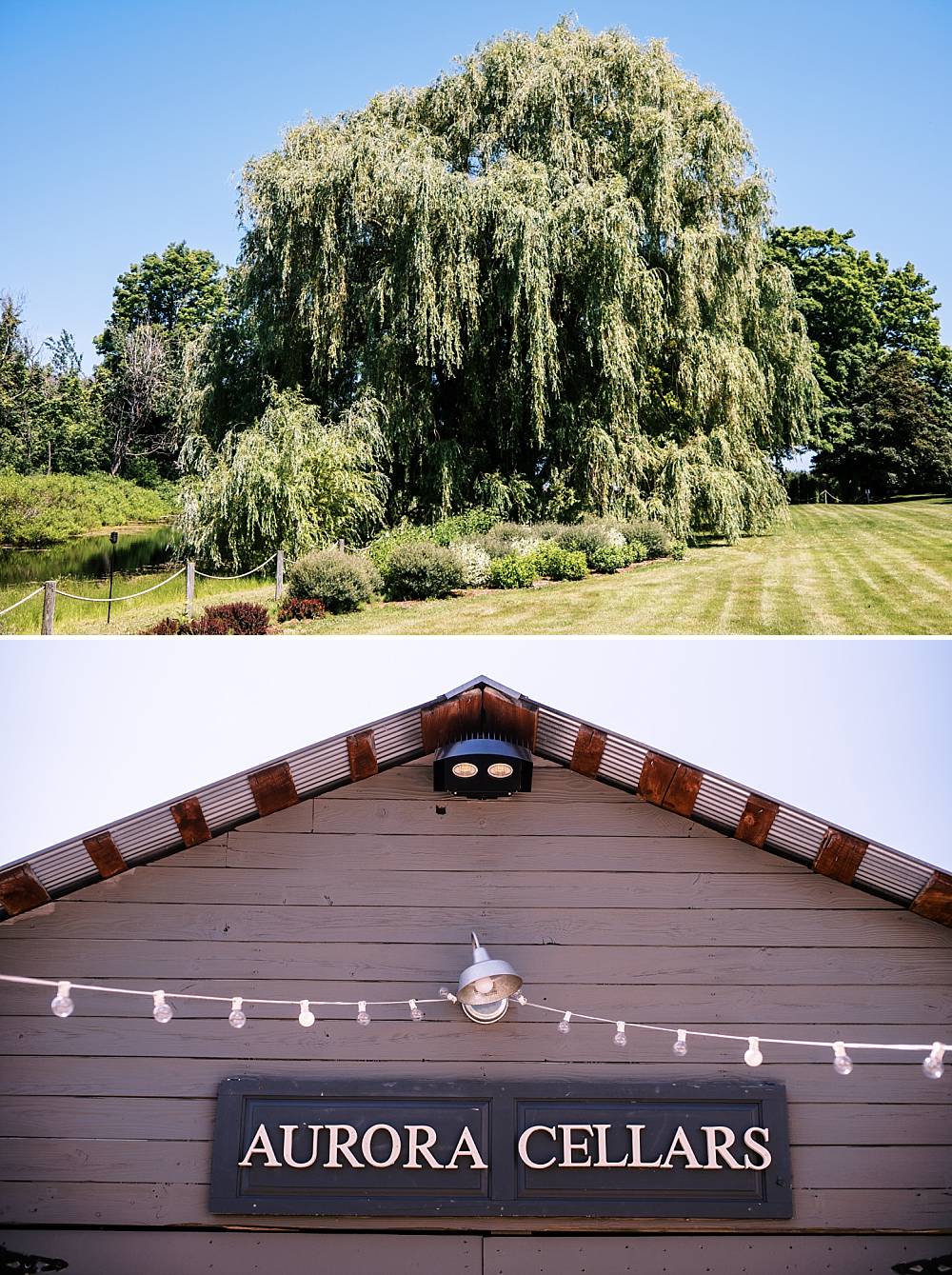 EXTERIOR FARMHOUSE AND GREENSPACE
The property features a cute, refinished farmhouse / guesthouse where the bridal party can get ready and even stay the weekend on the property. It's fully furnished on the interior and serves as a cocktail hour bar before your wedding reception.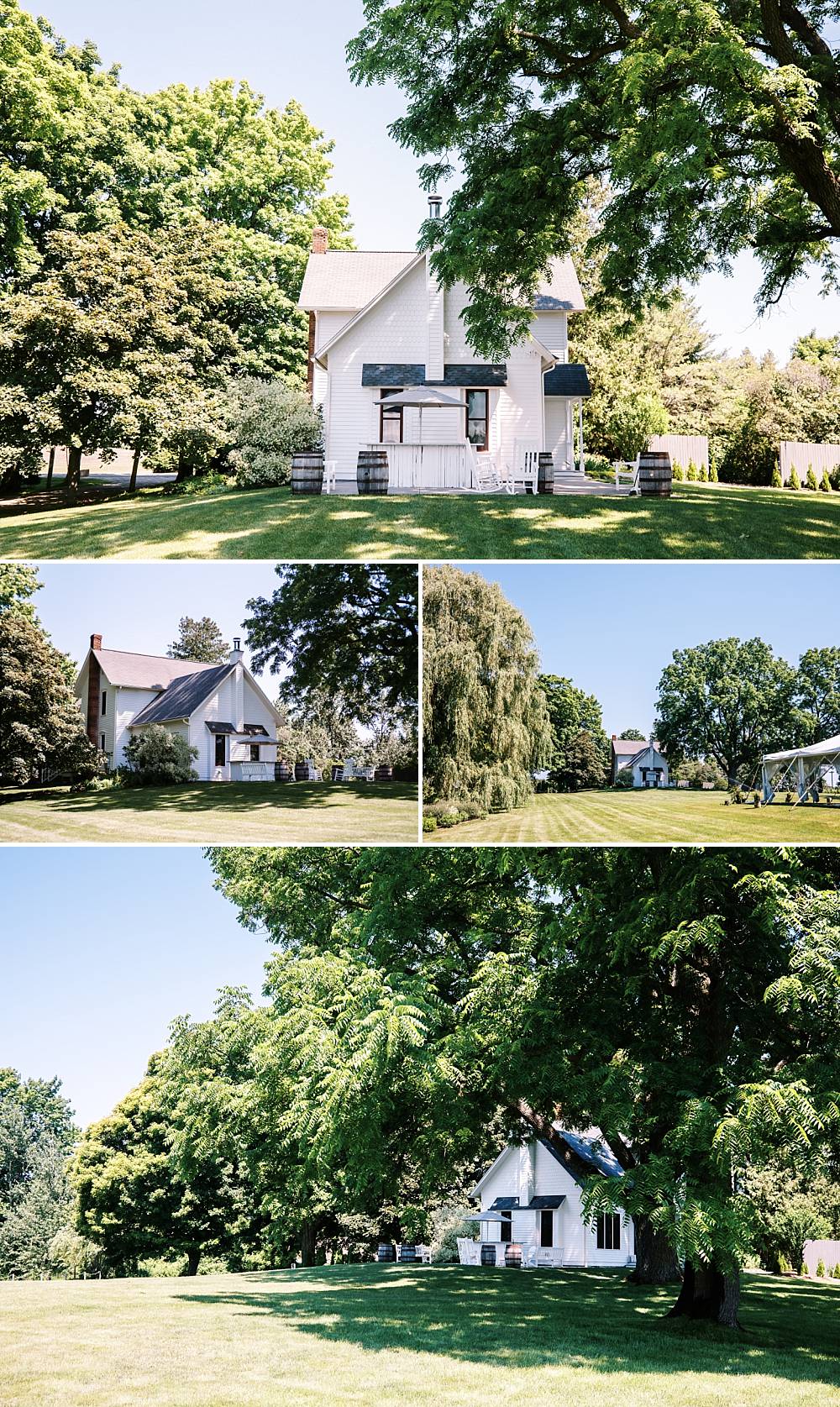 WEDDING RECEPTION LOCATION
As a lot of my favorite venues seem to have, Aurora Cellars features a permanent, concrete pad, tent installation so you never have to worry about rain washing out your Northern Michigan wedding day.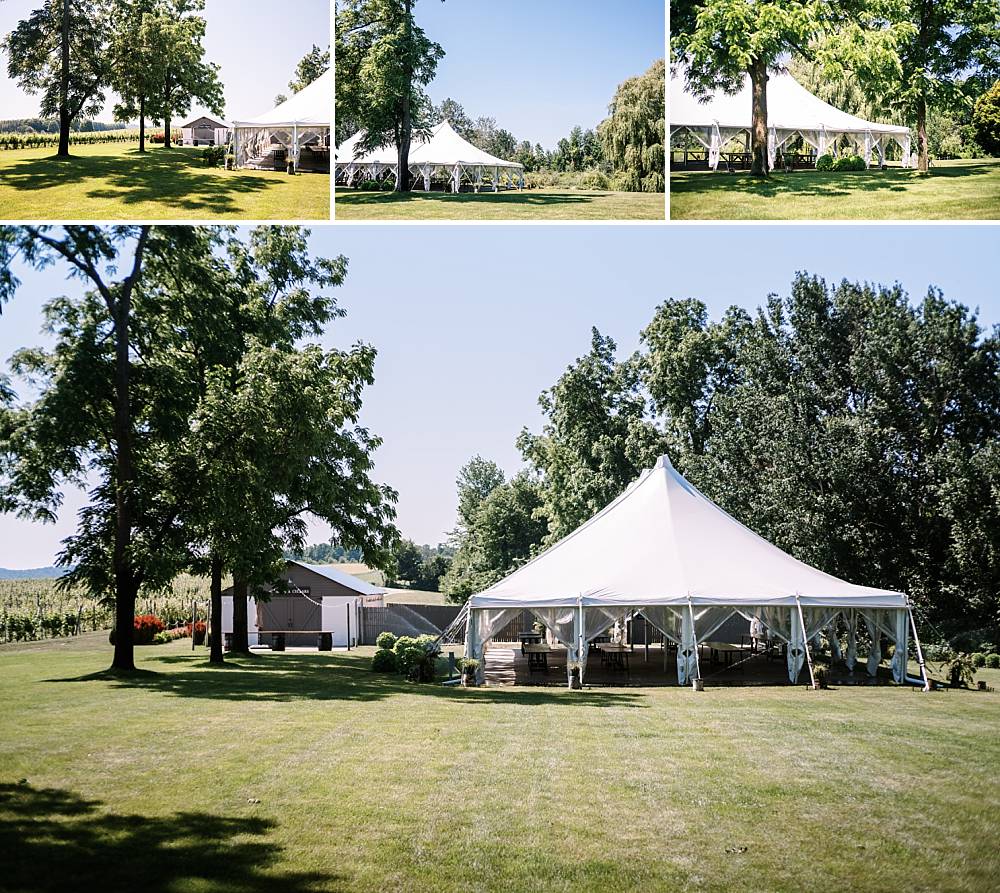 Aurora Cellars even takes it a step further and provides farmhouse tables for seating of guests during dinner.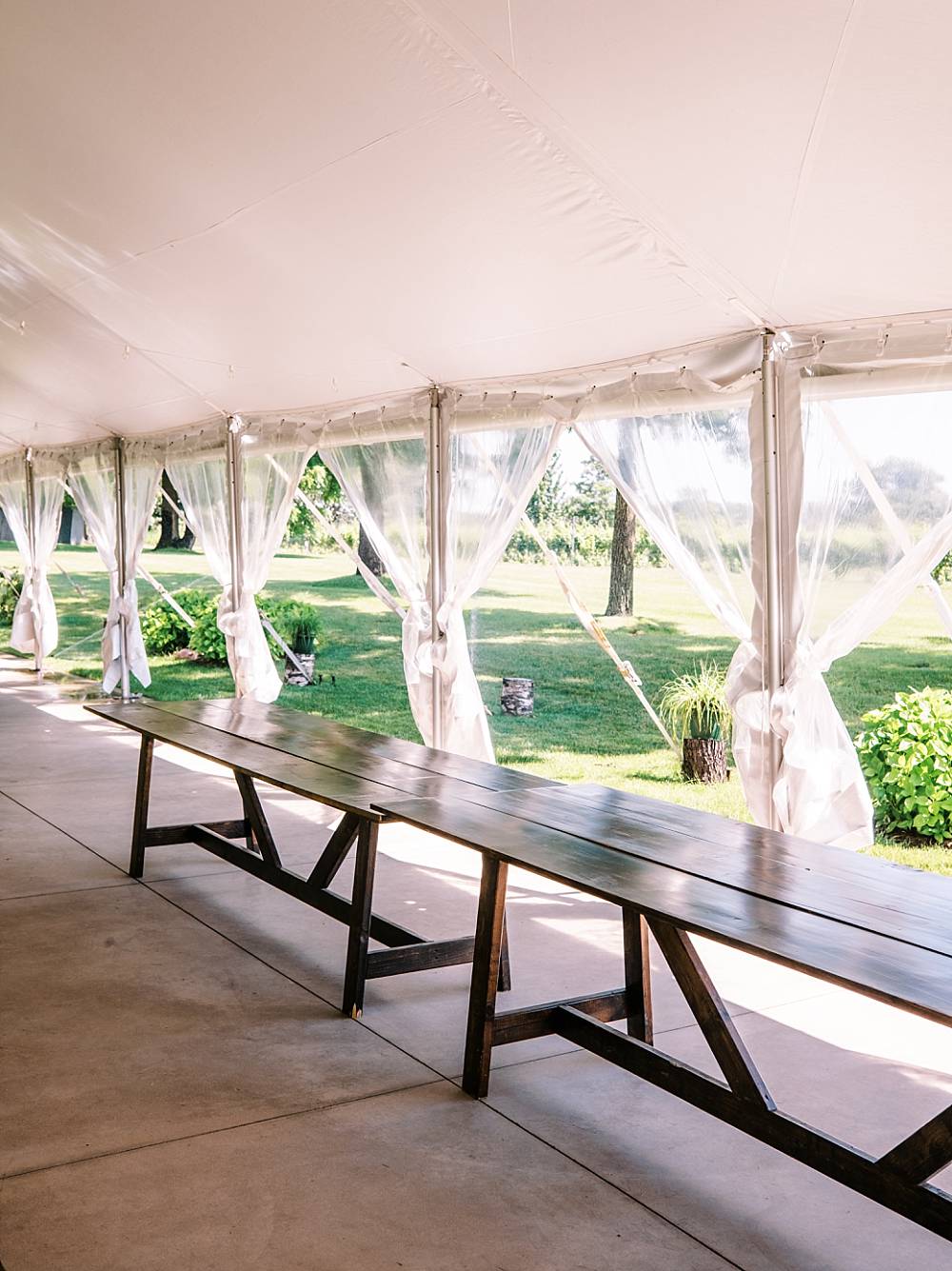 FARMHOUSE INTERIOR AND BRIDAL PREP ROOM
The interior of the farmhouse / guesthouse has a fully functioning kitchen, guest bedrooms and a large masterbedroom for wedding couples and bridal getting ready. The bridal party can also use the downstairs living room as a prep/ hangout area. it features lots of space and a ton of available light - perfect for those dreamy getting ready photographs with your bridesmaids.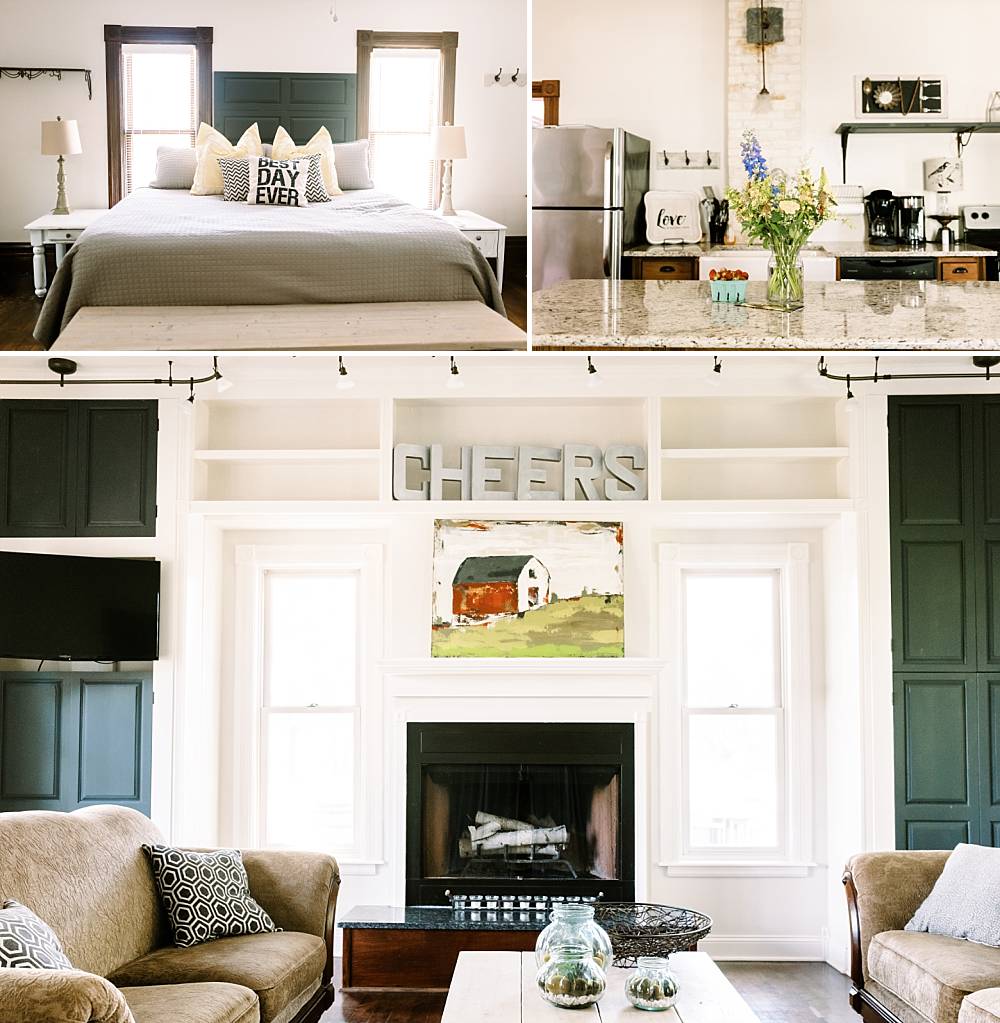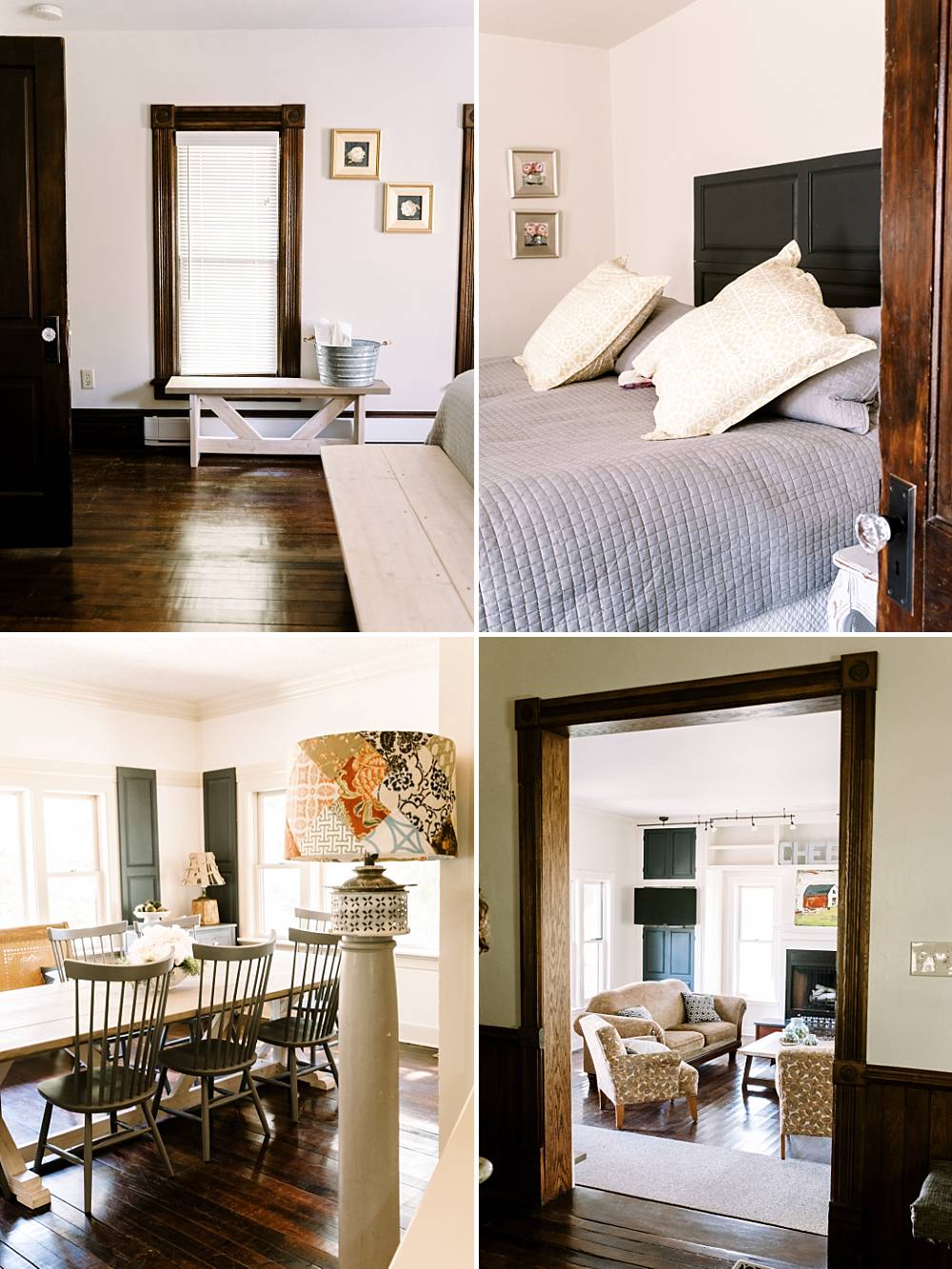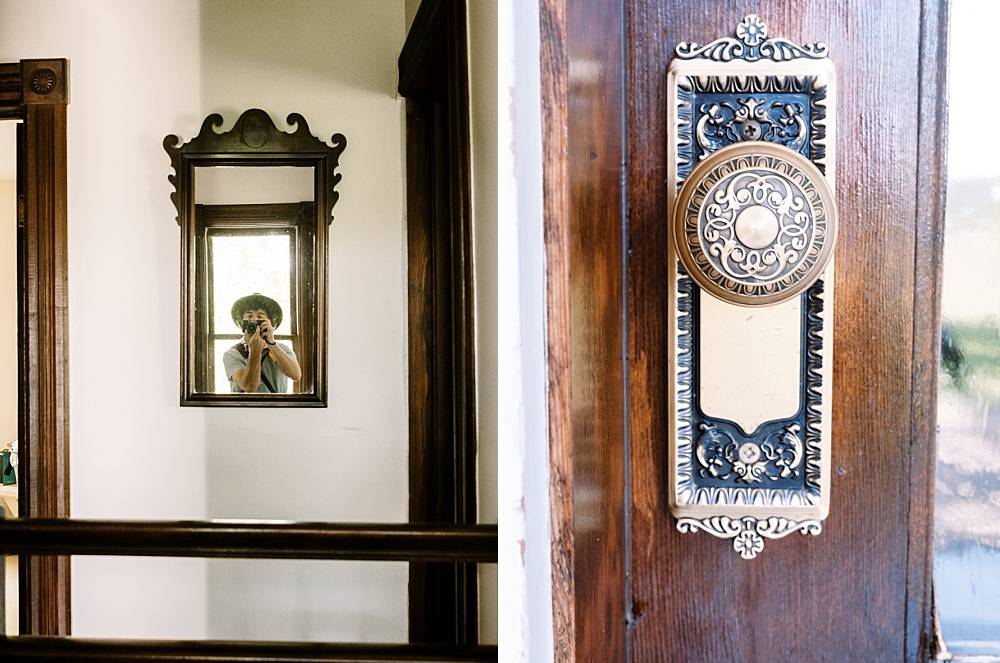 MORE INFORMATION ABOUT BEST NORTHERN MICHIGAN WEDDING VENUE AURORA CELLARS
Aurora Cellars is certainly a standout in the Northern Michigan wedd venue market, but definitively a favorite in the Traverse City / Leelanau County area. 
Click here for more information about Aurora Cellars Weddings
FOUNTAIN POINT RESORT
Fountain Point is unique as a Michigan Wedding Venue in that it serves as a family vacation resort. Nestled along Lake Leelanau, this venue has a very communal feel, and an inviting atmosphere for wedding couples and out of town guests. Guests can even stay on the property and it is highly encouraged to rent out the entire venue and stay in one of the main house's vintage styled guest rooms or one of the cottages on the property's grounds. Fountain Point feels like Northern Michigan feels to me. It feels like my lake house that I grew up spending my summer's at. It feels like family, and for this reason it makes the list of best Northern Michigan wedding venues.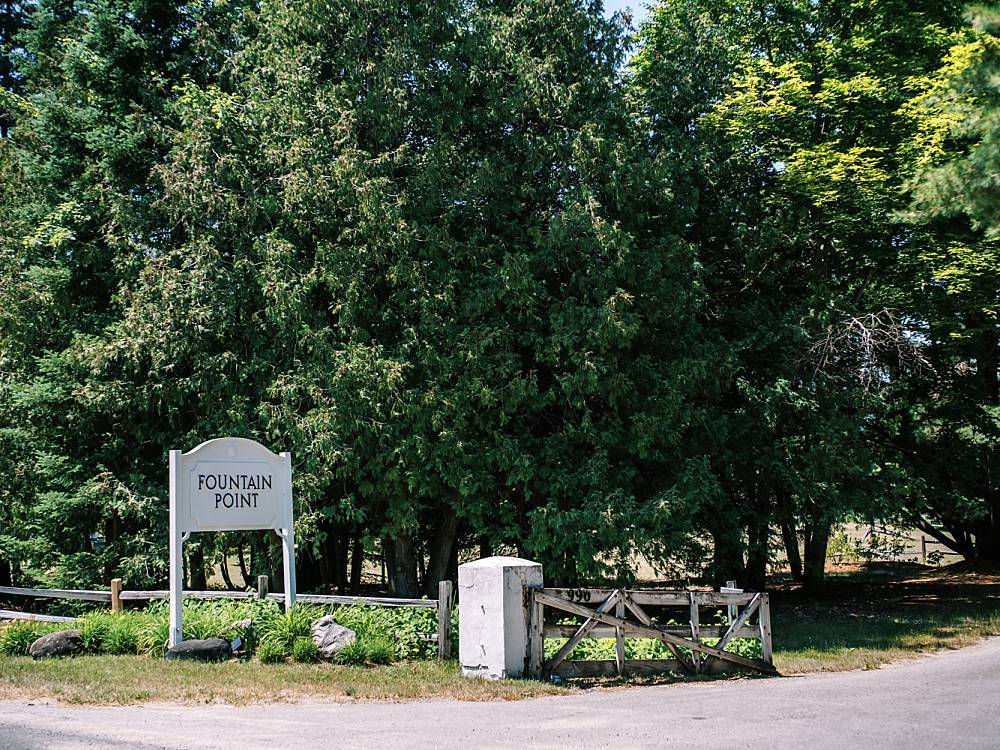 The exterior is reminiscent of a summer cottage and vintage Inn that Northern Michigan's lakesides are known for.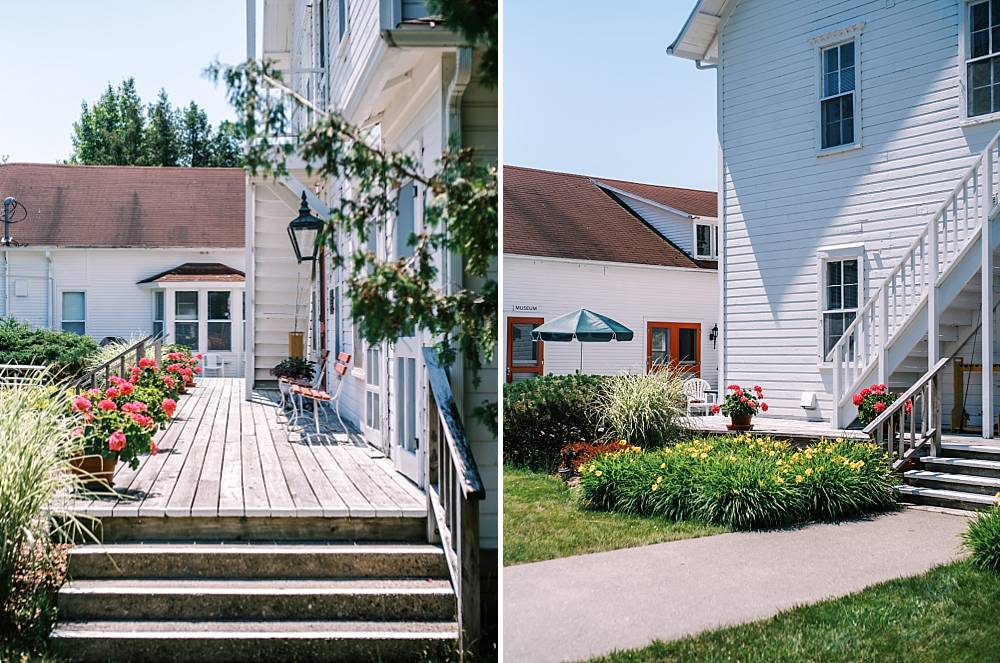 The inn features a spacious wrap around porch where guests can enjoy the beautiful Northern Michigan sunsets on your wedding day, or you can sip coffee with your significant other or bridal party on your destination wedding weekend.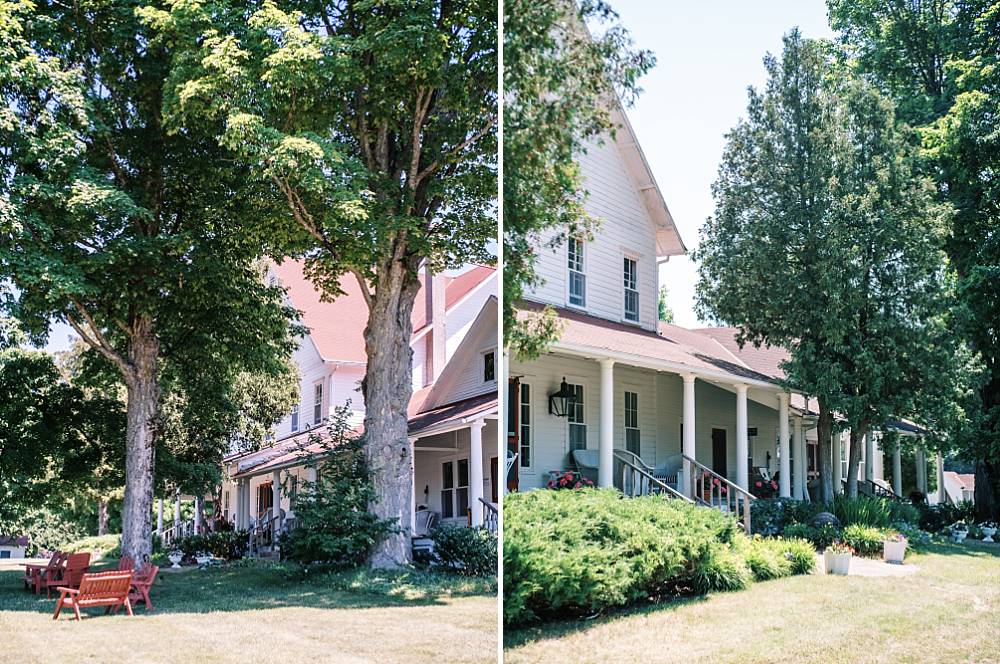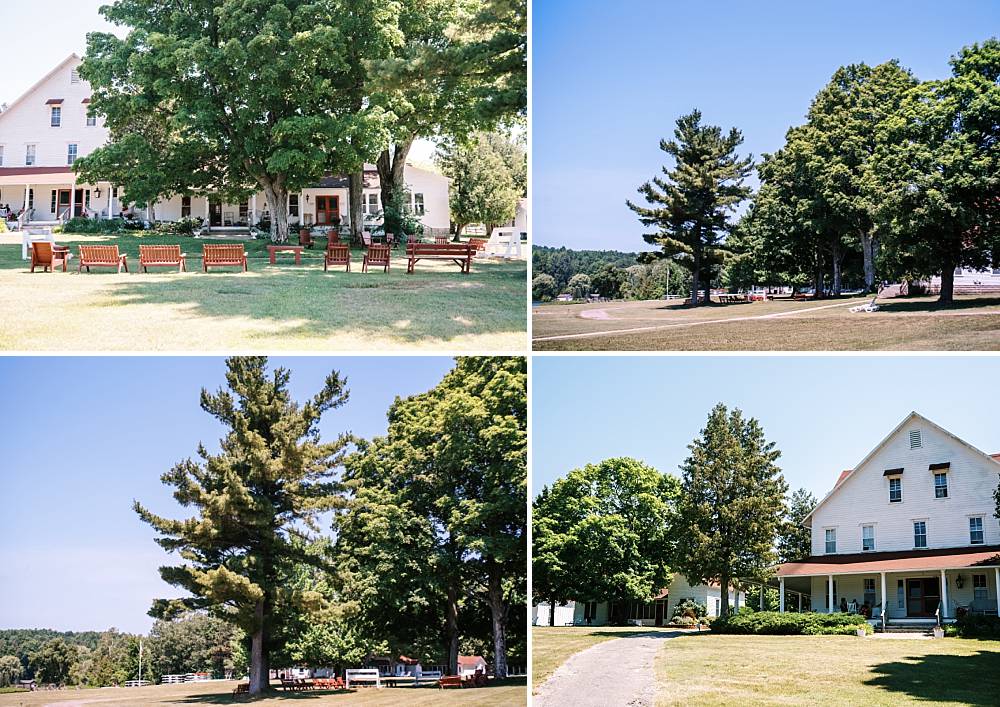 The famous fountain that provides the resort with its historic name.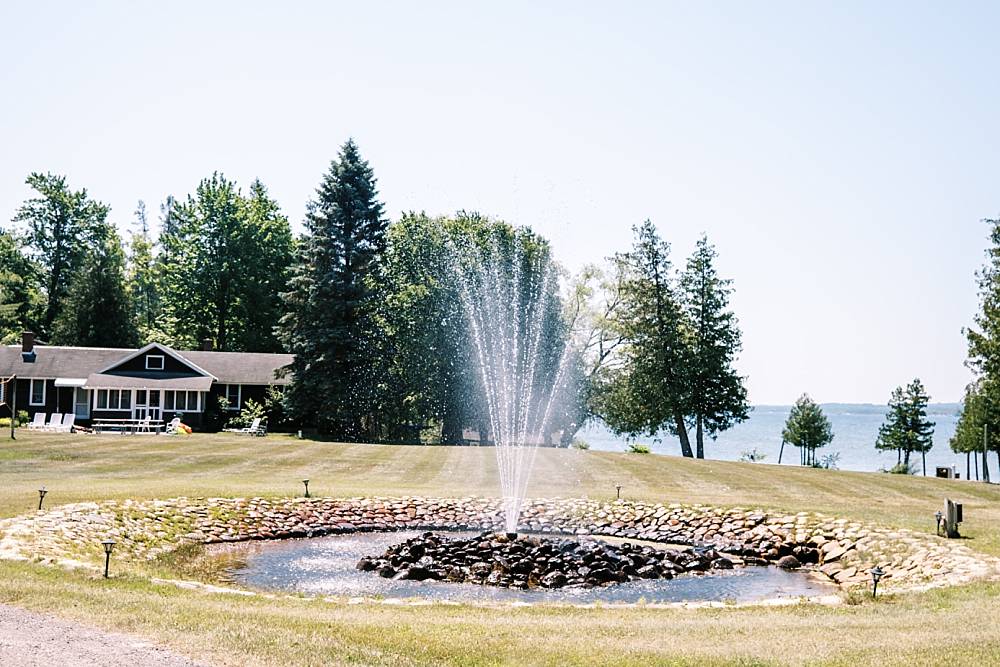 FOUNTAIN POINT RESORT INN
The inn has plenty of space for guests to hang out and relax on your wedding weekend and guest bedrooms upstairs so that your close friends and family can stay on the property.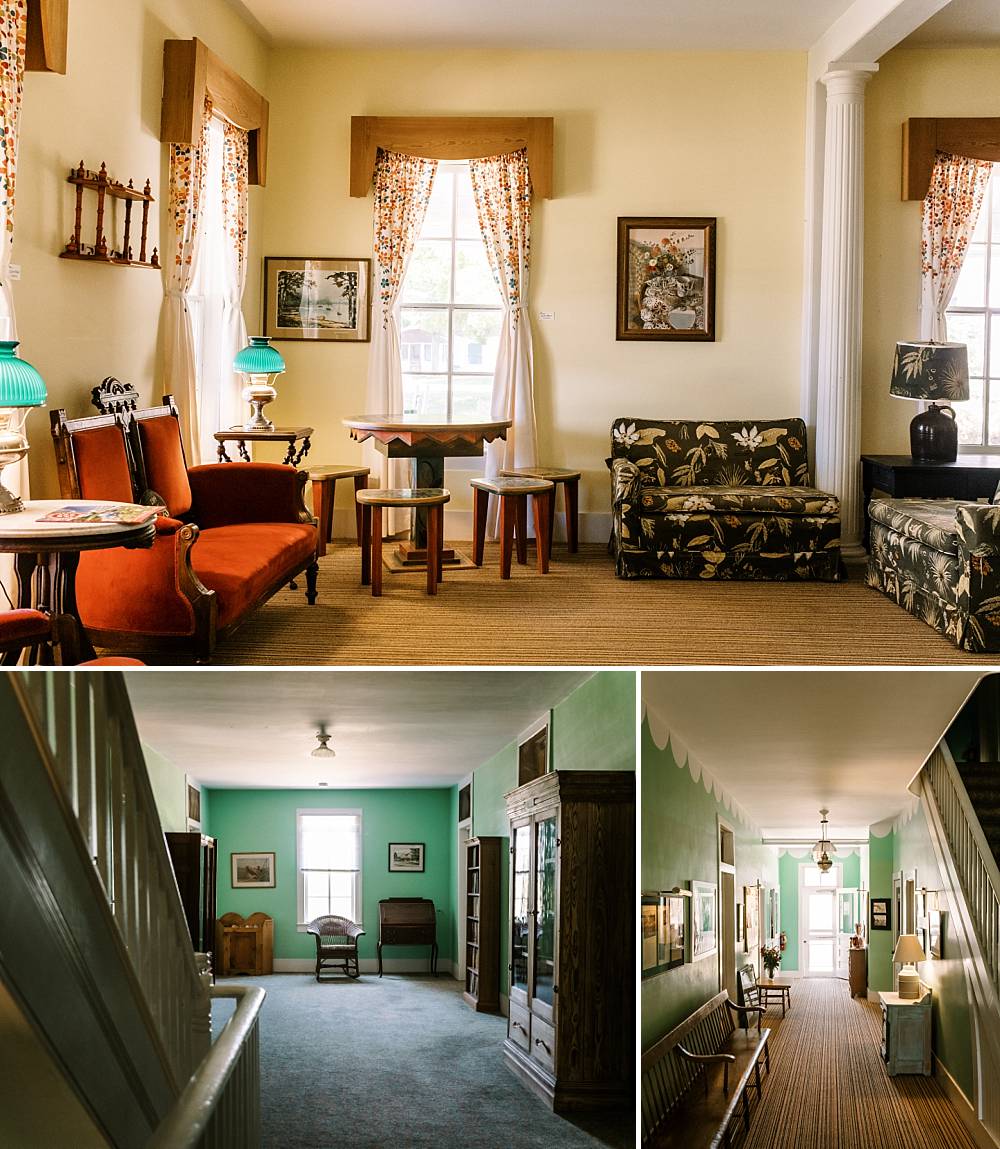 GUEST COTTAGES FOR DESTINATION WEDDING WEEKEND
The guest cottages located on the wedding venue grounds offer your close friends and family the opportunity to partake in the traditional Northern Michigan lake cottage experience.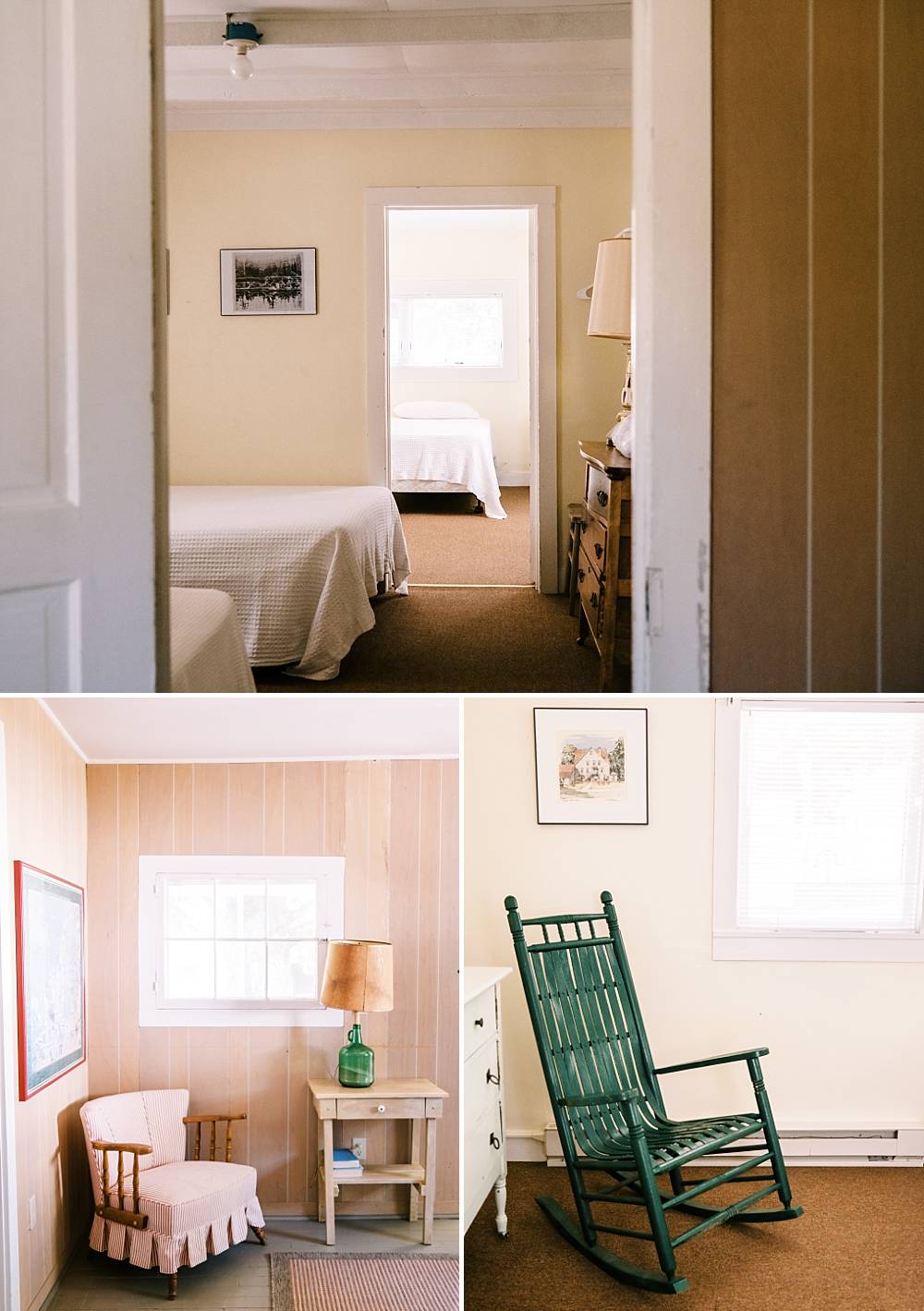 MORE INFORMATION ABOUT FOUNTAIN POINT RESORT - NORTHERN MICHIGAN WEDDING VENUE
Fountain Point Resort offers one of Northern Michigan's few, truly waterfront wedding venue experiences and the communal atmosphere is certainly unlike any other I have visited on my tour of best Michigan wedding venues. All I can say is that it feels like the best of the Northern Michigan experience. 
Click here for more information about Fountain Point Resort Weddings
NATURE
"Unique and Thoughtfully Intentioned" - This is my overall impression of Nature Michigan as a place, as a wedding venue, as a destination and as an experience. From the onset, my experience touring this Northern Michigan Wedding venue was unlike any other, largely because the venue is unlike any other, but mostly because of the owner's hospitality. Bryan purchased the blank slate property alongside his wife Emma where they built a venue, an experience, and a home from the ground up. Bryan spent hours showing us around the property and I am grateful for the time he took (on his birthday!) to show us around the property and communicate every inch of intention that he placed into the design and conceptualization of this Michigan wedding venue. His beliefs, passion for nature, love of danish design, and care for the journey of human life come through in his speech, but equally so in the venue itself. This is something that made the venue so special to me. He had a vision for his own life and expressed that, passionately, in a place to begin yours.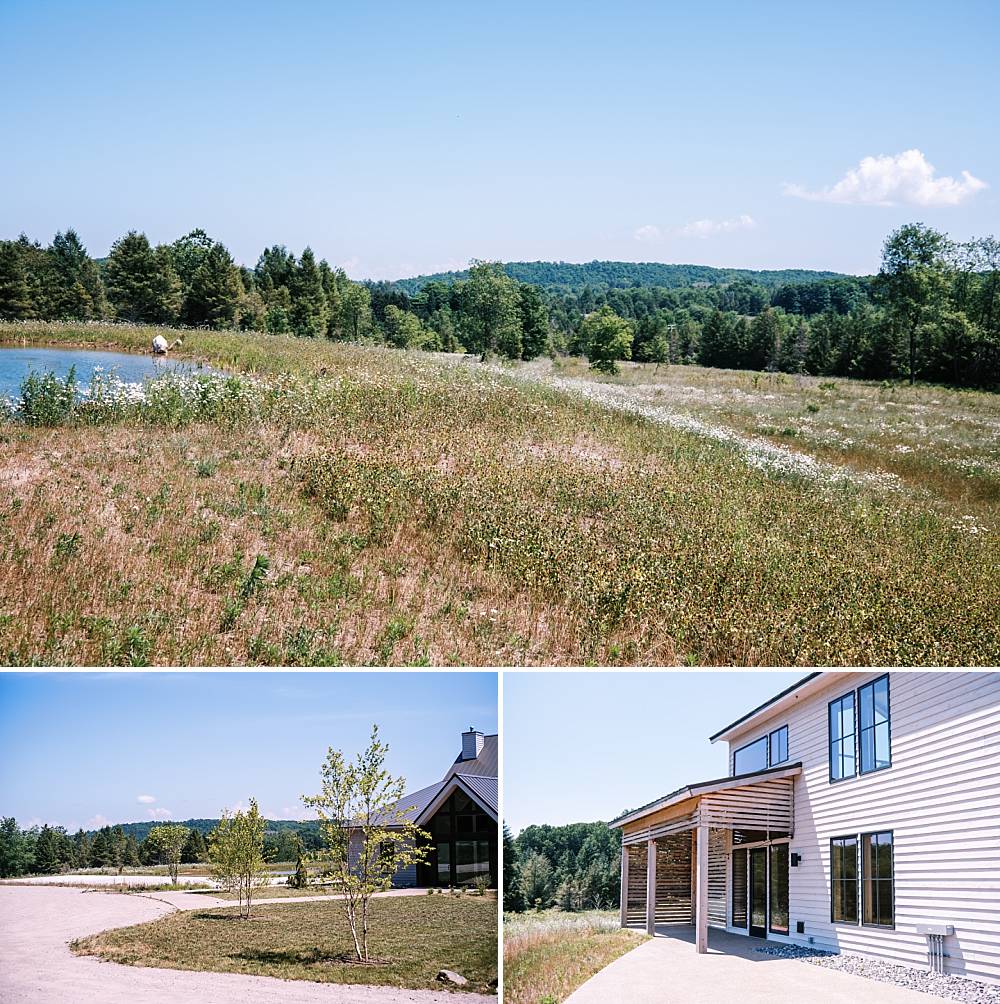 You can't help but notice a vintage Volkswagen camper van when you show up anywhere...little did I know, this would be our tour guide for the day. As a lover of old automobiles, I was thrilled.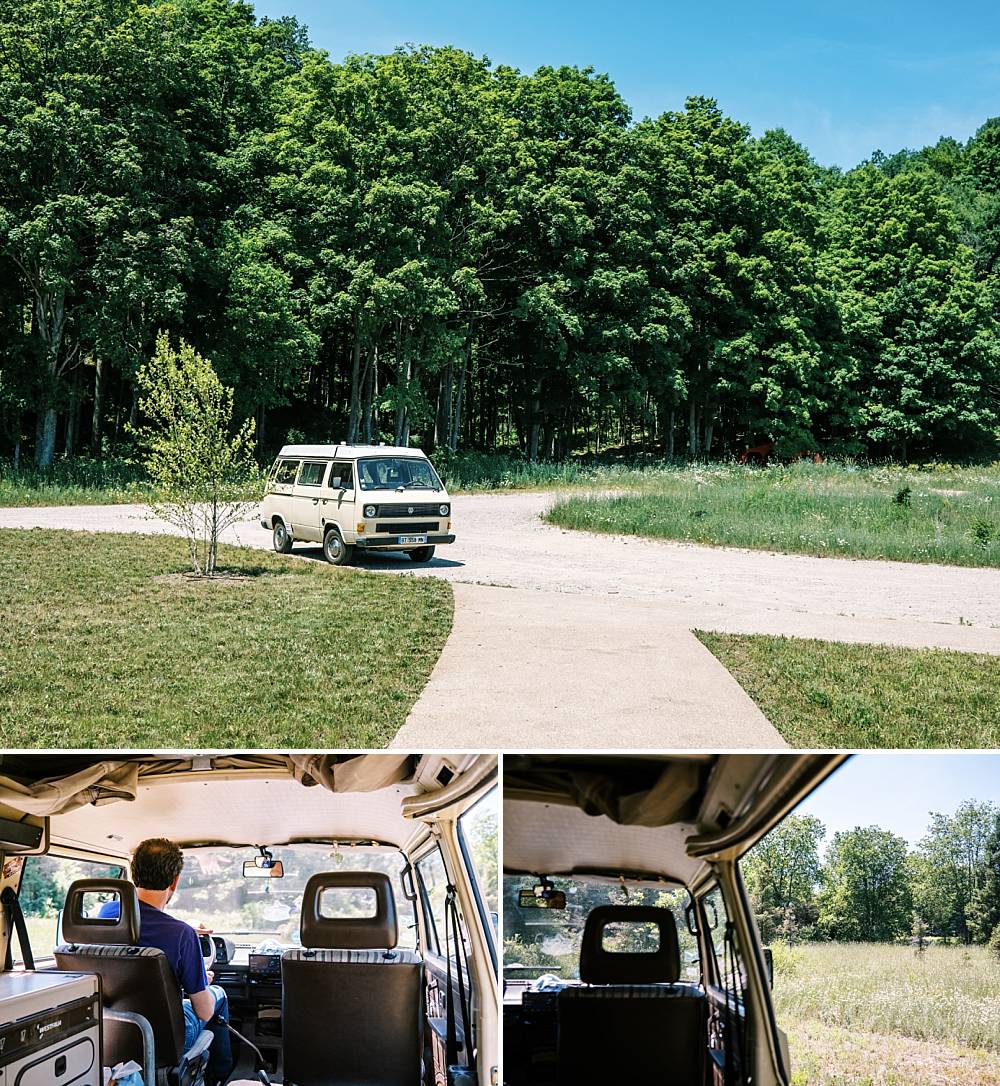 Bryan toured us around the vast property, pointing out every meaningful detail of the wedding venue. Exploring the grounds, you truly do feel like you are in nature, and I found it to be such a unique experience in a wedding venue.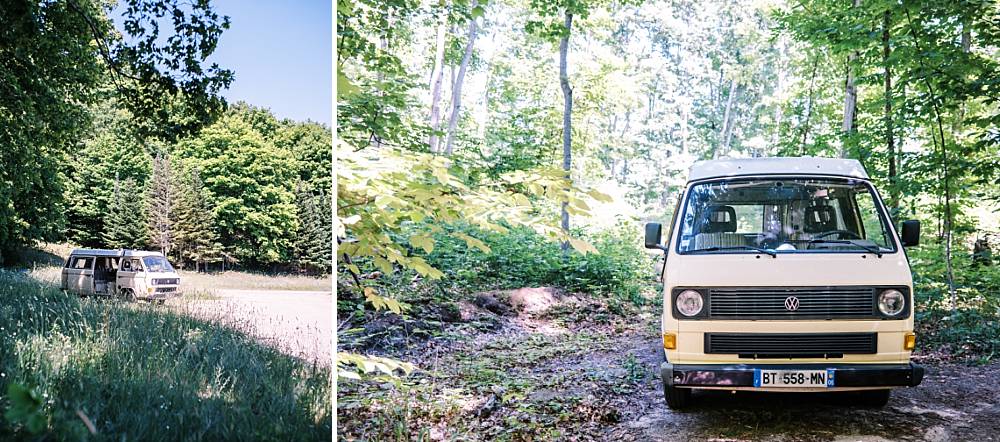 Guests can stay on the property at one of the 'glamping' tent locations or at one of the blank tent plots for a truly unique, destination wedding weekend experience.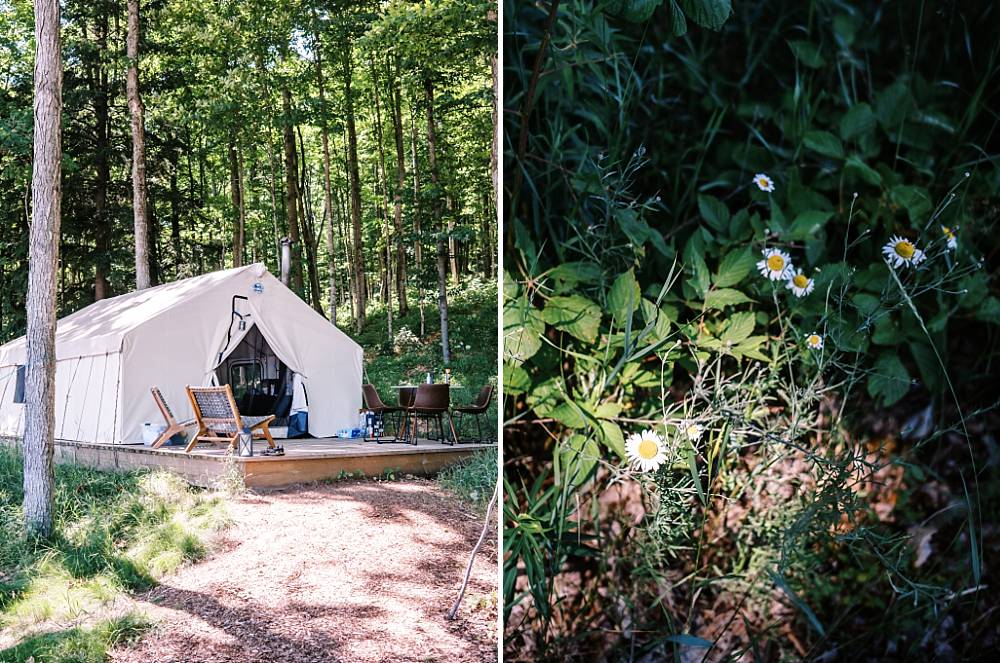 CEREMONY LOCATIONS
Nature features several ceremony locations, all of them outdoors, all of them connected to the beauty of nature in Northern Michigan. 3 of the wedding ceremony locations are breaks in the trees atop hills on the property. What I found inspiring about these locations, some of them dark sky certified, was their feeling of peace. I couldn't hear a thing aside from the rustling of the trees or the singing of birds. If you love nature, as a couple planning to get married, I think this is should definitely be considered as a ceremony location for your summer or winter michigan wedding. Older guests will have to be shuttled up, but Bryan has options for transportation services.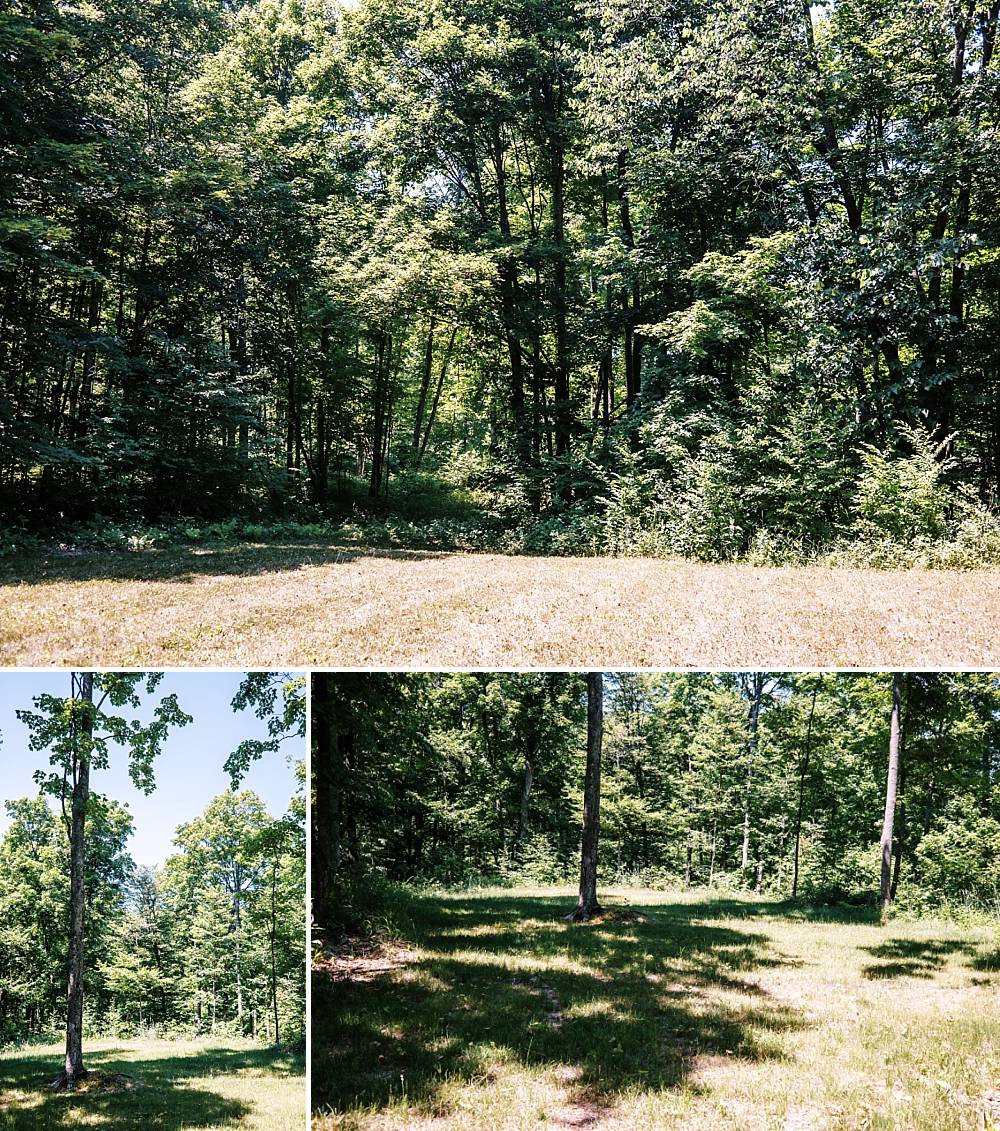 The lower ceremony location is situated at the rear of the reception building, and features an equally beautiful and peaceful backdrop. I don't think you can go wrong with any of the locations and I'm certain Bryan would be happy to talk you through the decision.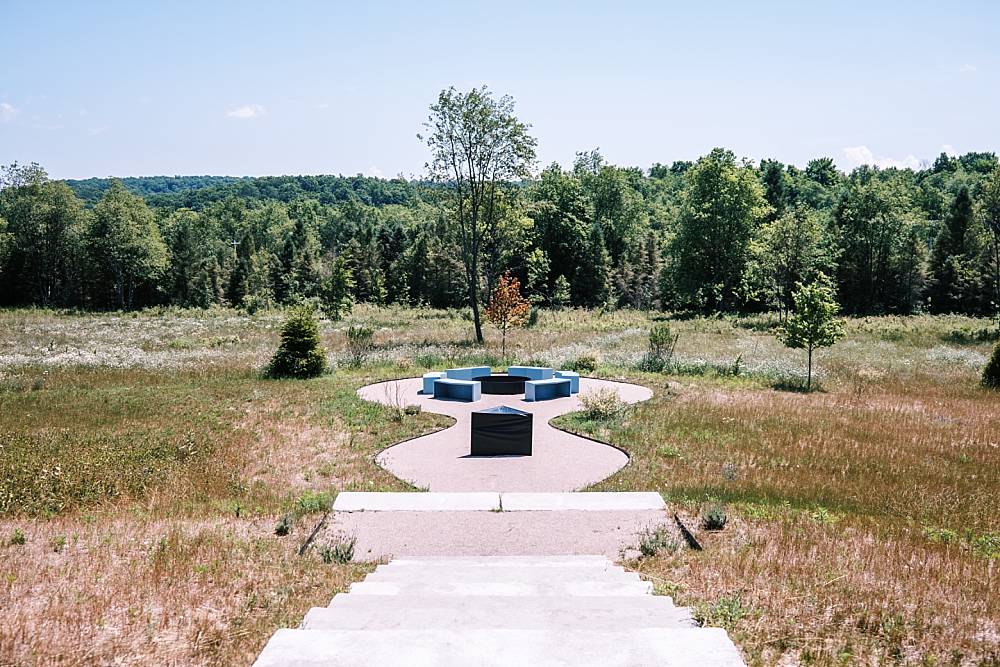 WEDDING RECEPTION LOCATION
Wedding receptions are held in the building that sits at the main entrance to the property. It features a prep kitchen space, bathrooms for getting ready and guests, a yoga room, and plenty of beautiful natural light. Bryan spoke to Emily and I about the intention that went into the direction of the building and the angles of the windows relative to the sun to provide optimal light and view of the surrounding nature. Its these thoughtfulm details that make this venue so special. Plus, a wedding planner can't go wrong with a beaufitul blank slate wedding reception venue with plenty of natural light.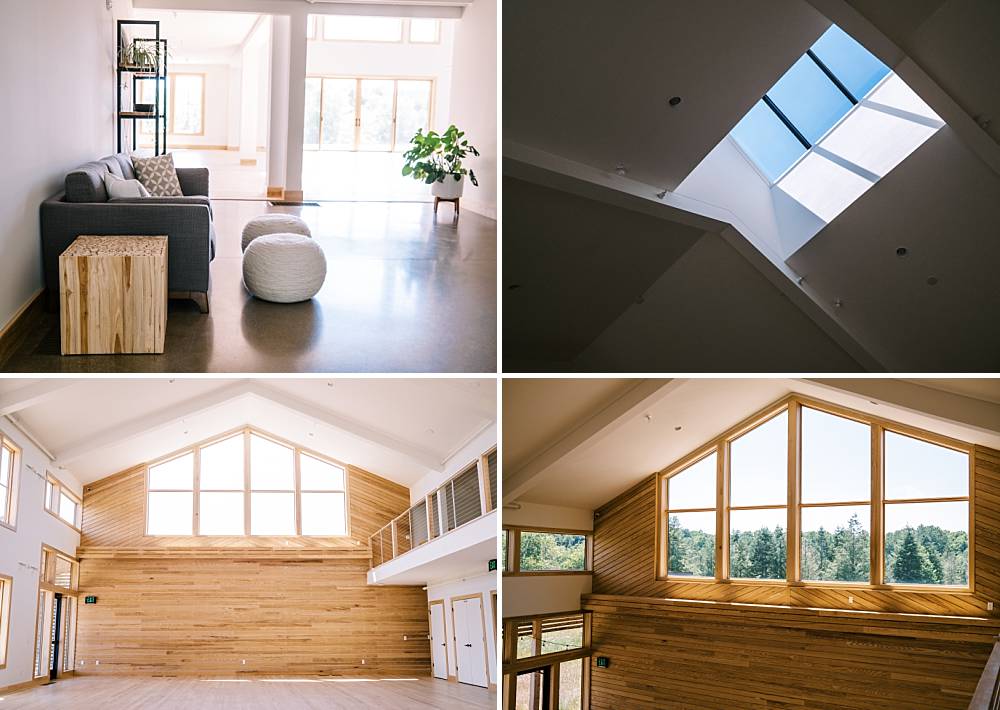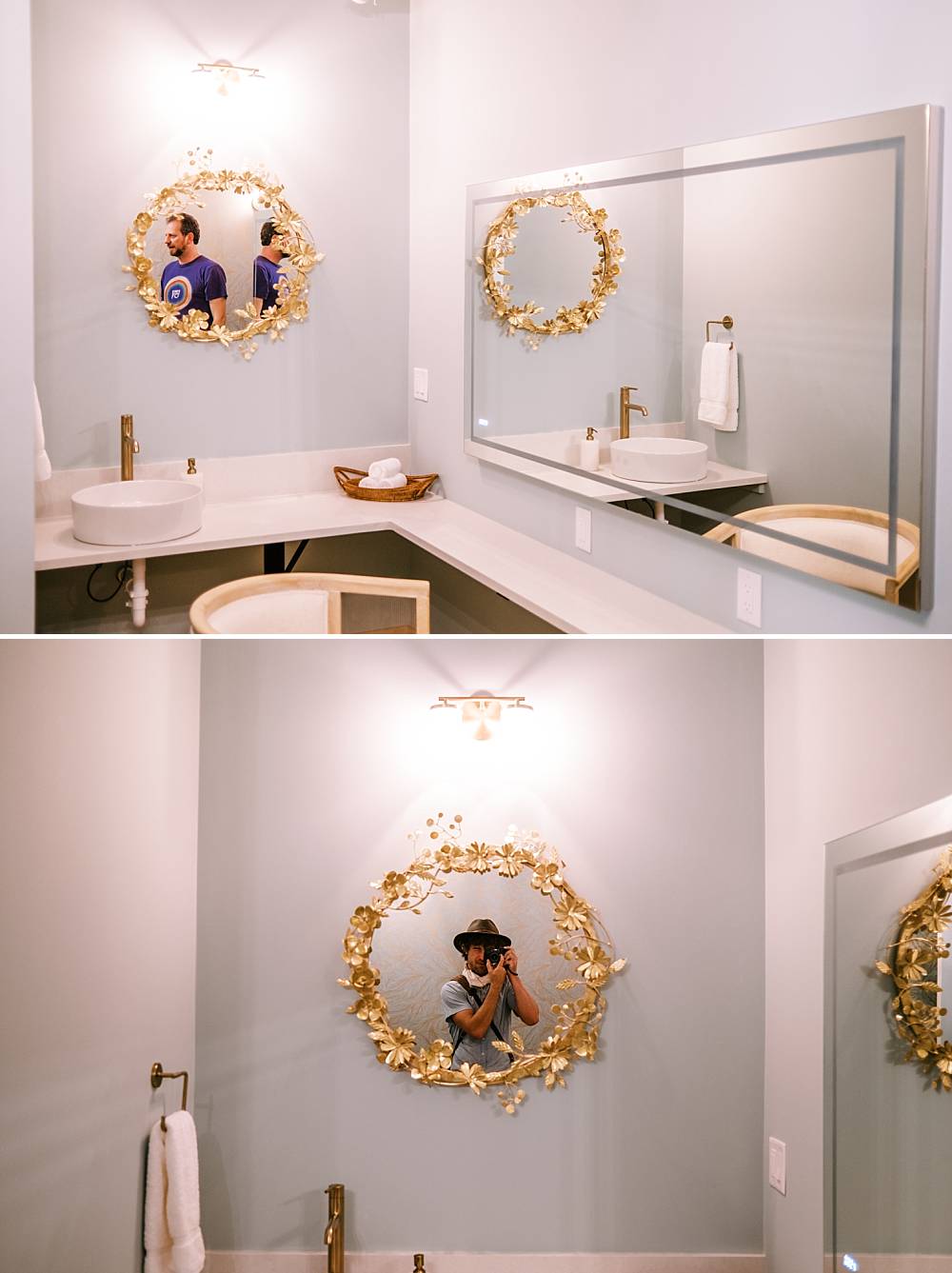 The thoughful touches continue into every corner of this Northern Michigan wedding venue including a cocktail hour bar installation and one of the worlds most efficient wood stoves.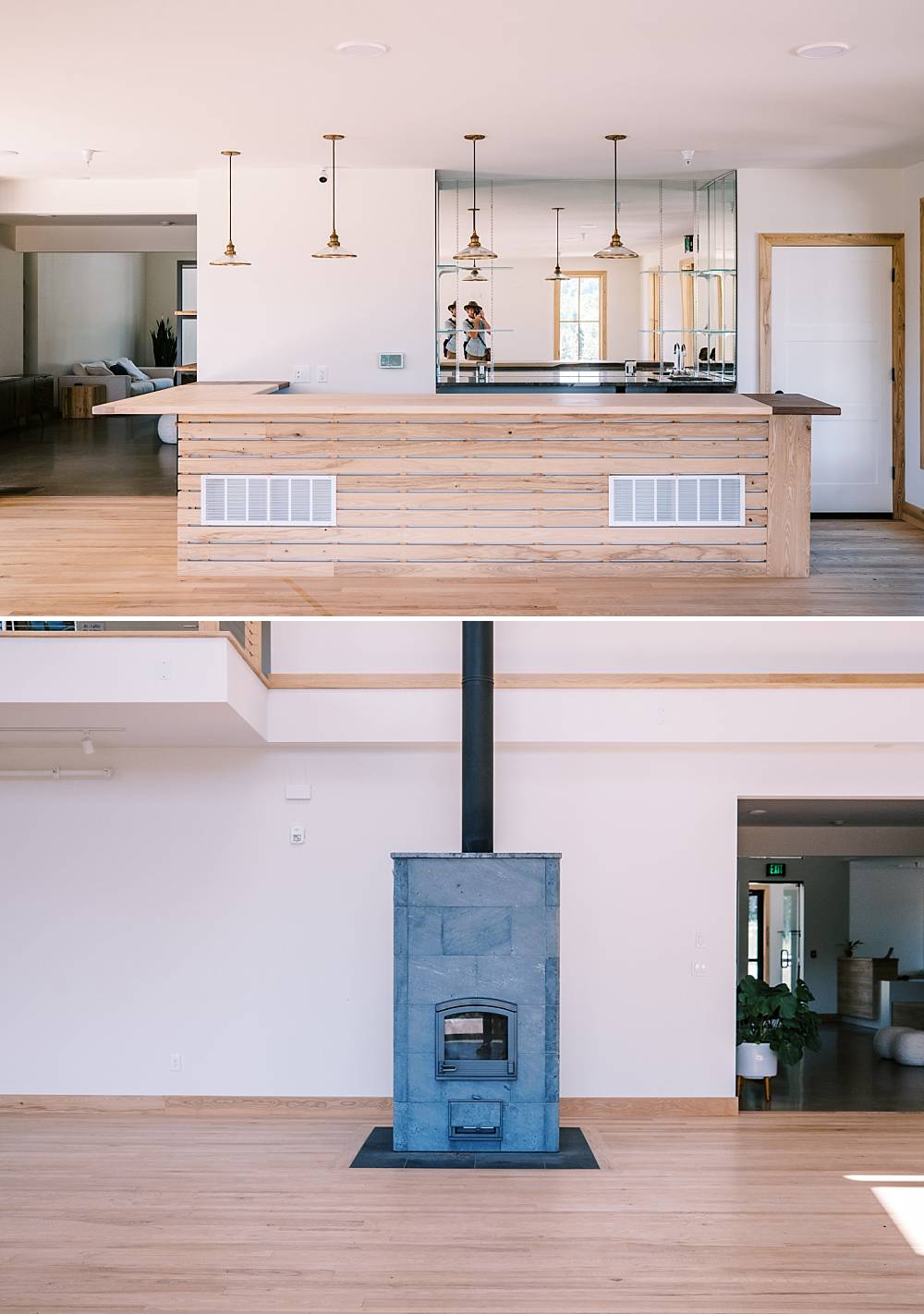 MORE INFORMATION ABOUT NORTHERN MICHIGAN WEDDING VENUE - NATURE
Nature was the perfect venue to cap my tour of Michigan's best wedding venues, and will certainly sit at or near the top as one of my favorites of the tour. I'm certain that future brides and grooms will love Bryan's enthusiasm and intent just as much as Emily and I did, and connect with the overall experience that Nature offers as a wedding ceremony location, reception space, and destination wedding weekend getaway in Northern Michigan. Plus, it was the only wedding venue on the trip that I left with homework, a renowned must read book on storytelling in cinematography, and I think that's hella cool. 
Click here for more information about Nature
~~                                                                                      ~~
FROM BRIAN D SMITH PHOTOGRAPHY
If you are inspired by what you read, I'd love to invite you to reach out about the wedding photography services I offer. My guarantee is that you won't find a photographer that cares more about you and your story than I. I'm endlessly passionate about telling stories on film and pushing the boundaries of art in wedding photography. I'd be thrilled to work for you and document your wedding and tell your unique story with an artful eye. I celebrate all couples, LGBTQ and straight. I celebrate all races and backgrounds, and there isn't a soul in this world that doesn't have an inspiring story to be told. 
If you'd like more info about this post, would just like to chat, or are ready to book, reach out to me by visiting my contact page here!
FROM CONNOLLY HOUSE EVENTS