Colorful Fall Middleton Place Destination Wedding in Charleston SC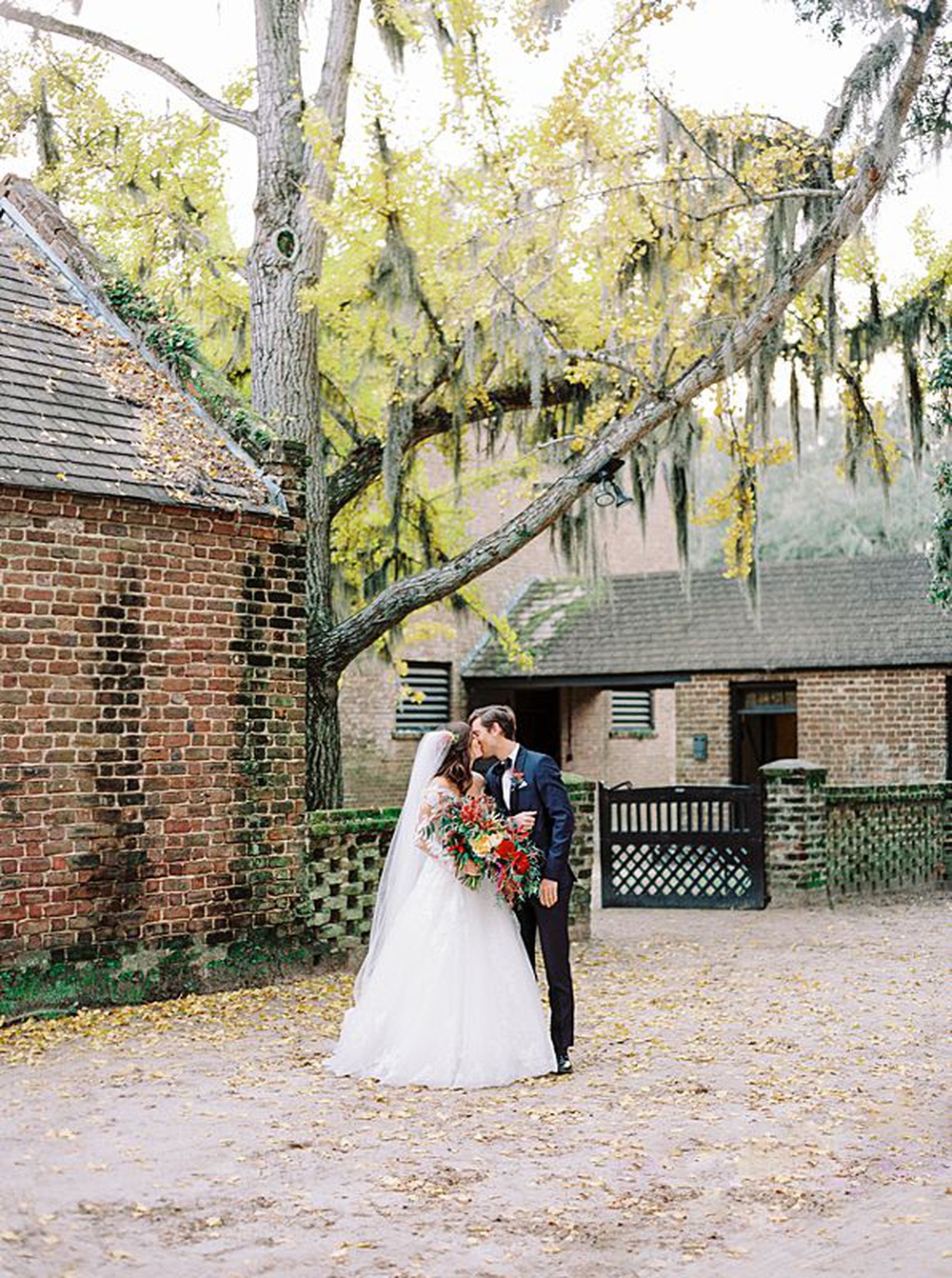 Colorful Fall Middleton Place Destination Wedding in Charleston SC
Sam and David's November destination wedding in Charleston SC at Middleton Place - my favorite Charleston wedding venue. Bold fall colors captured on film and jewel tone styling in the wedding decor made this a truly unique fete for Charleston South Carolina. .
April 27, 2020, 9:16 p.m.
About the Colorful Fall Celebration at Charleston Wedding Venue - Middleton Place
Sam and David flew in from San Francisco for their fall wedding at Middleton Place in Charleston San Francisco. Sam has family ties to the lowcountry and it made it a no brainer choice for their destination wedding. I first met Sam over a phone call and it has been one of the greatest I've had to a wedding client to date. Sam and David are sincere and kind people with a genuine love for travel, the arts, and unique images and styling. These are all things that I value deeply as a wedding photographer and these sort of connections truly do make for some stunning wedding photographs.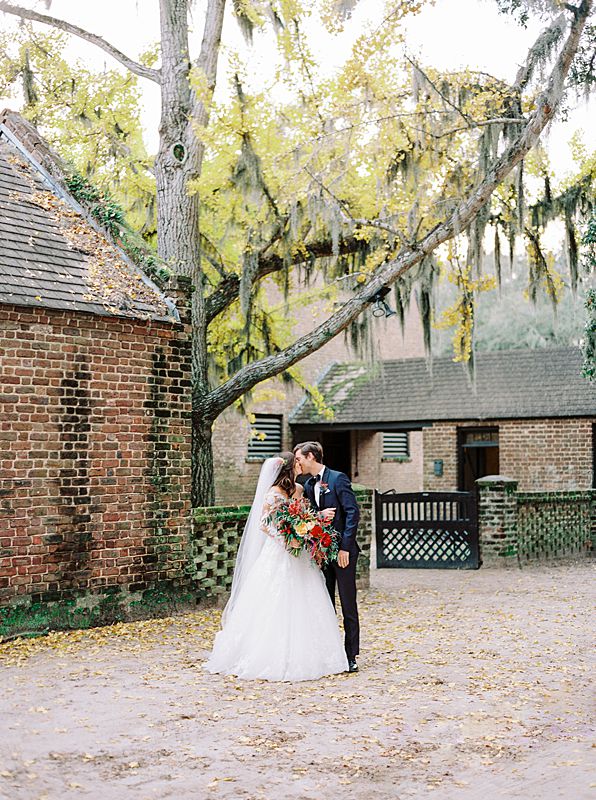 Why Sam and David Chose Me as Their Charleston Wedding Photographer
I first spoke with Sam over a year out from their wedding. Now, I haven't been a wedding photographer for as long as most in Charleston, but I've always prided myself in doing things differently and being skilled beyond my years - not just in the traditional sense of being a great wedding photographer, but pushing boundaries and really embracing the artistic side of photography. Sam mentioned that she was drawn to my work because of my bold use of color. She was drawn to my pursuits as an artist, and even let me photograph them under water on film for their engagement session!
Daniel Island Engagement Session with Underwater Couples Portraits
Sam and David's Charleston SC Engagement Session
Their wedding was equipped with all of the beautiful southern charm of my favorite Charleston wedding venue, including the horse drawn carriage.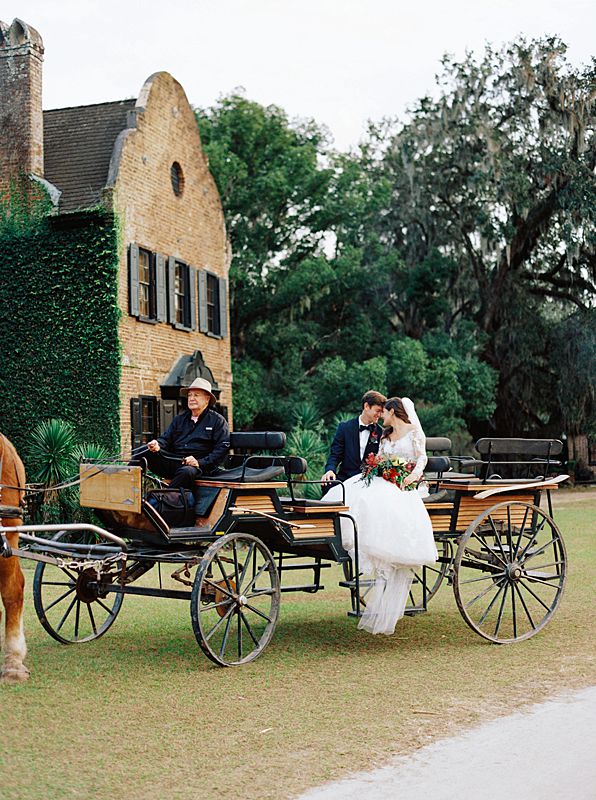 I got to work with an amazingly talented vendor team for this charleston wedding - some that I have worked with numerous times and a few that I was anxious to work with for the first time. It took the right team to execute such a bold color palette that Sam had dreamt up for her wedding and I cannot recommend any of these vendors enough. They are some of the best in the industry and it showed on this dream wedding day in South Carolina. 
Middleton Place Charleston Wedding Vendor Team
Photography: Brian D Smith Photography  /  https://www.instagram.com/briandsmithphotography/
Planning + Design: Fabulous Fete  /  https://www.instagram.com/fabulous_fete/
Floral Design: Bearded Florist  /  https://www.instagram.com/bearded.florist/
Venue: Middleton Place /  https://www.instagram.com/middletonplaceweddings/
Hair + Makeup Artist: Wild Ivory Beauty  /  https://www.instagram.com/wildivorybeauty/
Videographer:  Ryan Serio /  https://www.instagram.com/ryanserio/
Band: David Higgins Band  /  https://www.instagram.com/davidhigginsband/
Rentals: The French Eclectic  /  https://www.instagram.com/thefrencheclectic/
Rentals: Snyder Events  /  https://www.instagram.com/snyderevents/
Rentals: Event Haus  /  https://www.instagram.com/event_haus/
Lighting: Lowcountry Entertainment  /  https://www.instagram.com/lowcountryentertainment/
Cake:  ABCD Cakes  /  https://www.instagram.com/abcdcakemake/
Transportation: Lowcountry Trolley /  https://www.instagram.com/lowcountrytrolley/
Why I love Charleston Wedding Venue - Middleton Place
Middleton Place is my favorite wedding venue in Charleston SC, no question. It's the most dynamic venue for hosting your southern wedding and for me, that makes things incredibly exciting. From cocktail hours and ceremonies in the octagonal garden, to receptions at the pavillion, to portraits in front of the old brick plantation home, or the remarkable cascading green hill down to the water at sunset, this south carolina wedding venue has it all. Wedding couples have the option to get their photos taken with a herd of adorable sheep or ride on a horse drawn carriage making several stops for scenic wedding photos along the way. I've photographed a few weddings and events at Middleton Place and it surprises me every time. This fall charleston wedding, for example, was alive with beautiful colors.
To see another beautiful fall wedding at Middleton Place, check out my blog post below. 
Blush Fall Wedding in Charleston South Carolina at Middleton Place
Brooke and Cody's Dreamy Blush Middleton Place Wedding in Charleston SC
Why You Should Hire Me as Your Middleton Place Wedding Photographer
Middleton Place inspires me, and I think that is just about the most pressing question you could ask your Charleston Wedding photographer. Why do they love that wedding venue? What about the wedding venue inspires them?  Bold color is a hallmark of my wedding photography and Middleton Place gives me plenty of opportunities to flex that signature style. As a film photographer, I dream of the all the lush greens that Middleton offers - the deep earth tones in the fall and the bright, bold florals in the spring. There is never a moment when the wedding venue doesn't look spectacular. Every time I set food on that property I am looking for something different - a new perspective, a new texture, a new pattern of light. And, with a Charleston wedding venue that large, there are so many opportunities for me to find inspiration. It's a film wedding photographer's playground.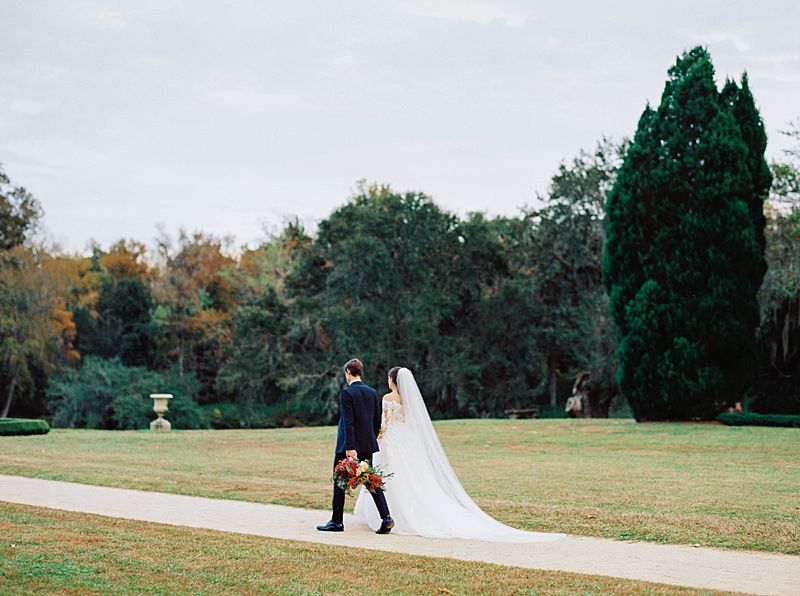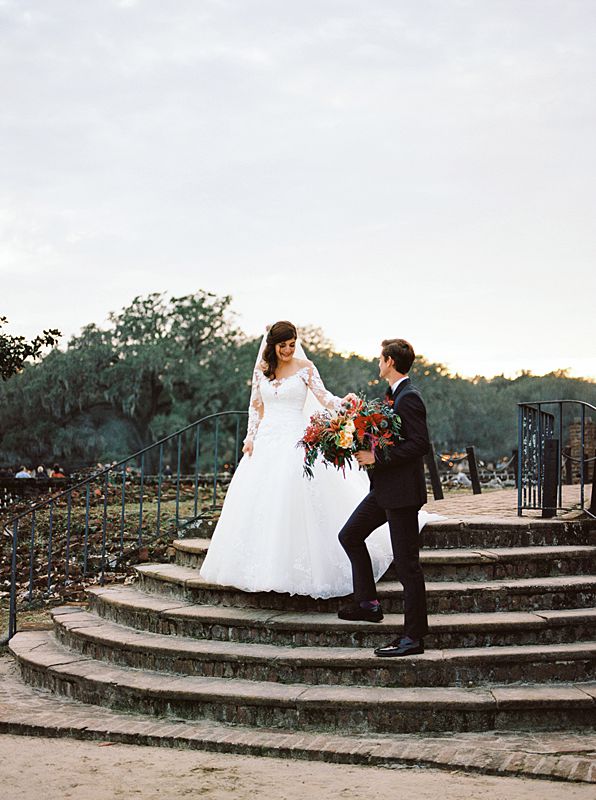 Why this Charleston SC Wedding at Middleton Place Was so Special
Use of Bold Colors in the Wedding Design
Just look at this one of a kind, custom made neon sign with colorful draping at this Middleton Place wedding reception in the pavillion. This was actually my favorite moment of the entire wedding. The bride and groom snuck away for a quiet moment with the photo booth and I snuck in for a quick capture. It was a beautiful, rare moment of quiet intimacy during the hustle of a big southern wedding.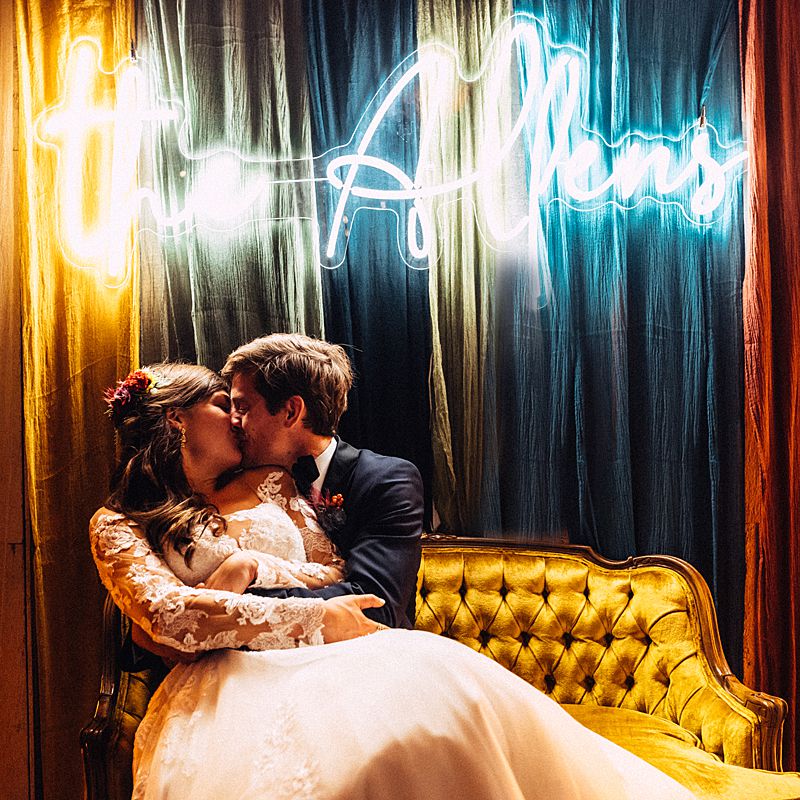 Fun Traditions like the Horah
The bride and groom, and eventually the mother and father of the bride, danced the horah at their wedding reception and the reactions made for some priceless wedding photographs.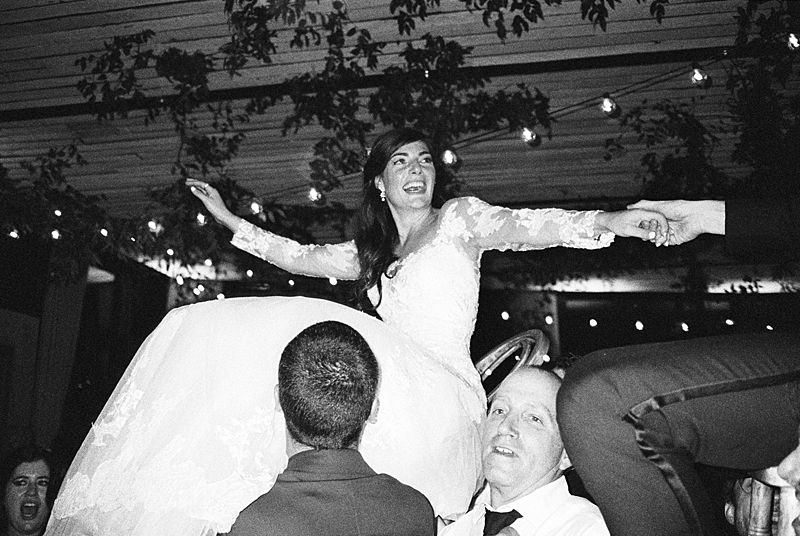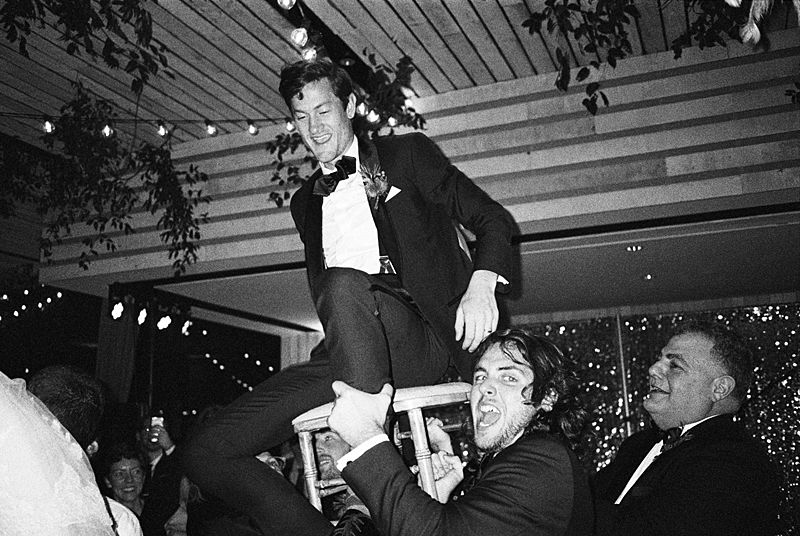 Bridal Getting Ready at the Belmond Charleston Place Hotel
The Belmond is one of Charleston's most historic and beautiful hotels. The bridal suite has the best lighting of any hotel room I've ever shot in and this makes a huge difference in picture quality.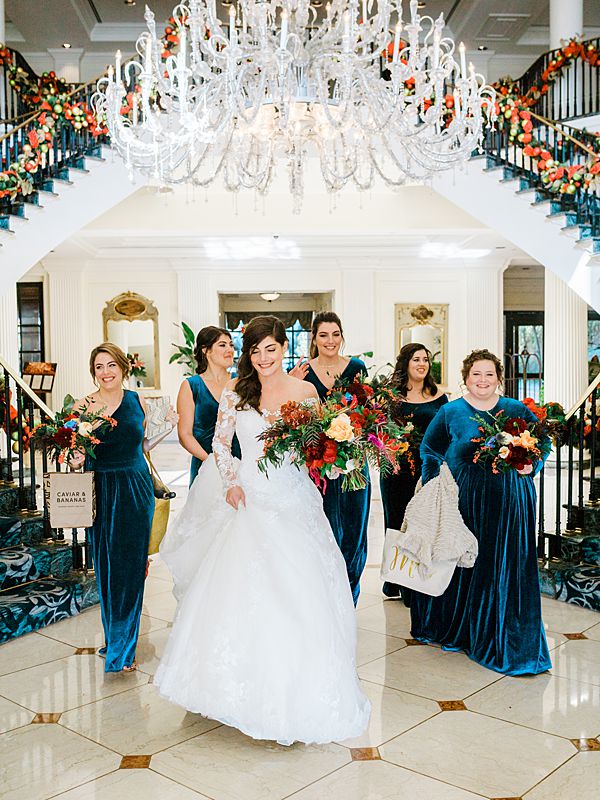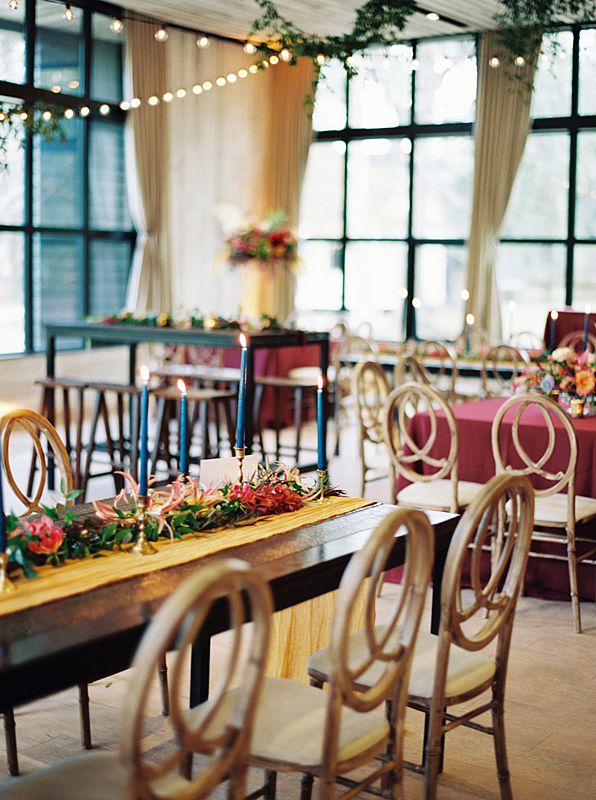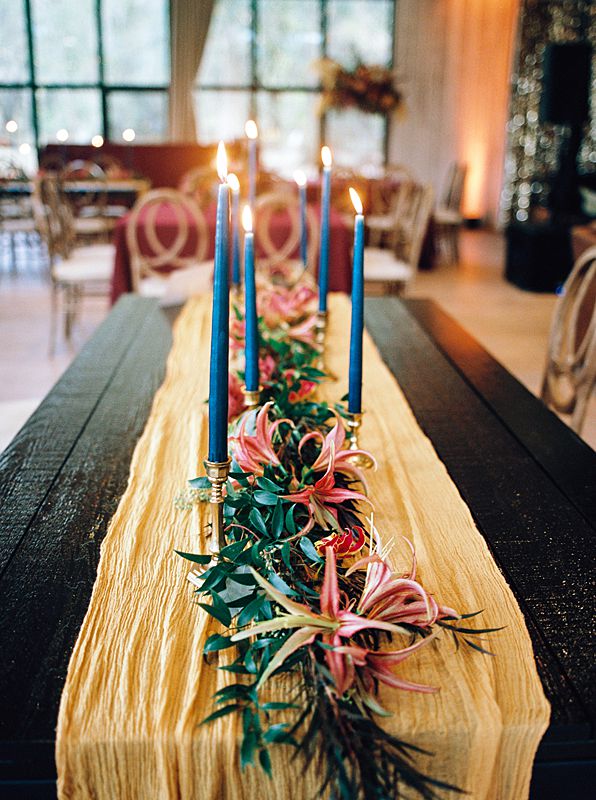 Velvet Bridesmaids Dresses
It's rare to see boldly colored, jewel tone bridesmaid dresses at a Charleston SC wedding, and especially not in such an interesting fabric as velvet. They complemented the bold color palette of the wedding so well and are just one more reason why this wedding was something unique and exciting for me as a Charleston Wedding Photographer.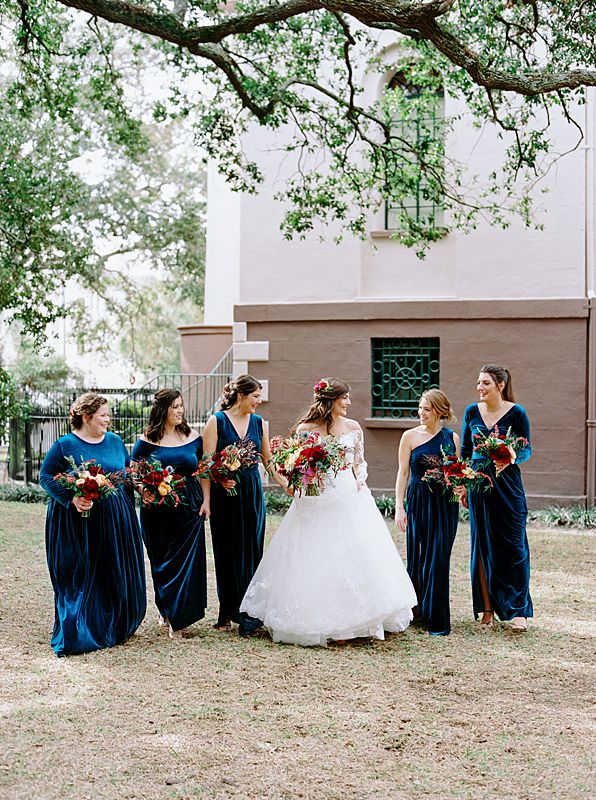 ~~                                                                            ~~

If you are inspired by what you read, I'd love to invite you to reach out about the photography services I offer. My guarantee is that you won't find a photographer that cares more about you and your story than I. I'm endlessly passionate about telling stories on film and pushing the boundaries of art in wedding and portrait photography. I'd be thrilled to work for you and document your story, wedding or business in Charleston South Carolina or any destination abroad.
If you'd like more info about this post, would just like to chat, or are ready to book, reach out to me by visiting my contact page here!