Hollywood Glam Bride and Groom Portraits on Film in an Outdoor Studio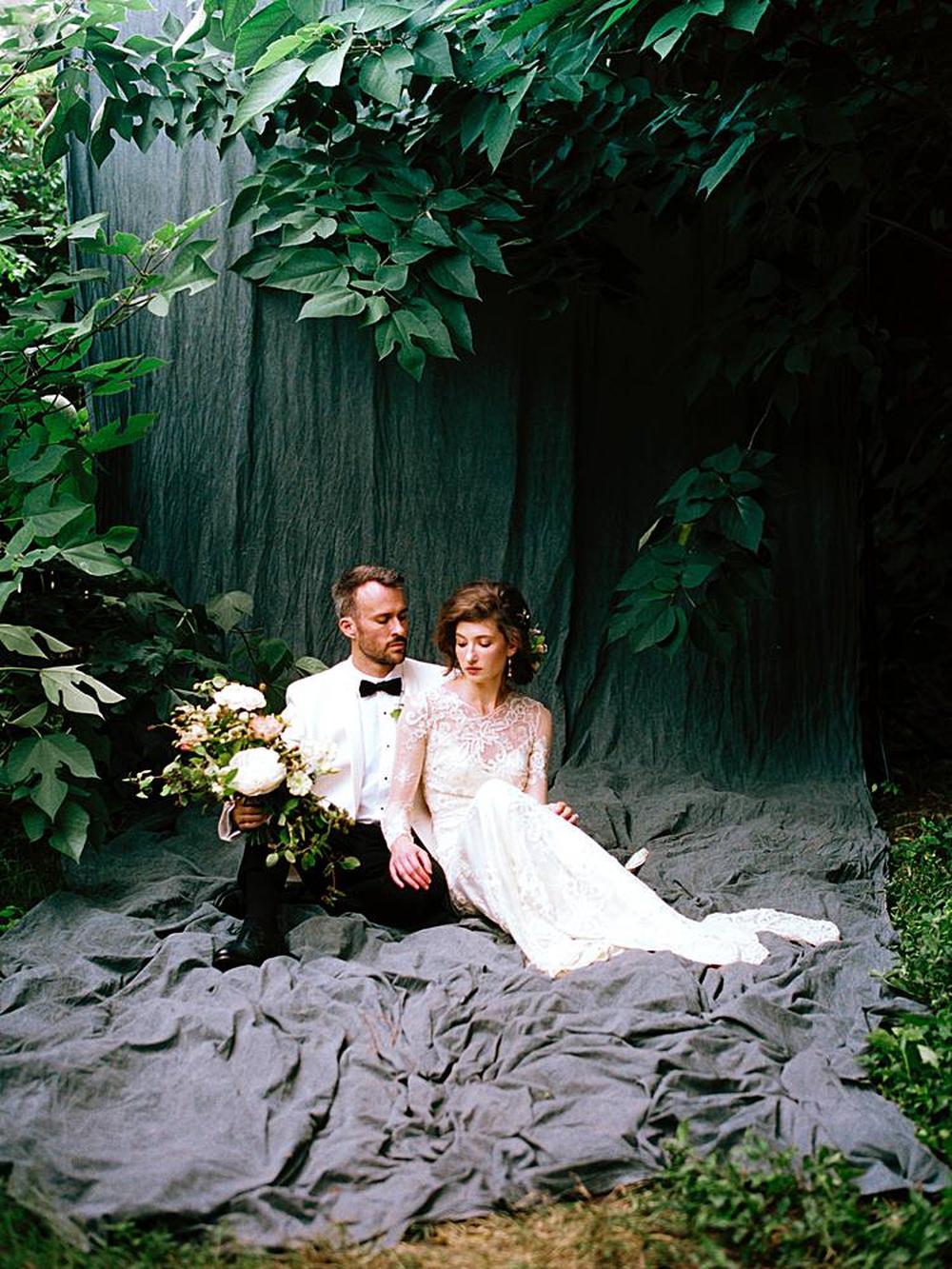 Hollywood Glam Bride and Groom Portraits on Film in an Outdoor Studio
Black tie hollywood inspired bride and groom wedding editorial in Charleston SC. Shot in an outdoor portrait studio, Studio Sixty Reid by Charleston film wedding photographer, Brian D Smith. Inspired by 1950s vogue glamour with modern styling elements and film experimentation. Shot on 35mm, medium format and large format kodak film in downtown Charleston.
Nov. 16, 2020, 5:09 a.m.
About the Charleston SC Bride and Groom Portraits in an Outdoor Studio
I have been photographing studio bridal portraits for a bit over a year, but had yet to do the same with a bride and groom. With the ucoming launch of my new portrait studio location, Studio Sixty Reid, and putting together my first bride and groom studio editorial, I knew I wanted to go big. I worked with a backdrop setup that had proven successful for me once before, and partnered with a few of my favorite vendors to create something that was all at once editorial yet romantically, classic. The idea was to echo old Hollywood style and the vibe of 1950s vogue. This era of fashion photography was the perfect blend of grit and glam. It was artful and experimental, but so well styled and photographed that it will always be classic. Afterall, true art never goes out of style.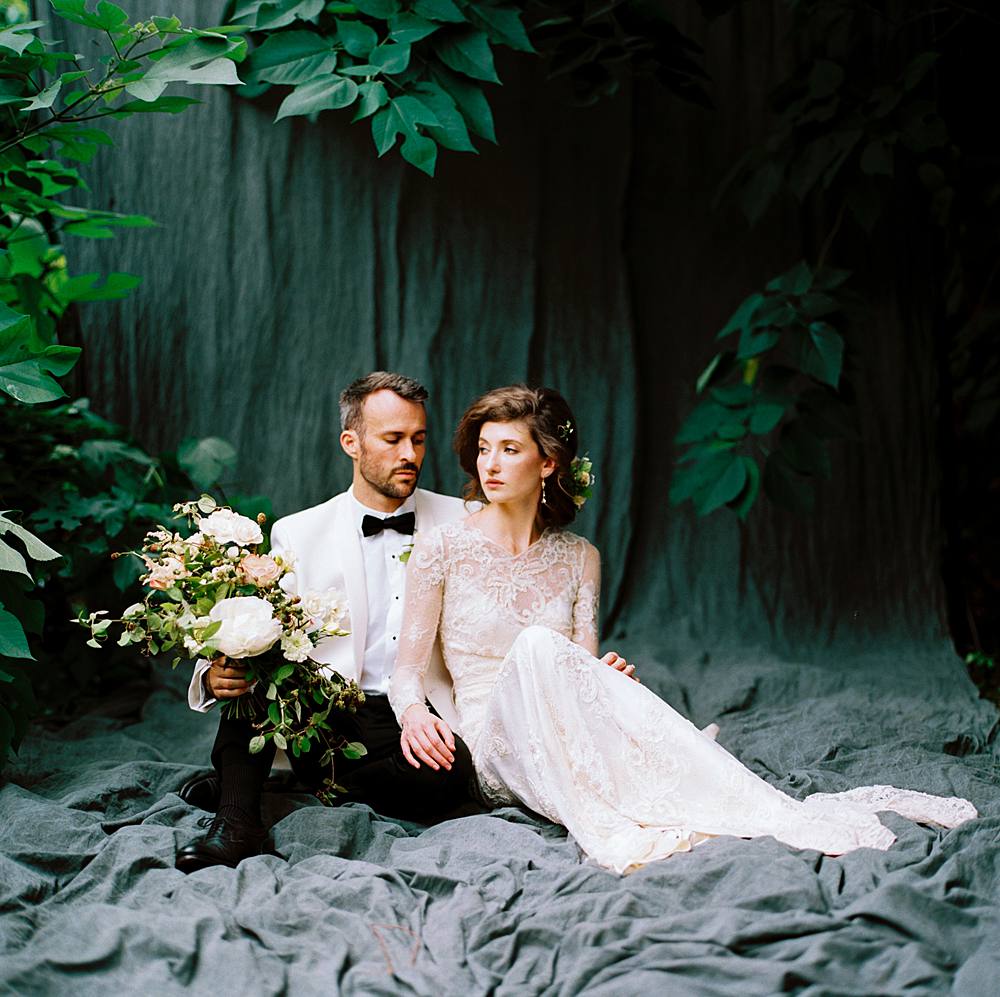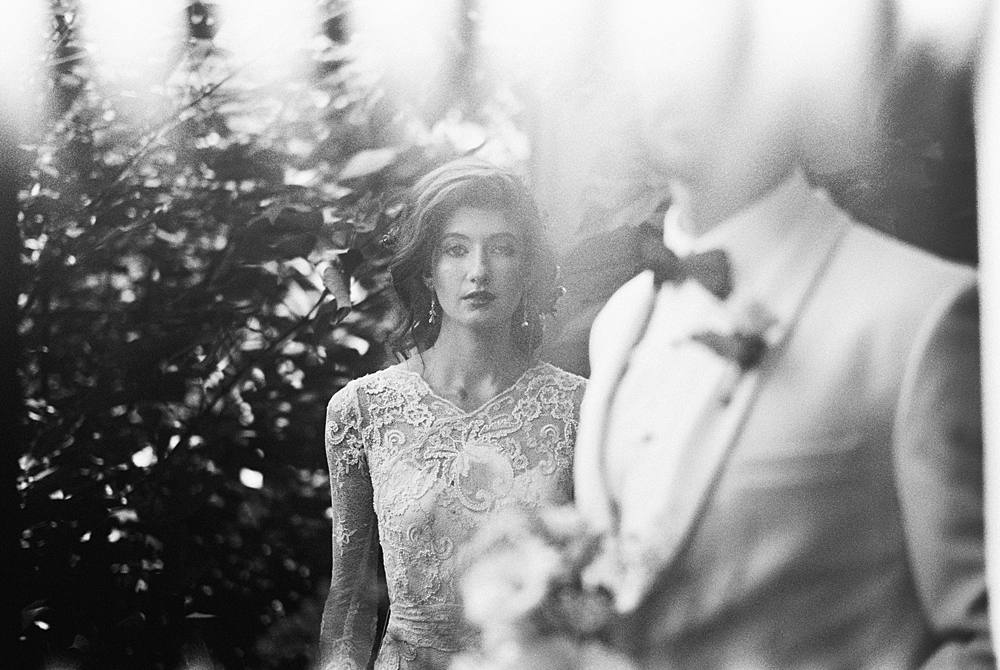 About the Charleston SC wedding real couple and models
I met Sabine through a mutual friend a few years back and I used to work with Kris before I began my photography career. Ever since I found out they were a couple, I've been wanting to plan a shoot for them. When they got engaged, I reached out and learned that they were getting married in South Africa - where Sabine's family is from. However, they had to schedule their wedding for a long ways out because of uncertainty around international travel with Covid. I had a vision for a bride/groom portrait shoot in an outdoor studio where the backdrop blended into the surrounding foliage. I knew I wanted Sabine and Kris for the shoot, so I reached out to them with the opportunity to get some beautiful portraits before their 2021 wedding day.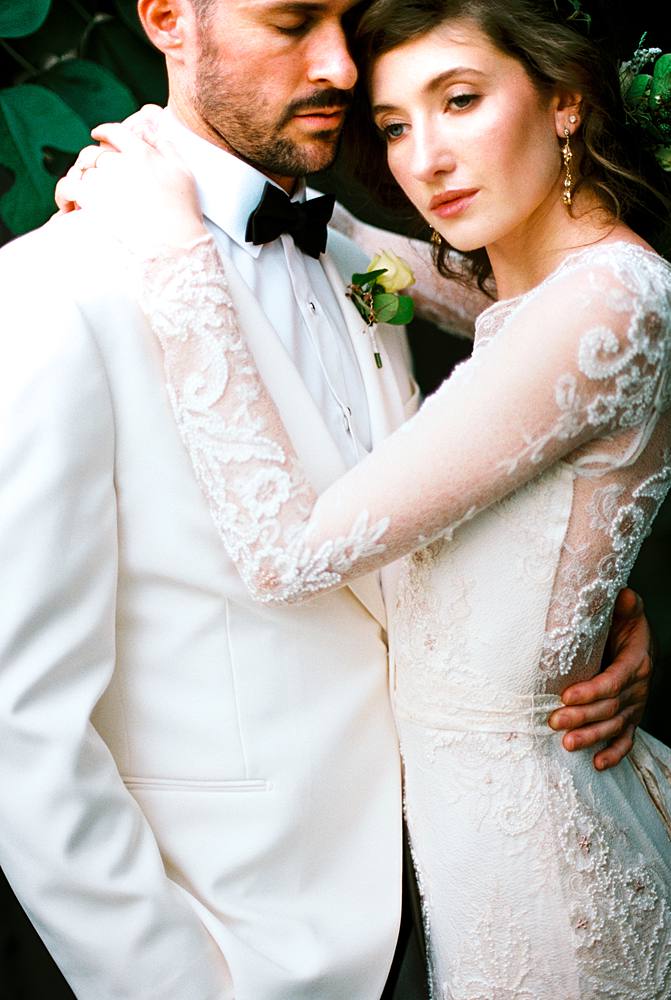 About the styling of the old hollywood wedding fashion editorial 
Fashionable styling is very important to me in editorial work, and I knew I wanted something cream/warm toned to stand out against the dark cloth backdrop. I have a good working relationship with Claire Pettibone, so I reached out to her about a dress I've long been wanting to photograph and I began planning. I paired the lacey, embroidered, sleeved dress with a classic Ivory dinner jacket tux. The resulting look is both fashionable, but timeless and traditional. It echoes 1950's hollywood vibes, my favorite era for fashion photography. Weddings and wedding photography in the south, Charleston specifically, tend to rely to heavily on tradition and bride's don't often take fashion risks. I styled this shoot to meet somewhere in the middle. If I have seen something before, I tend to look the other way. I want to see new styles, new ways of photographing couples, new methods for experimenting with portraiture. Thus, the idea of the outdoor studio was born. Studio bridal portraiture is timeless and always in style, and it's something I want to bring back in a big way to the wedding world. I constructed the studio outdoors to add another textural element to the scene. I played with different film techniques, exposing some of the film to light leaks, and shooting bride and groom portraits on Large Format Film...something I've never seen done before. I worked with a local florist to create complimentary bride and groom bouquets. I think the result is edgy, and gritty, and fashionable, but classical and timeless as well.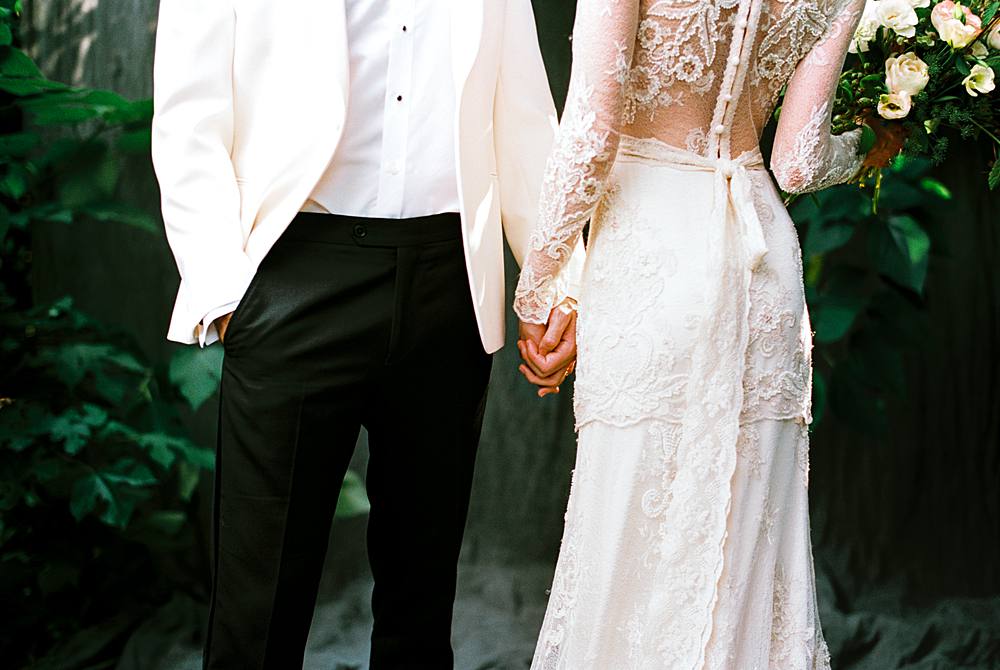 I had the idea of a bride and groom bouquet set to break down wedding traditions within the context of something so traditionally romantic. I love traditions for what they mean to people, personally, but am not too keen on traditions for the sake of the populous. Different and bold can be timeless and beautiful. This is a value I always strive to reflect in my work through styling, posing and use of color and contrast.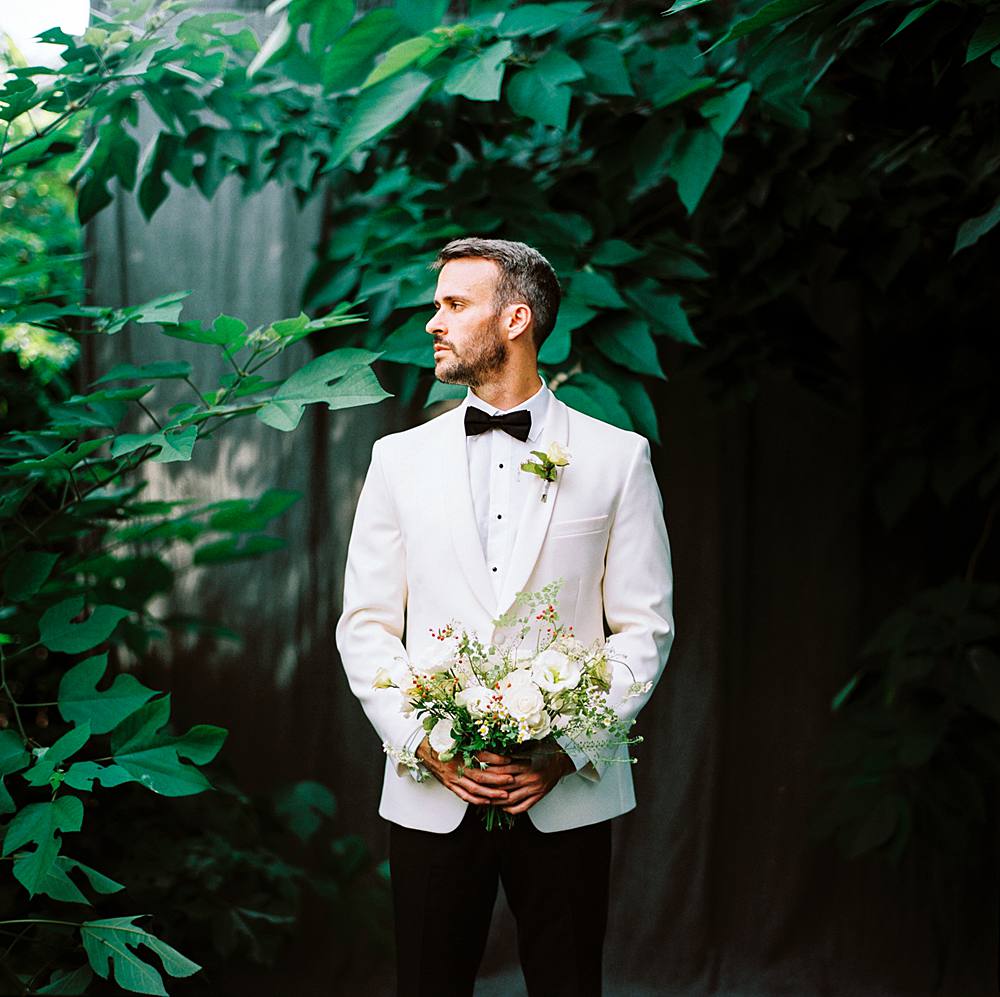 About the outdoor portrait studio 
One of my Covid quarantine projects was to set up a studio outdoors, blending the backdrop into the surrounding foliage, but still retaining the classically romantic vibes of studio portraiture. It started out of a sheer desire to create during a time when the city was on lockdown and on location photography was frowned upon. I erected a backdrop in my lush green backyard outside my studio and what was meant to be a one time thing, quickly turned into an ongoing series of portraits. The setting was unique, classic yet whimsical, but what kept drawing me back to the setup was the lighting. I shot in the late afternoon / evening, with the sun backlighting the foliage and occasionally piercing through the cloth of the backdrop. The house behind me reflected the sunsetting light onto the front of the set, all at once providing front lighting and backlighting. In fact, each time I have posted photos from this project, I have been asked if they were artificially lit. 
Other outdoor portrait studio sets at Charleston's Studio Sixty Reid
Film bridal portraits in an outdoor studio and claire pettibone dress
Moody fashion editorial in my Charleston SC outdoor portrait studio
Vintage chic fashion editorial in an outdoor photography studio
A vintage pink dress and building an outdoor portrait studio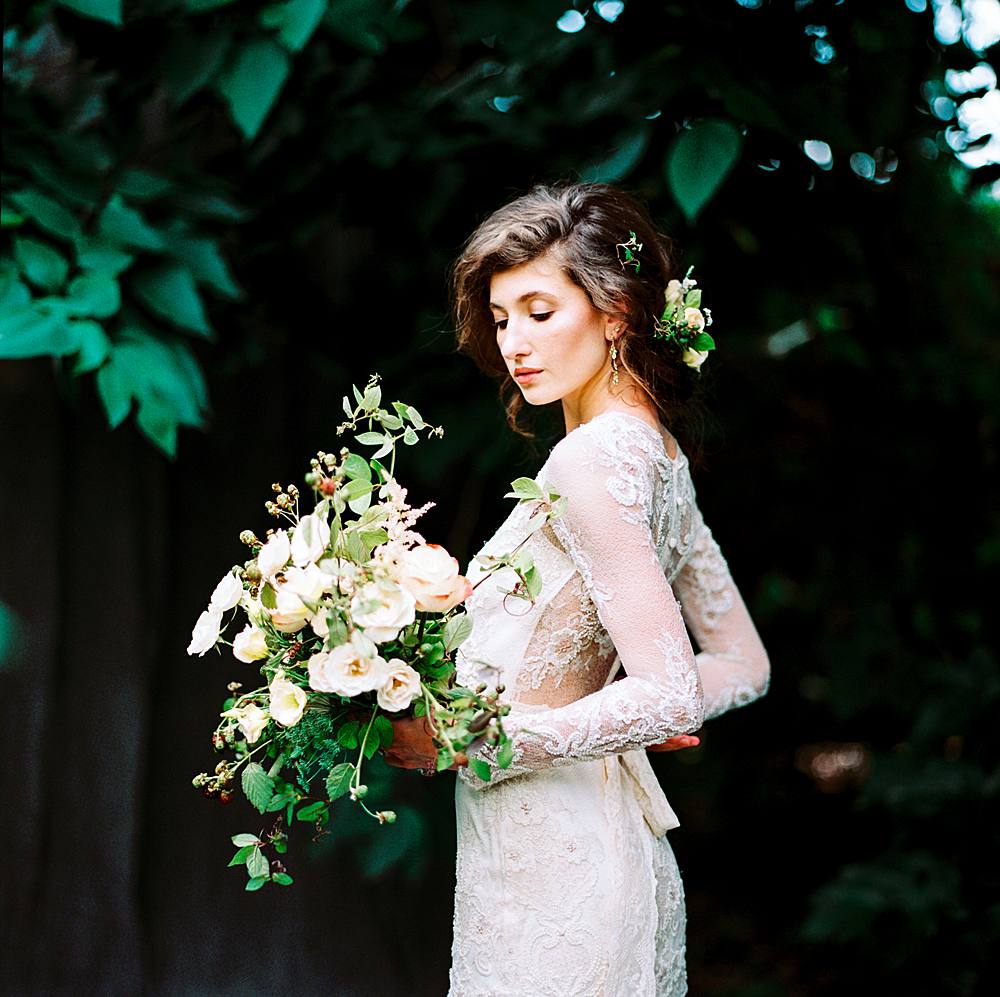 Charleston SC Wedding Vendors for the Bride and Groom Editorial
Photography: Brian D Smith Photography  /  https://www.instagram.com/briandsmithphotography/
Set Design and Styling: Brian D Smith Photography
Floral Design: On A Limb Florals  /  https://www.instagram.com/onalimbflorals
Hair and Makeup: Wild Ivory Beauty /  https://www.instagram.com/wildivorybeauty/
Venue: Studio Sixty Reid  /  https://www.instagram.com/studiosixtyreid/
Gown: Contours and Curls  /  https://www.instagram.com/contoursandcurls/
Gown: Pearle by Claire Pettibone /  https://www.instagram.com/clairepettibone/ 
Men's Attire: Berlin's For Men  /  https://www.instagram.com/berlinsformen/
Film: Kodak  /  https://www.instagram.com/kodakprofessional
Film Lab: Photovision  /  https://www.instagram.com/photovisionprints/
Models: https://www.instagram.com/sabine_hg/  /  https://www.instagram.com/kriswithak/
Film Equipment and Techniques Used
I shoot all of my work on Kodak film, both medium format and 35mm. Recently, however, I have started shooting large format as well!  I tend to shoot a lot of cameras during weddings and editorials, all with a very specific purpose. I'll break down my film camera and stock selection, here. 
1. Hasselblad 202FA + 110mm F2 lens - This is my favorite portrait camera. The F2 lens is contrasty but dreamy and it's the closest thing I've ever shot to large format without actually shooting 4x5. I shot two rolls through this camera, 1 portra 800 and 1 Kodak T-max 400. 
2. Leica m-a + summilux-m 50mm F1.4 - This is a camera that I always tell myself I am going to shoot more but sometimes I just feel it slows me down. The results from the lens are simply outstanding, however. I shot 2 rolls portra 160 + 1 through this camera and 1 roll of portra 400. I even added in another element of experimentation and opened the film back when I finished the roll, before rewind. I LOVE the results. 
3. Nikon Fm3a + Nikkor 50mm F1.2 ai-s - My favorite 35mm camera, and the cam I'd keep if I could only have one. During shoots like this, I typically use the nikon as either an experimental camera or close up camera. I shot kodak gold 200 in this cam. The lens tends to be much softer than my leica, so it's great for dreamy shots or injecting a bit of calculated imperfection into your images. 
4. Contax 645 + 80mm F2 - I only shot this camera because It acted up on me in the prior shoot and I wanted to put a roll of Portra 400 through it to make sure it was still working. 
5. Intrepid 4x5 Mkiii + Schneider symmar-s 210mm F5.6 - My first ever opportunity to shoot large format film portraits of a wedding couple did not disappoint. I shot 6 images and got 3 that I absolutely adore. Not bad for my first go around. Developed and scanned myself. Ilford Hp5 (i prefer tri-x but this is what I had around)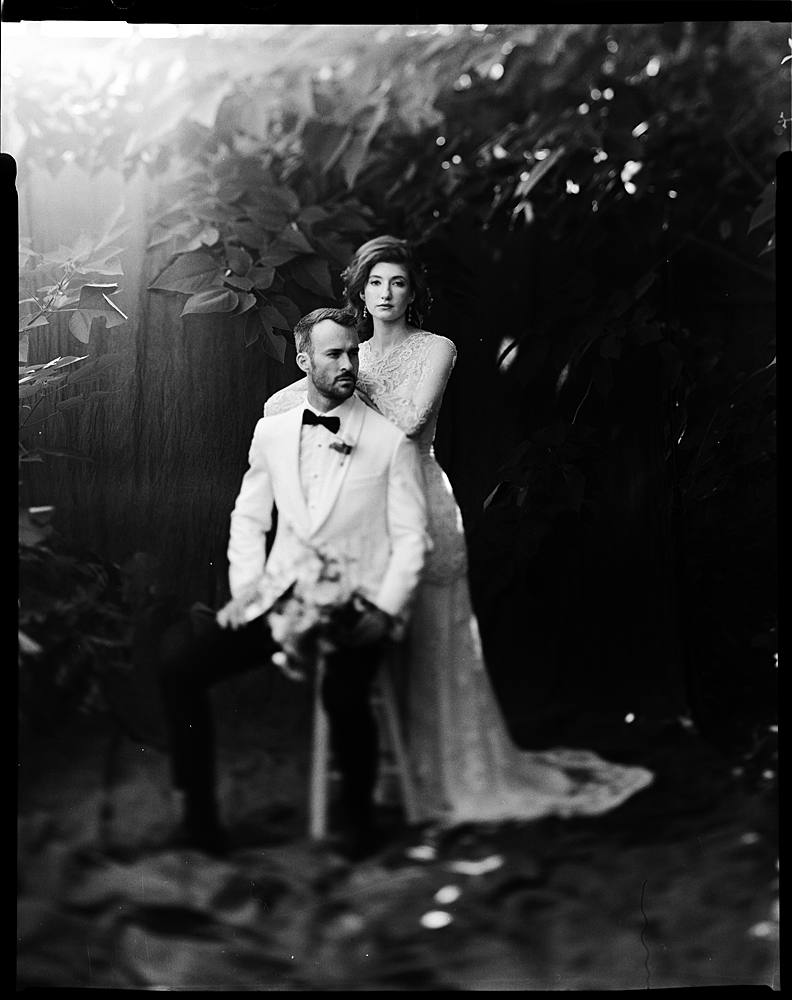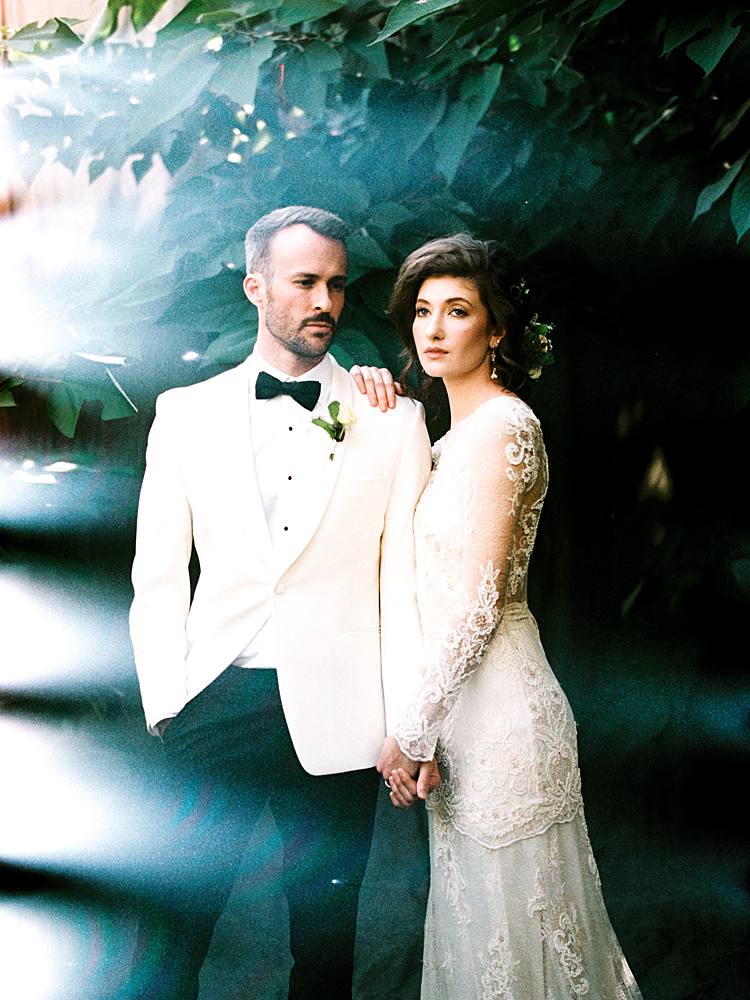 Why You Should Consider Studio Portraits for your Charleston Wedding
My pitch to couples for studio wedding portraiture is simple. You are likely going to get beautiful, traditional outdoor portraits at your wedding venue the day of your wedding, so why not mix it up and do your engagement photos, wedding day portraits, or couples session in studio. It's an oppportunity to strip away the distractions and extraneous elements. It's an opportunity to slow down and create something deconstructed and beautiful. My Charleston SC portrait studio, Studio Sixty Reid, focuses on creating experimental works, well styled, yet simple in their ultimate goal of showcasing you without any other distractions. Studio portraiture is classic. It's timeless. It's artistic and will never go out of style. No two results can ever be similar because when you strip away the beautiful venue, or the crowded downtown Charleston streets, what's left is only you, your love, and your style. 
When should you schedule your Charleston studio wedding portraits
If you don't wish for one another to see your wedding attire before the wedding, you can schedule them after ward. Doing the wedding session in studio after your actual wedding day is a great way to focus less on portraiture the day of your wedding, meaning you can enjoy more of the spontaneity and cocktail hour. It's also a wonderful excuse to get dressed up in your wedding dress once more. If you wish to do them before hand, but still are unsure about seeing eachother's dress and suit for the wedding day, pick up a second wedding outfit. Maybe a bold suit, or a more playful dress. Alternatively, you could do the opposite and make it the most regal, black tie, over the top styled affair in contrast to a more understated wedding. Nothing is off limits. I help with coordination, styling, and set design to make it a truly one of a kind portrait experience. Studio bride and groom, bride and bride, groom and groom sessions make for a wonderful 1 year wedding anniversary celebration as well.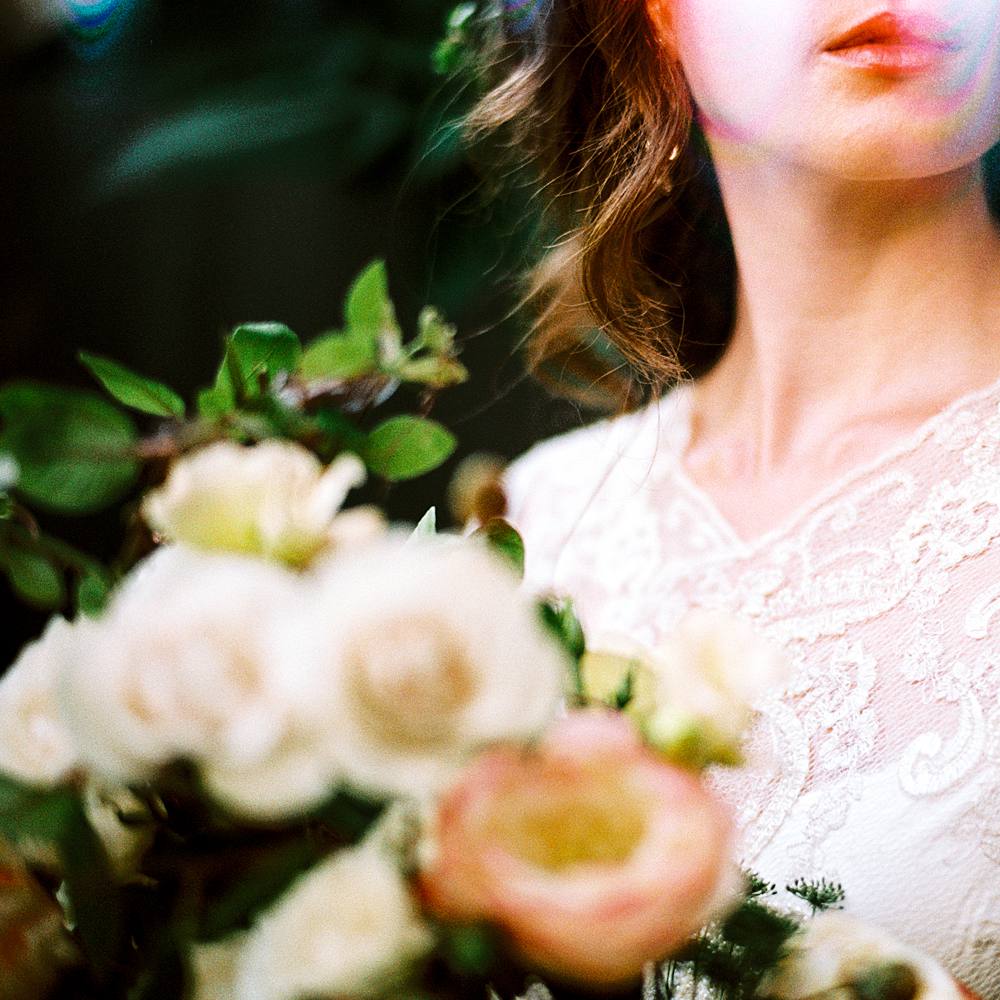 Why You Should Hire Me as Your Charleston Film Wedding Photographer
You won't find another photographer, destination or in my hometown of Charleston SC that challenges himself more or pushes his creativity further than I do. I have an appreciation for the timeless and the classic, but strongly believe the great art is the most timeless of all and echo that in the amount of experimentation I do in my work as a destination wedding and portrait photographer. Humbly speaking, I'm the hardest working wedding photographer you'll meet. I have a style that transcends Charleston, SC and have received nationwide recognition for my film work because of it. Ask yourself if you want your wedding photos to look like every one elses, perfect curated perfection, or if you want an artful story to be told. If the latter has your heart, then it's likely that you'll have mine. 
~~                                                                            ~~
If you are inspired by what you read, I'd love to invite you to reach out about the photography services I offer. My guarantee is that you won't find a photographer that cares more about you and your story than I. I'm endlessly passionate about telling stories on film and pushing the boundaries of art in editorial, lifestyle and portrait photography. I operate a photography studio in Charleston SC and Traverse City Michigan. I'd be thrilled to work for you and document your story, wedding or business in Charleston South Carolina, Northern Michigan, or any destination abroad. LGBTQ supporter and firm believer in the cause for all races to fight for equal rights. 
If you'd like more info about this post, would just like to chat, or are ready to book, reach out to me by visiting my contact page here!