Charleston SC Boudoir in Studio with a Lace Bodysuit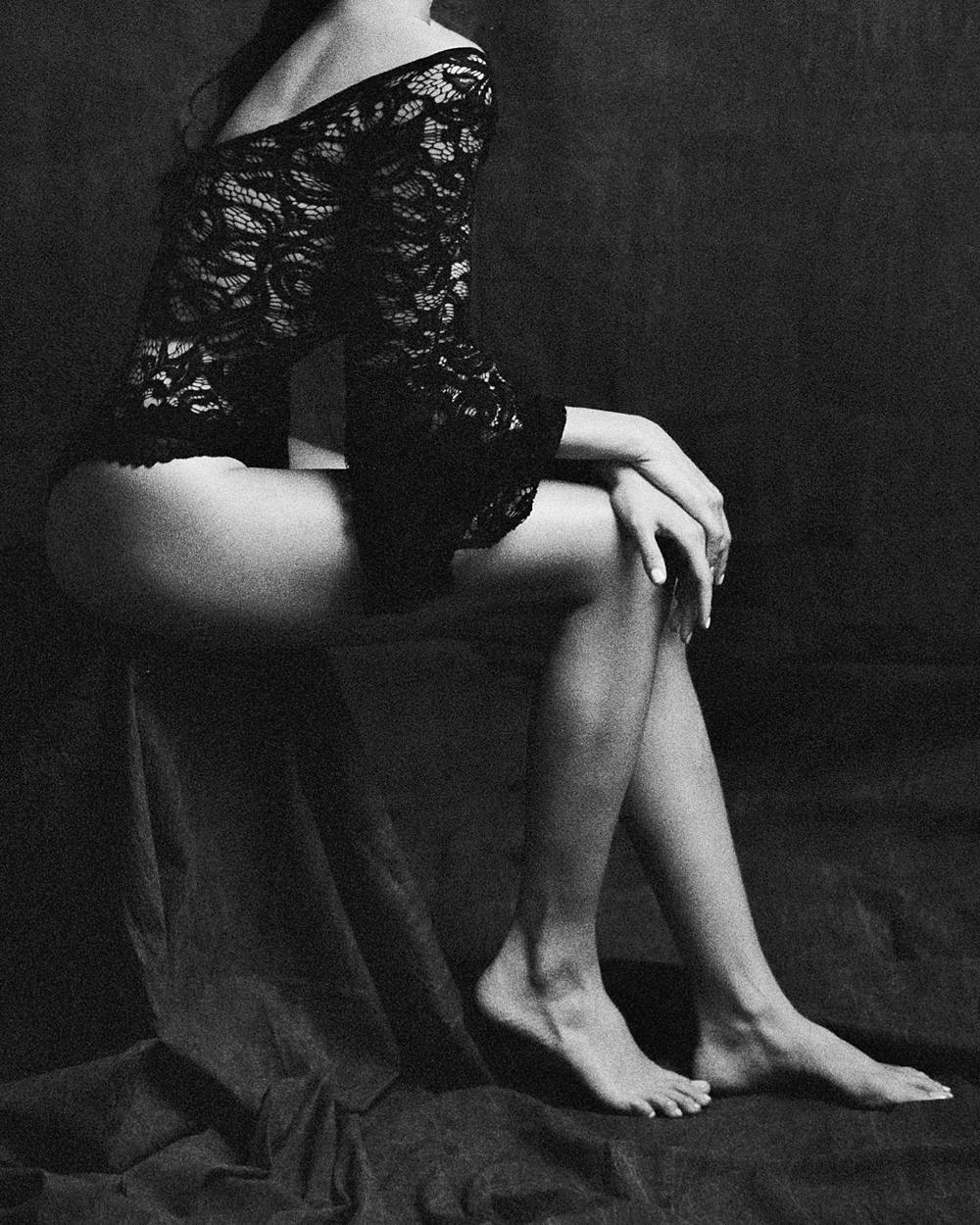 Charleston SC Boudoir in Studio with a Lace Bodysuit
Studio boudoir session photographed in my Charleston SC portrait studio - Studio Sixty Reid. I used a combination of color and black and white film images to showcase the quiet beauty and subtle sexuality of female form. A black lace bodysuit contrasts ever so slightly with the dark grey muslin backdrop and soft Dutch inspired lighting.
April 20, 2020, 3:31 p.m.
The quiet beauty and sexuality of boudoir seems a perfect fit for the studio. The studio environment strips away any pretensions or emotions that may be coerced from your usual environment. For this boudoir shoot in my Charleston SC photography studio, I wanted to create a sense of drama and mystery by using darker tones - pairing the dark muslin backdrop with the black lace bodysuit. The model's dark, piercing eyes added to the sense of drama and mystery in this Charleston Boudoir session.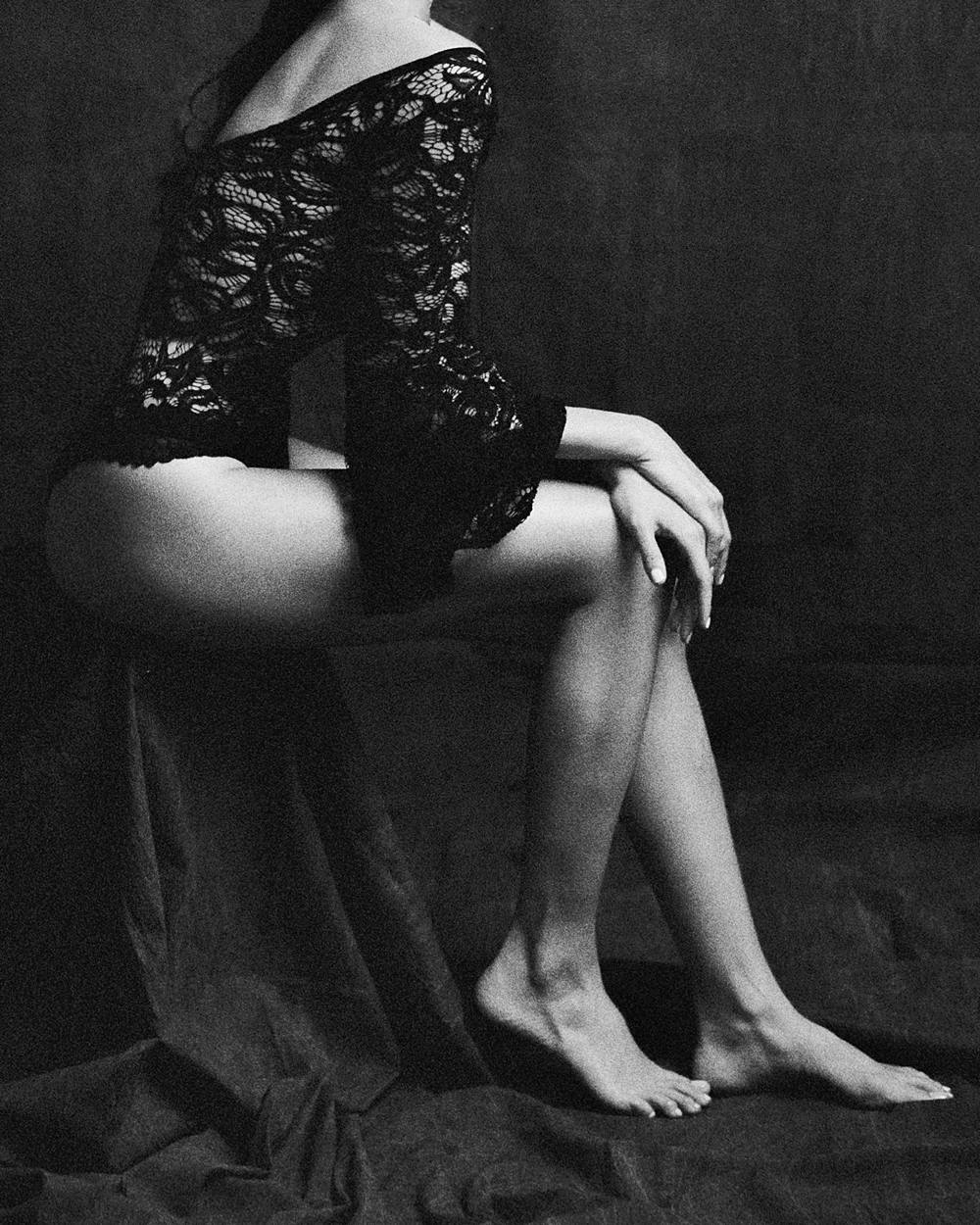 Why Mix Color and Black and White for Boudoir Photography
I love to mix color images with grainy black and white images in boudoir photography. A color image tends to draw your eye to every part of the image. You notice variations in color, in texture, in expression. You notice the skin tones, and subtle tint of the backdrop. Black and white images, for me at least, tend to keep the eyes more fixated. You notice finer details instead of the eyes jumping around the image. That makes black and white film especially good for little vignettes of the body, showcasing curves with light and shadows on the female body. The grain adds another element to the image, and almost gives the subject a statuesque feel. It's a beautiful complement to the female form.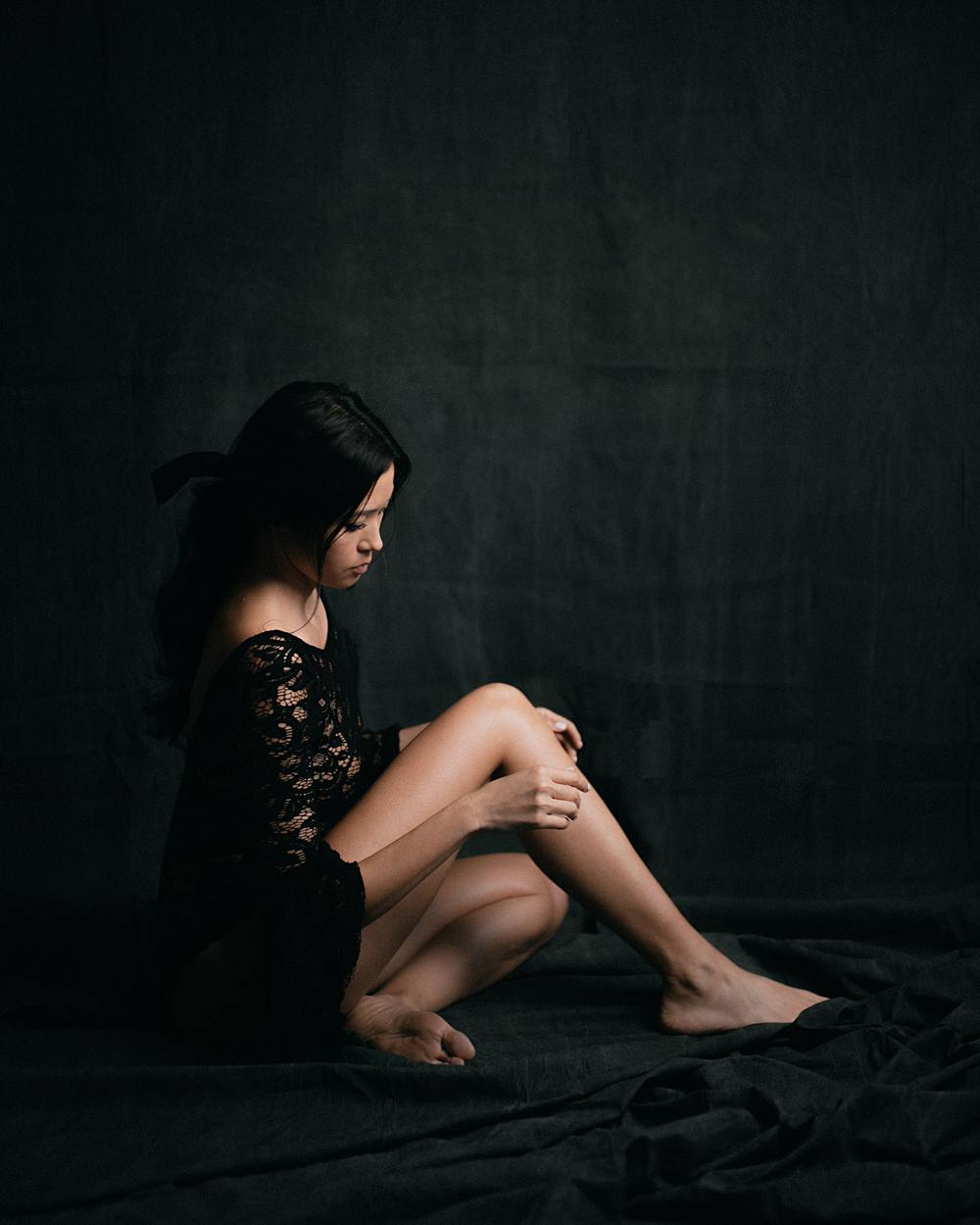 I am particularly fond of the black and white film image, below. The graininess of the image creates this stoic, surrealism, while the intense gaze of her dark eyes seem to guide you to her thoughts - more so than the characteristics of the image, itself. It leaves you questioning, and for me that is the hallmark of a compelling photograph.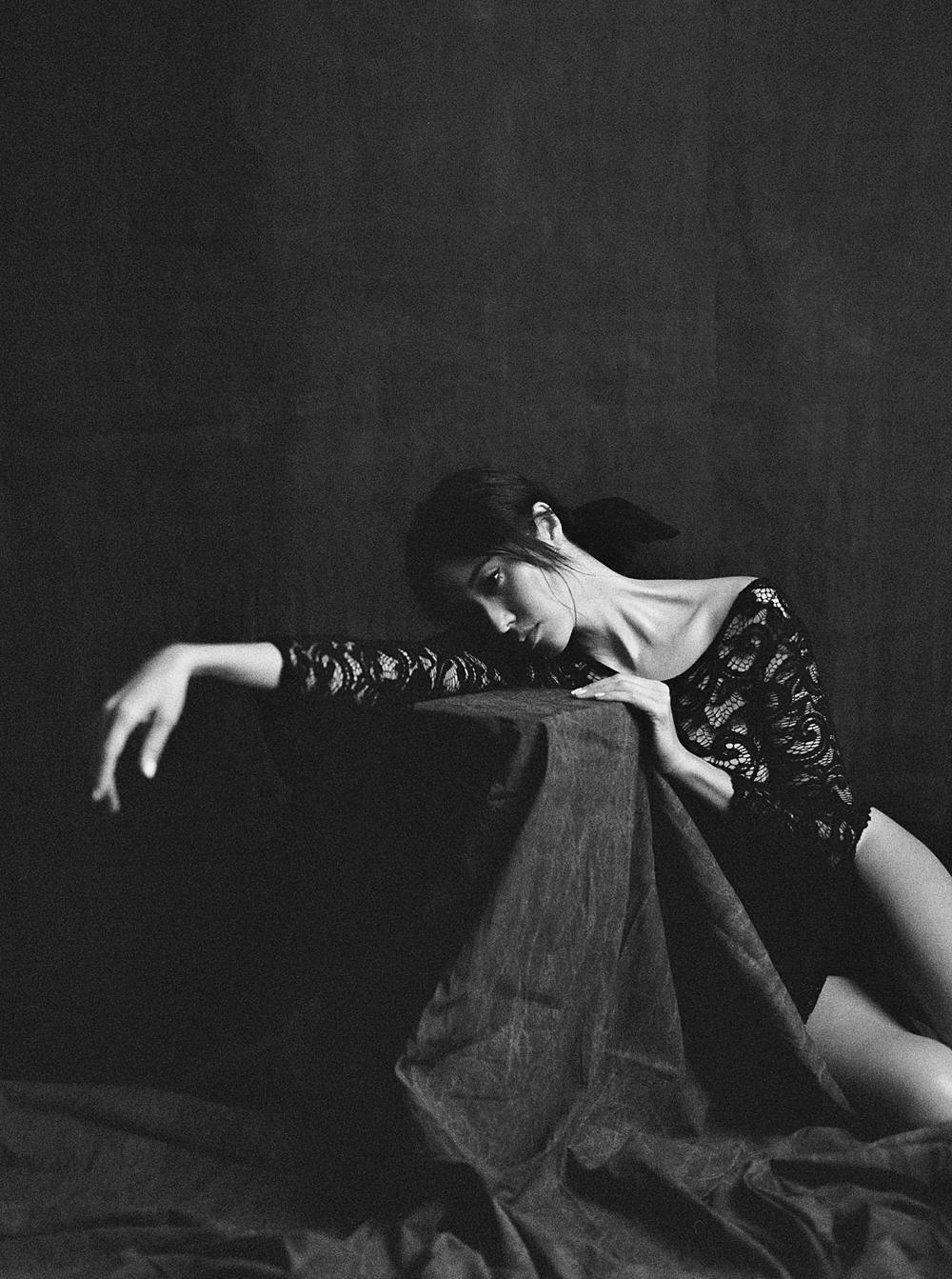 About Studio Sixty Reid Boudoir - Charleston SC and Traverse City Michigan
I operate my portrait photography studio in both Charleston South Carolina and Traverse City Michigan. Being a boudoir photographer has really opened my eyes to the subtley in expressing human sexuality and what powerful emotions that mystery can elicit from the viewer. Small changes in the body position create new shadows, new creases, new patterns in the body and it's a wonderful challenge as a photographer to showcase all of that beauty. My boudoir sessions are approached like any other portrait session. Communication is key in connecting with you as the client, and creating a comfortable evironment for you to be expressive is my number one goal.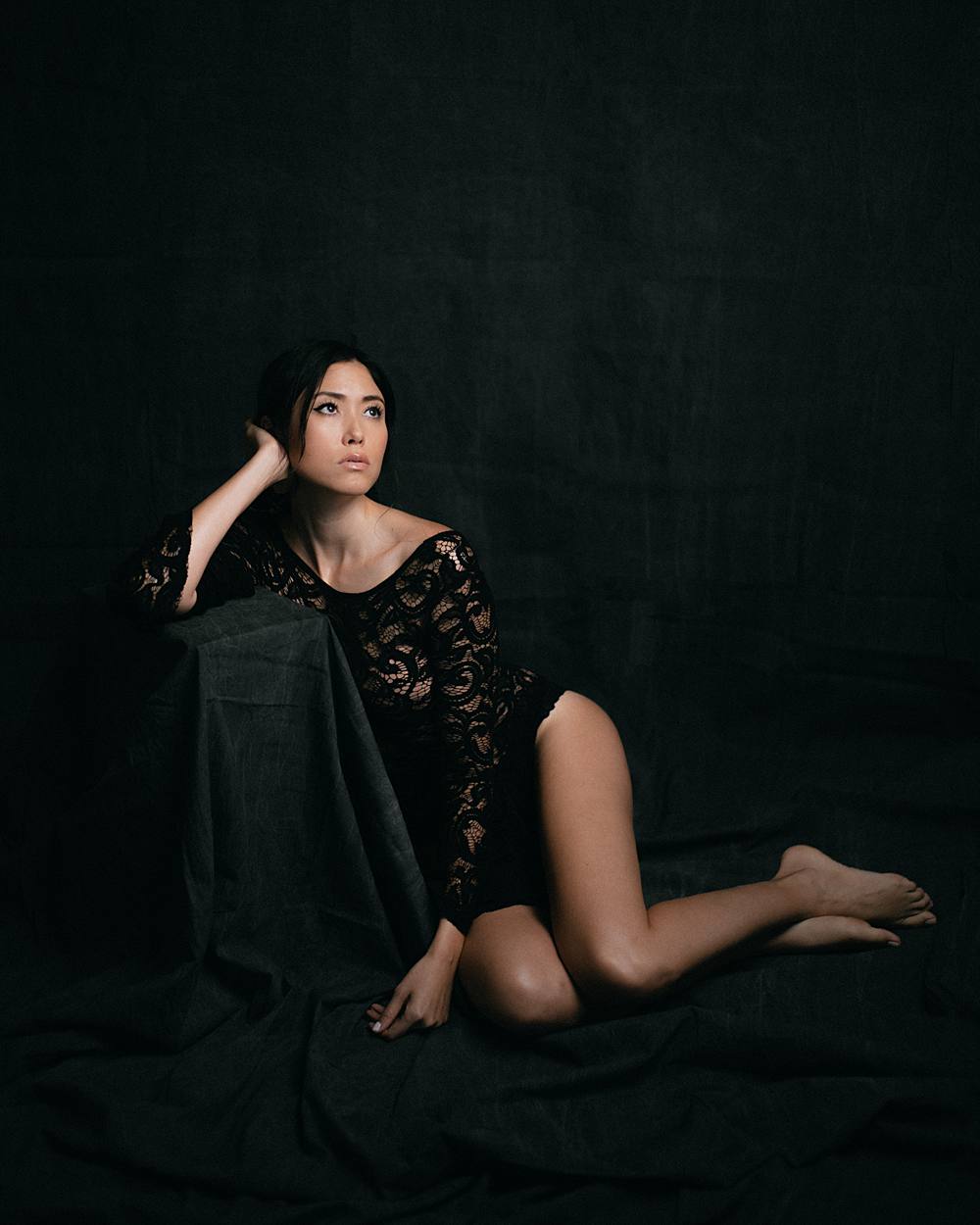 If you are located in Charleston South Carolina or Traverse City Michigan and are interested in a studio boudoir shoot, please contact me and we can discuss the finer details of self expression!  If you are destination, I can bring the photography studio to you and we can do a lifestyle boudoir session or makeshift studio boudoir session wherever you may live. 
If you have addtional questions about boudoir in general, my approach to a boudoir, or have concerns about hiring a male photographer for your boudoir session, I would love it if you read through the blog post below!  I think it will be a great help in answering any questions you might have. 
Why You Should Consider Booking a Boudoir Session
~~                                                                                      ~~
If you are inspired by what you read, I'd love to invite you to reach out about the photography services I offer. My guarantee is that you won't find a photographer that cares more about you and your story than I. I'm endlessly passionate about telling stories on film and pushing the boundaries of art in wedding and portrait photography. I'd be thrilled to work for you and document your story, wedding or business in Charleston South Carolina, Northern Michigan, or any destination abroad.
If you'd like more info about this post, would just like to chat, or are ready to book, reach out to me by visiting my contact page here!