Statuesque Fashion Inspired Studio Bridal Portraits in Charleston SC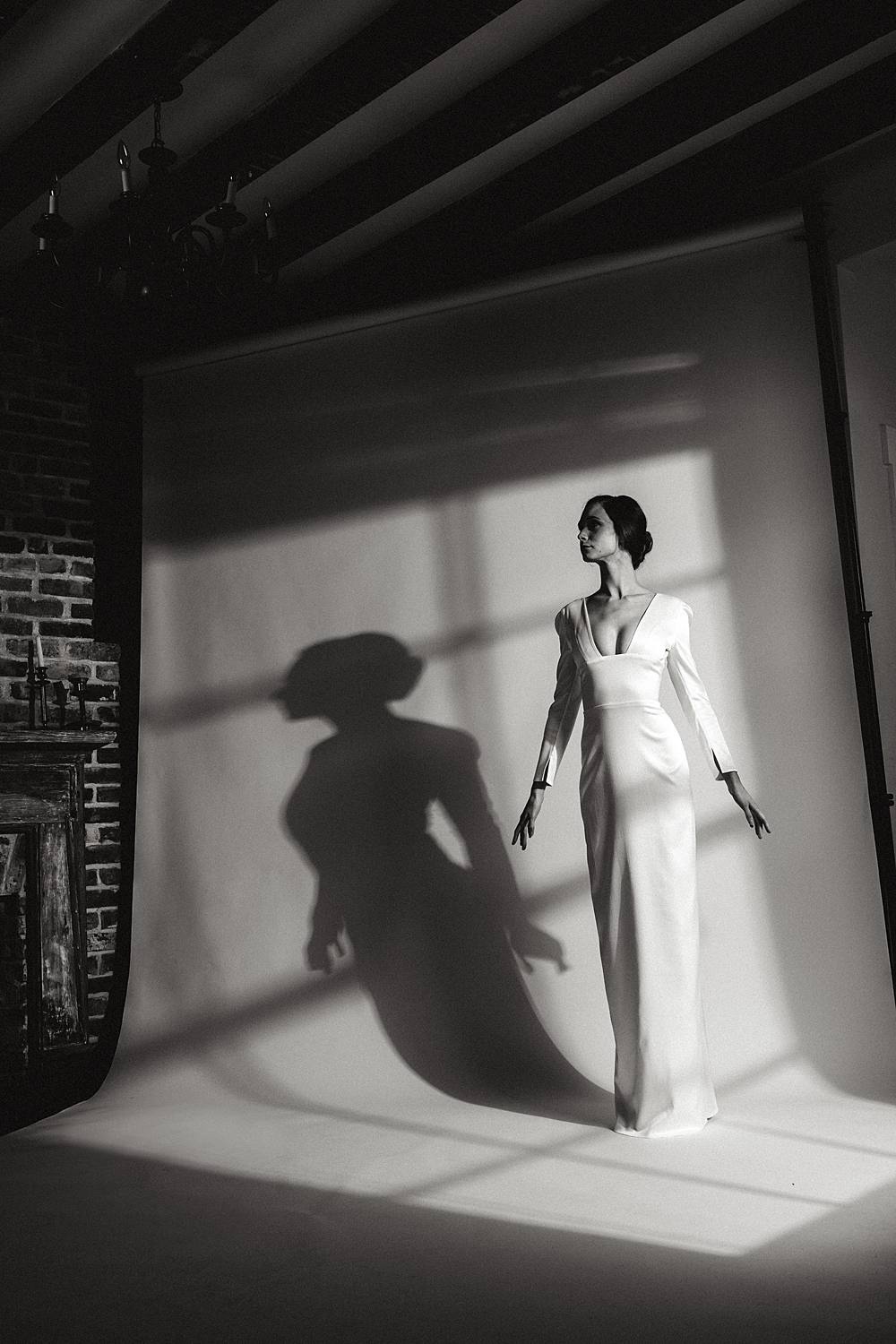 Statuesque Fashion Inspired Studio Bridal Portraits in Charleston SC
Charleston studio bridal portraits inspired by 1960s Vogue magazine editorial styling. Strong light and a slim cut dress from Lovely Bride create a statuesque beauty and posture that is powerful, yet soft, from this southern bridal portrait inspiration in the Brian D Smith Photography portrait studio - Studio Sixty Reid.
April 20, 2020, 4:43 p.m.
My wedding photography work is becoming increasingly inspired by fashion and I wanted to create something that was a bit more Vogue, than Martha Stewart, but still captured the timeless beauty of a Southern Bride. The result was this statuesque, studio bridal portrait shoot from my Charleston SC photography studio - Studio Sixty Reid. Photographing bridal portraiture in studio is what inspired me to open a photography studio in the first place, and my love of fashion and dramatic expression inspires me to push boundaries as a Charleston Wedding Photographer. The below image is a culmination of artistic experimentation and classic, 1960s Vogue era glamour.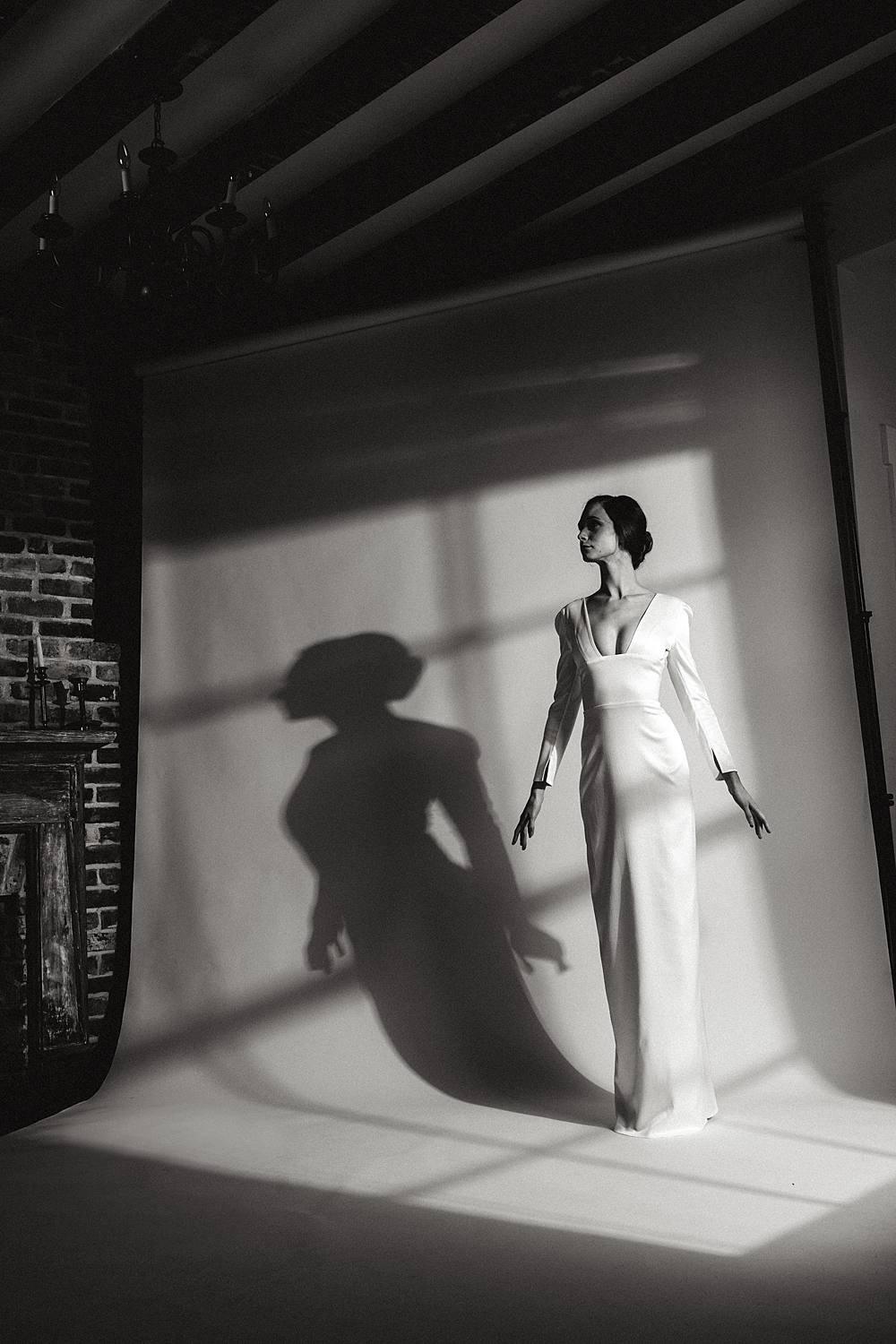 The Inspiration Behind the Charleston Studio Bridal Portrait
My inspiration in bringing studio portraits to the Charleston Wedding Photography market is to retain the timeless, classical nature of the Southern Bride and the studio portrait while pushing boundaries of what is traditionally beautiful. I want to interject a bit of experimental fashion and editorial inspiration into my work as a Charleston Wedding Photographer. I think the studio bridal portrait will be the next big thing, and I think it's the artistic progression that will keep me at the forefront of that movement. 
The Dress - The Initial Inspirtion for this Charleston Bridal Portrait Shoot
The concept for the shoot came to me immediately when I saw the bride standing in the dress. The sleak silhouette and her lean dancer figure created these statuesuqe lines. I accentuated the statuesque qualities of the dress by adding in harsh, angular lighting. The lighting casts shadows on the bride and backdrop and creates a sense of mystery as if to suggest the shadow is a third party in this bridal portrait endeavor. The shadow lines from the window add another element of linear texture to the portraits and make these Charleston Bridal Portraits stand out as something truly unique in a tradiitonally southern wedding market. 
This wedding dress can be found at Lovely Bride Charleston
The dress designer is Sarah Seven and the model is Lucia https://lovelybride.com/dresses/sarah-seven/lucia-3/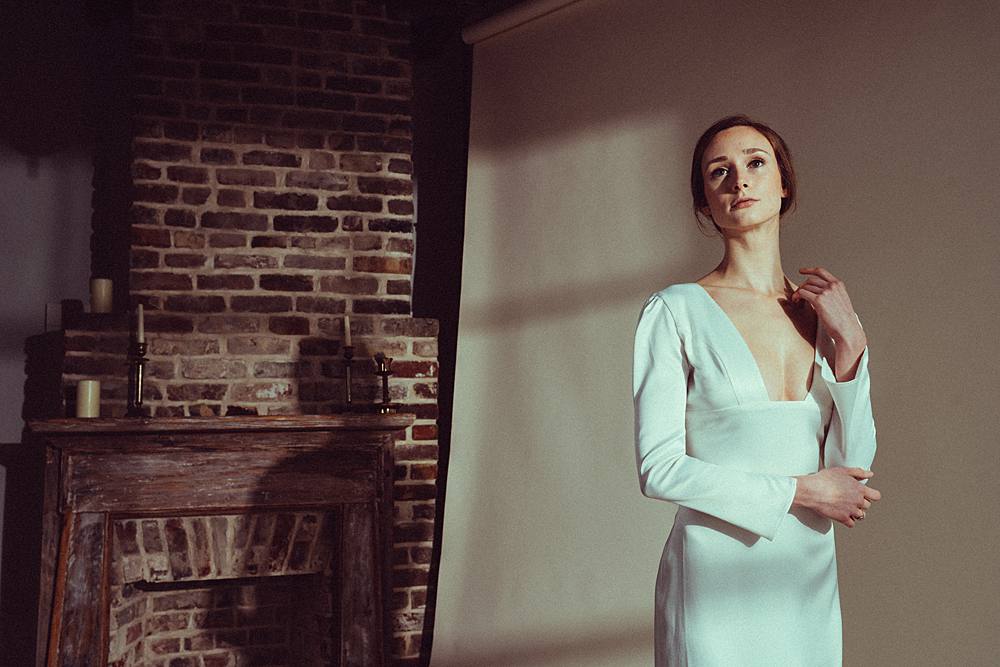 The Beauty of Studio Bridal Portraits
My favorite thing about photographing bridal portraits in my Charleston SC photography studio is that the studio creates a blank slate. You can create anything from nothing. There is beauty to be found with a bride against a bear white backdrop, and equally so in an elaborately constructed set. Studio bridal portraits are dynamic. All at once you can create a sense of mood and drama for the Charleston bride, while simultaneously retaining that sense of quiet beauty. The below image is a great example of a quiet, subtley beautiful moment during a bridal portrait shoot that, otherwise, conveys a strong sense of posture and drama.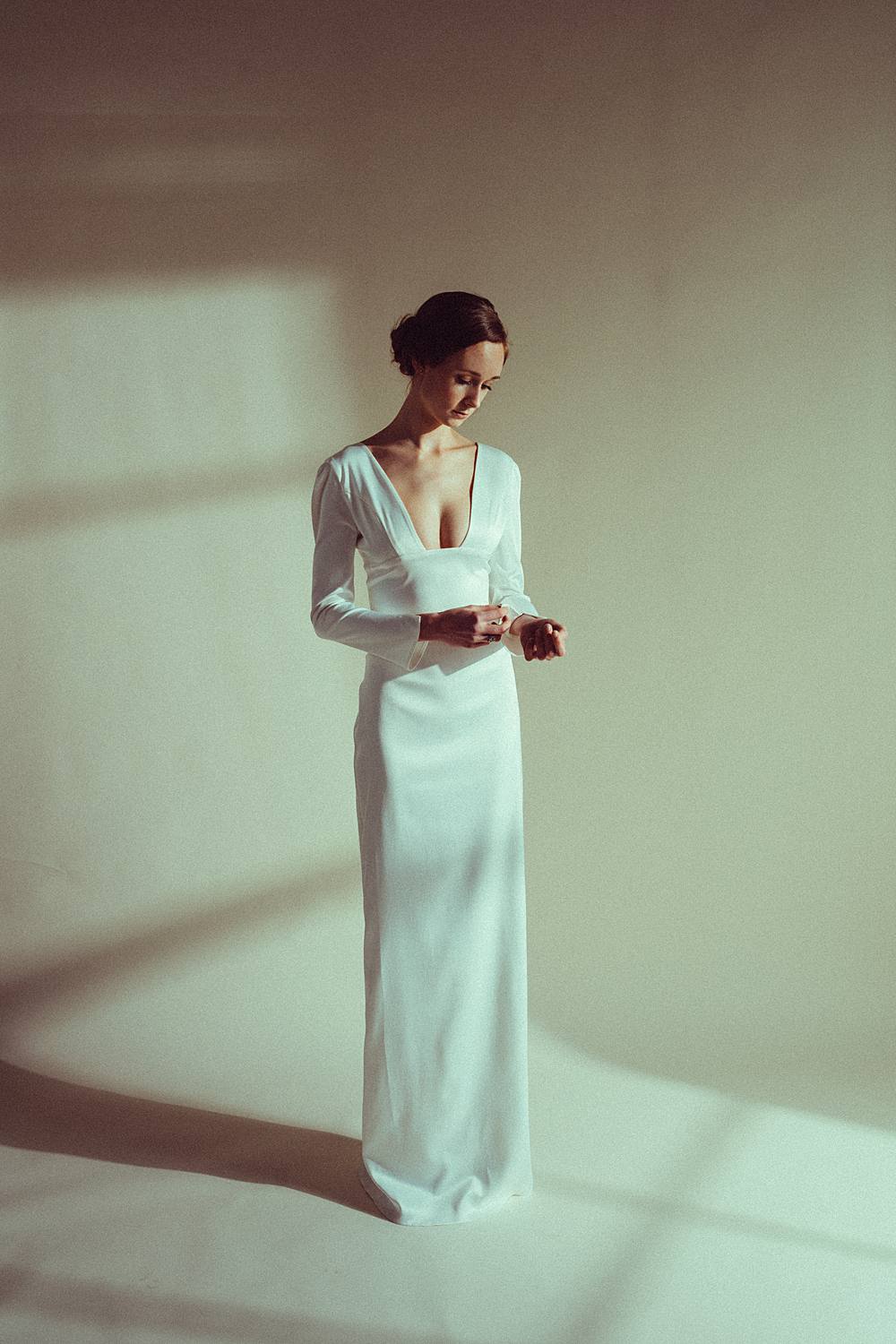 If you are curious about what your studio bridal portrait session could be, if you are curious about how studio bridal portraits incorporate into you Charleston Wedding Photography or Michigan Wedding Photography package, reach out and I'll talk you through all of the possibilities. From soft and beautiful, to traditional glam, to experimental and art-forward, we do it all at Studio Sixty Reid.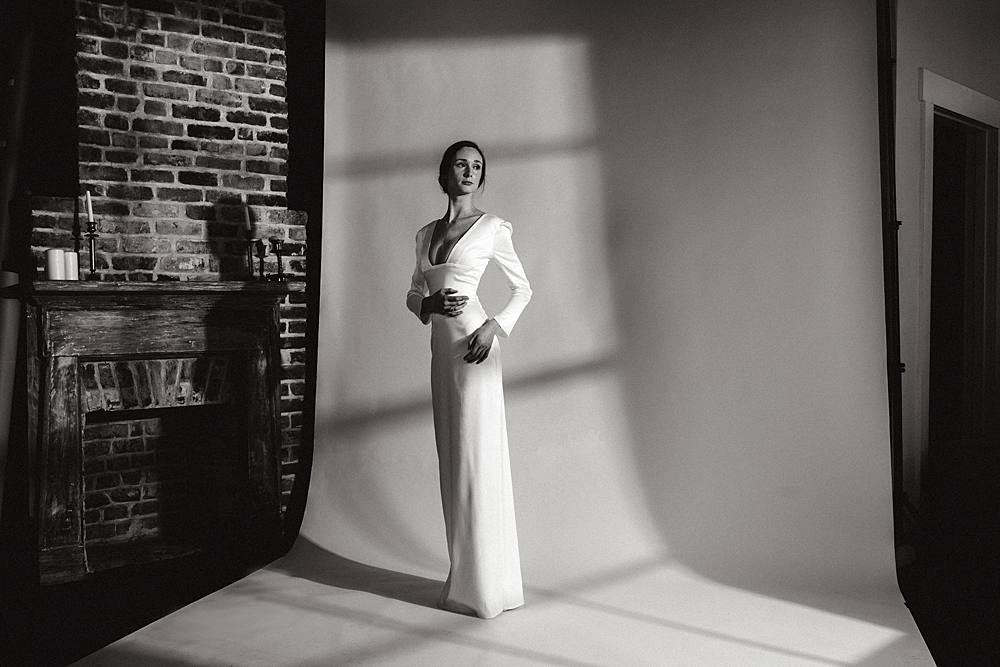 ~~                                                                                      ~~
If you are inspired by what you read, I'd love to invite you to reach out about the photography services I offer. My guarantee is that you won't find a photographer that cares more about you and your story than I. I'm endlessly passionate about telling stories on film and pushing the boundaries of art in wedding and portrait photography. I'd be thrilled to work for you and document your story, wedding or business in Charleston South Carolina, Northern Michigan, or any destination abroad.
If you'd like more info about this post, would just like to chat, or are ready to book, reach out to me by visiting my contact page here!