Charleston Bridal Portraits on the Cover of The Carolinas Magazine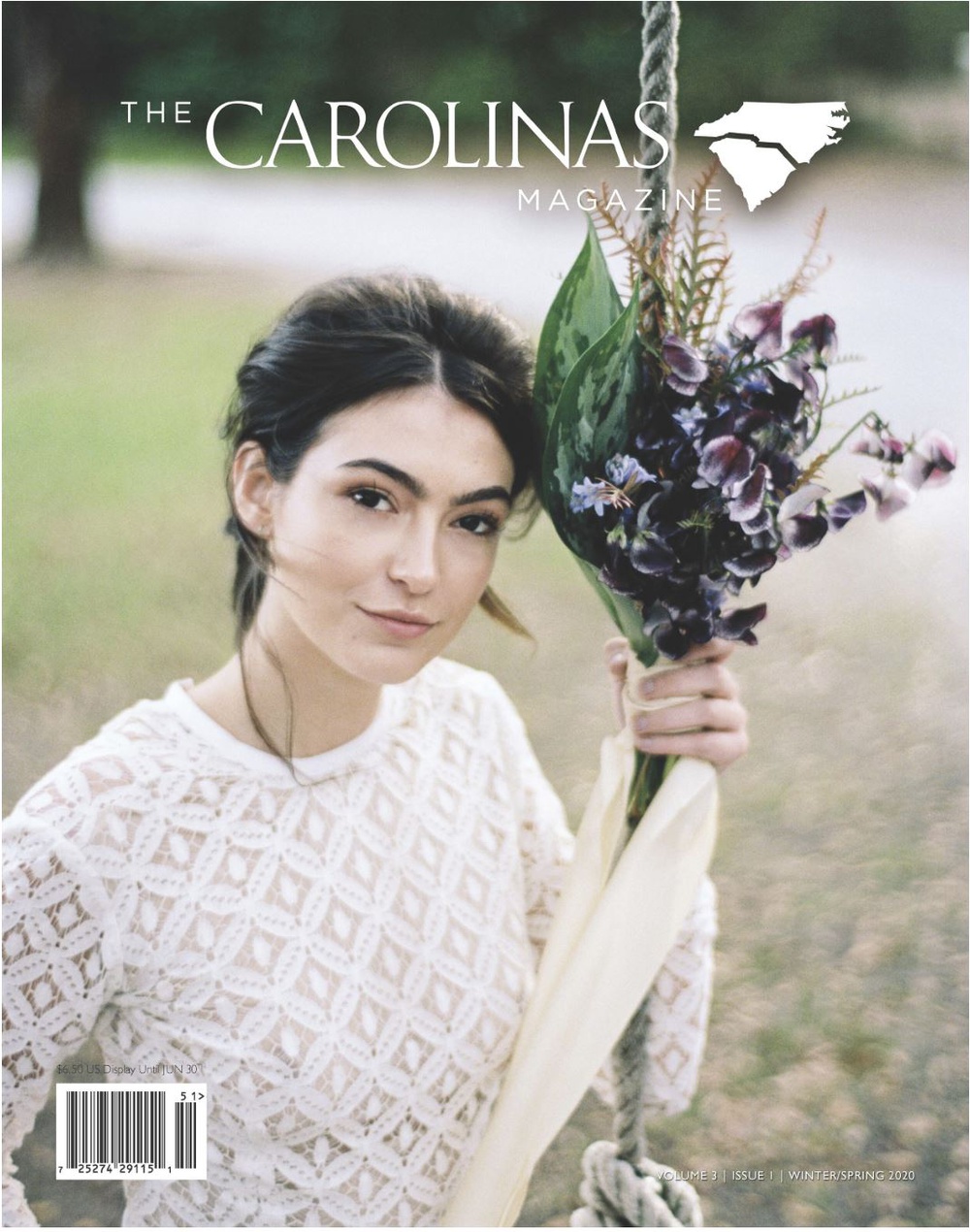 Charleston Bridal Portraits on the Cover of The Carolinas Magazine
Featured on the cover of The Carolinas Magazine! Charleston South Carolina spring bridal portraits at Wingate Plantation during peak azalea bloom season. Sunset light and southern oaks create the perfect backdrop for bridal or wedding day portraits and would make any Charleston wedding photographer swoon!
Dec. 29, 2019, 11:37 a.m.
WE MADE THE COVER OF THE CAROLINAS MAGAZINE!
The Carolinas Magazine - Winter / Spring 2020
I'm just so thrilled to announce that my spring bridal editorial at Wingate Plantation in Charleston South Carolina made the cover story for The Carolinas Magazine! This editorial paired a skirt dress and lace bodysuit from Sweet Caroline Styles with a dainty purple and green bouquet from Petaloso. The petite form of the bouquet accentuated the effortless flow and movement of the skirt dress, while its colors matched the hues of Charleston's Azaleas. The bouquet was featured in Looks Like Film's top 20 wedding bouquet trends for 2019 Looks Like Film - Top 20 Bridal Bouquet Trends of 2019
Charleston's azaleas are only in peak bloom for a short period of time, sometimes only lasting a week or less. With a little bit of luck we scheduled our shoot on the beautiful plantation grounds when the purple, pink and white blooms were on full display. Beautiful flowers combined with fading spring light filtering through the spanish moss of the oaks, create an enviable backdrop for any bridal portraits and an ideal location to host your southern wedding. I'm so thankful for everyone who helped work on the project and trusted me with their brand and hard work. A special thanks to The Carolinas magazine for selecting one of my images for the cover. It's truly an honor and I couldn't be more proud.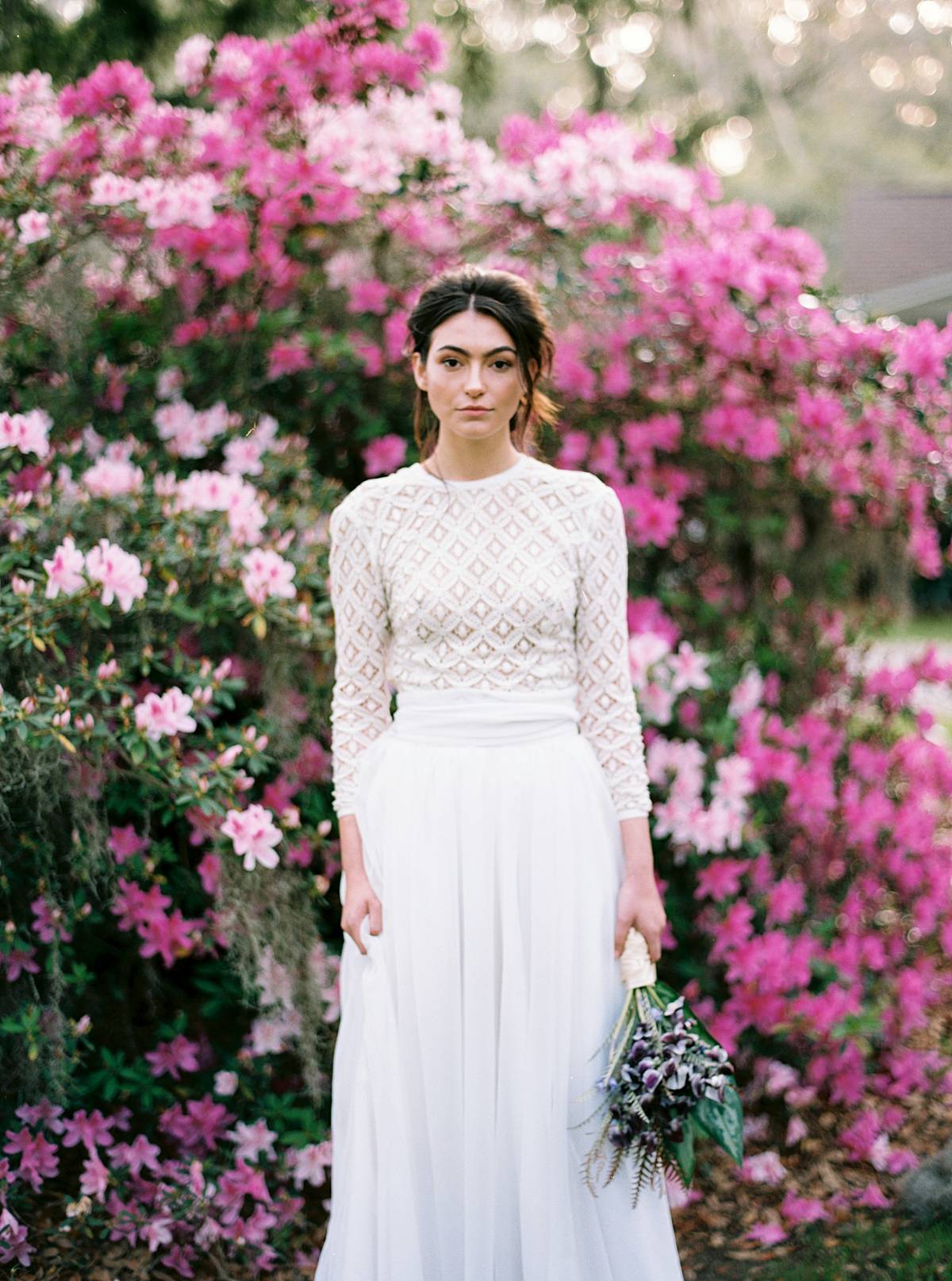 THE TEAM: 
Photography/Styling: Brian D Smith Photography (Charleston, SC)
http://briandsmithphotography.com/  /  https://instagram.com/briandsmithphotography
Florals/Styling: Petaloso (Charleston, SC)
https://www.wearepetaloso.com/  /  https://www.instagram.com/wearepetaloso/
Model: Haylee Michalski (Charleston, SC)
https://www.instagram.com/hayleemichalski_/  /  http://www.millielewischarleston.com/haylee-michalski
HMUA: Pampered and Pretty (Charleston, SC)
https://www.pamperedandprettyxo.com/  /  https://www.instagram.com/pamperedandprettyxo/
Bodysuit/Dress: Sweet Caroline Styles (Etsy Store)
https://sweetcarolinestyles.com/  /  https://www.instagram.com/sweetcarolinestyles/
Venue: Wingate Plantation (Charleston, SC)
https://wingateplantation.com/  /  https://www.instagram.com/wingateplantation/