Charleston Bridal Portraits on the Cover of The Carolinas Magazine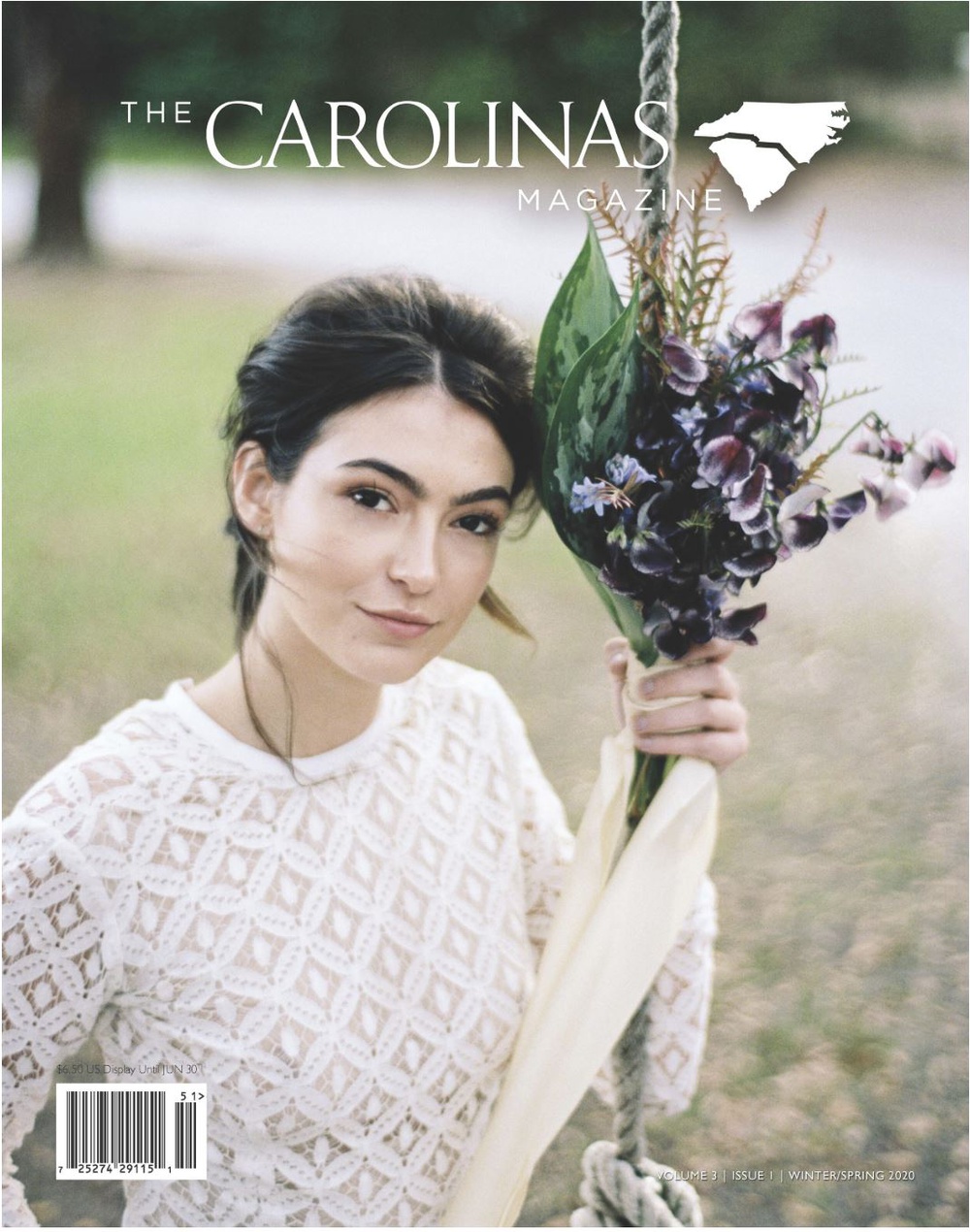 Charleston Bridal Portraits on the Cover of The Carolinas Magazine
Featured on the cover of The Carolinas Magazine! Charleston South Carolina spring bridal portraits at Wingate Plantation during peak azalea bloom season. Sunset light and southern oaks create the perfect backdrop for bridal or wedding day portraits and would make any Charleston wedding photographer swoon!
Dec. 29, 2019, 11:37 a.m.
Wingate Plantation Charleston Spring Bridal Portraits Featured in The Carolinas Magazine
The Carolinas Magazine - Winter / Spring 2020
I'm just so thrilled to announce that my spring bridal editorial at Wingate Plantation in Charleston South Carolina made the cover story for The Carolinas Magazine! This editorial paired a skirt dress and lace bodysuit from Sweet Caroline Styles with a dainty purple and green bouquet from Petaloso. The petite form of the bouquet accentuated the effortless flow and movement of the skirt dress, while its colors matched the hues of Charleston's Azaleas. The bouquet was featured in Looks Like Film's top 20 wedding bouquet trends for 2019 Looks Like Film - Top 20 Bridal Bouquet Trends of 2019
Charleston's azaleas are only in peak bloom for a short period of time, sometimes only lasting a week or less. With a little bit of luck we scheduled our shoot on the beautiful plantation grounds when the purple, pink and white blooms were on full display. Beautiful flowers combined with fading spring light filtering through the spanish moss of the oaks, create an enviable backdrop for any bridal portraits and an ideal location to host your southern wedding. I'm so thankful for everyone who helped work on the project and trusted me with their brand and hard work. A special thanks to The Carolinas magazine for selecting one of my images for the cover. It's truly an honor and I couldn't be more proud.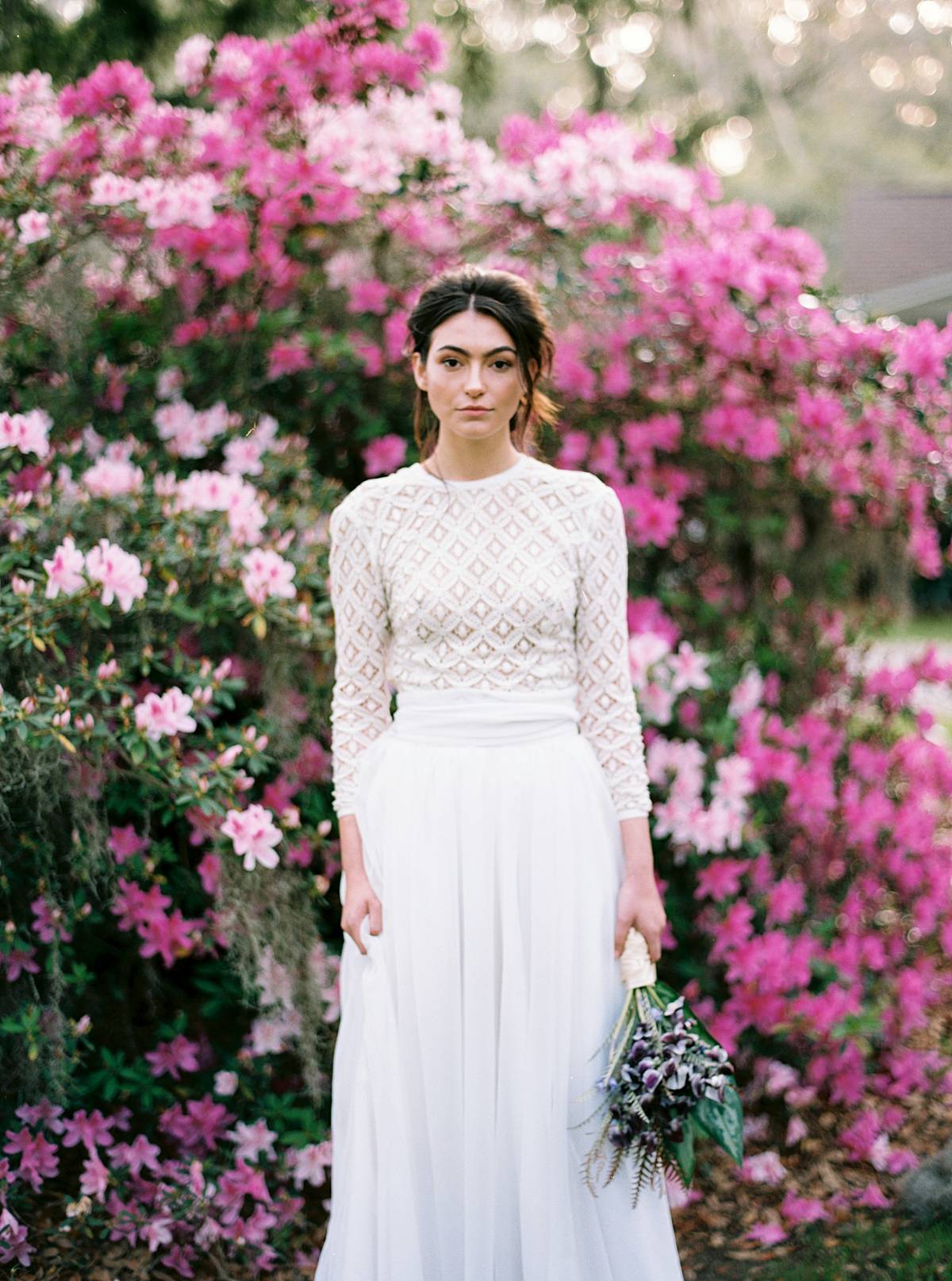 The Charleston Wedding Vendor Team:
Photography/Styling: Brian D Smith Photography (Charleston, SC)
http://briandsmithphotography.com/  /  https://instagram.com/briandsmithphotography
Florals/Styling: Petaloso (Charleston, SC)
https://www.wearepetaloso.com/  /  https://www.instagram.com/wearepetaloso/
Model: Haylee Michalski (Charleston, SC)
https://www.instagram.com/hayleemichalski_/  /  http://www.millielewischarleston.com/haylee-michalski
HMUA: Pampered and Pretty (Charleston, SC)
https://www.pamperedandprettyxo.com/  /  https://www.instagram.com/pamperedandprettyxo/
Bodysuit/Dress: Sweet Caroline Styles (Etsy Store)
https://sweetcarolinestyles.com/  /  https://www.instagram.com/sweetcarolinestyles/
Venue: Wingate Plantation (Charleston, SC)
https://wingateplantation.com/  /  https://www.instagram.com/wingateplantation/
Why I love Wingate Plantation as a Charleston Wedding Venue
Wingate plantation is a massive, yet intimate property just outside of Charleston South Carolina. It has all the charm of a Charleston wedding venue without the hustle and crowds of a downtown or more touristy plantation setting. The wedding venue features a massive oak tree that is the perfect spot for your wedding ceremony, a small cottage house for bridal prep and getting ready, and a permanent tent for your wedding reception. The oak trees and spanish moss at this south carolina wedding venue are some of the pretties I have seen in Charleston and it's a dream drenched in sunset light. If you catch it at the right time of the year, usually in April, you get the most dazeling purple and pink Azaleas in bloom. The sunsets are beautiful and there is plenty of open property to catch that last charleston golden light all the way through til it fully dips below the horizon.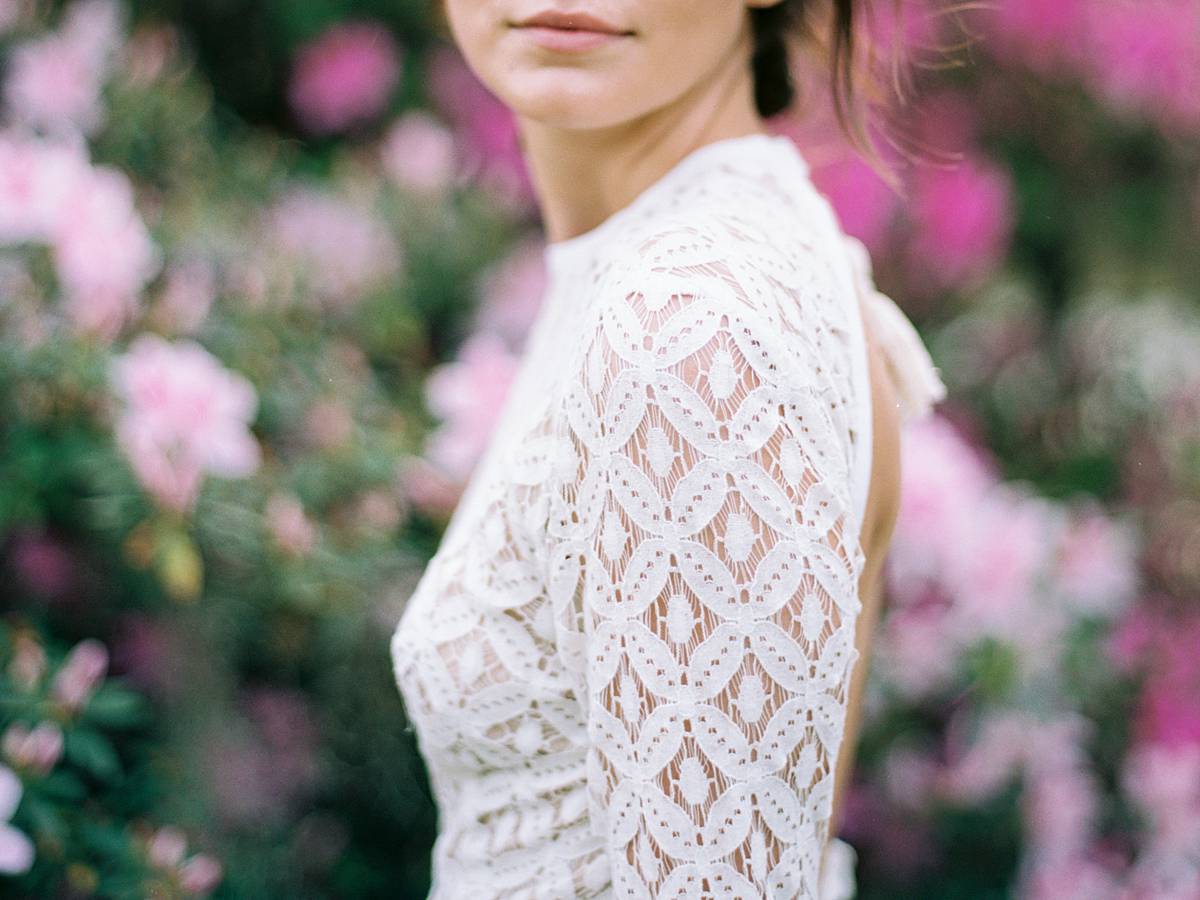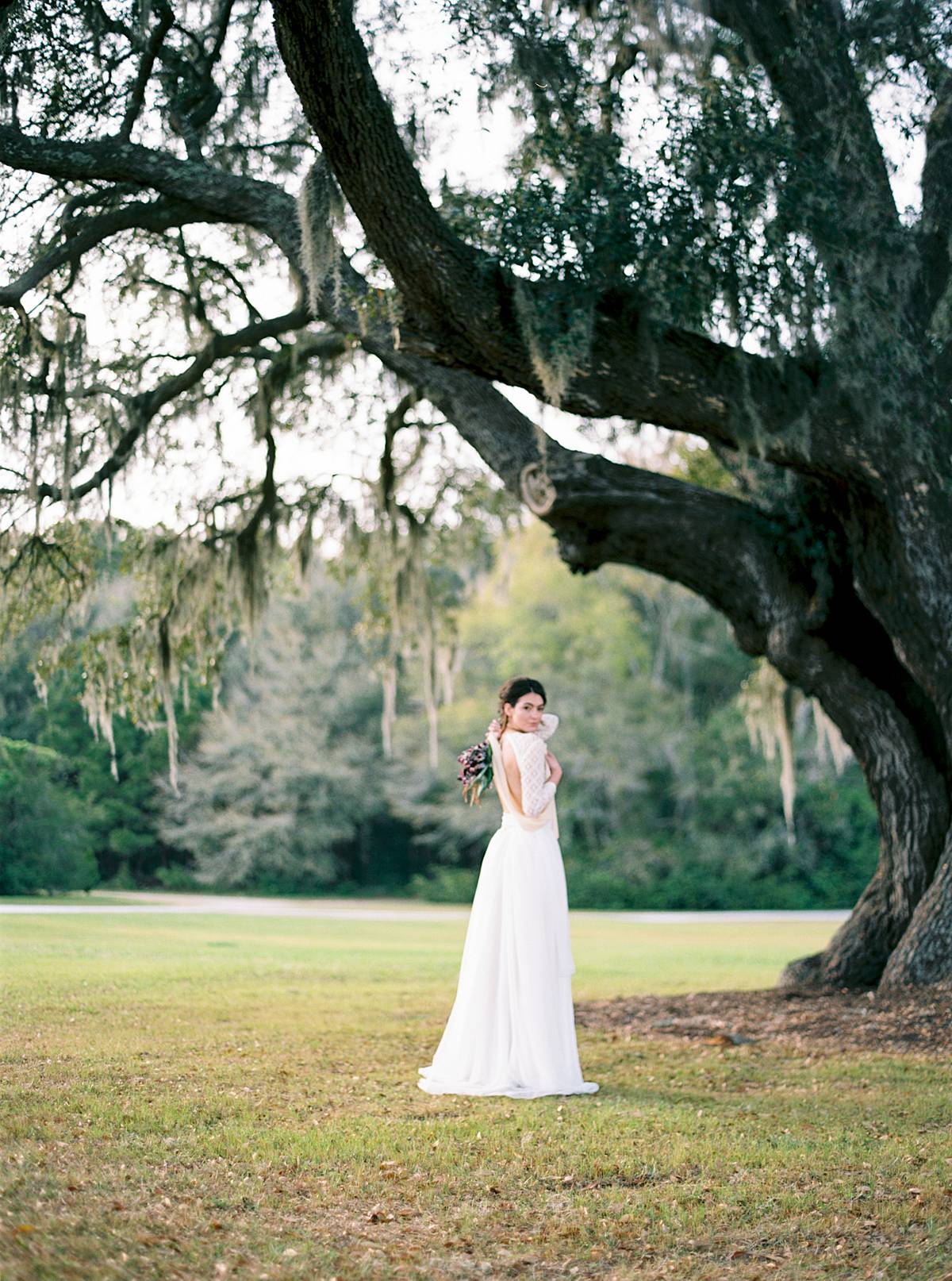 Why You Should Hire Me For That Venue
I'm always searching for unique backdrops, light and colors to document your love on your charleston wedding day. I wasn't planning on the azaleas being in bloom, but quickly noticed their brilliant colors and made them a significant part of these bridal portraits. Every time I photograph a wedding, elopement or bridal portraits at a Charleston wedding venue, it is always different. My approach is always the same, to find the best light and most interesting backdrop, but no two results are alike because every couple is different and Wingate Plantation changes so much throughout the year. Wingate is one of my favorite Charleston wedding venues for all of the reasons you'll see in the images below. As a Charleston wedding photographer, there is so much beautiful light and interesting texture to play with and the end results are timeless, art forward yet quintessentially southern wedding photos.
To See the Accompanying Bridal Boudoir Shoot at Wingate Plantation Check out the Following Blog Post
Timeless Charleston Bridal Boudoir at Wingate Plantation
~~                                                                            ~~

If you are inspired by what you read, I'd love to invite you to reach out about the photography services I offer. My guarantee is that you won't find a photographer that cares more about you and your story than I. I'm endlessly passionate about telling stories on film and pushing the boundaries of art in wedding and portrait photography. I'd be thrilled to work for you and document your story, wedding or business in Charleston South Carolina or any destination abroad.
If you'd like more info about this post, would just like to chat, or are ready to book, reach out to me by visiting my contact page here!