Autumn Inspired Marriage Proposal and Elopement Inspiration at Wavering Place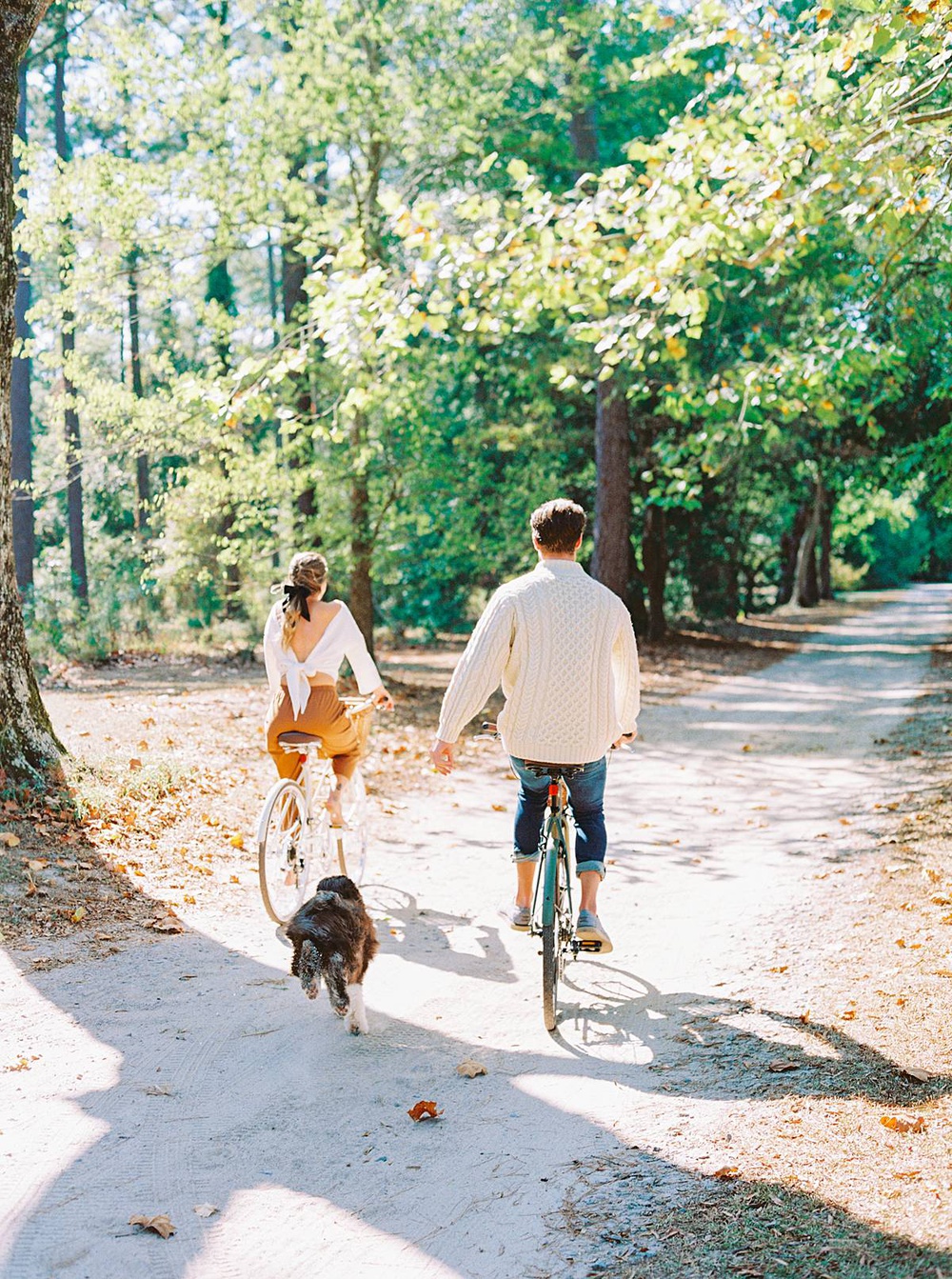 Autumn Inspired Marriage Proposal and Elopement Inspiration at Wavering Place
FEATURED ON RUFFLED BLOG! Autumn inspired proposal and engagement session at Wavering Place in Eastover South Carolina. Shot entirely on kodak film.
Nov. 10, 2019, 1:40 p.m.
SOUTH CAROLINA ENGAGEMENT FEATURED ON RUFFLED BLOG!
Ruffled Blog - Autumn Runaway Proposal and Engagement at Wavering Place
I've long had an idea in my head for a runaway marriage proposal and elopement - a couple sneaking away for a weekend, exploring and adventuring, photographing their own love. Wavering Place in the fall, provided the perfect southern backdrop for some timeless romanticism with a touch of wanderlust adventure. This ambitious editorial was broken down into two primary galleries, featuring a monochrome story within the context of the greater story. The outsider views the storyline in brilliant fall color as it unfolds in front of their eyes, while an intimate story in black and white continues throughout as the couple explores and documents their own love. This first storyline explores the discovery of an unknown property, the exploration of young love, an eventual proposal, and a return to site of their engagement for an elopement weekend filled with bike rides and apple pie. 
I used vintage cameras and black and white Kodak film to tell the southern engagement story as a subplot to the proposal. Shot using on my grandfather's old Zeiss Ikon Ikoflex Favorit Camera and my Leica M-A 35mm and Tri-x 400 film. Isn't this intimate perspective of your southern engagement and proposal romantic?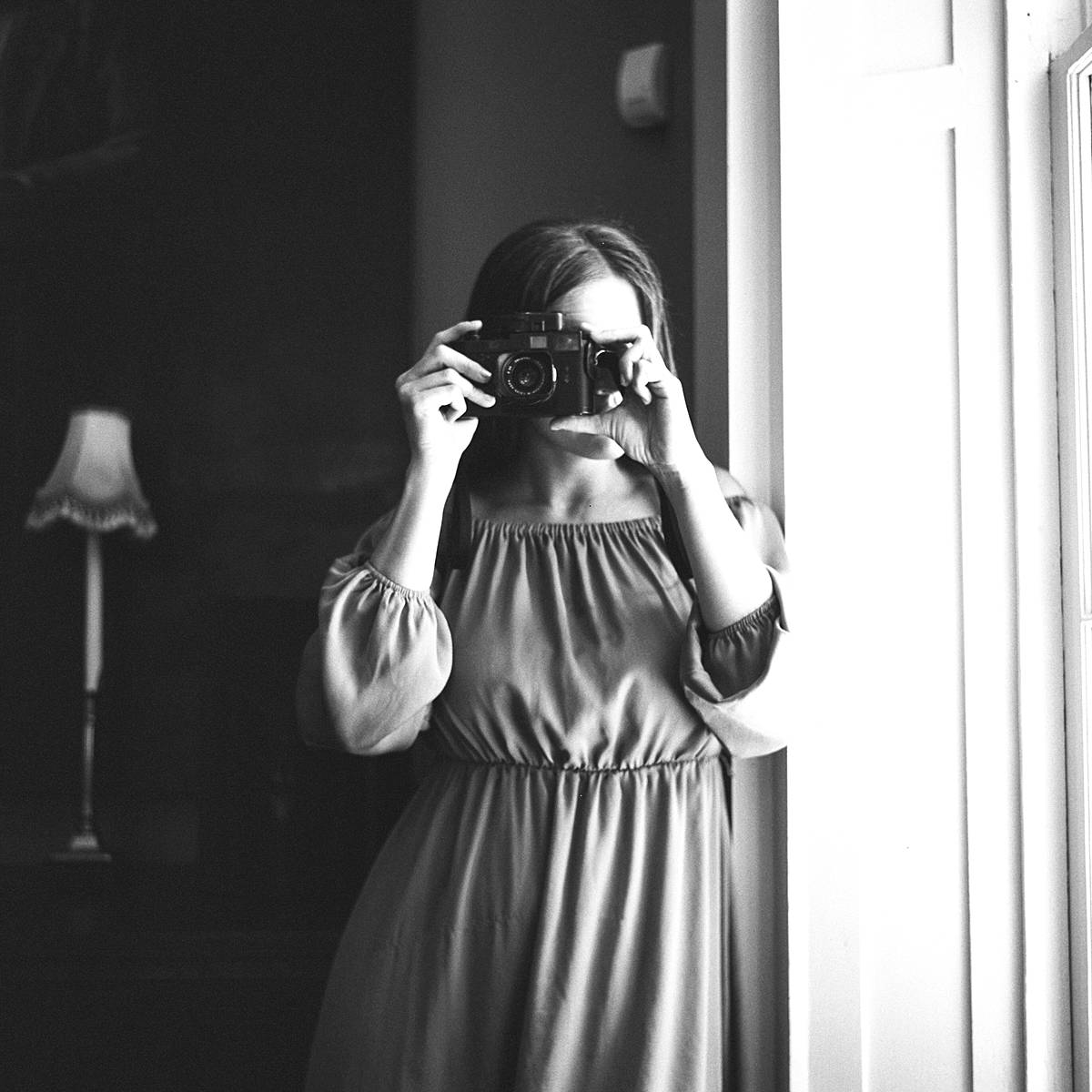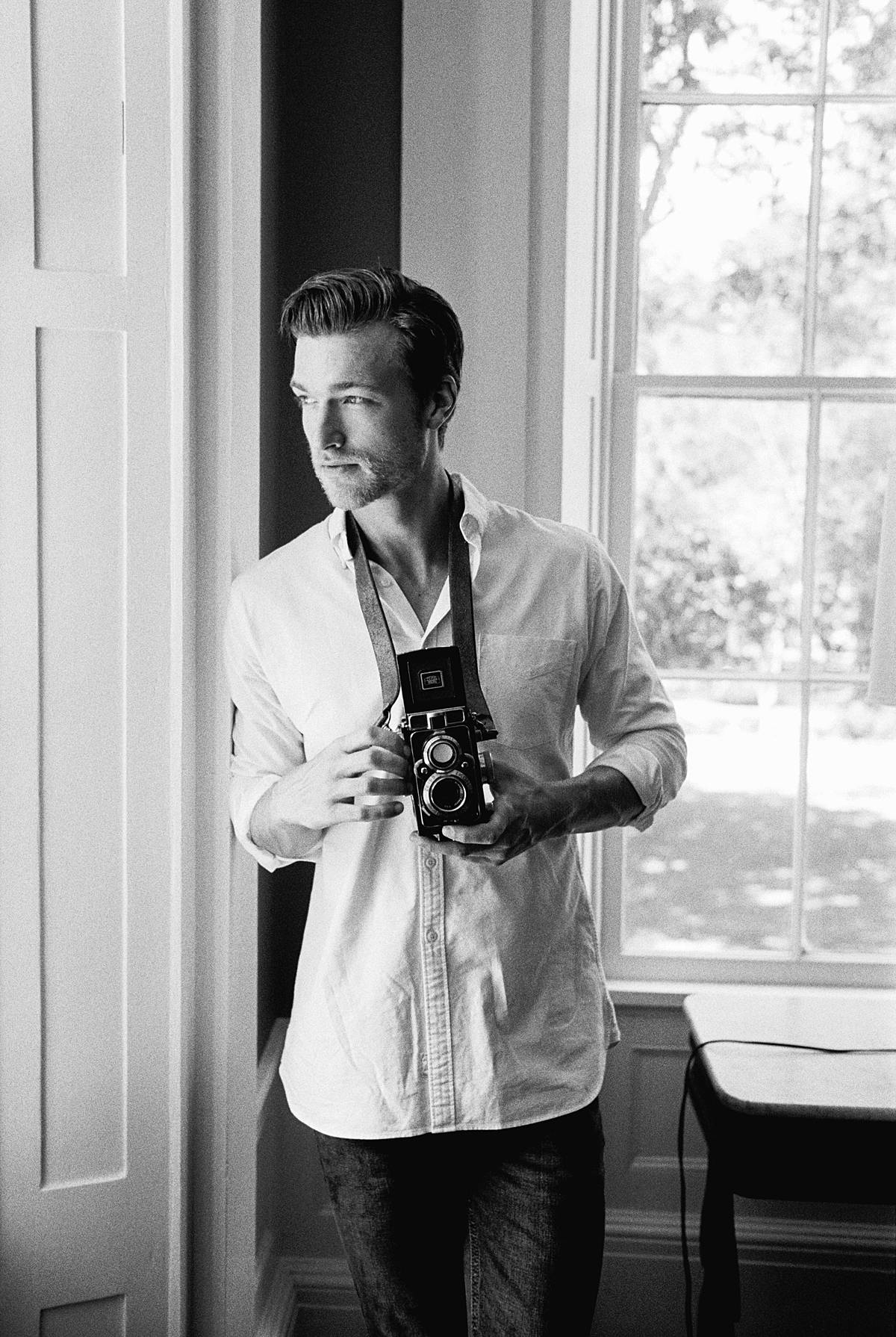 Shop The Earth Tone Fall Engagement Fashion on Ruffled Blog
Ruffled Blog - Fall Engagement Outfit Inspiration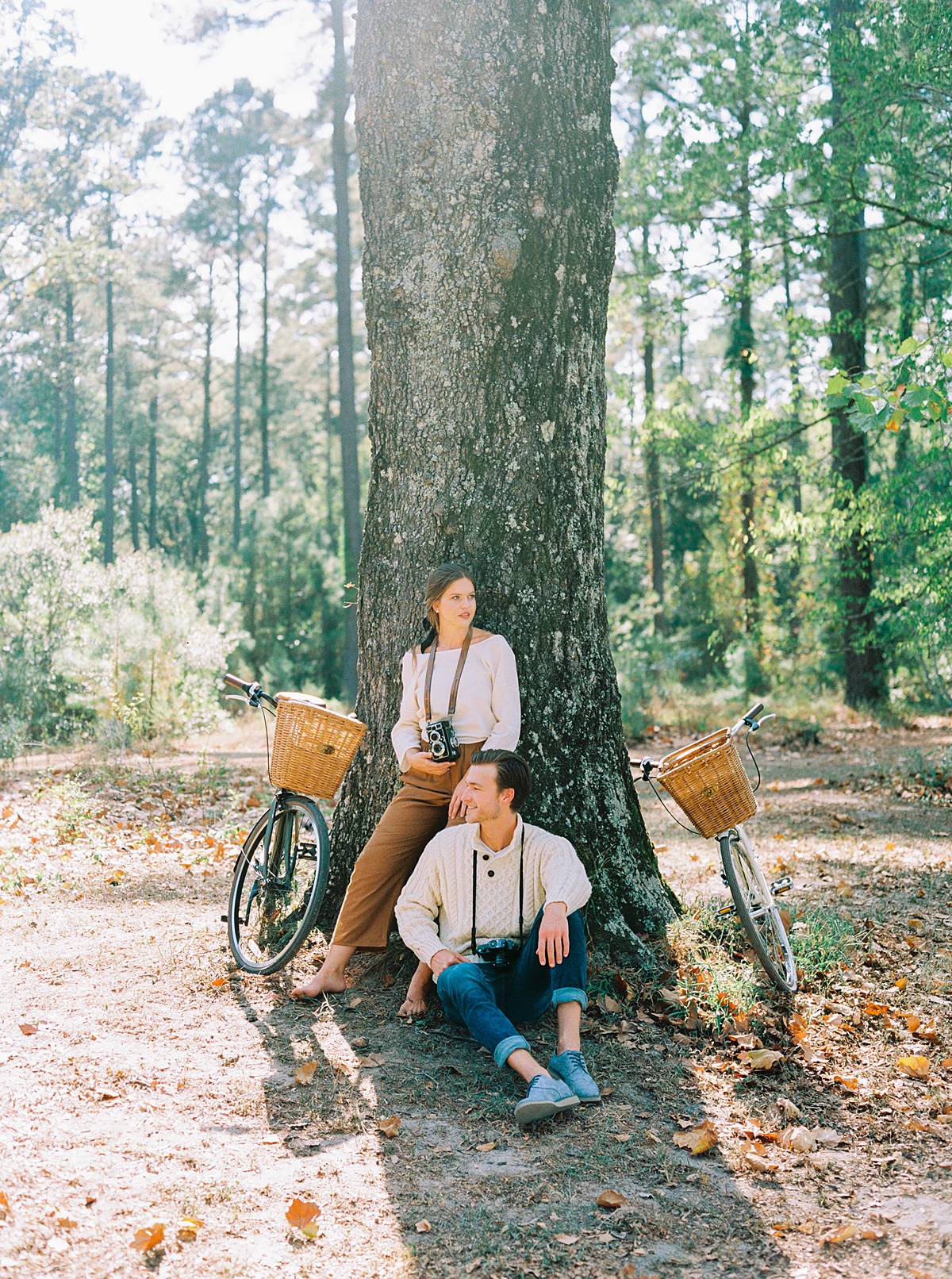 Charleston South Carolina Wedding Vendor Editorial Team
Photography: Brian D Smith Photography  /  https://www.instagram.com/briandsmithphotography/
Planning + Design: Willow and Oak Events  /  https://www.instagram.com/willow.and.oak.events/
Floral Design: Philo Floral  /  https://www.instagram.com/philofloral/
Venue: Wavering Place  /  https://www.instagram.com/waveringplace/
Paper Goods: Little North Company  /  https://www.instagram.com/littlenorthcompany/
Hair + Makeup Artist: Contours and Curls  /  https://www.instagram.com/contoursandcurls/
Gown: Jenny Yoo via Bella Bridesmaids /  https://www.instagram.com/jennyyoonyc/  /  https://www.instagram.com/bellabridesmaids/
Bride's Sweater: & Other Stories  /  https://www.instagram.com/andotherstories/
Bride's Autumn Attire: Hackwith Design House  /  https://www.instagram.com/hackwithdesign/
Groom's Fashion: ASOS  /  https://www.instagram.com/asos/
Pies: Vanilla and the Bean  /  https://www.instagram.com/vanillaandthebean/
Rings: Sofia Kaman  /  https://www.instagram.com/sofiakaman/
Tabletop Pieces: Farmhouse Pottery  /  https://www.instagram.com/farmhousepottery/
Linens: Magic Linen  /  https://www.instagram.com/magiclinen/
Napkins: Silk and Willow  /  https://www.instagram.com/silkandwillow/
Bicycles: Outspokin'  /  https://www.instagram.com/outspokincola/
Models: Kelsey Chambers and Dylan Gibhart from Directions USA
To See The Second Half of this Southern Wedding Love Story, Click the Link Below
Ruffled Blog - Fall Intimate Micro Wedding at Wavering Place in South Carolina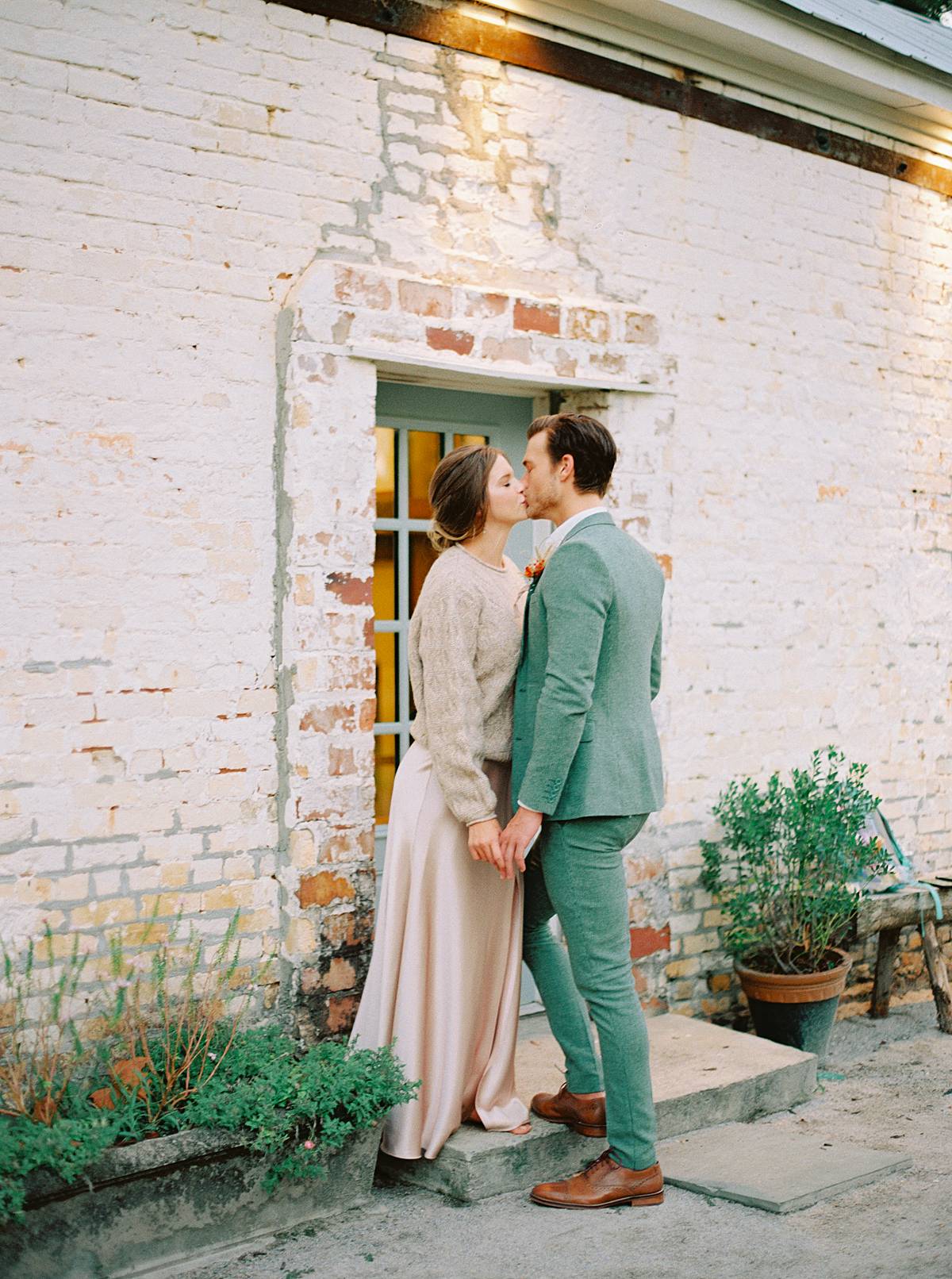 Wavering Place is one of the most beautiful venues in the Southeast. It's historic charm, deep family ties, and sprawling greenery make it the perfect destination for your southern wedding, elopement, or engagement. Located just outside of Columbia, South Carolina it's a short drive from the beach in Charleston and the mountains of Asheville. 
~~                                                                            ~~

If you are inspired by what you read, I'd love to invite you to reach out about the photography services I offer. My guarantee is that you won't find a photographer that cares more about you and your story than I. I'm endlessly passionate about telling stories on film and pushing the boundaries of art in wedding and portrait photography. I'd be thrilled to work for you and document your story, wedding or business in Charleston South Carolina or any destination abroad.
If you'd like more info about this post, would just like to chat, or are ready to book, reach out to me by visiting my contact page here!