Destination Engagement Session at Middleton Place in Charleston SC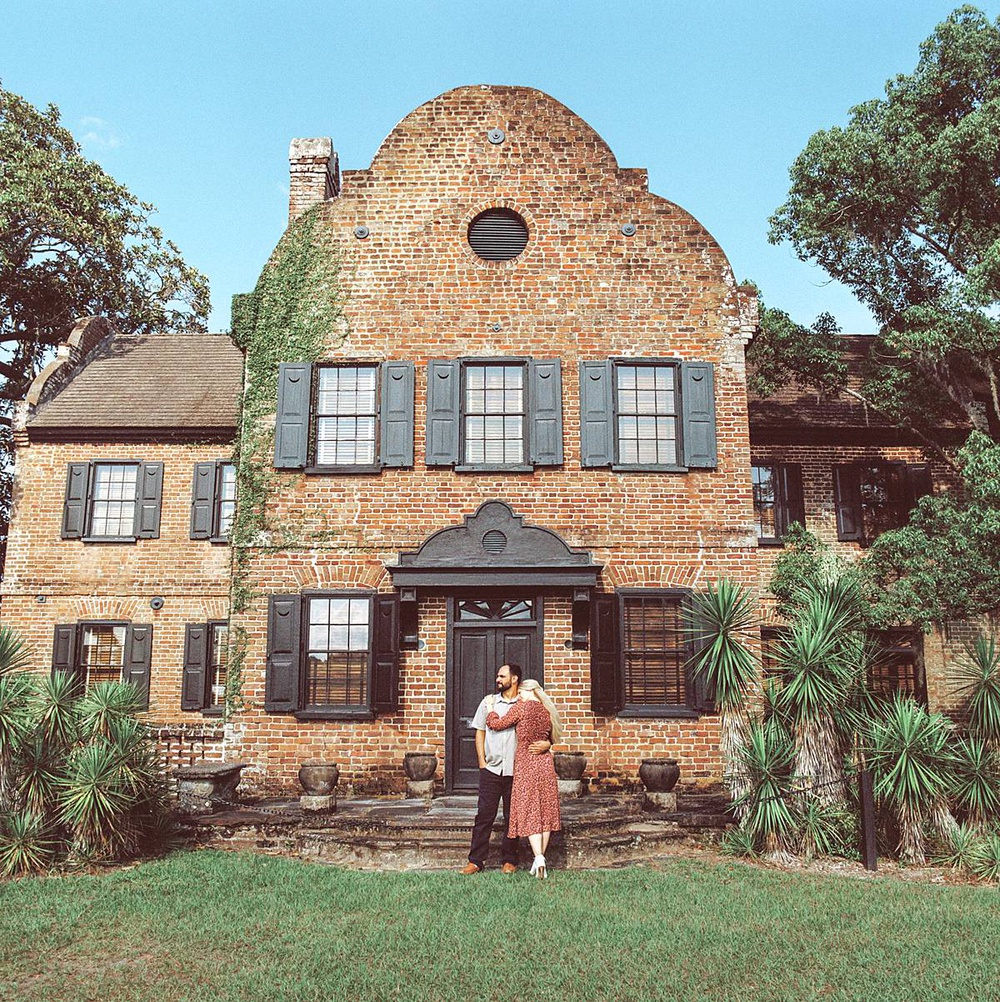 Destination Engagement Session at Middleton Place in Charleston SC
An early summer engagement session at my favorite southern wedding venue Middleton Place in Charleston South Carolina. Shot entirely on kodak film, medium format and 35mm, and featuring a special surprise super 8 film. This Charleston engagement session tells the story of one of my favorite couples and why we bonded so strong.
July 9, 2020, 9:30 a.m.
About the Engaged Couple - Katy and Ryan
I can't speak highly enough of Katy and Ryan. My career as a Charleston wedding photographer is young, and anyone with any honesty will tell you that the moments when you find your ideal client are rare - especially early on. From the moment I spoke with Katy on the phone she mentioned her love for my film work, her love for the imperfect and artistic and her appreciation for me having my own unique style and voice. Oh...and she wanted me to shoot polaroids at her wedding and was looking into Super 8 film videographers, which if you know me you know that tugs at my heart. The wedding industry can be filled with polished perfection and idealized fairytales and any time I connect with someone that appreciates the imperfections in storytelling, I know we're connected on something deeper.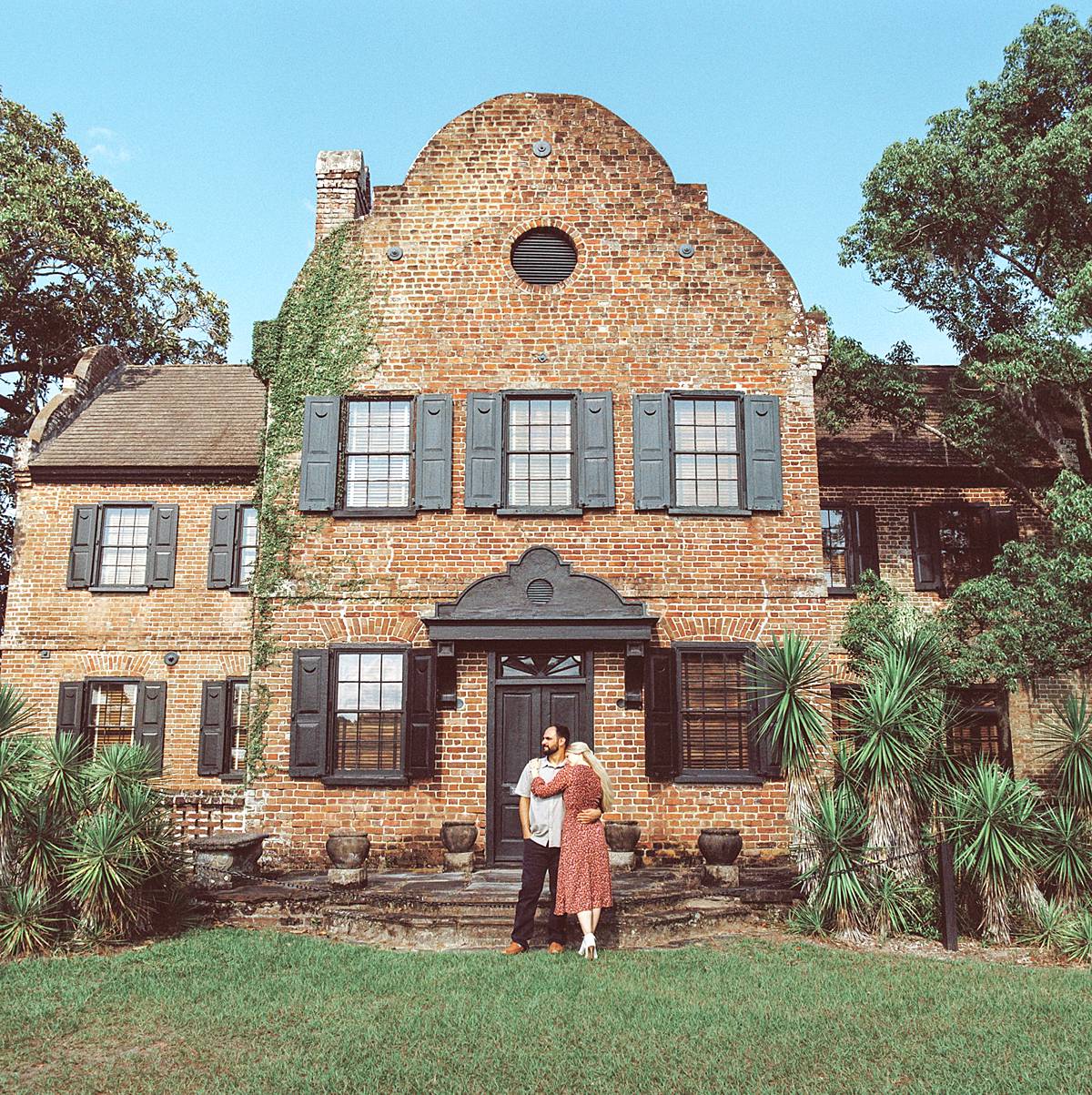 When someone puts that much faith and trust in what you do as a storyteller, artist and wedding photographer it allows you to let go of any inhibitions and thoughts of what you should create and produce the work you are inspired to do. This is the feeling I had with Katy and Ryan for their Charleston Engagement Session. So, I left my digital gear in the car and brought along 3 film cameras, medium format and 35mm, and went to work documenting a beautfiul story of two kind and cool people.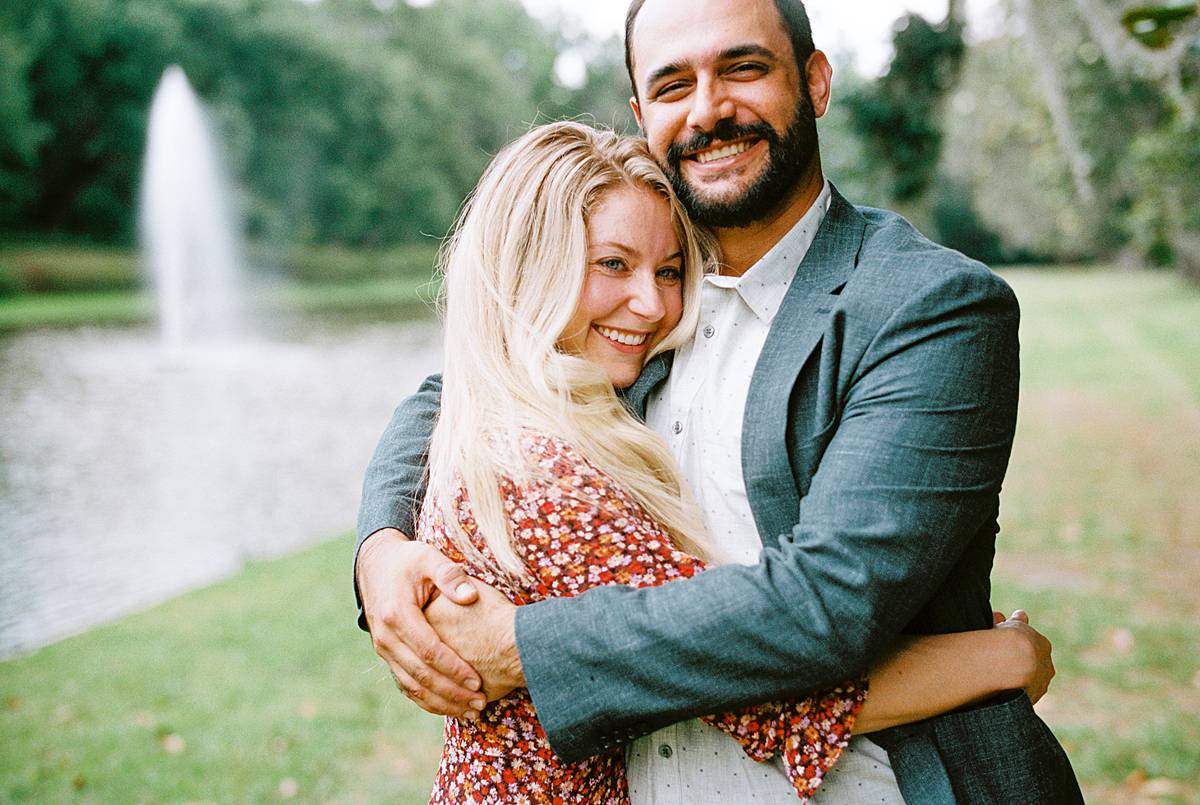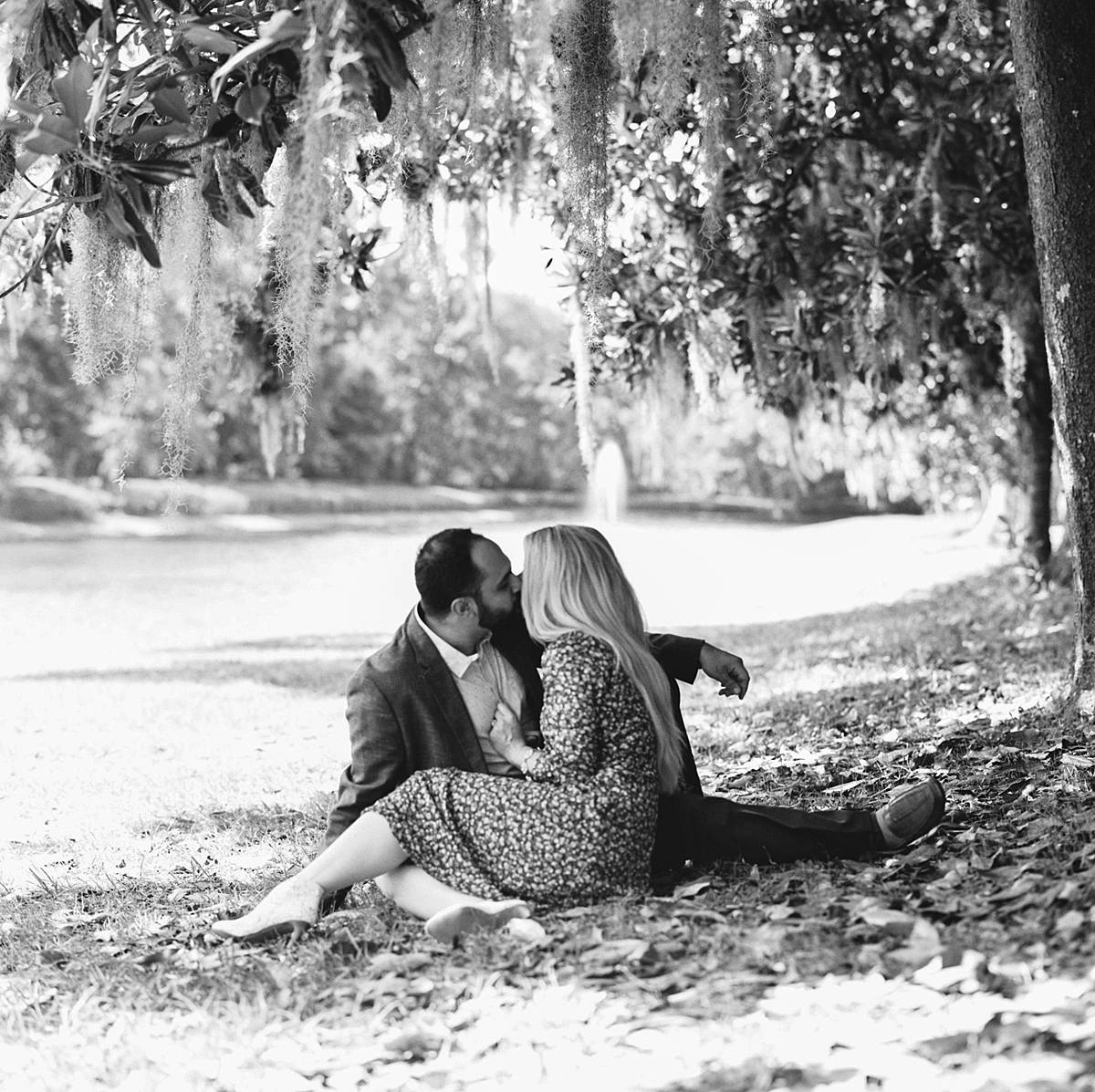 Their Destination Wedding Story and Why Charleston for Engagement Photos
Katy and Ryan are getting married in Virginia, live in Indiana and drove all the way down to Charleston for their engagement session. We had been trying to plan the engagement photos for quite some time but travel restrictions with Covid kept putting a damper on that plan and causing flights to get cancelled. With the wedding tentatively scheduled a month and a half away, Katy and Ryan decided to pack up the car and make the long drive to Charleston - all just to have their engagement photos taken in my beautiful hometown :). We were undecided on location, leaning towards downtown, until Katy messaged me that they were staying at the beautiful Middleton Place Inn. She loved the property so much, so we decided to do the whole shoot at Middleton. This was perfect for me because Middleton is my favorite venue. 
Fall Middleton Place Wedding in Charleston SC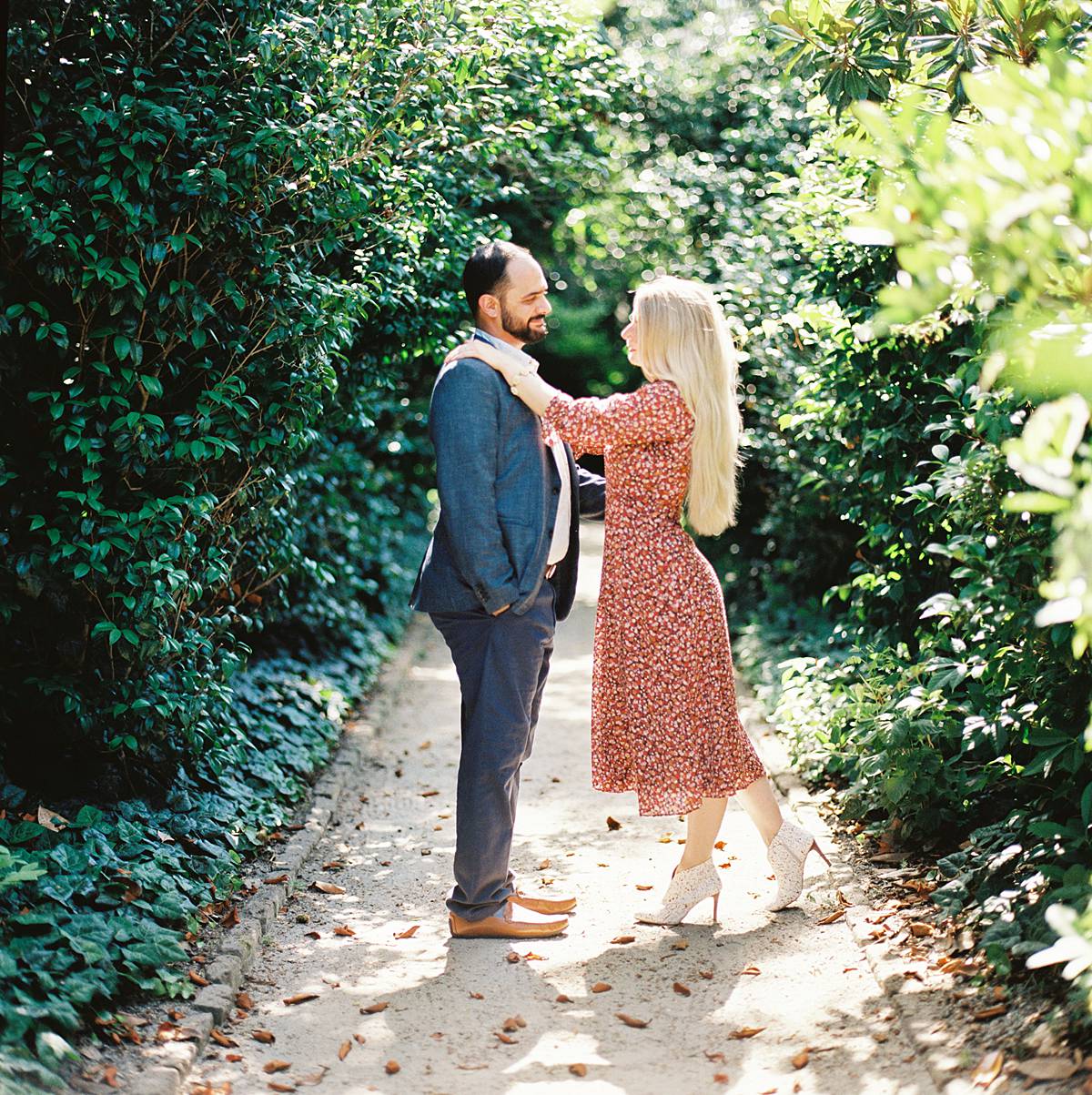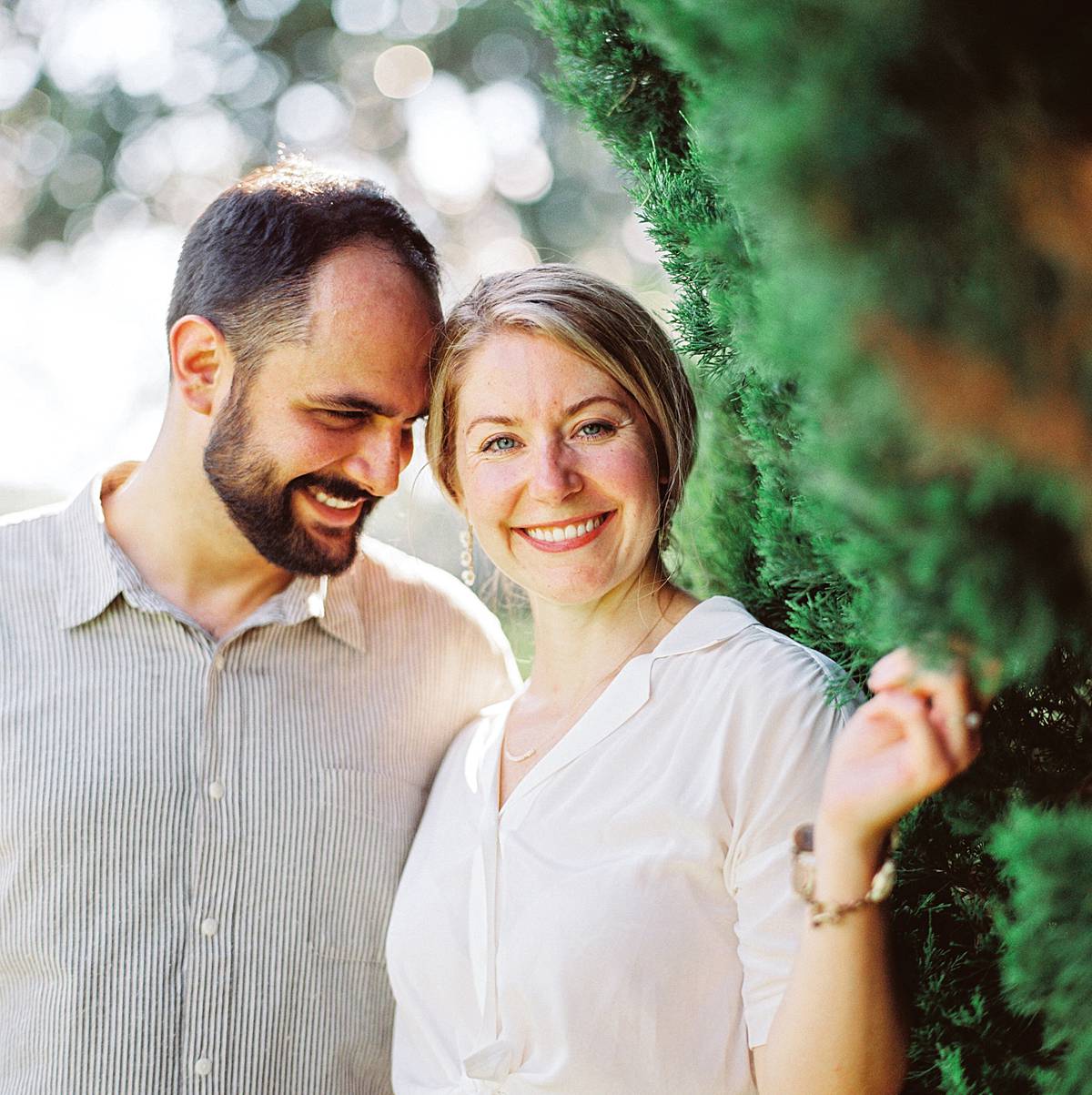 Super 8 Film Surprise
I had been pursuing super 8 for quite some time, but never quite managed to get a working camera. A few weeks before Katy and Ryan's engagement session, I received a camera from Germany. It appeared to be in working order, but I wasn't quite certain. I so badly wanted to surprise Katy with a little engagement short film shot on super 8 film. So, I brought the camera along, loaded up some black and white film and hoped for the best!  Needless to say, she was thrilled and I was so filled with joy to give them this surprise. It turned out better than I ever could have imagined. 
Charleston SC Engagement Video on Super 8 Film
Why do I only shoot film for engagement sessions
Engagement sessions are the perfect opportunity to experiment and to push the art of photography and storytelling. There is less pressure than a wedding day, and the relaxed schedule allows you to slow down and take your time creating. I push myself to shoot more and more film every day and with every story I tell as a wedding photographer, but sometimes the pace or conditions of a wedding day make digital the better option. Engagement sessions are the perfect opportunity for me to leave the digital gear at home and better myself as a film photographer so I can make my way toward the dream of shooting 100% film at weddings. There is in tangible, romantic quality to film. It feels permanent. It feels instant, much like the fleeting moments and subtle expressions of affection that make love so beautiful.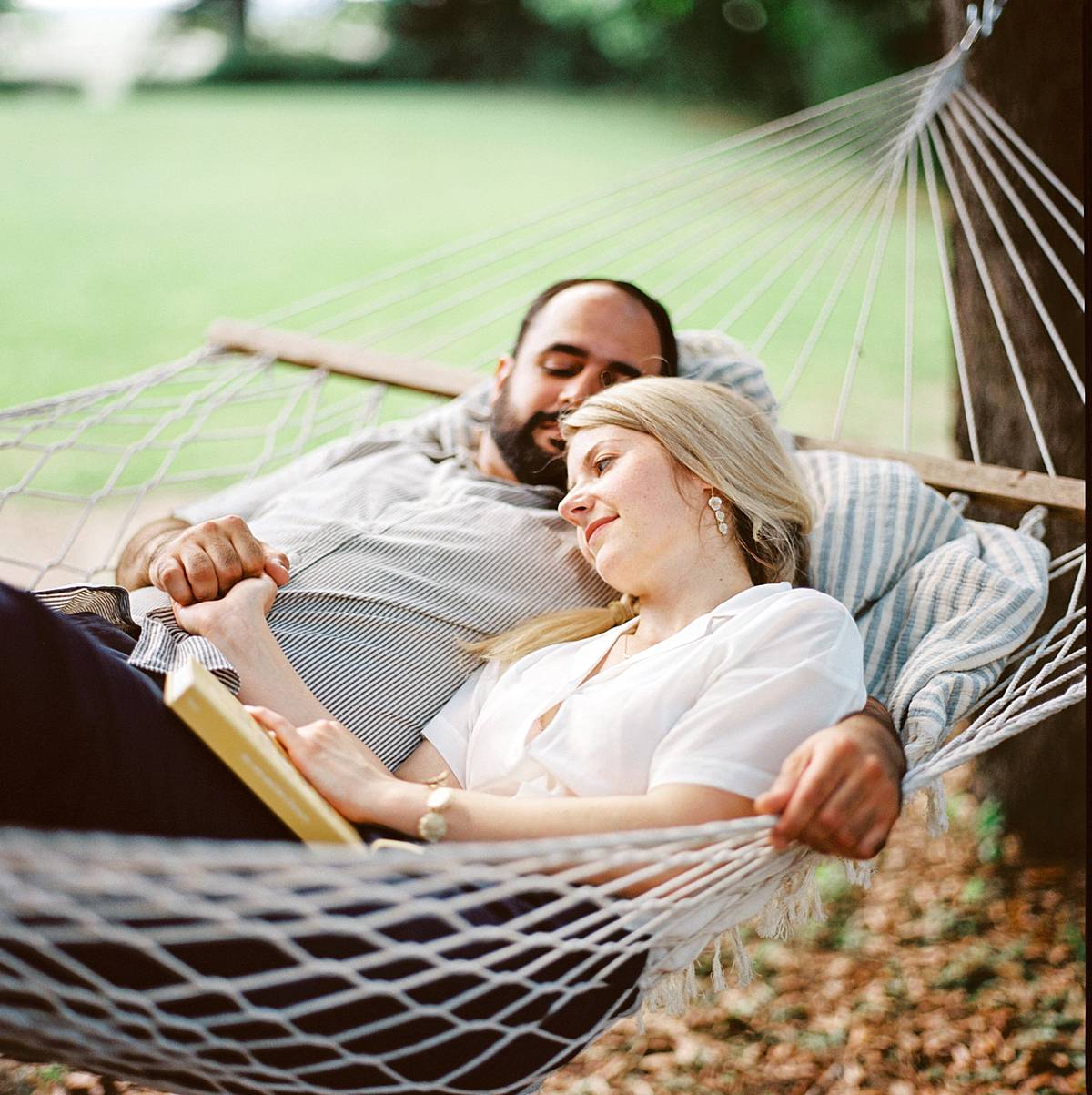 My Love For Black and White Film
I just recently started developing my own black and white film and it rekindled my love for dramatic, black and white portraiture. I try to shoot at least one roll of Kodak Tri-x or T-max at every session.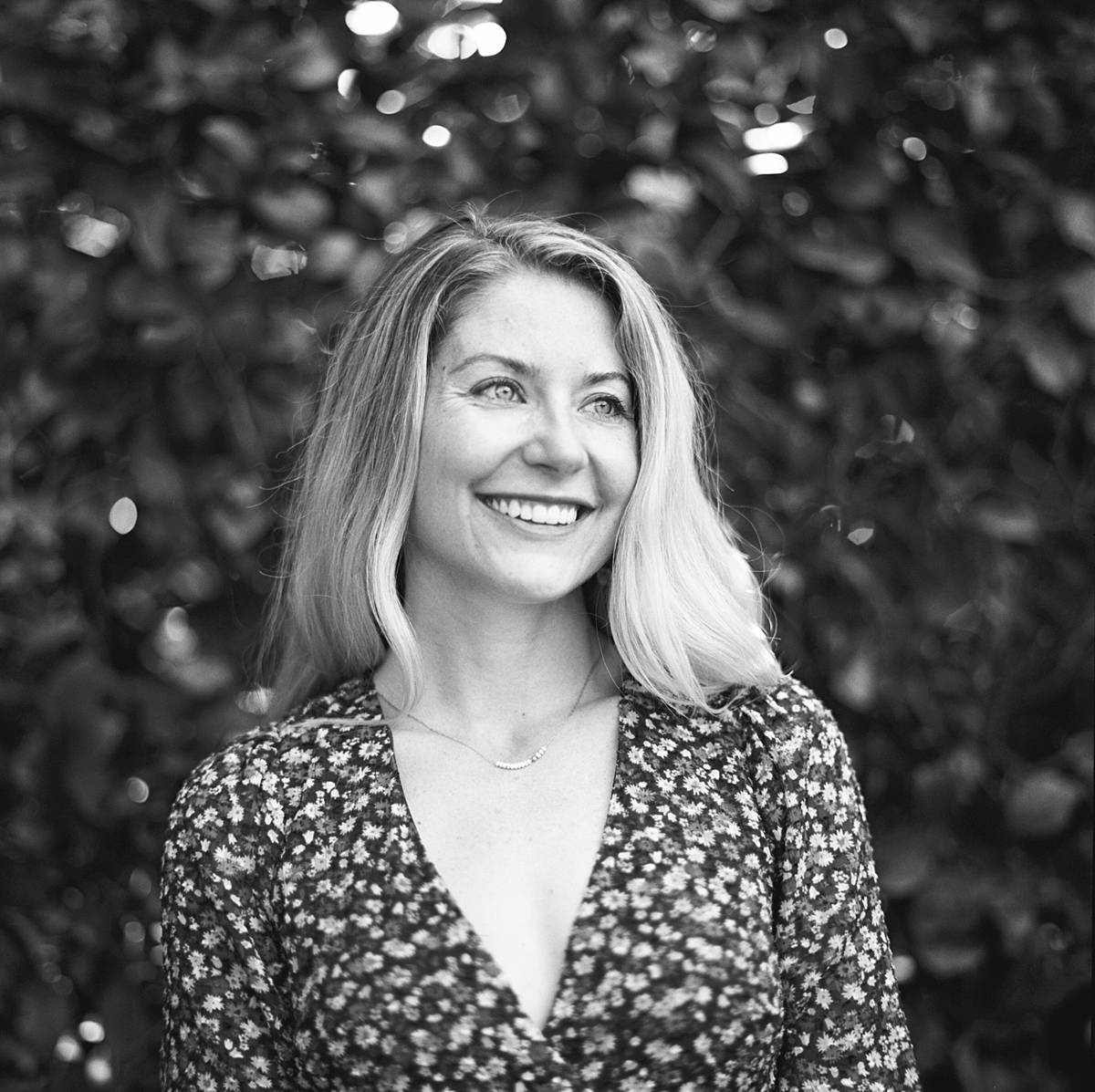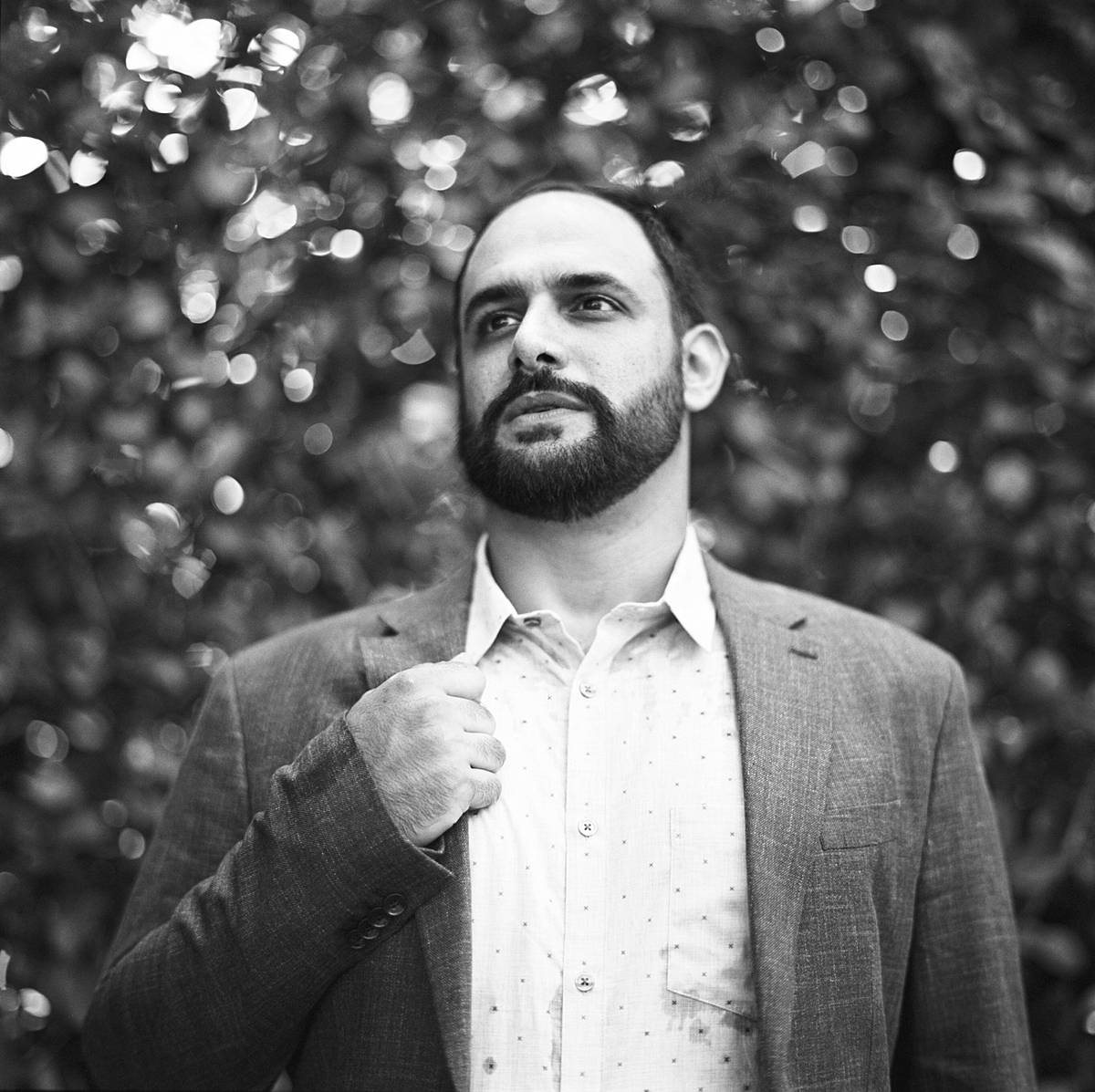 Also, black and white just can't be beat for movement and capturing pure feeling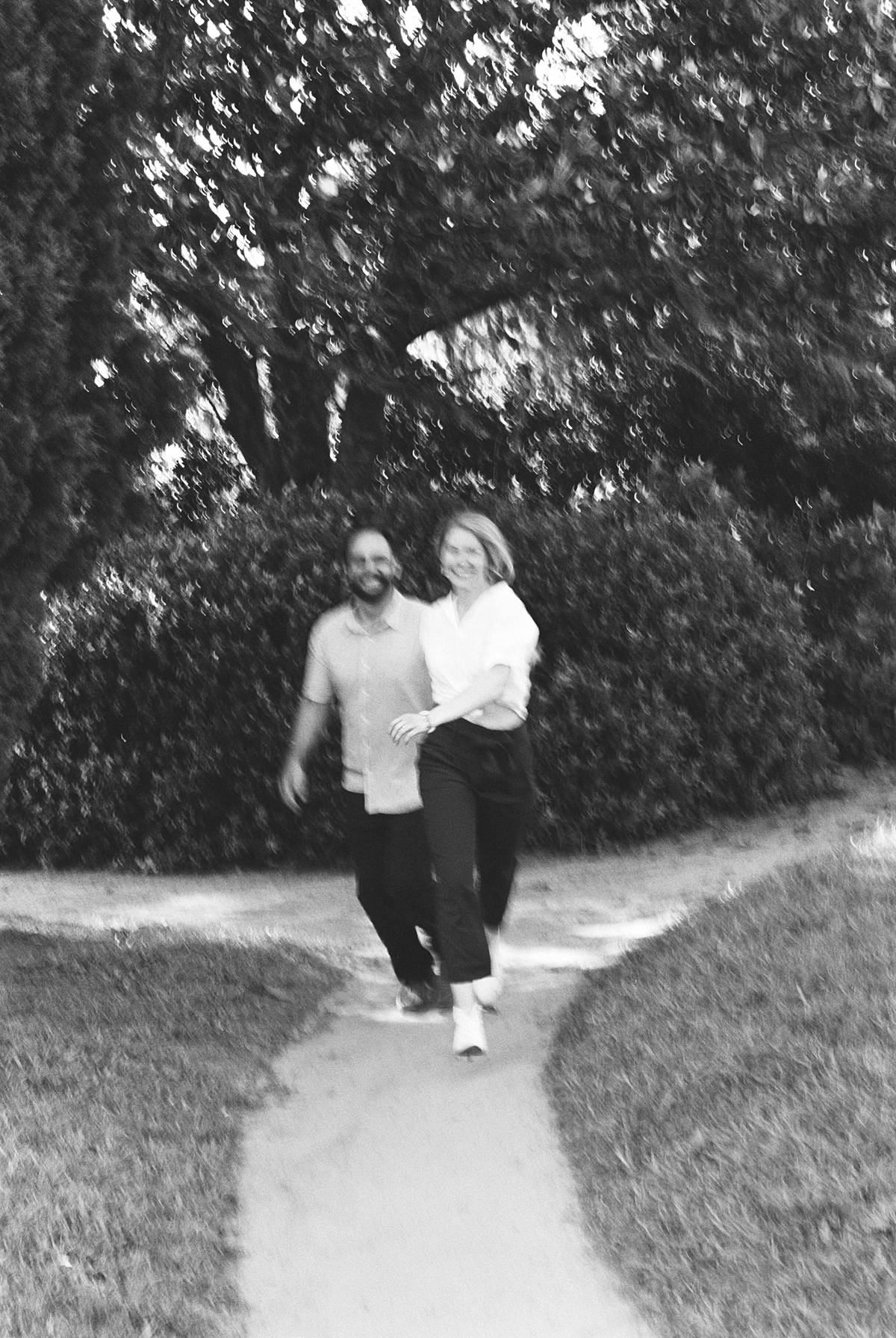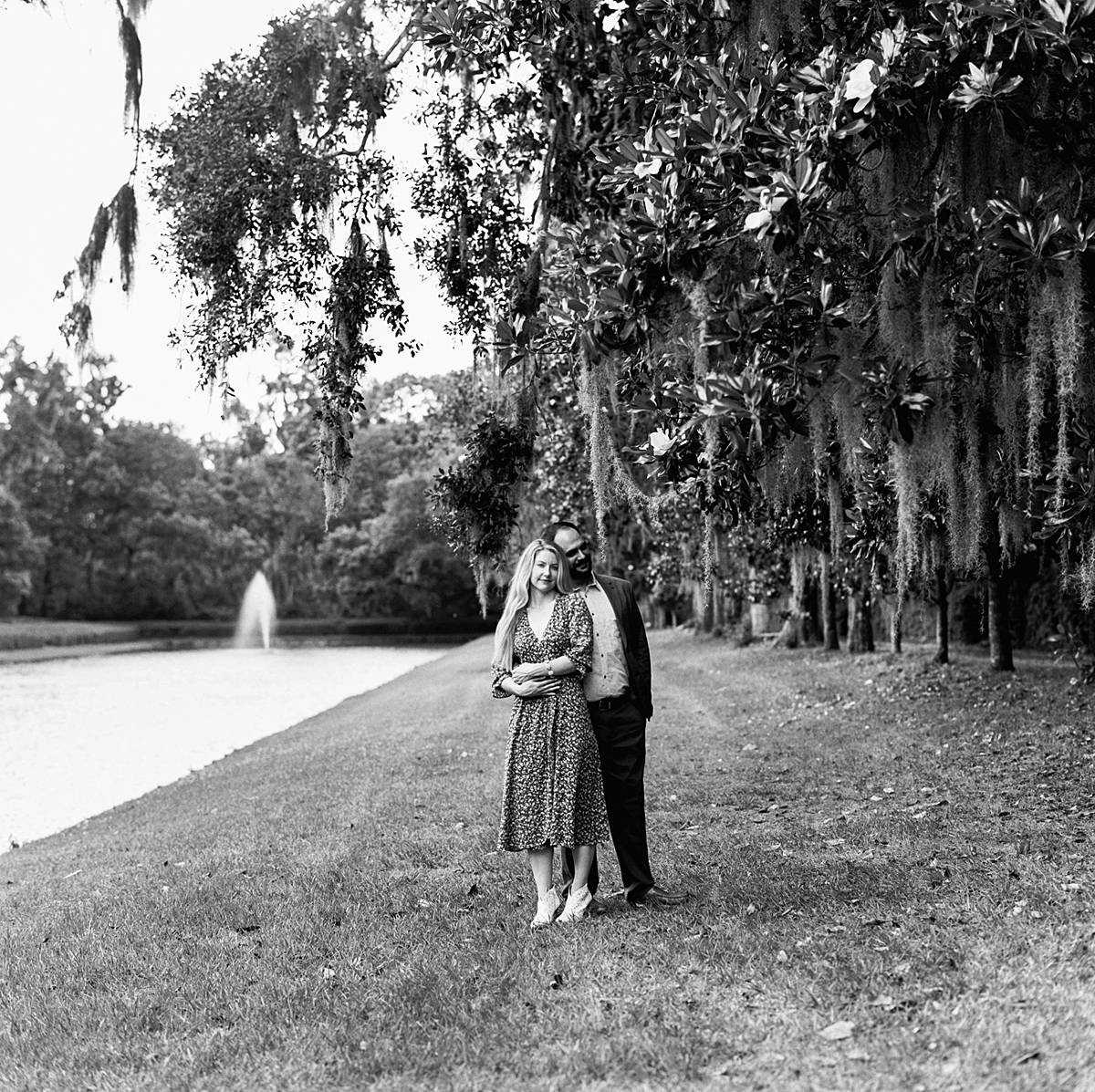 Learn more Film Wedding Photographer Brian D Smith Photography
Brian D Smith Photography Charleston Wedding Photography Portfolio and Information
~~                                                                                      ~~
If you are inspired by what you read, I'd love to invite you to reach out about the photography services I offer. My guarantee is that you won't find a wedding photographer that cares more about you and your story than I. I'm endlessly passionate about telling stories on film and pushing the boundaries of art in editorial and portrait photography. I'd be thrilled to work for you and document your story, wedding or business in Charleston South Carolina, Northern Michigan, or any destination abroad.
If you'd like more info about this post, would just like to chat, or are ready to book, reach out to me by visiting my contact page here!