Leica 50mm Summilux vs Zeiss Planar 50mm F1.4 ZF.2 - 50mm Lens Fashion Shootout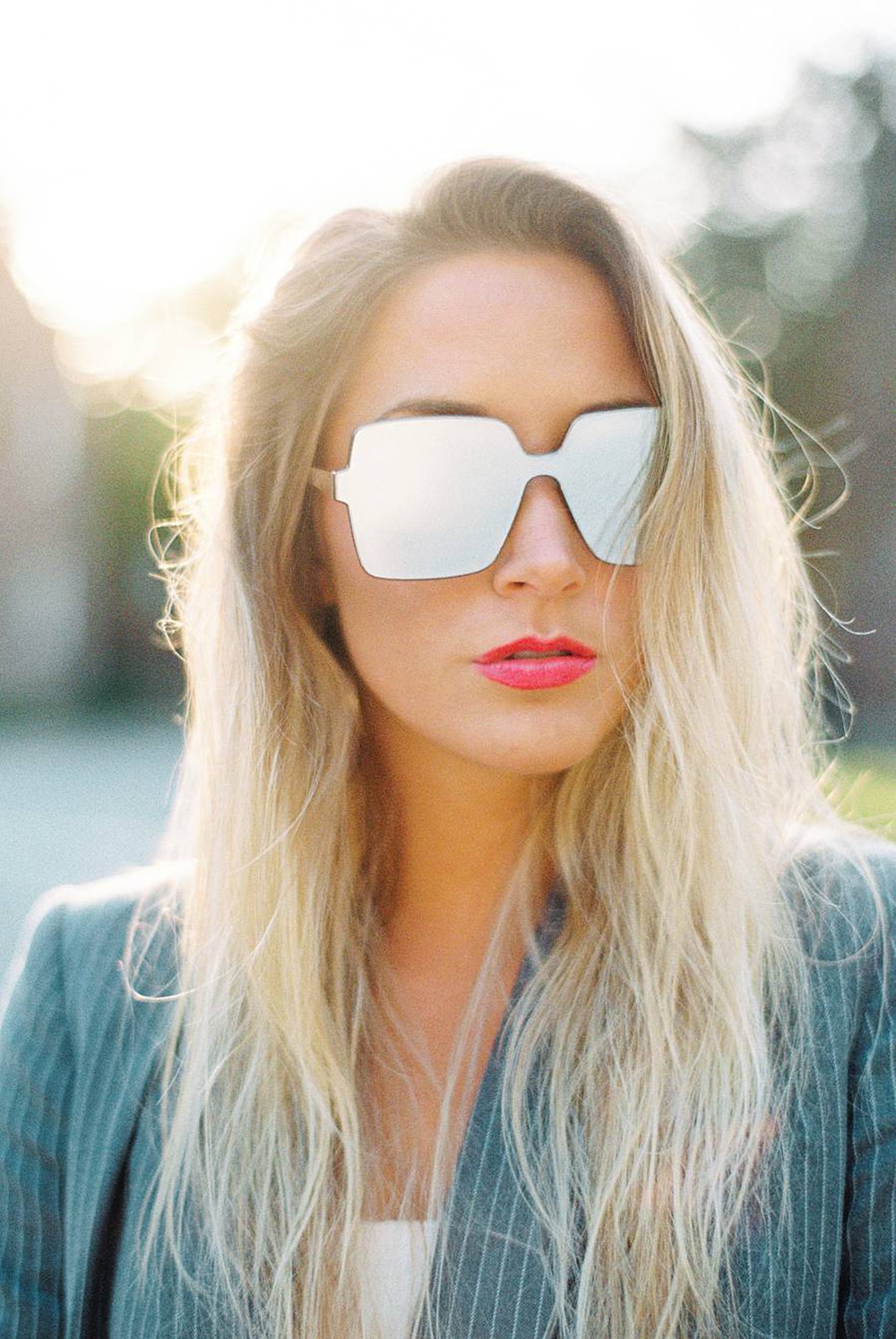 Leica 50mm Summilux vs Zeiss Planar 50mm F1.4 ZF.2 - 50mm Lens Fashion Shootout
50mm lens shootout between the Leica 50mm F1.4 Summilux asph and Zeiss 50mm F1.4 ZF.2 Nikon Mount Lens. This blog post is a review of each lens shot with 35mm film and a comparison between each two shooting fashion. Equipment used: Leica m-a and Nikon FM3a 35mm film cameras and Kodak Portra 800 and Kodak Gold 200 35mm film.
April 12, 2020, 10:14 p.m.
I have two primary 35mm film cameras that I use for my personal and professional work as a wedding and portrait photographer.  Like many others, I always struggle with deciding which camera to bring along for a photo shoot. So, I figured I would put both lenses to the test on a portrait fashion photography shoot on 35mm film to see what the strengths and weaknesses of each 50mm lens was. I chose an old jail building in downtown Charleston South Carolina as my backdrop for the 50mm lens shootout. 
35mm Camera Gear Used
The first camera was a Nikon FM3a 35mm film camera with the Zeiss Planar 50mm F1.4 Planar ZF.2 lens, paired with Kodak Gold 200 film and one roll of Portra 800 film. The second camera was a Leica m-a 35mm film camera with the Leica Summilux F1.4 asph lens (version with the telescoping lens hood) paired with Kodak Gold 200. The film was developed by Photovision Prints
NOTE: Both lenses in this shoot were always shot at F2 to give a more equal comparison. 
Why Do I Shoot the Leica M-A and Nikon FM3a
Before I dive into the review, I just wanted to make a quick note about why I photograph fashion, portraits and weddings with the Nikon FM3a and Leica M-A. 
Nikon FM3a 35mm Film Camera
I started out shooting 35mm film on a Canon F1N. I actually ended up buying the FM3a largely to pair it with the Zeiss 50mm Planar in this review. The other reason I wanted the Nikon FM3a was because of it's 1/4000th second max shutter speed and because, as a former engineer, I marveled at it's mechanical perfection. Which leads me to the m-a...
Leica M-A 35mm Film Camera
I purchased the Leica m-a about a year before writing this review. I had a Contax G2 kit that I never thought I would sell. You can read about the camera I sold, here: Brian D Smith Photography Reviews the Contax G2. I decided to sell the G2 because I was always curious to try a leica camera and I could adapt the lenses to my digital camera, thus enabling me to travel light with both digital and film. I purchased the 50mm Summilux F1.4 because I shoot nearly all of my portrait and wedding photographs on a 50mm lens, so I wanted to make sure I got the best 50mm lens for the leica camera. The 50mm Summilux asph would give me the perfect balance between sharpness and soft, contrasty character shot wide open. Let's move on to the lenses and why I decided to purchase each. I'll talk about their strengths, weaknesses, and why I decided to keep both 35mm kits. 
Zeiss 50mm F1.4 Planar ZF.2 Nikon Mount
I purchased this lens after reading a review about how it rendered very similar to the Zeiss Planar 80mm F2 for the Contax 645. I didn't own a Contax 645 yet but as a wedding photographer, I already knew of it's legendary status as the ultimate wedding lens due to it's dreamy, almost surreal rendering. I prefer to shoot 35mm film because of the size and I love the grain and deep shadows, so I decided to purchase the Zeiss 50mm planar for my FM3a. This is the only 50mm lens I own for that kit. I'll keep the summary brief and just let the images do the talking. 
Where the Zeiss Planar 50mm lens shines
The zeiss lens is surprisingly sharp when shooting objects in shade or front lighting. It still isn't as sharp as the leica lens, but with it's modern coatings it renders relatively sharp without being clinicly so. Where the zeiss lens really shines on the Nikon FM3a is in angled backlit or diffused backlit situations. This is when you get the images with that characteristically dreamy, soft zeiss planar lens rendering. The below image is the Zeiss planar 50mm F1.4 front lit, with Kodak Portra 800 film. You can see that it is sharp but there is still a certain softness to the way it renders.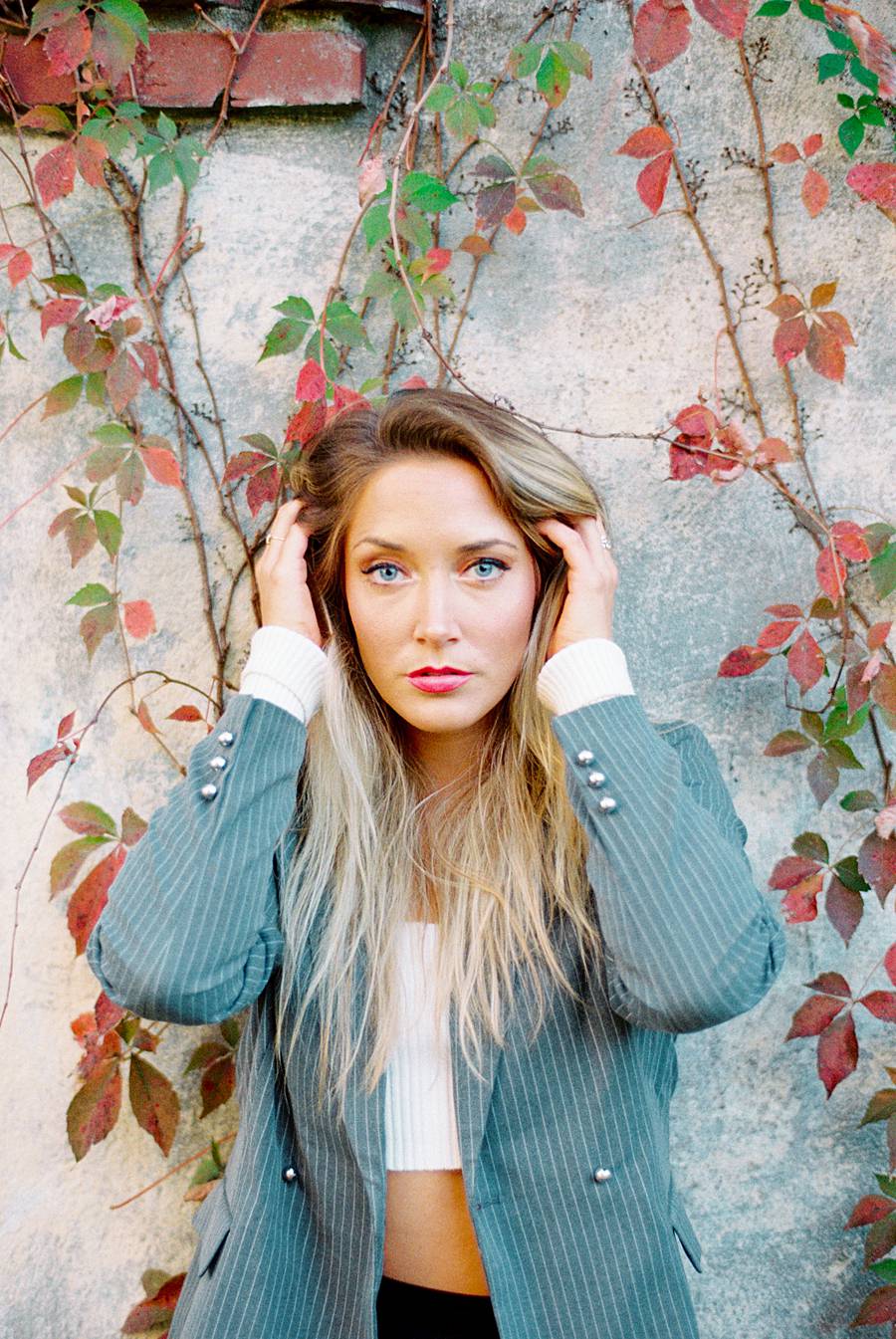 Here is the Nikon Zeiss Planar 50 shot backlit. THIS is where this lens shines and why I purchased it. Look how dreamy the skin tones are and that absolutely perfect Bokeh. It's truly an amazing lens and if you are looking for dreamy, backlit portraits, you really can't beat it. Whether you are a wedding photographer, a portrait photographer, or just for personal projects, this lens has a unique character that every photographer should at least try once.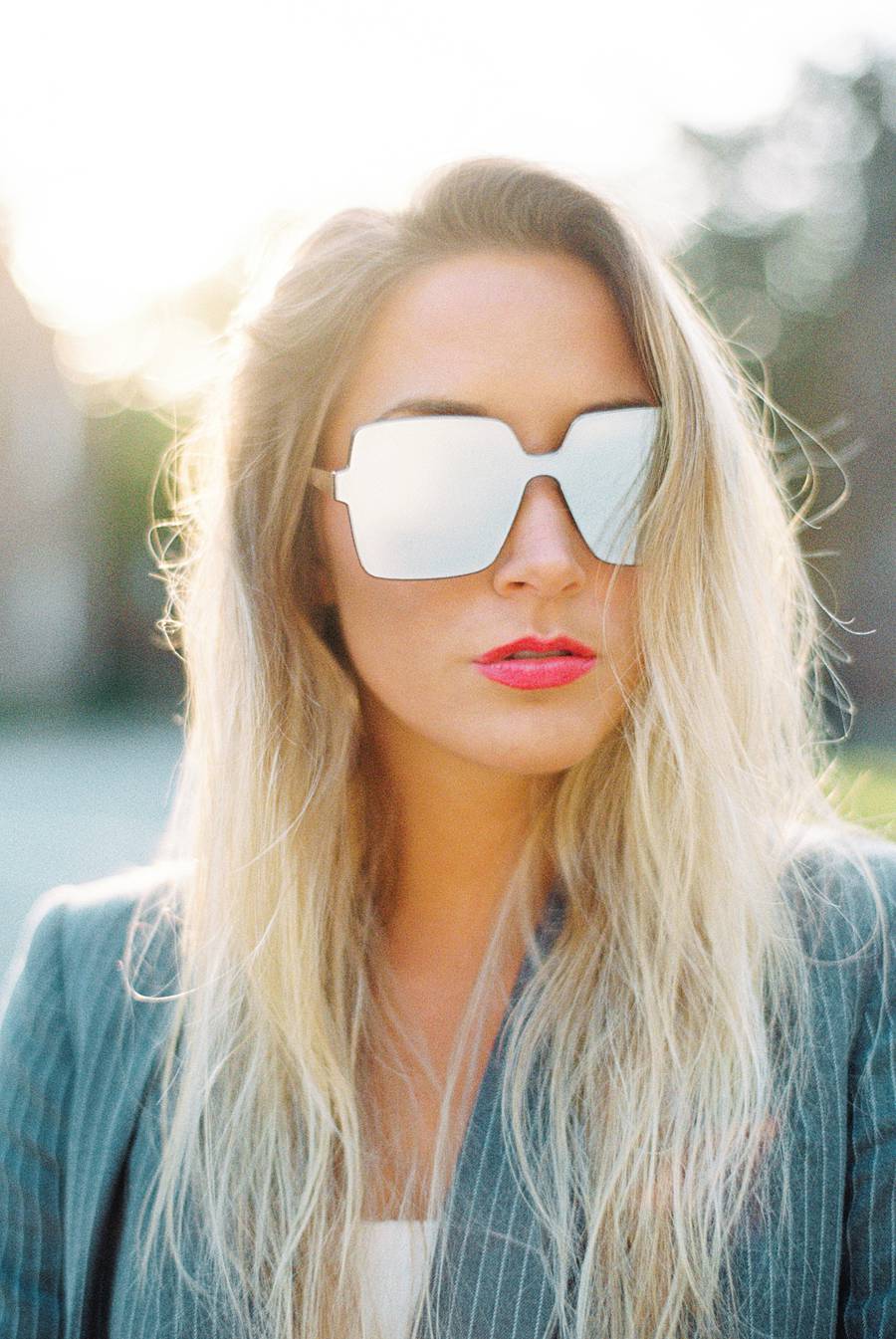 Where the Zeiss Planar 50mm F1.4 ZF.2 falls a bit short
While the lens truly does shine in backlit scnarios, the zeiss planar zf.2 can tend to get washed out if you are too squared up to the sun on a backlit portrait. I know this is a problem with all lenses, but the zeiss planar is particularly prone to getting washed out. The lens can experience this a similar washout when photographing subjects against highly reflective white walls or white boards (think a white linen styling board for wedding photography flat lays and detail styling). This is a flaw of planar lenses in general. It's hard to describe, but all I can describe it as is a highlight bleed. The highlights tend to disolve into the surrounding midtones and create this weird haze affect that I have never seen on any other camera lens. The Zeiss planar 80mm for the contax 645 doesn't suffer from this problem as much because of medium format film's significant dynamic range advantages.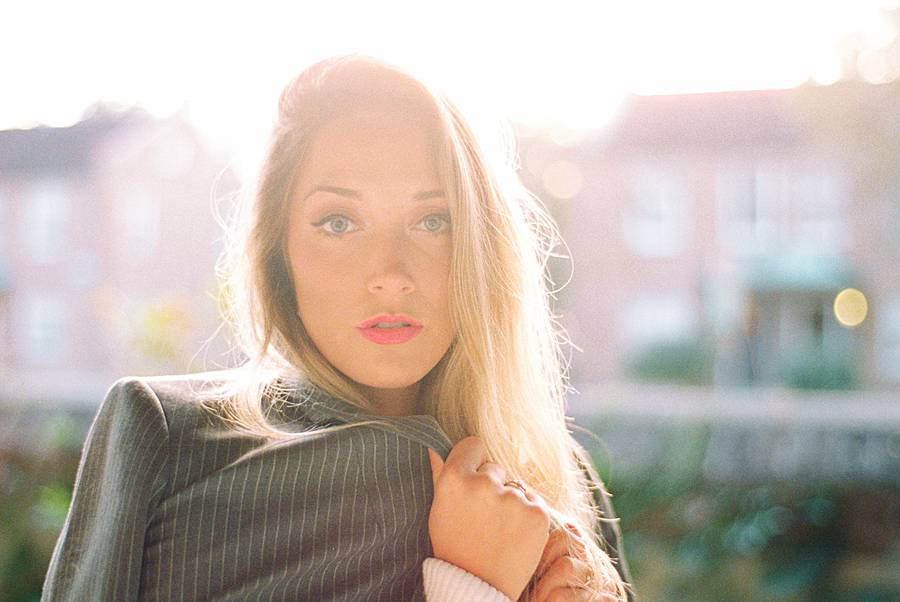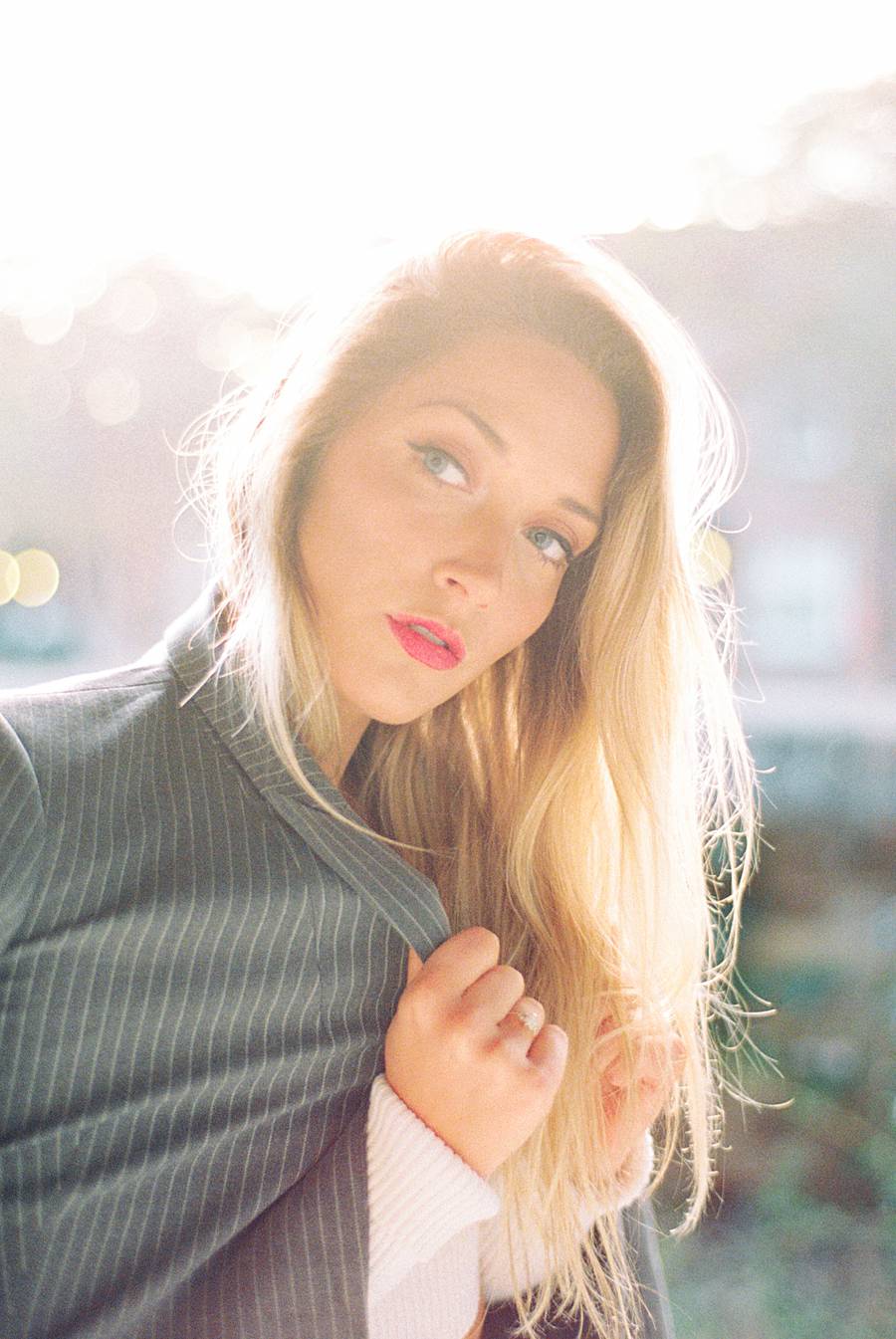 More Examples from the Nikon FM3a and Zeiss Planar 50mm ZF.2 Lens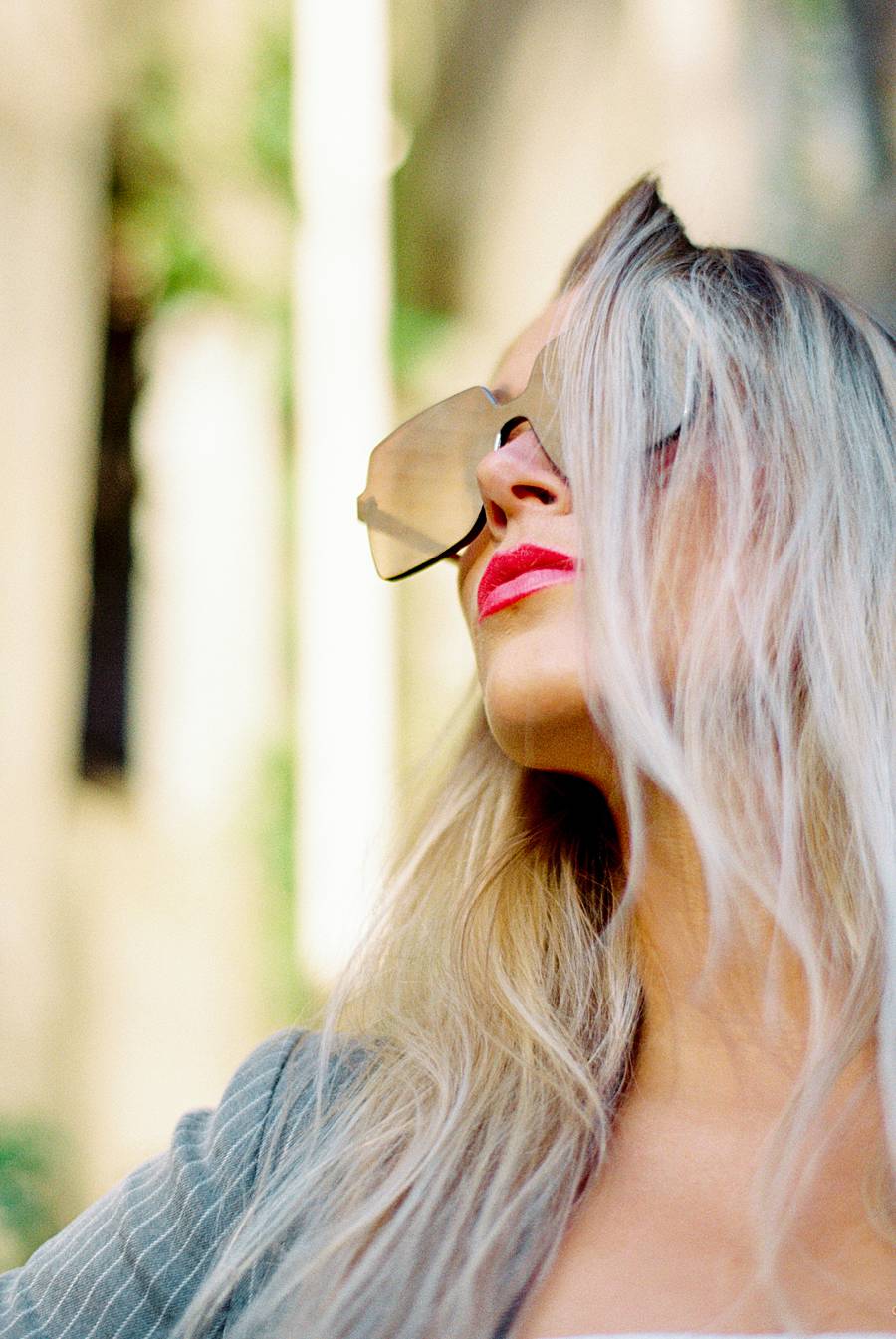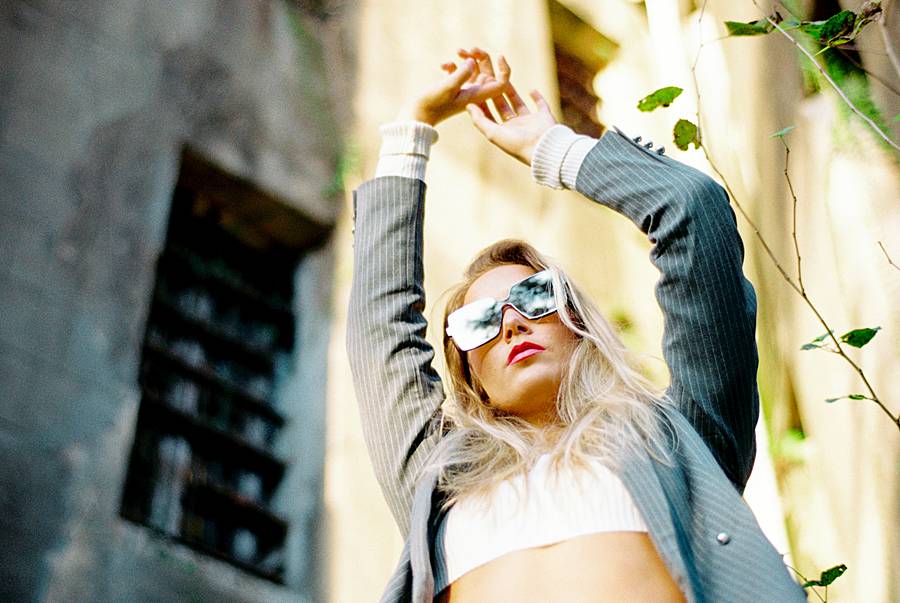 Leica 50mm Summilux-m F.14 asph Lens
I thought about getting the leica 50mm summicron at first but I decided on the summilux asph instead because I prefer lens character over sharpness and the leica summilux to me has the perfect balance of that. It is sharp wide open, but with a touch of softness and it has this contrast to it's rendering that is nothing short of indescribable. I purchased my copy of the Summilux for my Leica m-a 35mm film camera on a facebook forum for used film photography equipment. 
Where the Leica Summilux-m 50mm F1.4 lens shines
The lens shines in nearly every single scenario, whether it be for fashion portraits, wedding photography, studio portraits, front lit, back lit, whatever. It's just an amazing all around lens. My favorite thing about the lens is the contrast and the incredibly flat plane of focus. I've never shot a lens that rendered so much fine contrast incremements, whether on digital or 35mm film. I've never shot a lens that rendered so closely on a 35mm film or digital body to medium format in my life, until I shot the Leica Summilux 50mm mounted to my sony a7iii. Shot at F1.4, wide open, back lit, it renders incredibly similar to the legendary Pentax 67 105mm F2.4 medium format lens. The separation from the flat focal plane and wide contrast tonal range gives it that medium format quality look. 
Look how sharp the lens is and how much detail it renders on 35mm film. It's truly remarkable. It's so sharp but the lens has so much character from the contrast rendering that it still has an interesting, and not overly technical look to it like modern lenses.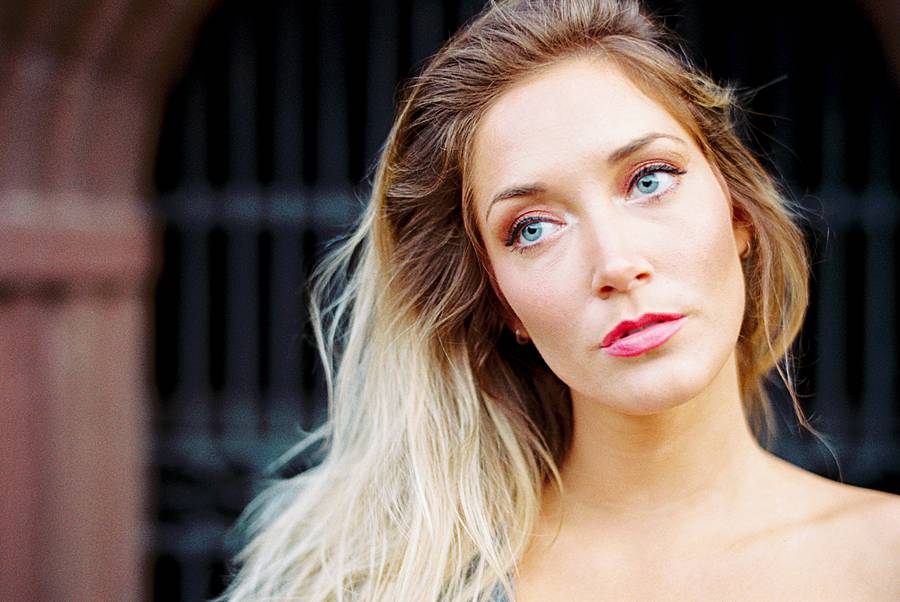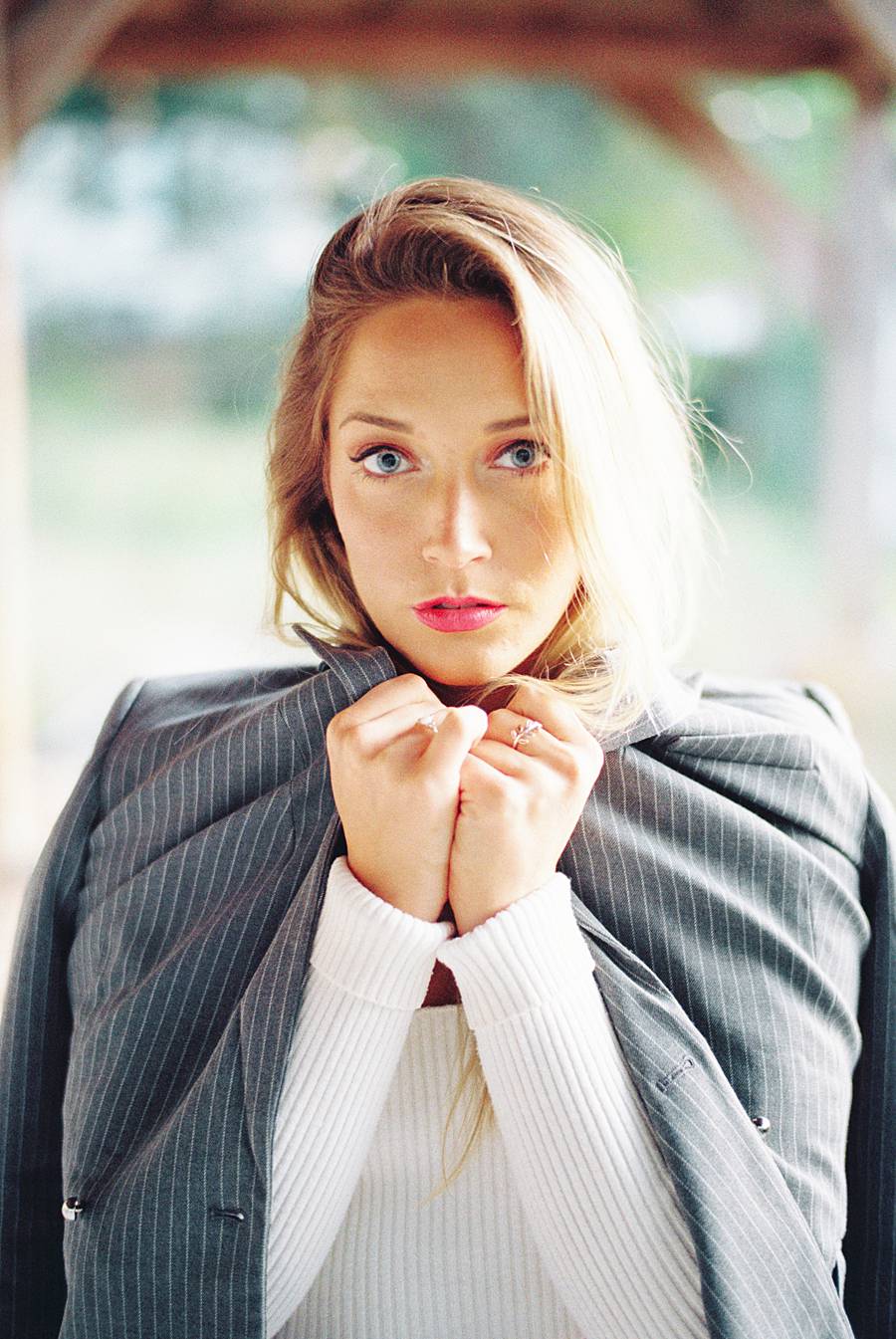 Where the Leica 50mm Summilux-m F1.4 lens falls short
The lens doesn't really have any significant weaknesses. The only complaint I have, and sometimes I actually like the look, is that it has the strangest flare. The lens flare has a lot of radial lines to it that give it this "fine tooth comb" look. It's strange, and at times gives an image a surreal character, but when you don't want it it's kind of annoying and isn't pleasant for portrait photography. I didn't manage to produce the effect on this shoot as it's a little harder to predict flare on a rangefinder camera like the Leica m-a. You can see in the backlit photo, below, the leica lens retains a bit more sharpness than the Zeiss planar ZF.2. 
The only other complaint I have about the lens is that I wish the lens aperture had more diaphram blades. The Leica Summilux 50mm has 9 blades whereas the Zeiss 50mm Planar ZF.2 has 11. This makes the bokeh slightly more pleasing and rounded on the zeiss lens. Notice the Octagonal shaped bokeh to the left of the model's face on the leica lens in the 35mm portrait, below.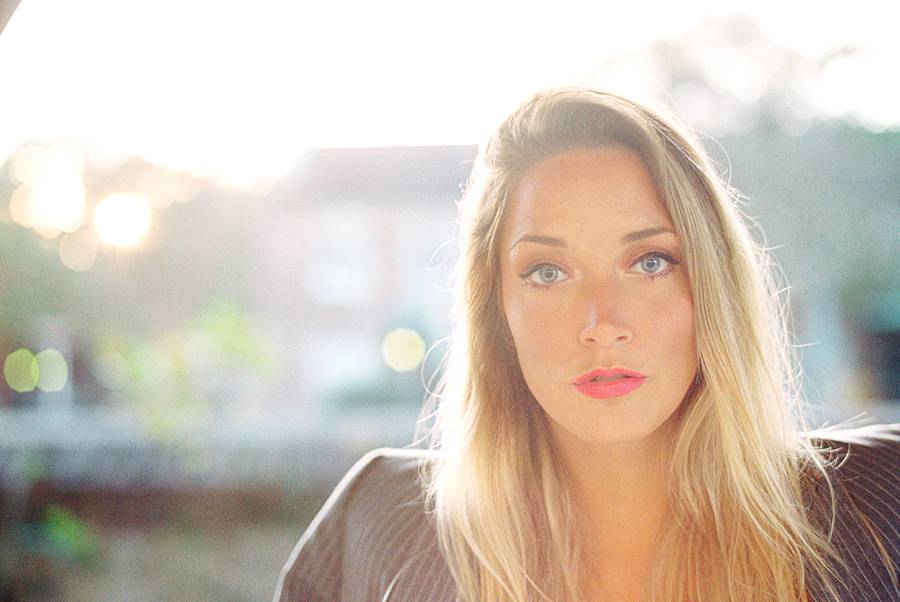 More examples of the Leica Summilux-m 50mm F1.4 Lens on 35mm film and Leica m-a
Stuuuuuupid sharp and crisp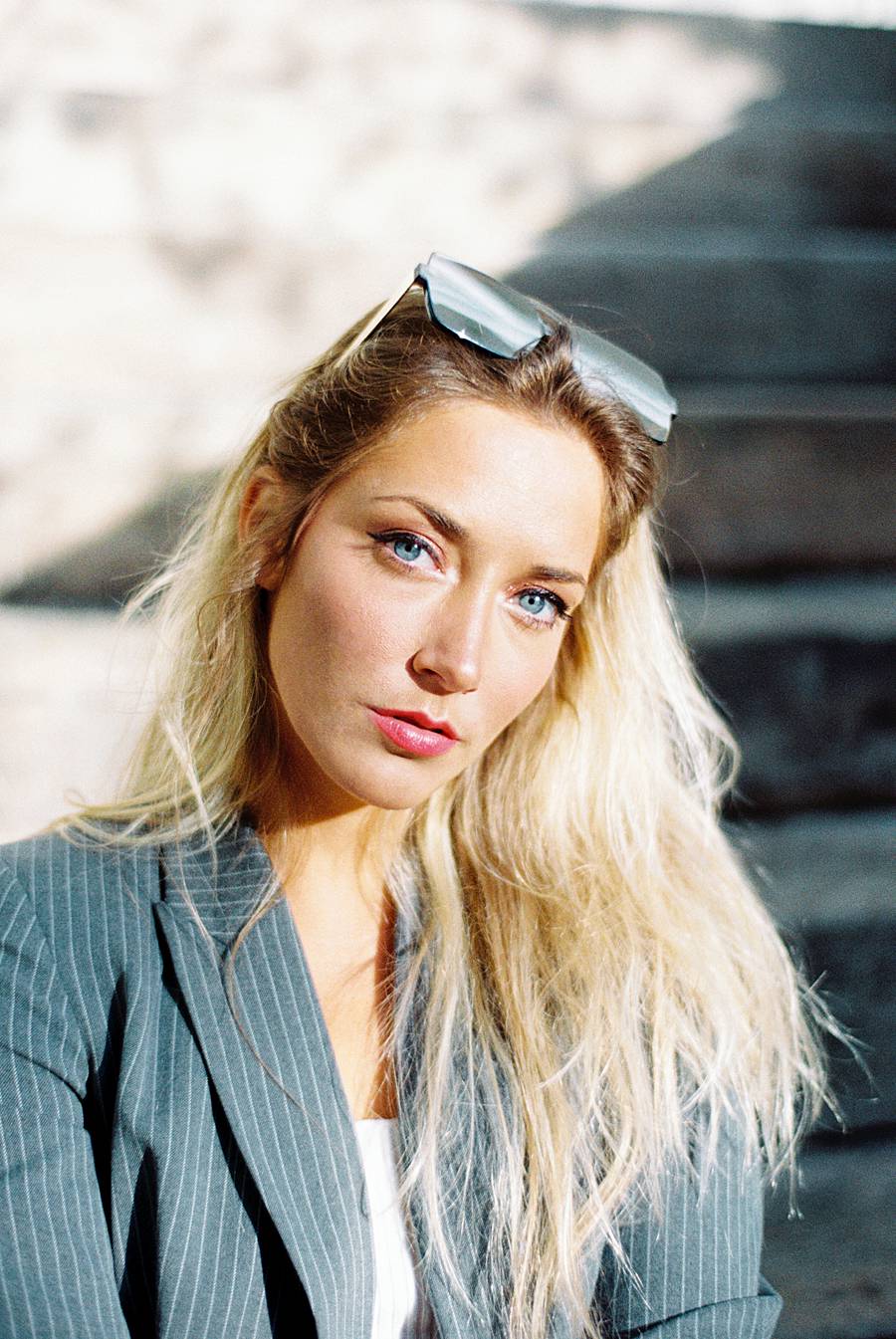 so sharp and such good contrast.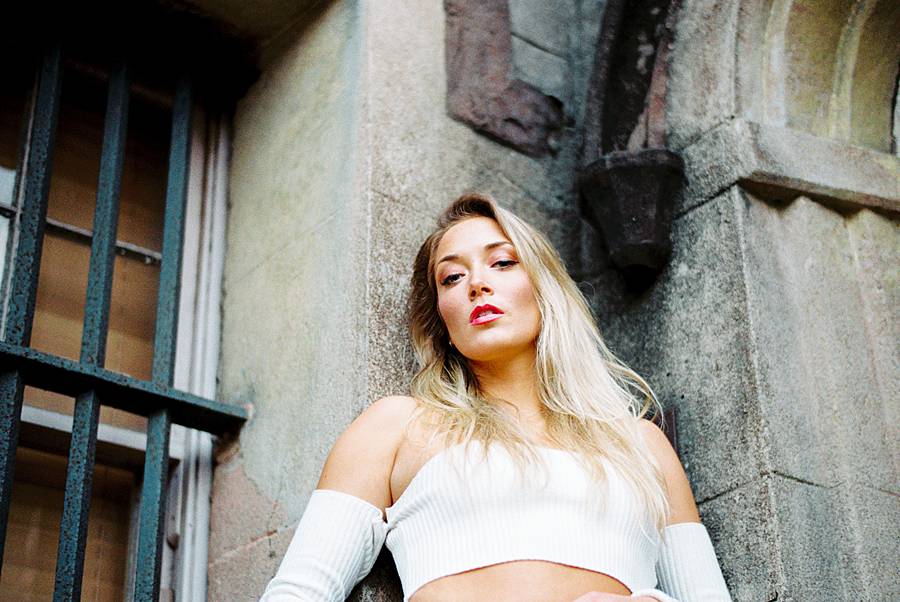 Lens Comparison - Leica 50mm Summilux-m F1.4 vs Zeiss 50mm F1.4 Planar ZF.2 lens
Now onto the part you all want to see. Here is where I share some comparison images of the two lenses, both on 35mm film, photographing the same fashion portrait subject. This should give you a good comparison of the lens character for similar poses and lighting scenarios. If you have any questions about the two lenses and where they differ, feel free to contact me! I love to chat about film camera equipment and my work as a film portrait photographer. 
NOTE: ALL LEICA IMAGES ARE ON THE LEFT FOR THE COMPARISONS. NIKON IMAGES ARE ON RIGHT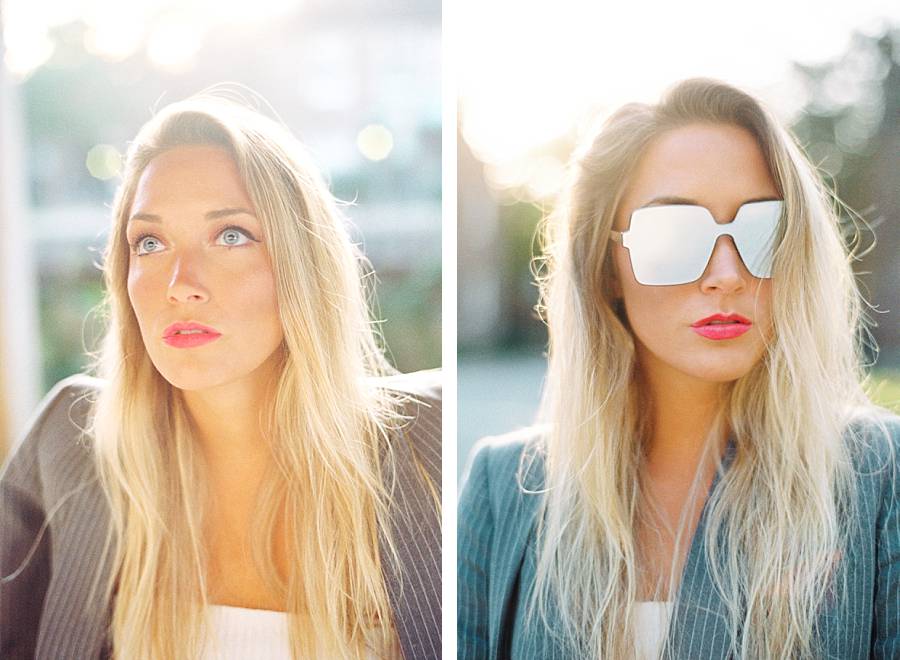 Front lit, notice the difference in contrast between the two lenses. Keep in mind that these are two separate films in this image. Nikon is kodak portra 800 and leica is kodak gold 200. Still, just notice the contrast difference in the hair...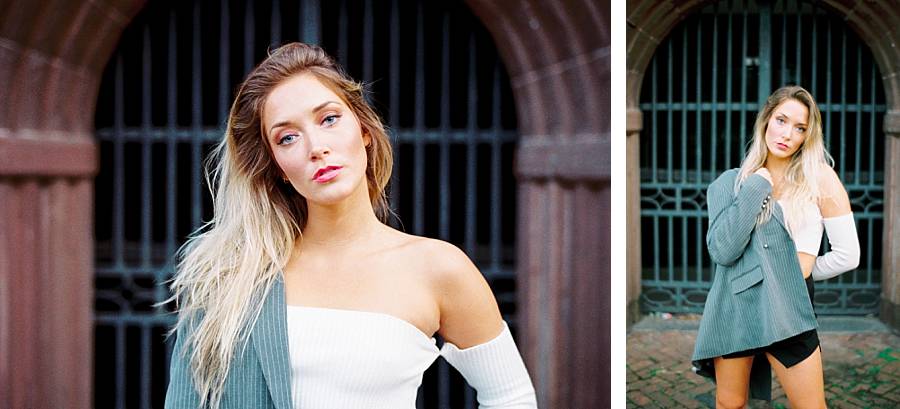 Notice how well the leica summilux lens handles the bright light reflecting off of the wall behind the subject. The nikon zeiss 50mm planar gets a little washed out in the highlights on the models skin from the strong light reflecting behind her.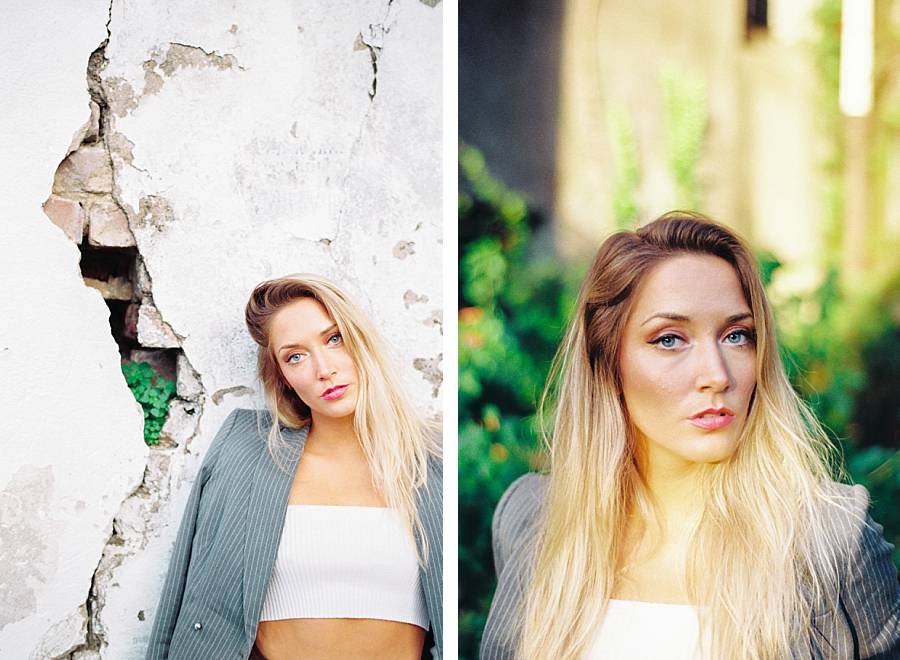 Best portrait comparison between the Leica 50m summilux-m vs Nikon Zeiss 50mm Planar ZF.2
This is probably the best and most direct comparison between the two lenses. Remember, the leica summilux lens is on the left. Look how much more contrast is rendered in this backlit scenario. There is more color in the model's skin, more detail and tonal range in the greens and better overall color.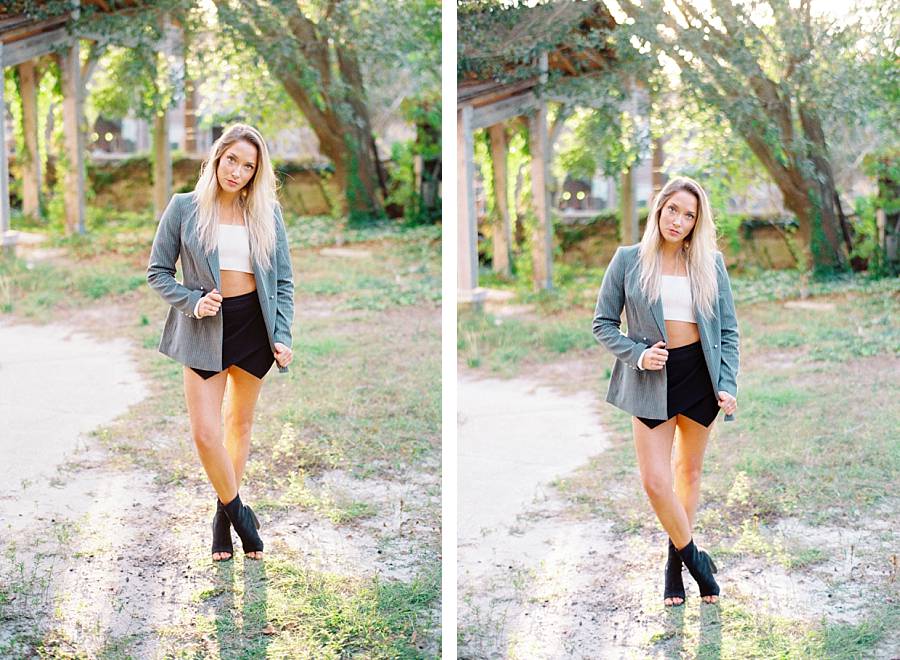 Leica 50mm Summilux-m F1.4 vs Zeiss Planar 50mm F1.4 ZF.2 - Where they both are at their best
Here is an example image showing where both lenses truly shine and are at their best, and the reason I still own both. The leica film image on the left has loads of contrast and sharpness. You could fool me that it wasn't even shot on 35mm film if I didn't look close enough. The zeiss planar lens image on the right shows the beautiful, almost surreal and soft glow that it renders for backlit film portraits. This 50mm lens is incomperable for that dreamy portrait look and is the reason so many wedding photographers have it in their kit. That all being said, it is still a relatively unknown lens in comparison to the leica 50mm summilux-m.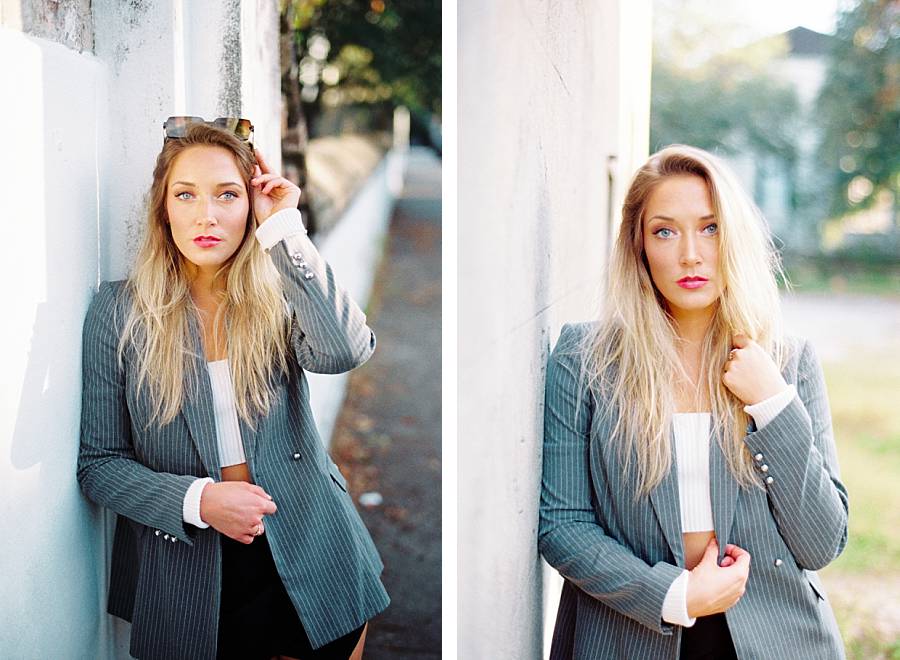 Again...notice the greater micro contrast and detail from the leica lens, but the zeiss 50mm planar has that characteristic warm glow to it.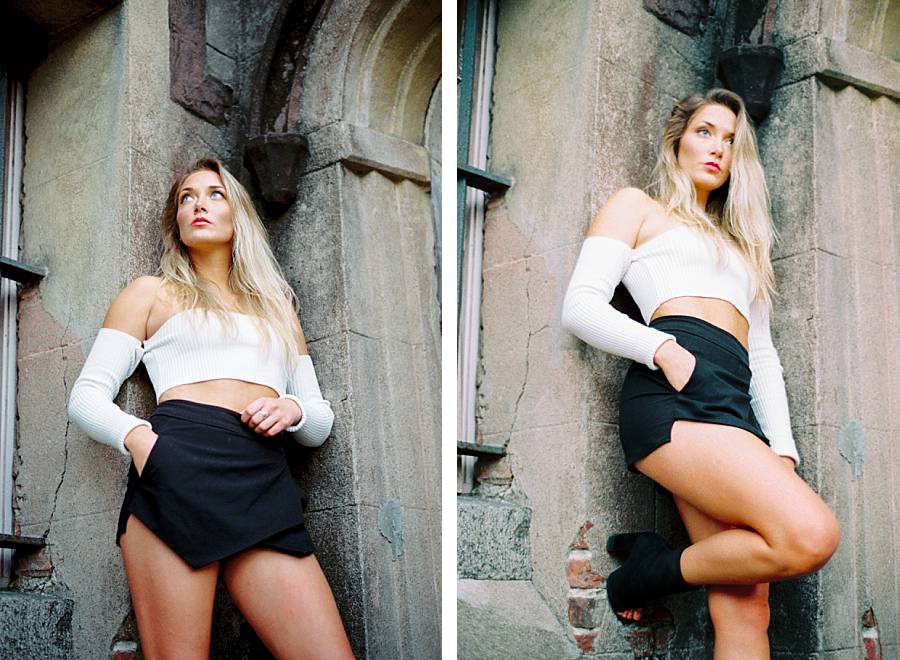 Conclusion: Which is best - Leica 50mm Summilux or Zeiss Planar F1.4?
If I had to pick one to have as my only lens for the rest of my life, I would pick the leica. The zeiss lens can really render poorly in certain intense backlit scenarios (that I'll review later and update this blog post with) so it makes it a trickier lens to shoot and less versatile. I've never been greatly disappointed getting 35mm film scans back from weddings or portraits with the leica but there have been a few times when I didn't like the results from the Zeiss Planar...on both 35mm film and digital for that matter. For this reason, the leica lens is my trustworthy daily lens. It is remarkably beautiful in it's own right, but moreso it just doesn't let me down. 
I will say, however, that if I had to pick one lens to render a surreal, backlit portrait or if I was photographing bridal portraits on film, I would probably reach for the zeiss lens and my nikon fm3a 35mm film camera. If you are careful with your backlighting, you can achieve the most beautiful and soft portraits on film that you have ever seen. I think you should shoot both at some point in your life. 
The Nikon/Zeiss lens also wins out on price. You can pick up a used copy of the zeiss planar 50mm in nikon mount for around $450, whereas the Leica 50 Summilux-m goes for about $2500 used. 
Which 50mm Lens am I going to keep for 35mm film portraits?
Both. I will likely hold onto both as they are both good at different things. The zeiss planar lens will probably stay permanently mounted to my nikon fm3a, but that camera will be more of a specialty camera on my days as a Charleston Wedding Photographer for when I want dreamy portraits or double exposures - since the leica m-a doesn't allow for this. 
Check out my blog tags for more posts where I use each lens and, as always, please email me if you want to chat more. I'm always open to talk film photography, especially when it comes to camera gear and 35mm. 
~~                                                                                      ~~
If you are inspired by what you read, I'd love to invite you to reach out about the photography services I offer. My guarantee is that you won't find a photographer that cares more about you and your story than I. I'm endlessly passionate about telling stories on film and pushing the boundaries of art in wedding and portrait photography. I'd be thrilled to work for you and document your story, wedding or business in Charleston South Carolina, Northern Michigan, or any destination abroad.
If you'd like more info about this post, would just like to chat, or are ready to book, reach out to me by visiting my contact page here!
All 50mm Lens Shootout Comparison Images - Leica vs Zeiss