Building a Eclectic Plant Filled Desk Inside a Closet in my Home Studio
How I Constructed a Plant Filled Desk in an Old Closet
I made a trip to ikea before I even set foot in my new house and home photography studio in Charleston, SC. I found a green desk board in their parts section for $10, a couple of hanging plant holders and brought them home with me. I then found the file cabinets when a friend was throwing them away. When I moved into my new studio space, I noticed that the closet doors were removed and it looked about the exact width of my desk board. Space saving is critical in a photography studio, so I checked if my desk would fit inside and it did!  I mounted the desk to the ikea rolling file cabinets, and added two table legs to the backside for extra stability and moved the desk into the closet. A few plants, photos hung in an old frame I found at the Habitat re-store and a few other quirky stylings and I have a cozy, but functional desk space in my new photography studio. 
My Color Scheme for my Mid Century Eclectic Home Office and Studio
I decided early on primary colors with a bit of earth tone influence for my Charleston South Carolina photography studio and home office space. I've long admired primary color palettes, influenced by the work of early film fashion photographers. The earth tone touches are my own personal default color scheme. My clothes are earth toned, and I think it adds a bit of grit and depth to the colors of my brand that aren't quite there in bright primary color spaces. This was the brilliance of mid century design aesthetic, afterall - the ability to mix bright colors with dark browns and blacks.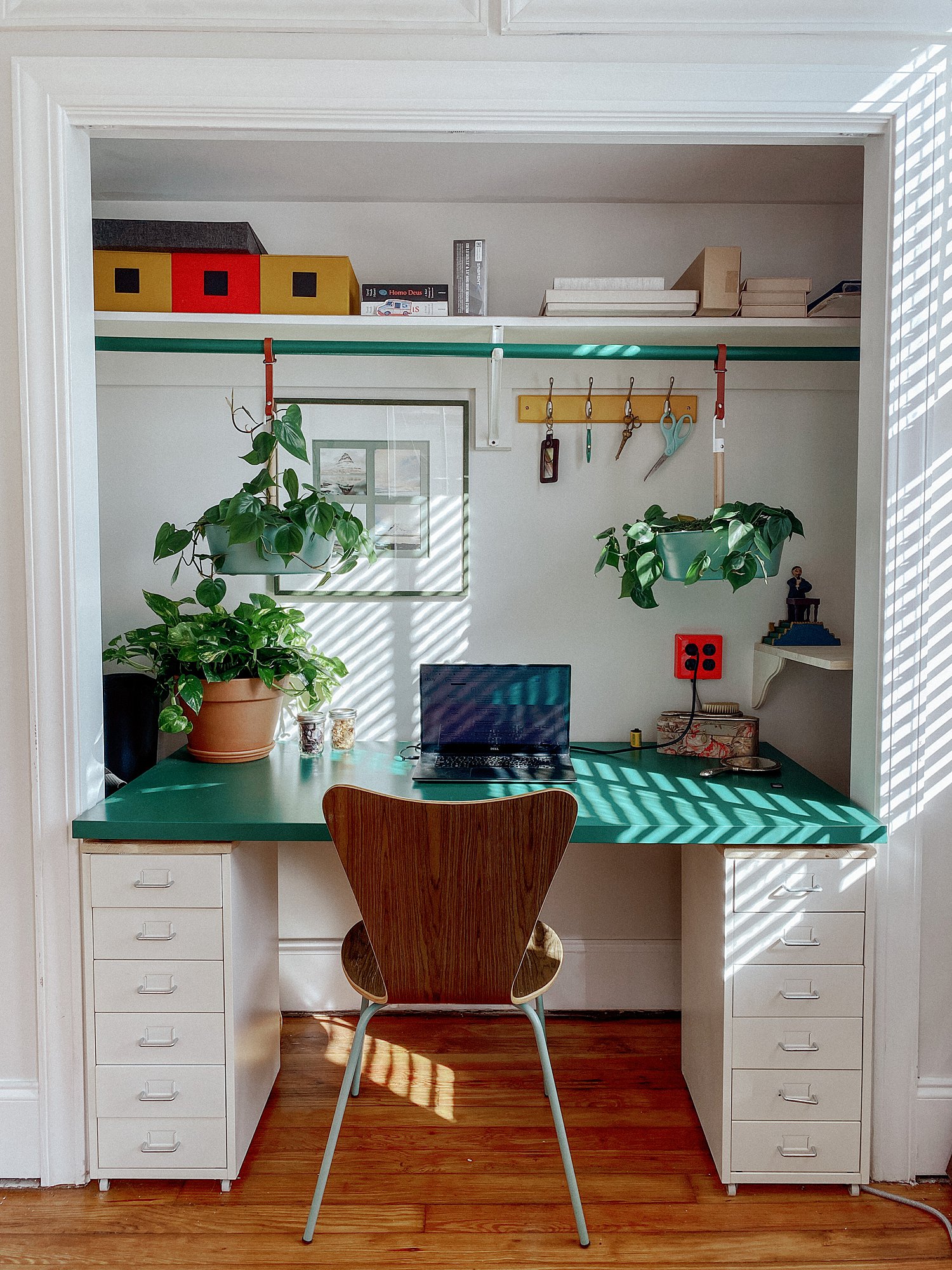 Learn more about Charleston Photography Studio - Studio Sixty Reid
Studio Sixty Reid - Photography Studio in Charleston SC
See More Weekly Documentary Projects and Lifestyle Photography
Brian D Smith Photography Weekly Lifestyle Blog
~~                                                                                      ~~
If you are inspired by what you read, I'd love to invite you to reach out about the photography services I offer. My guarantee is that you won't find a photographer that cares more about you and your story than I. I'm endlessly passionate about telling stories on film and pushing the boundaries of art in editorial, lifestyle and portrait photography. I operate a photography studio in Charleston SC and Traverse City Michigan. I'd be thrilled to work for you and document your story, wedding or business in Charleston South Carolina, Northern Michigan, or any destination abroad. LGBTQ supporter and firm believer in the cause for all races to fight for equal rights. 
If you'd like more info about this post, would just like to chat, or are ready to book, reach out to me by visiting my contact page here!