Photographing The Ring Road on Iceland with 35mm and Medium Format Film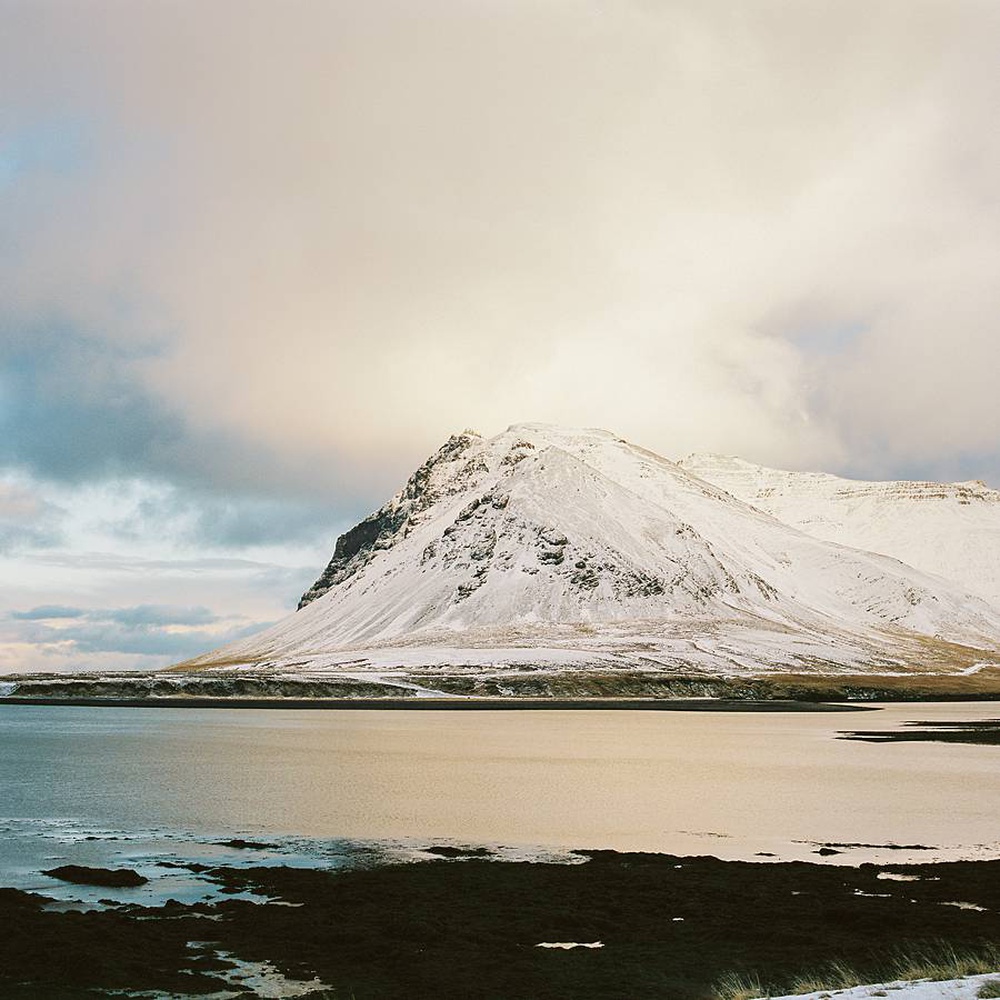 Photographing The Ring Road on Iceland with 35mm and Medium Format Film
Traveling the ring road in Iceland and photographing the country on 35mm and medium format film. A snowy winter adventure, with a small rental car and my trusty Fuji GF670 and Canon F1N and Kodak Portra 800, Portra 400, and Tri-x film
May 12, 2020, 9:14 p.m.
About My Travels Through Iceland - The Earth's Other Planet
My trip to Iceland was scheduled as a result of a clever layover on the way back from a trip through continental Scandanavia. As a professional photographer, and an avid user of instagram, I'd clearly seen a my fare share of Iceland images. It almost seemed like a foregone conclusion that it was a place I'd soon visit. Iceland was the last leg of a 4 week solo trip, and what was the third travel adventure I'd took part in since I left my engineering career behind and dedicated my life to photography.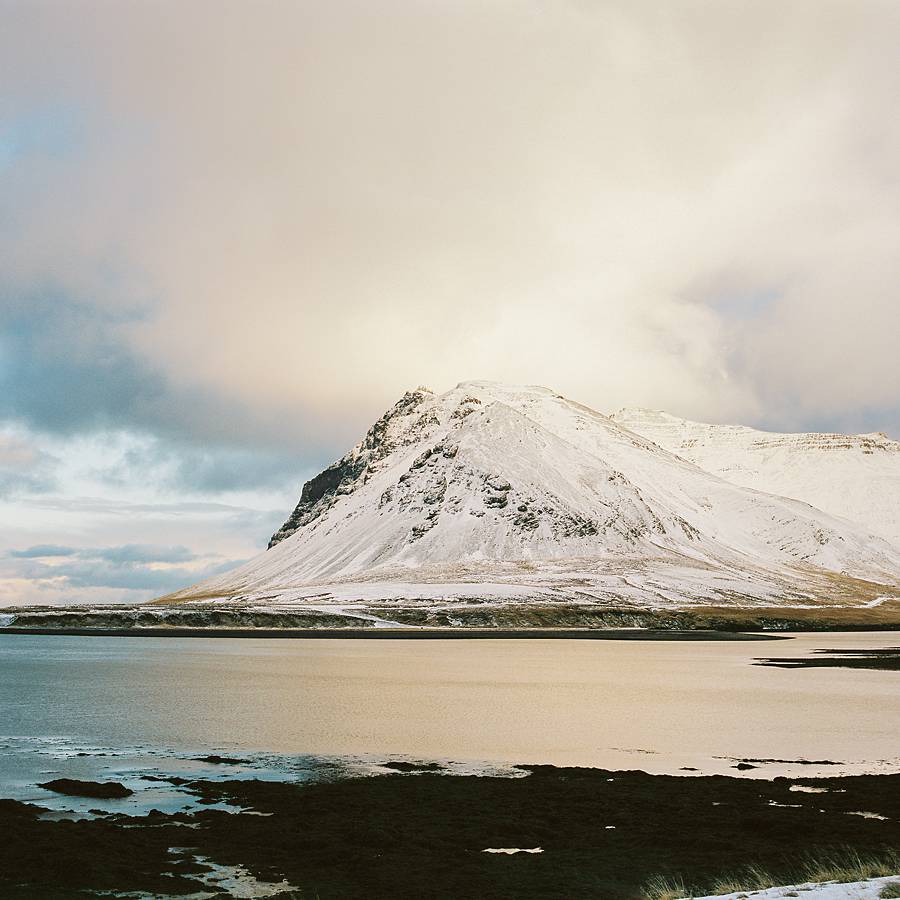 I rented the smallest rental car I could find, which turns out was a bit sketchy at times, and drove around the entirety of the ring road in search of amazing views and all of Iceland's must sees. The car was a Hyundai i10, and to be honest...I loved it. Iceland is the windiest country in the world (no trees!) and there were times where I was driving around and a gust of wind would nearly knock the car across the road. I drove through 6 inches of snow on some lightly studded tires and climbed and descended icy hills and roads. I white knuckled the entire trip. Honestly, I was genuinely scared at times. I think that's what makes travel experiences so beautiful, though. - the discomfort to reach the reward. All that being said, if you plan to drive around the country rent a bigger car!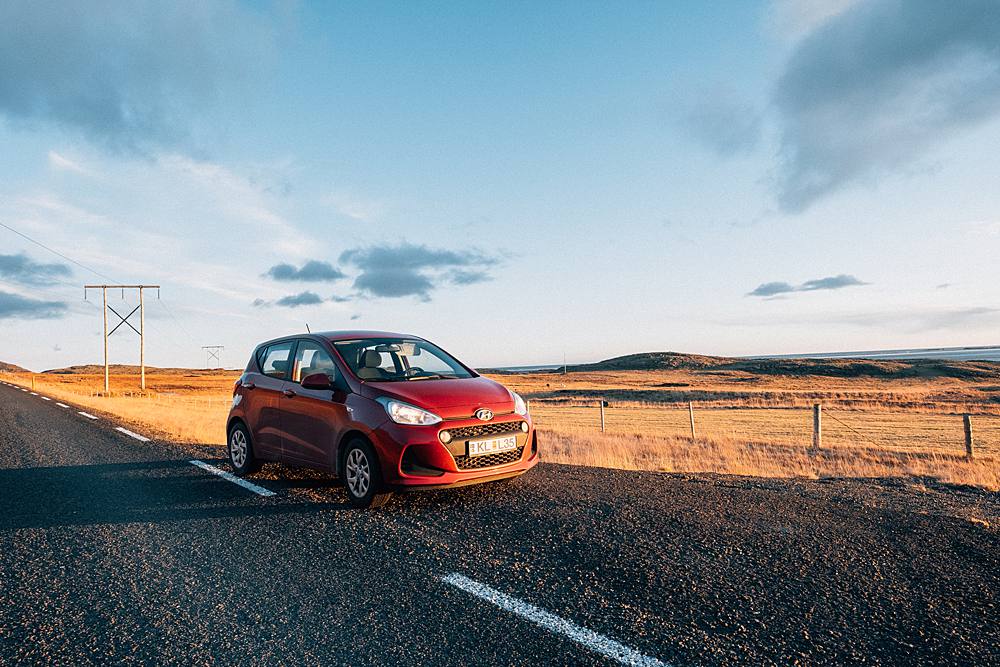 What time of year is best to visit iceland?
I traveled to Iceland during the early part of Novemeber 2017. Although, it was beautiful and there is just something magical about that low horizon light, I probably wouldn't recommend November as my top month to travel to Iceland. The southern part of the country was beautiful...I mean beautiful!  The light was golden and the snow was at a pleasing level, leaving some of Iceland's beautiful colors exposed. Novemeber, however, drenched the north in snow and most of the roads were shut down or too snowed in to traverse. The other downside of Iceland in November was that the sunlight was only available from 10am to 4pm. When you plan on driving around the entire country in a week, that doesn't lead to a lot of time to plan your destinations around otpimal light. Luckily, november light in Iceland is always beautiful, any time of the day.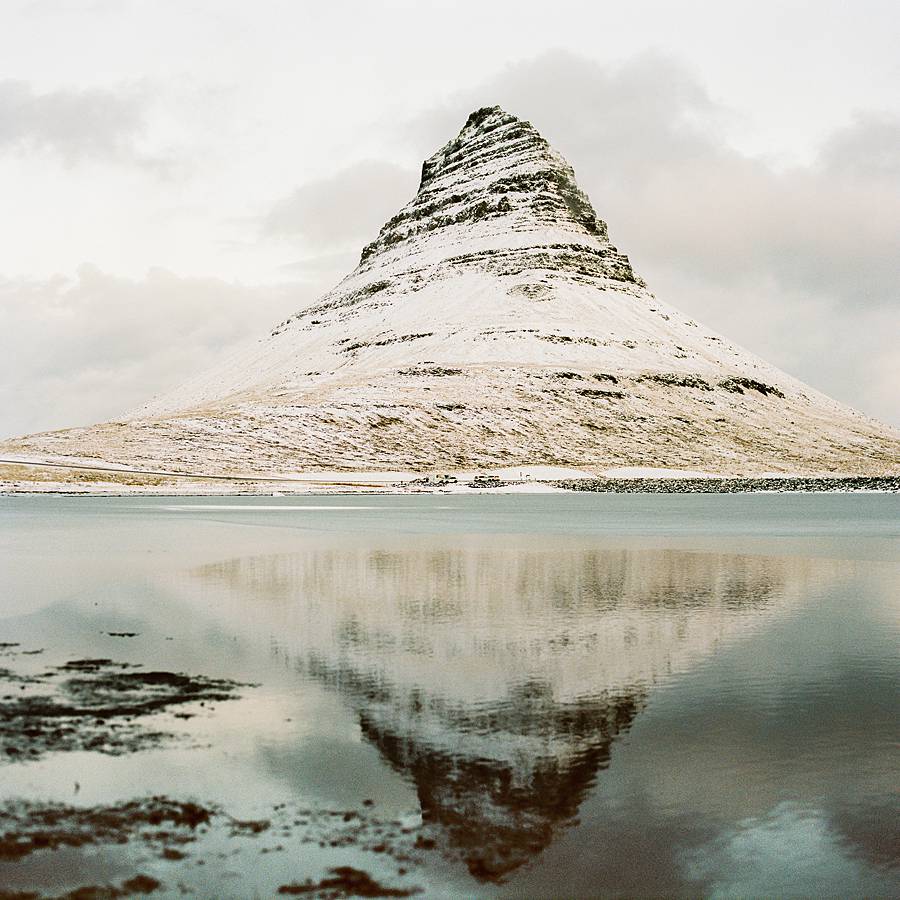 The above image of Kirkjufell was shot at around noon and the light was managable reflecting off the snow. 
What film gear did I bring to photograph Iceland?
Iceland was my last ever trip that I brought along a digital camera. You might notice that all the images, save for 1 or 2 are film shots. I just prefer the look of film, the process of film and I don't particularly enjoy editing travel photos the second I get home. It's such a thrill to relive the moments when you get film scans back a few weeks later. For this trip I brought along my Fujifilm gf670 medium format, folding film rangefinder, my canon F1n (my first ever 35mm camera) with canon FD 50mm F1.4 lens and my Fuji XT2 with the 16mm F1.4. The XT2 is a lovely travel camera, but I just couldn't fall in love with it and sold it not too long after the trip.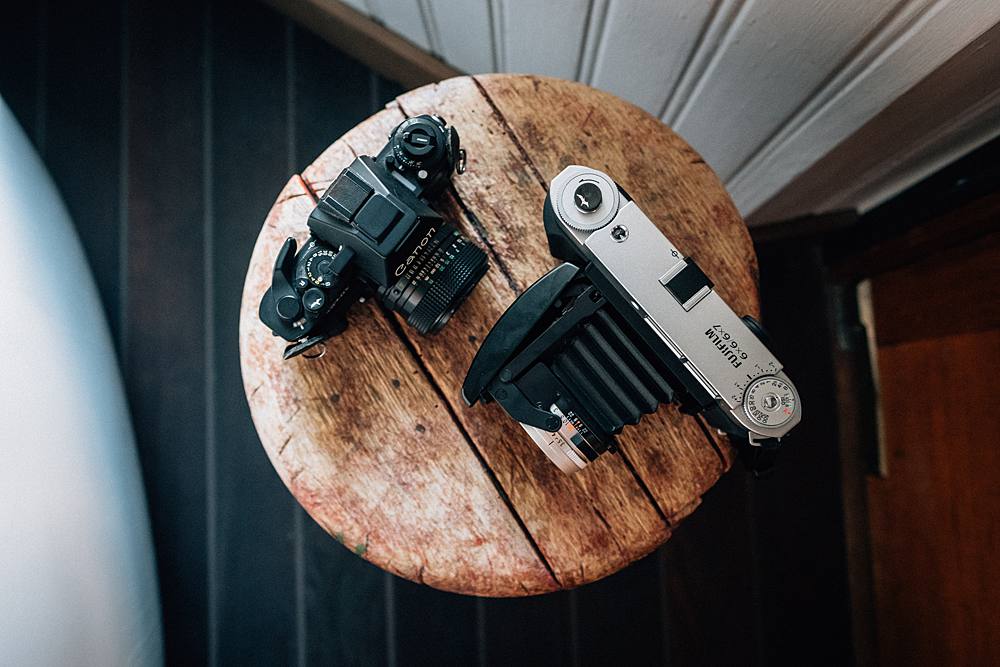 The Fuji GF670 is an amazing camera. It was a grail camera for me - a dream. I bought it as a gift to myself when I left my engineering career to pursue photography. I think it is the best medium format film camera for travel. It's not light, but it's so compact, versatile in that it can shoot 6x6 and 6x7 and it has the brightest and best rangefinder I have ever used. If you pack light like I do, you won't ever find a better medium format camera for travel. I'm writing a review of the camera and will post it hear when I do. 
My canon F1N was my first 35mm film camera and something essential in my journey as a film photographer. It's beautiful, built like a tank, and I still have it to this day. It has been replaced in my daily lineup for various reasons, but the camera just never let me down and the canon FD lenses are cheap and excellent. It's also a heavy beast and maybe not the best 35mm film camera for travel. There are certainly lighter options. Today, I opt for a Leica M-A and Contax T3 duo to travel with. 
What film stocks did I shoot
I brought along a few different types of film for this trip - moreso than I usually do because this trip ws at the beginning of my film photography journey and I was still experimenting. For medium format film, I brought along Kodak Portra 400, Kodak Tri-x 400 and Ilford Pan F 50 120 film. I shot all medium format film at box speed except for 1 roll that I pushed 1 stop. This actually turned out to be my 2nd favorite roll of the trip. 
For 35mm film, I brought along Kodak Portra 800, Kodak Portra 400 and Tri-x 400. Kodak portra 400 was shot at 200, Portra 800 at 800 and the roll of tri-x was shot at 1600, pushed 2 stops - and it was freaking brilliant. My favorite roll of the trip ended up being a roll of portra 800 35mm film. At the time I got scans back, I didn't really fall in love with it, but years later they are my favorite travel photographs ever. Something about the grain and deep contrast just gave the country some grit and soul.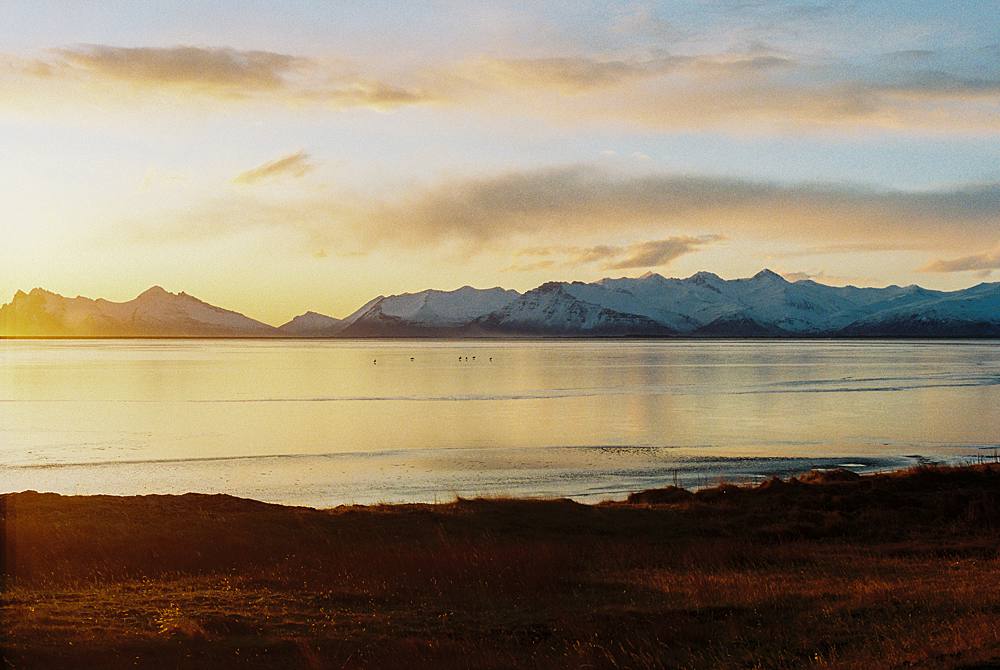 Where did I stay when I backpacked through Iceland?
I stayed in Hostels and a few airbnbs the entire time I was in Iceland. Lodging was limited in the colder months, so do try and book everything in advance. This is typically opposed to the way i normall travel, as I don't like to plan, but it all ended up working out quite well.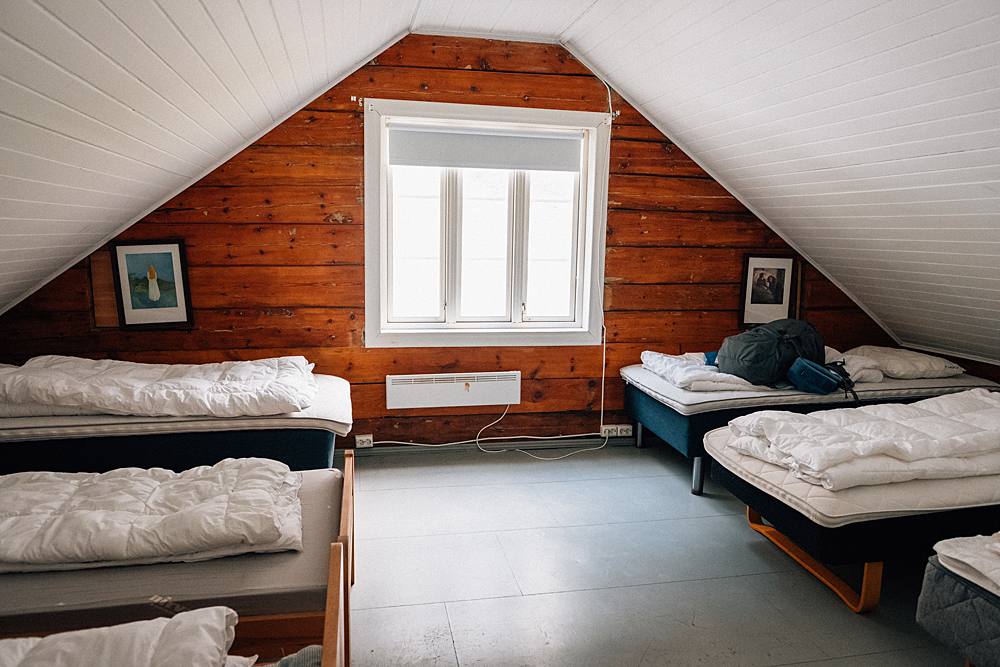 Learn more about Brian D Smith Photography
Brian D Smith Photography Portfolio and Information
~~                                                                                      ~~
If you are inspired by what you read, I'd love to invite you to reach out about the photography services I offer. My guarantee is that you won't find a photographer that cares more about you and your story than I. I'm endlessly passionate about telling stories on film and pushing the boundaries of art in editorial and portrait photography. I'd be thrilled to work for you and document your story, wedding or business in Charleston South Carolina, Northern Michigan, or any destination abroad.
If you'd like more info about this post, would just like to chat, or are ready to book, reach out to me by visiting my contact page here!
My Iceland trip on 35mm film and medium format film