2019 Belle Lumiere Summer Film Image Contest Winner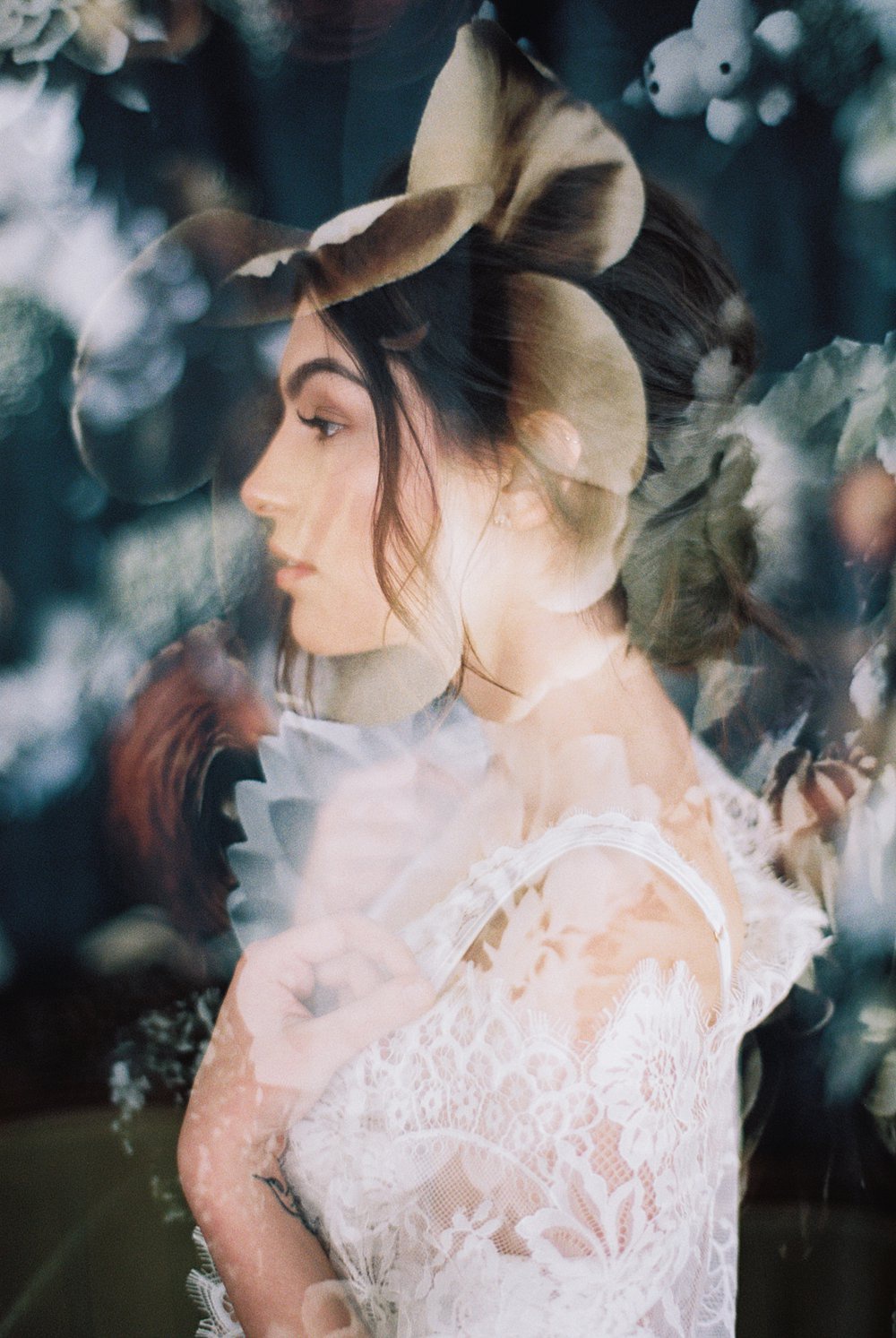 2019 Belle Lumiere Summer Film Image Contest Winner
Belle Lumiere Summer 2019 Image Contest winning photograph in the Emerging Film Photographer category. A double exposure bridal boudoir image at Wingate Plantation shot on Kodak Portra 160 35mm film, a Nikon FM3a and 50mm Zeiss Planar 1.4 lens.
Aug. 21, 2019, 2:50 p.m.
I'm so thrilled to announce that one of my images won Belle Lumiere Magazine's Summer Film Image contest for the category of Emerging Film Photographer!!  I am short for words to describe just how ecstatic and honored I am. 
2019 Belle Lumiere Magazine Summer Image Contest Winners
I entered the contest on a bit of a whim and was aware of it because of one of my favorite Charleston photographer's taking home 1st place in the color image category the previous year. I received the email that I was selected as one of the ten finalists and honestly could not believe it. I was so honored to be included in the same class as so many amazing photographers and have my images selected by a panel of judges that are so influential in the film photography community.  To learn about the contest and see all of the amazing finalist images and read about the judges, check out the link to the contest description!
Belle Lumiere 2019 Summer Image Contest Entry
Judges
Lexi Clifford - Founder and editor of Belle Lumiere Magazine - Belle Lumiere Magazine - There are few publications that carry weight and influence in the wedding photography world, and Belle Lumiere is one of the premier. It's widely respected in the film community and offers a quarterly print publication, which is extra meaningful to the film world that values tangible goods so much. I've followed the publication since the beginning of my film journey and it is an honor to be a part of its beautifully curated and influential aesthetic. 
Braedon Flynn - Wedding and editorial photographer and founder of Film Supply Club - Film Supply Club - Ask any film wedding photographer where they get their film...I'll wait. Film supply club is critical to supplying us photographers with a discount on the film that we all use and love. I've been a member for over a year and it's one of the best financial decisions I have made to date. 
Rebecca Yale - Film and wedding and editorial photographer - Rebecca Yale - If you are in tune with the film world and the wedding world, you know the name. Rebecca's work is beautiful and influential in the film community and I'm honored that she helped select my image as a finalist. 
Noelle Reynolds - Lab manager for The FIND Lab - The FIND Lab - there are surprisingly few trusted film labs in the country and The FIND Lab is one of the big ones, and one of the most well known. Their team and efforts have been instrumental in the resurgence of film. 
The Category - Emerging Film Photographer
I am especially honored to win this particular category. I debated with the idea of submitting the image to the general Color Image category, but I thought the Energing category would better reflect what I'm trying to achieve in my business. I'm only in my second year as a wedding photographer and film has been with me right from the beginning. It wasn't easy incorporating it into my workflow and mastering the confidence in it, to the point of only shooting film during critical parts of the wedding day. There were lots of failures and lessons learned along the way, but now I am confident in film and it means so much to my aesthetic and to me personally. The very first camera I ever shot film on was an old Zeiss Ikon Ikoflex Favorit TLR passed down from my grandfather, my greatest role model. I shot a roll at every wedding I could, with horribly mixed results. Once I discovered 35mm, that is when my film work really began to progress. 35mm film taught me to expose properly and work in a slowed down fashion during my every day life and travels and that transitioned so well into photographing people and weddings. 
I often feel like I am pursuing my business a bit differently than everyone else. I often hear the term "selling out" thrown around a lot when you hear story of wedding businesses built. They say to shoot what people want for a few years and build the business until you can start getting your ideal clients and producing the work that is truly meaningful to you. I left another career to pursue photography and my journey has been very intentional. I desire to create unique work that doesn't look like anyone elses, and satisfies my desires to be, primarily, an artist. I love weddings. I love the joy, the people, the pace, the movement. I want to turn your wedding into a work of art, with a bit of unconvential surprise along the way. I never wish to settle and appease in anything I do. I've been building the framework for something unique and meaningful to myself, and to the clients that will value the work. It has been a slower journey than most, but sometimes I feel like I am trying to build a 10 year business in 2. I'm quite okay with that. 
The Image
I adore this image. The beauty of shooting film is getting it back and the surprise of what you have already forgotten was shot. I remember capturing this image, and knew exactly the look I wanted to achieve. This shattered my expectations. The placement of the two overlapping film images in the double exposure worked perfectly, with the most prominent and boldly colored flower wearing like a hat atop Haylee's stoic expression. This image was shot on 35mm film through a Nikon FM3a film camera on Kodak Portra 160 film stock. The fact that it was shot on 35mm film makes it all the more meaningful as this is my favorite medium for artistic works. There is a unique life and presence to 35mm film. The image was taken during an editorial bridal boudoir shoot that I dreamt up and coordinated. I couldn't have done it without the amazing team that helped me out. Please take a moment to check out all of the amazing vendors below the image!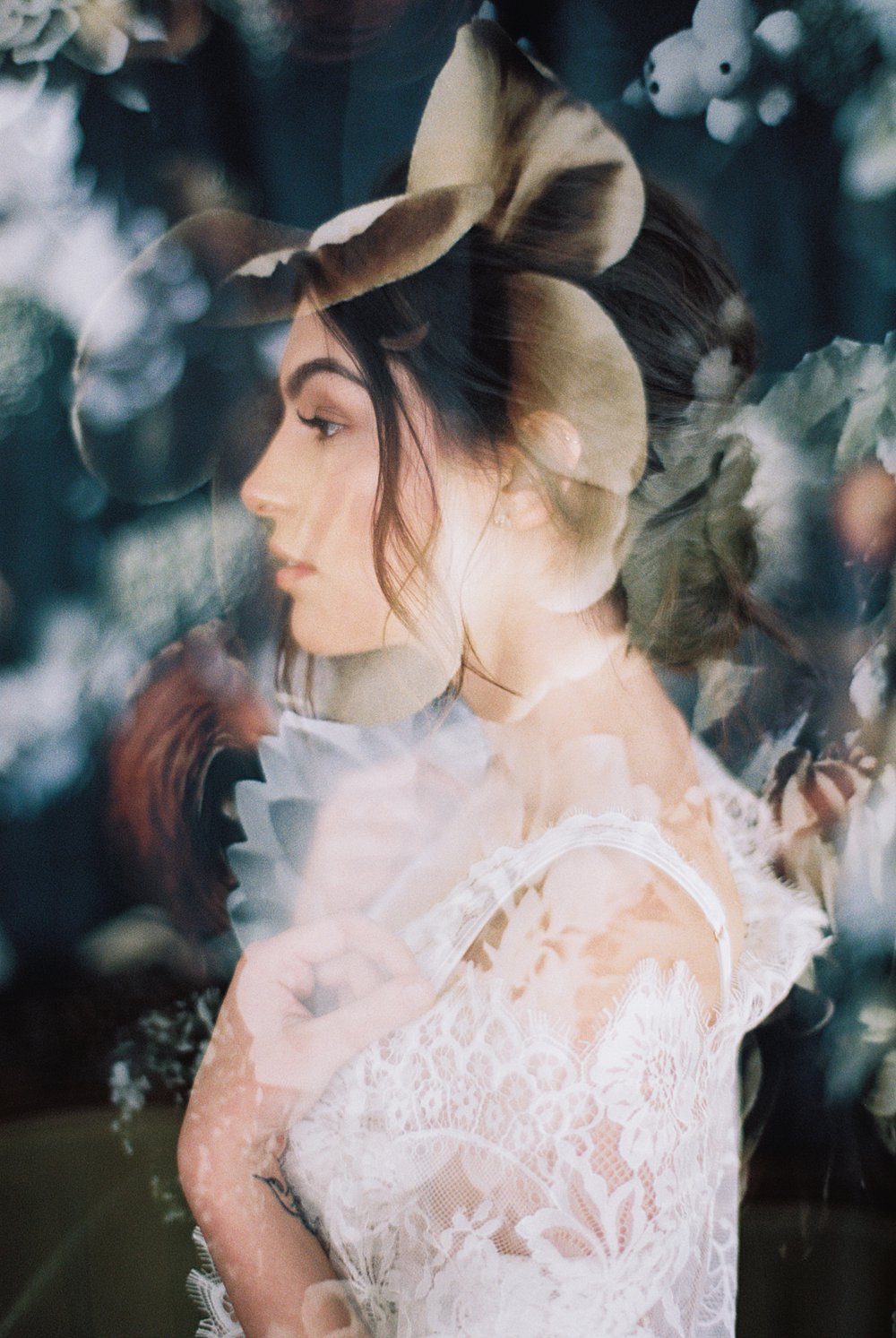 THE TEAM: 
Photography/Styling: Brian D Smith Photography (Charleston, SC)
http://briandsmithphotography.com/
https://instagram.com/briandsmithphotography
Florals/Styling: Petaloso (Charleston, SC)
https://www.wearepetaloso.com/
https://www.instagram.com/wearepetaloso/
Model: Haylee Michalski (Charleston, SC)
https://www.instagram.com/hayleemichalski_/
http://www.millielewischarleston.com/haylee-michalski
HMUA: Pampered and Pretty (Charleston, SC)
https://www.pamperedandprettyxo.com/
https://www.instagram.com/pamperedandprettyxo/
Lingerie: Bits of Lace (Charleston, SC)
https://www.instagram.com/bitsoflacefinelingerie/
Bodysuit/Dress: Sweet Caroline Styles (Etsy Store)
https://sweetcarolinestyles.com/
https://www.instagram.com/sweetcarolinestyles/
Robe and Shoes: Model Bride (Charleston, SC)
https://www.instagram.com/modelbride/
Robe Designer: Girl and a Serious Dream
https://www.girlandaseriousdream.com
https://www.instagram.com/girlandaseriousdream/
Paper Goods: Bergen Lauren (North Carolina)
https://www.instagram.com/bergenlauren/
Couch: 428 Main (Charleston, SC)
https://www.instagram.com/428main/
Venue: Wingate Plantation (Charleston, SC)
https://wingateplantation.com/
https://www.instagram.com/wingateplantation/
Floral Backdrop: Ashley Woodson Bailey (Jacksonville, FL)
https://www.instagram.com/ashleywoodsonbailey/
I'd also love to acknowledge my amazing film lab, Photovision, for being an integral part of my film journey. I switched to them about 1 year ago and they have exceeded my expectations in every single way. The images come back just the way I want them, their turn around times are the best in the country, and they are always happy to help answer any questions I have. I recommend them to every single person who asks me about shooting film. They've truly made a customer for life. 
So much more to come from this shoot. I'm in the process of submitting it for publication and will share the rest as soon as it is picked up!  Thanks again for the honor, Belle Lumeire, and thank you a million times to everyone that worked with me on the shoot. This recognition means everything to me and is an extra motivator to just keep doing what I am doing and don't look back.