Autumn Inspired Marriage Proposal and Elopement Inspiration at Wavering Place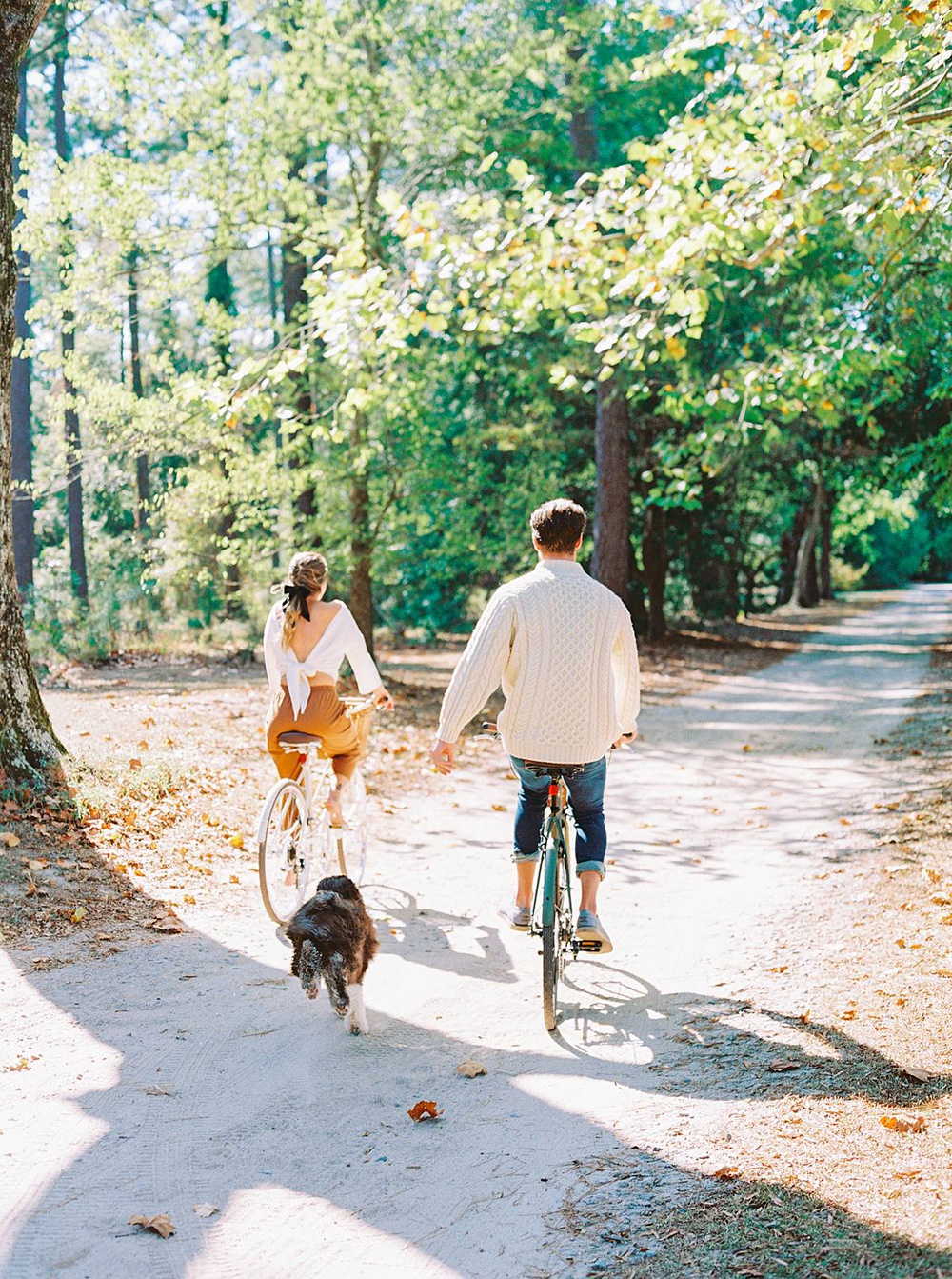 Autumn Inspired Marriage Proposal and Elopement Inspiration at Wavering Place
FEATURED ON RUFFLED BLOG! Autumn inspired proposal and engagement session at Wavering Place in Eastover South Carolina. Shot entirely on kodak film.
Nov. 10, 2019, 1:40 p.m.
FEATURED ON RUFFLED BLOG!
Ruffled Blog - Autumn Runaway Proposal and Engagement at Wavering Place
I've long had an idea in my head for a runaway marriage proposal and elopement - a couple sneaking away for a weekend, exploring and adventuring, photographing their own love. Wavering Place in the fall, provided the perfect southern backdrop for some timeless romanticism with a touch of wanderlust adventure. This ambitious editorial was broken down into two primary galleries, featuring a monochrome story within the context of the greater story. The outsider views the storyline in brilliant fall color as it unfolds in front of their eyes, while an intimate story in black and white continues throughout as the couple explores and documents their own love. This first storyline explores the discovery of an unknown property, the exploration of young love, an eventual proposal, and a return to site of their engagement for an elopement weekend filled with bike rides and apple pie.
To shop the fall looks featured in this editorial, check out the post on Ruffled Blog!
Ruffled Blog - Fall Engagement Outfit Inspiration
VENDORS
Photography: Brian D Smith Photography / https://www.instagram.com/briandsmithphotography/
Planning + Design: Willow and Oak Events / https://www.instagram.com/willow.and.oak.events/
Floral Design: Philo Floral / https://www.instagram.com/philofloral/
Venue: Wavering Place / https://www.instagram.com/waveringplace/
Paper Goods: Little North Company / https://www.instagram.com/littlenorthcompany/
Hair + Makeup Artist: Contours and Curls / https://www.instagram.com/contoursandcurls/
Gown: Jenny Yoo via Bella Bridesmaids / https://www.instagram.com/jennyyoonyc/ / https://www.instagram.com/bellabridesmaids/
Bride's Sweater: & Other Stories / https://www.instagram.com/andotherstories/
Bride's Autumn Attire: Hackwith Design House / https://www.instagram.com/hackwithdesign/
Groom's Fashion: ASOS / https://www.instagram.com/asos/
Pies: Vanilla and the Bean / https://www.instagram.com/vanillaandthebean/
Rings: Sofia Kaman / https://www.instagram.com/sofiakaman/
Tabletop Pieces: Farmhouse Pottery / https://www.instagram.com/farmhousepottery/
Linens: Magic Linen / https://www.instagram.com/magiclinen/
Napkins: Silk and Willow / https://www.instagram.com/silkandwillow/
Bicycles: Outspokin' / https://www.instagram.com/outspokincola/
Models: Kelsey Chambers and Dylan Gibhart from Directions USA